Cute.
By
Shopper

(Houston, TX) - January 27, 2014
This idea is great and the onesie is adorable, I couldn't give this 5 stars however because I have 2 complaints, I don't like the font, I'm sure it's great for certain letters but I don't like the T. Also it's not tag less.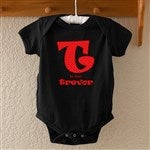 Great but smaller than what I thought it would be...
By
Gloria S.

(Nashport, OH) - December 15, 2013 (
See all reviews by this customer
)
The bib is very cute, but it is smaller than what I thought. I would rather have a Velcro closure on the back, it has strings to tie around the neck.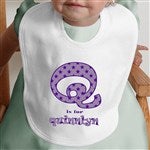 Personalized Onesie
By
Shopper

(Fresno, CA) - March 18, 2013
The print is very cute but the size runs very small and probably will not ever fit my son.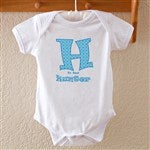 BAD SIZING
By
Shopper

(Framingham, MA) - March 8, 2011
I love the P is for Piper shirt I got for my daughter. Unfortunitly, it is too small for her to wear very long. Your sizes run very, very small.

Sweatshirt review
By
Sue K.

(North Merrick, NY) - February 13, 2011 (
See all reviews by this customer
)
I loved how the letter and name came out on the sweatshirt but I
thought the sweatshirt should have been a heavier material. It not a sweatshirt to be worn in the winter. It is more for the spring or a cool summer day. I wanted my granddaughter to wear it now. I hope it washes okay.

Not impressed
By
Shopper

(Woodbridge, VA) - February 1, 2011
My son wears 18 month clothing, so I ordered a 24 month size hoping he'd grow into it by the time the weather warmed up. What I wasn't aware of is that this shirt runs way too small! I don't even think it'll be big enough to fit him now. Overall, it was a waste of money...

Pretty cute little shirt
By
Jaime B.

(Spartanburg, SC) - December 13, 2010 (
See all reviews by this customer
)
This is a cute shirt that I got when they were on sale. Its pretty good quality but really nothing more than a Hanes t-shirt with an iron on applique. I think it would be a little better if the shirts were at least a more fitted, nicer shirt, at least for girls anyway. But still a decent shirt for the price a I paid.

alphabet name infant t-shirt
By
Kelly H.

(Cincinnati, OH) - August 4, 2010 (
See all reviews by this customer
)
Overall, the shirt is very cute, but the sizes run way too small. I ordered a 24 months and I'm worried it's not going to fit my 7 month old grandson.

Alphabet T
By
barbaa M.

(san mateo, CA) - July 22, 2010 (
See all reviews by this customer
)
I just received this T-shirt for my grandson. The shirt is very cute. The problem is I ordered 18 months size so it would be big enough for him to grow into. When it arrived it looked like a 12 month size. I thought I was sent the wrong size shirt. After washing, it is even smaller. Most 12 month T-shirts are a little large or just fit. He is only 8 months old. This T-shirt JUST fits him.

Sweatshirt reorder
By
Lisa M.

(Medford, NY) - July 11, 2010 (
See all reviews by this customer
)
I was happy with the sweatshirt... unhappy that I gave the incorrect spelling when ordering.
I was happy that the company gave me a discount on the reorder... very unhappy that the sale from the original order only placed a few days before was over and they didn't honor the sale price, then charged me shipping, since it was only one item (shipping on original order was free since I spent over $75 ... closer to $110.
Very expensive mistake...

S is for Small
By
jaime S.

(williamston, SC) - April 30, 2010 (
See all reviews by this customer
)
I was very very pleased with the quality of this shirt and the print on the shirt. My son has a unique name and I would have never found a personalized shirt anywhere else! My son is 5 months old and wears 6/9 month clothes, so I ordered a 12 month size. I wanted him to be able to wear it for a while. However, the shirt I received is so small that it will barely fit over my sons head and is more like a 0-3 month size. Unfortunately, they would not let me return the shirts because they are personalized. So, make sure you order a about 3 sizes bigger than you need.

Knit shirts
By
Nancy R.

(Chapel Hill, NC) - April 19, 2010 (
See all reviews by this customer
)
The idea and artwork were really great but the size and quality of fabric were disappointing. The size was so small, that one of the three similiar items I had ordered was unable to be used.

Alphabet Youth Nightgowns
By
Judy Y.

(Houston, TX) - December 11, 2009 (
See all reviews by this customer
)
These definitely look cuter on line than in person. The fabric quality is not very nice - it's pretty thin. The gowns seem to take on the hue of the color you select - so they look tinted. There even appears to have some dye spots. I didn't send them back because they're still cute -and a little kid won't really notice. I on the other hand was a little disappointed.

Sizes run very small
By
Jawnnette C.

(Pittsburgh, PA) - October 8, 2009 (
See all reviews by this customer
)
The quality of the shirt was nice. However, make sure that you buy 2 sizes bigger than you normally would. My daughter and son are not going to get much more use of them.

Color not very bright
By
Shopper

(Jeffersonville, IN) - April 7, 2014
I ordered the black body suit with red lettering and the red was more like maroon. Wasn't very pleased. Body suit was a little small for a 12 month.

kids shirts
By
Shopper

(Jasper, MI) - March 21, 2012
I ordered three of the same shirt personalized, in two differant sizes. The 6 month shirts run very very small. I was disapointed when they came in since they were for a family photo session that I had scheduled and didn't have time to return and get again. I washed in cold water and lined dry and they even shrunk to a further smaller size. Bottom line - order bigger than you think


alphabet bib
By
susan G.

(mansfield, OH) - February 3, 2012 (
See all reviews by this customer
)
I was unhappy with the letter L in the name... It looks more like an I.. The big L looked fine but when you used it in the name Lena i thought it looked like Iena.... Maybe i am just too picky.. Too over priced with the shipping too. I ordered the Luca one last year and thought maybe it was just that paticular one that turned out like that... Don;t think i will order again... Sorry....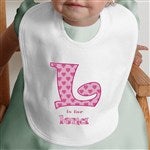 Very cheap material
By
Sangeetha S.

(SanDiego, CA) - September 13, 2012 (
See all reviews by this customer
)
I ordered this for my son's first year birthday and was excited to see this. But when I received it I was completely disappointed. The size was too small for my son. I ordered a 12 months infant t-shirt and it is too small. He can never wear it and the material is too cheap and rough. I became fond of personalization mall after my first gift I purchased in May this year and ordered lot of products this time for my sons birthday. Not impressed overall... Everything was not up to the mark. This t-shirt was totally a disaster. My money is a waste and I cant use it on my son who is still 11 months old.

Poor fabric
By
Shopper

(Bloomingdale, IL) - August 28, 2011
This romper is cute and came as I ordered it, but after following the washing instructions prior to baby's first wear, the fabric felt rough, stiff, and wrinkled. I only put it on him because I paid so much for the product. I would have returned it, but it is personalized. Now it sits in a drawer passed over for tons of more snuggly, new baby outfits. Too bad!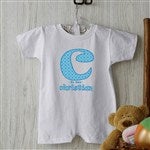 Too Small and Tight
By
Alexis V.

(Sicklerville, NJ) - April 13, 2011 (
See all reviews by this customer
)
Very disappointed with the quality of the T shirt!!! My daughter has recently started wearing 18 month clothing, so I ordered 18 month size T shirt only to find that it was very very small!!!! The T shirt is also very hard to try and stretch out as well!

tee shirt
By
Carol F.

(pinellas park, FL) - October 8, 2009 (
See all reviews by this customer
)
I was very disappointed with this shirt. the size ran very small and since the item is personalized i probably will not order this type of product again.