Love It!
By
Susan G.

(Roanoke, VA) - September 17, 2010 (
See all reviews by this customer
)
This pen is just what I was looking for to commemorate my son's achievement. Moderately priced to accompany a monetary gift. It is just as shown in the preview. The engraving is fine and is as large as could be on this slender pen. Perfect!

It is a shining star!
By
Marilynn G.

(San Mateo, FL) - July 13, 2010 (
See all reviews by this customer
)
We gave this pen from the American Legion Auxiliary to the outgoing Commander of the Post. He was such a shining star to us women and this gift was perfect. Another viewer said the name is hard to read, but actually I think it is very elegant but yet masculine. It can be read but it doesn't stick out and take away from the pen. Great gift idea for anyone who is a shining star or who reaches for the stars.



Beautiful pen!
By
Jennifer D.

(Gilbertsville, PA) - May 20, 2010 (
See all reviews by this customer
)
This pen is well worth the money...looks like a million bucks!

Somewhat Disappointed
By
Shopper

(Lithonia, GA) - May 20, 2013
I received this product in a timely manner,the pen was all that I expected but the monogram was verrrrrrry small (Right for a pen) but you really have to strain your eyes to see it. Not a good choice for monogramming.

Nice Pen
By
Shopper

(Little Elm, TX) - May 9, 2013
Very Nice Pen.

Nice Pen and very good value for the price
By
Shopper

(Bloomington, IN) - October 29, 2012
I was very please with the quality of the pen and how quickly I received it.
It makes a very nice birthday gift. I was a little disappointed at how small the engraving was, as it was difficult to read.

lovely gift
By
Shopper

(Coral Springs, FL) - June 11, 2012
This is a very lovely gift to commemorate a special day in a graduate's life. I loved the pen and for the cost very inexpensive. It has a small 12 point inscription but overall a great gift idea. I just thought the personalization would be a little bit bigger.

beautiful pen.
By
Shopper

(bonita springs , FL) - May 27, 2011
very good described love it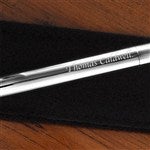 Good pen but shipping took a long time
By
Ana P.

(Euless, TX) - January 3, 2011 (
See all reviews by this customer
)
I paid extra for the 2 day shipping and received the pen 6 days after. Not worth paying extra for the fast shipping this time.

name engrave
By
Shopper

(Louisville, KY) - August 26, 2011
The pen itself was ok but the name engraved on the pen was too little! I could barely see it like wise the person receiving it. that is bad!

Not even close
By
Shopper

(Timonium, MD) - February 19, 2011
1) Silver color already faded.
2) Engraved letters are too small...well the pen itself is small.
Please read that "pen measures 5 1/4"L." And I guess you should imagine how small it is.

Pen surface does NOT engrave well
By
Shopper

(Milton, DE) - February 5, 2011
Personalization is unreadable on this pen.

Letters too small
By
Shopper

(New River, AZ) - January 18, 2011
The pen by itself is beautiful and writes great. The engraving however was barely visible.

disappointed
By
Sandra K.

(Prince George, VA) - November 14, 2009 (
See all reviews by this customer
)
You can barely see the writing on the pen.

very dissapointed
By
Jillian M.

(Fort Lauderdale, FL) - December 17, 2011 (
See all reviews by this customer
)
The pens are beautiful, but I'm very dissapointed with the engraving. The writing is much smaller that it needs to be, unclear, and completely illegible. I think they did a very poor job with this project. I ordered four pens with different engraving on them, and to me, all were unacceptable.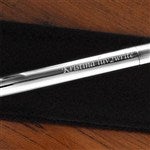 Very unhappy with the personalization
By
Georganne B.

(Bellvue, CO) - May 10, 2011 (
See all reviews by this customer
)
I ordered the Silver pen for my brother's graduation. This is a very big deal because out of 10 siblings he and I are the only ones that completed our education. I am not unhappy with the pen itself. My problem is with the personalization. The letters are so tiny that unless you really look close you can't even see that it has been personalized. I have ordered many items from this mall and find it hard to believe this quality was allowed out the door. I will definitely think twice before I order again because of the quality of the finished product.

What personalization?
By
Karen P.

(Brookfield, IL) - March 16, 2010 (
See all reviews by this customer
)
The writing is so small, it almost takes a magnifying glass to read it. I could read it only because I wrote it.