Wonderful!!!
By
Annie R. W.

(Chicago, IL) - March 19, 2014 (
See all reviews by this customer
)
This was for a young lady that has worked at a place where I have done business for years; we have watched her through High School and now college… and she was just too happy and surprised about the gifts...

Perfect Graduation Frame
By
Shopper

(Carmel, IN) - March 16, 2014
I am very pleased with the glass Personalized Photo Frame. I searched the internet for a quality frame to give my granddaughter for her graduation this year. I am a photographer, so I was looking for a frame to enhance her photo. Some frames allowed only a small photo. This frame is very classy looking, and I loved that I could choose the saying to be etched on the glass. My grandson graduates in two years, and I will be ordering this frame for him.

Grad gift
By
Shopper

(PLANTATION, FL) - January 2, 2014
This was the perfect gift to eternalize my niece's special event.

Excellent!
By
Shopper

(FRANKFORT, KY) - December 15, 2013
I am so pleased with this frame and company! The engraving is beautiful and the glass is the perfect size and weight. My soon to be son-in-law was so proud and happy to receive the frame to celebrate his college graduation. The ordering process is very easy as you can preview a picture of the personalization and make changes as desired! I also received the order 4 days after placing it which was much faster than the anticipated arrival day. I am very pleased with the final product and this company! I will be a future returning customer!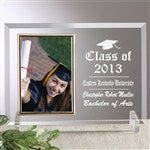 Graduate Gift
By
Shopper

(Chicago, IL) - December 1, 2013
Great gift for a special occasion at a reasonable price.

Graduation Frame
By
Shopper

(Opelousas, LA) - June 24, 2013
Beautiful frame. The frame is very steady and made of great quality products. I am very pleased that I ordered this product to display my graduation picture. The customer service was great and the shipping of this product was extremely fast also.

Elegant
By
Watisha F.

(Snellville, GA) - June 10, 2013 (
See all reviews by this customer
)
I have purchased the lovely frame 5x's. Everyone always loves it. Wedding gift and graduations. It's simply elegant ;)

beautiful & classy frame
By
Shopper

(Farmingdale, NY) - June 10, 2013
Got this for my nephew's graduation gift . he absolutely loved it . Classic & sophisticated looking. I ordered this late, when personalizationmall sent me the.receive date, I realized it was going to be past the graduation party day. I emailed customer service & I received the package the morning of & I was able to give him his gift at the graduation party. Thankyou personalization mall!!!

Beautiful
By
Cheryl G.

(Newberg, OR) - May 27, 2013 (
See all reviews by this customer
)
I bought this one for our granddaughter & have gotten the wooden ones for the grandsons. They are a perfect gift & very well done

Beautiful frame
By
Judith M.

(Des Moines, IA) - May 27, 2013 (
See all reviews by this customer
)
My neice LOVED this frame. Thanks for the fast shipping.


very happy
By
Shopper

(Goodyear, AZ) - May 25, 2013
I received this in time for my Grandsons graduation and it is just as beautiful as it looked in the picture. He is very special & he needs to know that his gift was given the special thought he deserves

Hooked on this site
By
Shopper

(Brooklyn, NY) - May 17, 2013
I ordered this for my niece's graduation from Law School. The glass quality is so amazing. I know she wil love it because I do.

This was a beautiful gift. They loved it.
By
Terry J.

(Denham Springs, LA) - May 16, 2013 (
See all reviews by this customer
)
They were so excited and couldn't wait to put a picture in it. It was beautiful gift and something you can cherish for a long time.

Grad Photo Frame
By
Joshua P.

(Newport Beach, CA) - May 14, 2013 (
See all reviews by this customer
)
Absolutely Great Grad Gift!

very pleased
By
Tammy P.

(Laurel, MS) - May 10, 2013 (
See all reviews by this customer
)
I'm back !!! Ordered 2 of these for graduting family members. Wanted to give them something nice and something they could look at and reflect back on during this special time in their life. As I write this, I am about to order another one for another special graduate.

Perfect Gift!
By
Shopper

(Angier, NC) - May 7, 2013
I purchased this gift, not for the graduate, but for the parents of the graduate. It is a perfect gift! It's very well made and the inscription came out great! I'm sure my sister & her hsb will love it! It is as pictured!
I do recommend this item.

Worth the Money
By
Shopper

(Bayonne, NJ) - May 3, 2013
This frame is classy and is worth the money. Looks great on desk or mantle. Only thing I may change is having the glass tinted. Best of all you can have your own words engraved.

Awesome gift
By
Shopper

(Denton, TX) - April 30, 2013
This photo frame is your money's worth. It is nice and neat printing on the frame. I love it.

The PERFECT Graduation gift
By
Shopper

(Villa Hills, KY) - April 12, 2013
I ordered these frames for my kids and they are SO nice. The glass is very elegant and look great, without being too much, on the mantle. I have gotten numerous compliments on them. When I saw they were on sale, I ordered one for my niece...even though she doesn't graduate for another year! I wanted to be sure I was able to get it for her!

Awesome Grad Gift
By
Amber H.

(Flat Rock, MI) - January 25, 2013 (
See all reviews by this customer
)
I ordered one for my best friend who is graduating the same time as me, it came out BEAUTIFUL!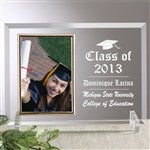 good purchase
By
Shopper

(Houston, TX) - December 23, 2012
The frame looks amazing. My friends love it.

Beautiful keepsake for any graduate
By
Sharon C.

(Saint Petersburg, FL) - December 22, 2012 (
See all reviews by this customer
)
This frame was even better looking in person. The engraving was done perfectly, and we were very pleased and proud to give it to our graduate.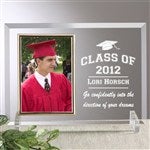 Highly recommended
By
Felix N.

(Aliso Viejo, CA) - July 16, 2012 (
See all reviews by this customer
)
My best friend is still raving about this nice graduation gift. I am glad he lives it.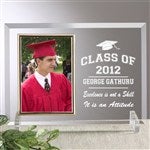 Absolutely lovely!
By
Jane K.

(Alachua, FL) - June 29, 2012 (
See all reviews by this customer
)
This is a lovely and memorable gift for any graduate! The frame is so appropriate and the etched name and date of graduation is done so beautifully that it becomes a cherished keepsake for any graduate.
I am very pleased with this purchase.

nice job
By
Shopper

(Saxton, PA) - June 19, 2012
very beautifully done thanks Great job


AWESOME!!!
By
Tarrah A.

(Mesquite, TX) - June 11, 2012 (
See all reviews by this customer
)
Absolutely fantastic!! Engraving was just as it looked on the preview, glass & frame were made with quality. Shipping was fast. Only thing I'd request for improvement would be more communication on the process & shipping info as it occurs.

A good product and good experience
By
Shopper

(Amarillo, TX) - June 6, 2012
The product was exactly as described online. It arrived timely and with good packaging that producted it from breakage. I felt proud to give it as a gift to express our congratulations on this person's accomplishments. I ordered the self assembled gift box which was nice, but I felt it was unnecessary because the packaging it came in was most adequate for wrapping and presenting. Since I has ordered the gift package, I used it.

A most beautiful product
By
Shopper

(Bridgeport, CT) - May 18, 2012
1 of the best graduation gifts I've ever seen in a while.

FAST AND EXACTLY HOW I ORDERED
By
Donnell D.

(El Paso, TX) - May 18, 2012 (
See all reviews by this customer
)
Shipping Cost A-; Swift creation and delivery A+++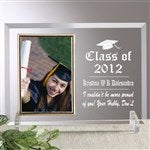 More than Pleased....
By
Gayle S.

(Chester, VA) - May 9, 2012 (
See all reviews by this customer
)
I ordered this personalized photo frame when my daughter graduated from Nursing School. I must say, that the quality of product and workmanship exceeded my expectations. For the price, this is an absolutely wonderful gift. I will remember this place for future orders.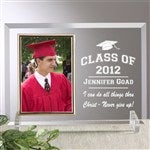 WOW..MORE BEAUTIFUL THAN I IMAGINED
By
Cathryn P.

(Chula Vista, CA) - May 6, 2012 (
See all reviews by this customer
)
This is just gorgeous! In these days when college diplomas are recieved in the mail some weeks later; this is a fabulous way to create a "diploma" for the occasion. (It would look nice on the buffet table surrounded with flowers, or just for our graduate to carry; on the actual day) The beveled edges are classy and an element I did not quite "get" till I had it here to see. I did not realize it was a piece of real, thick glass...just assumed it was lucite. It looks very rich and far more expensive than it was....Also loved picking what we wanted to say to our graduate, making it just right for the situation. We think it will help make the day really memorable! Love it!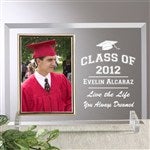 Graduation gift for my granddaughter
By
ZOE R.

(GRETNA, LA) - April 27, 2012 (
See all reviews by this customer
)
I have purchased numerous items from your company for wedding, anniversary, baby and graduation gifts. All of them were lovely and really appreciated by the receivers. These personalized gifts are items to treasure for years to come.

i bought this as a gift
By
Shopper

(semmes, AL) - April 20, 2012
i receive my order very fast and the frame were exact the way i order it. the frame is just the right size and very beautiful.the price was also very good. i will definitely order from them again.

Loved It! :-)
By
Shopper

(Lawrenceville, GA) - December 29, 2011
It was customized and delivered as promised! Will definitely use them in the future.

Beautiful Frame
By
Shopper

(Kennesaw, GA) - December 26, 2011
Great product, beautifully engraved, made a great gift

Great gift
By
Shopper

(Earlimart, CA) - December 2, 2011
Loved it! Its actually bigger than it looks. Very elegant.

THIS IS AMAZING!!!!!
By
Shopper

(SAN BERNARDINO, CA) - October 24, 2011
I am in love with this photo frame! I was looking for an extra way to spice up my graduation shelf on my wall unit and this photo frame does the job! It looks great infront of my diploma! I like the option of how to stand it up as well.

Thanks a Bunch Personalization Mall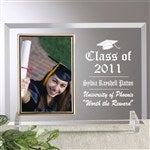 nice gift
By
Shopper

(Canada) - October 17, 2011
Very nice gift!
I also received it in 48 hours which was great!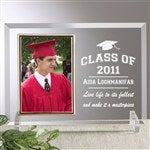 Even nicer in person!
By
Shopper

(Kings Park, NY) - July 31, 2011
This personalized frame is the perfect gift. The quality is excellent. Great presentation.

nice quality frame
By
Patrick L.

(San Gabriel, CA) - July 5, 2011 (
See all reviews by this customer
)
the graduate who received the present really liked it a lot.