Flawed but beautiful
By
Foha R.

(Deer Park, NY) - December 16, 2012 (
See all reviews by this customer
)
Impressive but difficult to read... had to keep a paper behind to be able to make out what it is saying. Really want to spray paint on it... But it is really elegant and beautiful.

Dear Dad Poem
By
Diane C.

(Lombard, IL) - February 14, 2012 (
See all reviews by this customer
)
The frame is very nice. It would have been nice to have the option of silver vs gold. That being said the frame is very nice but very difficult to read the poem. The words expressed the sentiment exactly but again it lost the effect when he had to look for something to put behind it to read. There were 20 people in the house and all of them had a hard time reading the poem.

Little Cheap Looking
By
Rachael B.

(Olympia, WA) - July 22, 2011 (
See all reviews by this customer
)
The Gold around the frame is a little cheap looking. The writing is REALLY small and a little difficult to read. I think this product is a great idea, but it's over-priced.

So So
By
Melissa K.

(Elizabethtown, KY) - September 24, 2010 (
See all reviews by this customer
)
This is a very pretty piece, however, the GOLD frame for the picture is hideous! It would be so much prettier with a silver framed border. The gold is just ugly & way too shiney..it makes this pretty piece look cheap!

Beautiful Concept
By
Patricia H.

(Los Angeles, CA) - October 1, 2009 (
See all reviews by this customer
)
I love this product; however, the light color of the writing makes it difficult to read. i would have preferred it to be darker. but, if i remember correctly, i was not given the opportunity to change the font color. this really took away from the product's beauty and meaning.

Not worth the money
By
Shopper

(Willowick, OH) - December 8, 2012
The frame itself isn't awful, but the engraving is near impossible to read. It ends up making the whole thing look cheap. Even though I bought on sale, it still wasn't worth the money I spent on it.

Product features I don't like
By
Shopper

(Las Vegas, NV) - November 28, 2011
The frame is beautiful. Unfortunately it is very difficult to read the script since it's done in white. I would recommend using a darker color to make it easier to read. Thank you.

Personalized frame review
By
Sailaja G.

(San Ramon, CA) - July 22, 2010 (
See all reviews by this customer
)
I am very disappointed with the product. The poem is barely visible it is very hard to read the words on the frame. The picture on your website displays the words clearly but it is impossible to read from the actual frame. I do not recommend this product it did not meet my expectations.

Not as impressive
By
Runa G.

(Katy, TX) - June 10, 2010 (
See all reviews by this customer
)
Expected a better laser etching. It's very faded out, the font size is microscopic and the golden edging for the picture insert has a very tacky finish. My first purchase and my worst fear come true - never personalize, you can't return the product if unhappy.

Disappointed
By
Shopper

(Clinton, MA) - February 8, 2013
It's a nice idea... but the engraving is SO hard to see. There's no way my dad's going to be able to read this with his old man eyes. An option to choose a color for the wording would have been nice. It's definitely not as easy to see as in the photograph, that's for sure!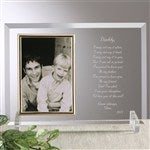 poor representation of the product
By
Orly R.

(Broomfield, CO) - December 19, 2011 (
See all reviews by this customer
)
the frame was nice - but the poem was so small NOONE could read the words - it is completely misleading in the picture - it looked like a frame with scratches on it instead of the poem - i am sorry i got it

Expected a lot better
By
Kelly O.

(Canton, MA) - June 29, 2010 (
See all reviews by this customer
)
I don't like how the stand isn't attached to the picture part of the frame so if you move it you need to be careful not to drop it. also, the words are very hard to read and thats the main point of this gift.