Very beautiful!
By
Shopper

(Port Arthur, TX) - December 31, 2011
It turned out to be absolutely beautiful, and perfect! My dad loved it, I almost got a tear out of him with this gift. It was very meaningful.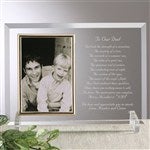 Dad
By
Shopper

(New Baltimore, MI) - December 29, 2011
My stepdaughter bought this herself and wrote a special poem to her Dad. He loved it. The writing is a little hard to see but we all love this product.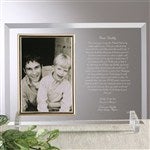 Dad Frame
By
Shopper

(Dallas, TX) - December 12, 2011
Very nice, just as described.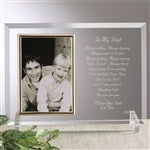 Dear Dad poem frame
By
colleen F.

(allegan, MI) - December 7, 2011 (
See all reviews by this customer
)
My exchange student got his for his host father.. so perfect.. It looks amazing and we are all excited for christmas so he can present this to him!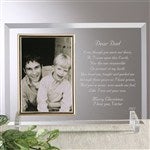 Always perfect with Personalization Mall!
By
Jennifer H.

(Marlinton, WV) - December 2, 2011 (
See all reviews by this customer
)
This is my 3rd order from Personalization mall. Every order has been shipped promptly and is perfect. This is just as wonderful! You won't be disappointed in their craftsmanship! Thanks again!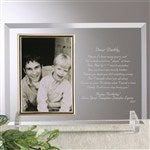 Best Gift Ever!!!!
By
Shopper

(Riverside, CA) - November 26, 2011
I love this. I got for my dads birthday and he absolutely loved and was so grateful. I would recommend this gift to anyone.

Broken Treasure - Need to Replace
By
Eileen G.

(Naples, FL) - November 7, 2011 (
See all reviews by this customer
)
I ordered this product to replace the one my daughter gave my husband for Christmas 2007. I knocked over the original and destroyed it. I was heartbroken and ordered a replacement hoping it would look exactly the same. It does and I am so thankful. Thanks Personalizationmall.com!!!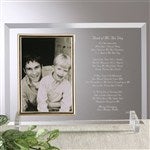 The lost of our dad
By
Cathy S.

(North Berwick, ME) - October 17, 2011 (
See all reviews by this customer
)
You gave us all such pleasure in your frame! There are seven of us kids. We just lost of father. When one was damaged (not due to packaging) you were very thoughtful to give me a discount coupon as well as the quick delivery.

Thank you
Cathy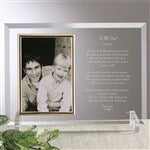 Christmas gift for Daddy
By
Hilary P.

(Williamstown, VT) - October 8, 2011 (
See all reviews by this customer
)
A wonderful gift that will be cherished for years to come.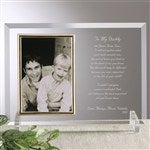 Nice but hate "gift box"
By
Crystal C.

(Mableton, GA) - September 28, 2011 (
See all reviews by this customer
)
I bought this to present to my future father-in-law so I asked for it to be gift wrapped. The "gift" box has a HUGE company logo on the front it looks more like regular packaging rather than a gift box. Otherwise, the frame is gorgeous and I know he's going to love it.... right after I go out and buy a real gift box.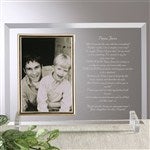 Great gift
By
shannon C.

(parkville, MD) - September 26, 2011 (
See all reviews by this customer
)
This was one of the gifts that I gave my MOH as a gift. It turned out beautiful and she's excited to put our picture from the wedding in it.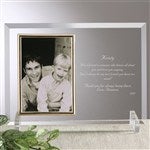 Very classy
By
Shopper

(Indianapolis, IN) - September 24, 2011
I got this to give to my Dad for his upcoming birthday and I know he will love it. I love the poem choices and I think this will look great up on a shelf or dresser. Can't wait to give it to him! :)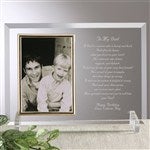 Adorable!
By
Lindsey P.

(Cumberland, RI) - September 20, 2011 (
See all reviews by this customer
)
What a nice idea. I created my own message to my dad and it was so nicely done! Only thing I would change is how to place the photo in the frame, you have to slide the picture down and it's quite hard to remove it so make sure you have the right photo before placing picture into frame. Otherwise, a very gorgeous and sentimental product.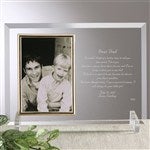 father to son poem
By
Karen F.

(Portland, CT) - September 18, 2011 (
See all reviews by this customer
)
This was a great way for my husband to commemorate our wedding day with his 8 yr old son as his best man. Being able to customize and write his own poem made it that much more special.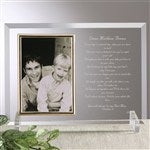 memorable product that we love
By
Kathryn S.

(Mount Morris, MI) - August 20, 2011 (
See all reviews by this customer
)
I would like to let you know, My husband and I love this memorable photo frame that we have ordered for our son. We think it is a very good way to show our son how to try his best on being a wonderful dad that he is. We have also ordered one for his wife. We will be giving them these wonderful photo frames that we were able to order through your company for their birthday. Thanks so much for helping us find a gift you cannot put a price on because of the sayings that will help our son and his wife and his child throughout their years in life. Thanks so Much. Kathryn and Earl Shetler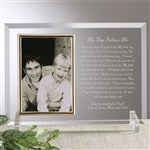 Perfect Gift
By
Joan A.

(San Diego, CA) - August 17, 2011 (
See all reviews by this customer
)
I got this gift for my dad for my wedding day. It's the perfect gift and great quality.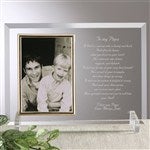 Lovely gift
By
Shopper

(New York, NY) - August 2, 2011
I was looking for something original, personal, and classy for my dads birthday and this gift had it all.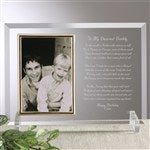 Awesome Gift and Service
By
Natalie C.

(Austin, TX) - July 25, 2011 (
See all reviews by this customer
)
I was very pleased with the way my gift to my dad on my wedding day turned out. The product was beautiful and engraving was flawless. Plus, the price was great compared to other engraving companies and the delivery was on time! Very pleased with this company and will use them again!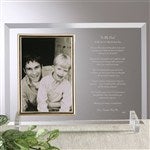 Beautiful
By
Shopper

(Burkburnett, TX) - June 30, 2011
I really loved this product. I wish the gold frame could come in silver though. Make sure you watch your spacing and look at the example given. Mine was off 1 or 2 spaces but it is hard to tell and I still love it. My Dad will cry :-) If I had to order all over again, I would get the same product!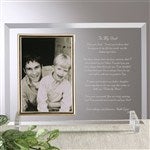 100% smiles
By
Shopper

(fort scott , KS) - June 27, 2011
My sister and I got this for our dad for father's day. He absolutely loved it! I think it is one of the best gifts we have ever gotten for him!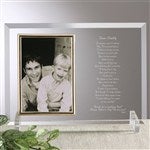 A Perfect Gift
By
LaQuetta F.

(Junction City, KS) - June 23, 2011 (
See all reviews by this customer
)
I love the picture frame..it was even better looking in person than it was online. The kidz thought it was the perfect gift for my boyfriend..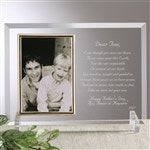 Dad's Personalized Frame
By
Dixie M.

(Crown Point, IN) - June 22, 2011 (
See all reviews by this customer
)
I have ordered many item's and never been disappointed! Excellent work and amazing shipping. I don't know how you do but I will never stop ordering from you.
Thank you
Dixie

Awesome
By
Shopper

(Orlando, FL) - June 21, 2011
I love this gift and my dad absolutely loved it as well. I gave it 4 out of 5 stars because the writing is SO light it's almost invisible unless you put a dark background behind it which is what I did. Either way, LOVE this item and would reorder it.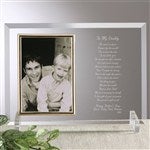 Simple personalization
By
Lauri H.

(West Chester, OH) - June 21, 2011 (
See all reviews by this customer
)
Ordered this for Father's Day for my Dad. Tweaked one of the pre-written poems which made it easier than starting from scratch but still made the gift feel very personal. Very pleased with the quality of the product once it arrived. All in all, great product and great experience!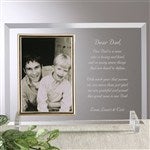 A priceless moment between father and son.
By
Mildred R.

(Bronx, NY) - June 21, 2011 (
See all reviews by this customer
)
This picture frame was beautiful. The fact that my son was able to pick the poem he felt expressed his true feelings toward his dad and also have his name and year added was just a bonus. When my husband opened the gift and read the poem it was indeed a heartfelt moment that brought tears to my eyes and his. Not only will I continue to do business with PersonlizationMall.com, I have already started to refer the site to family, friends and neighbors.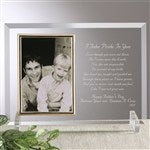 Good Product.
By
Shopper

(Buffalo, NY) - June 19, 2011
This frame was actually great! Except for one minor detail which only gave it four stars. It is very, very difficult to read the poem unless you put something dark behind it like a piece of colored paper. However, other than I was very pleased.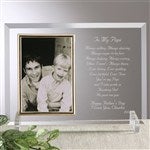 Absolutely Perfect
By
Autumn L.

(Delmar, NY) - June 18, 2011 (
See all reviews by this customer
)
We ordered this for my husband for Father's Day and I chose to write my own poem (from my kids to my husband) and it came out SO PERFECTLY! I am tickled pink at how awesome this turned out. They did a great job making the poem centered and engraved correctly. (And by correctly I mean aligned well and spelled right, centered like a poem should be, each end word being the rhyming word for the next line's end word).

I put a picture of my husband and our girls in the frame and it proudly sits on his desk at work. He gets compliments on it all the time, and the fact that I wrote the poem makes it even more personal. I have no idea how I am going to out do this gift next year, but I know this is the place I will be looking for his next gift, no matter the occasion.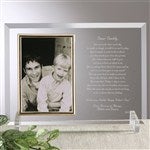 Very Pleased with my purchase!
By
Tracy E.

(Sevierville , TN) - June 17, 2011 (
See all reviews by this customer
)
This was my first purchase from personalization mall and I am so glad I ordered when I got the frame I didnt think it would be as large as it was and it was just beautiful! I am so excited for my husband and his brothers to give this to their father on fathers day! I will be ordering more items in the near future. So glad I found you on the internet! Thanks Again!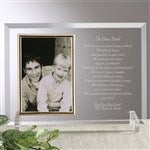 Extremely Satisfied!
By
Shopper

(Houston, TX) - June 16, 2011
I am more than satisfied with the gift that I purchased! I was very pleased at how quickly the item was received. Since the item was a gift to my dad, I had to wait to see the finished product. I must say that I was totally surprised and very pleased with the gift! Words can't even explain how happy and pleased my dad was to get this special gift from me for his 70th birthday! Well done!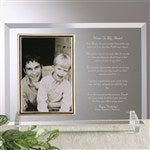 Amazing Site
By
Confidence E.

(Nanuet, NY) - June 15, 2011 (
See all reviews by this customer
)
I have been using this site for a year now and I must say, they're exceptional. The gifts are delivered on time and everything looks excellent. I ordered this frame for a friend for father's day and from the looks of it, I cannot wait to see his expression upon receiving it. I am inserting a picture of him and his daughter to it and hope he appreciates it.

Thank you Personalization mall :-)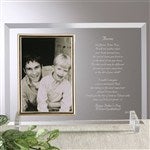 Great
By
Shopper

(Santa Ana , CA) - June 8, 2011
LOVE IT !! GREAT SERVICE ON TIME AND GREAT PRODUCT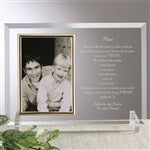 Perfect! Perfect! Perfect!
By
Kim B.

(Washington, DC) - June 6, 2011 (
See all reviews by this customer
)
I just received the frame today and was totally pleased. I was a little worried about finding the perfect for a "new love interest" who also happens to be a wonderful father! Wow! The frame itself was beautiful and the writing clear. Not cheesy at all! On top of that, the selection and ordering process was a breeze. Thanks for giving assistance in finding the perfect words (I choose poem #1). The sentiment expressed fit him perfectly and on top of that My nickname for him is "My High Flying Eagle" - Again perfection! Shipping was also quick. I'm now looking for gifts for my brother (Birthday and Father's Day), My Daddy, and even the ex-hubby. The prices can't be beat!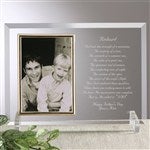 Excellent
By
Serena G.

(Deer Park, TX) - June 6, 2011 (
See all reviews by this customer
)
This is so beautiful and means alot when it is needed. Thank you for helping with the words to say.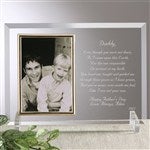 Dear dad poem
By
Shopper

(West Sacramento, CA) - June 5, 2011
It is very nice I like it alot I just wish the writing was darker!!!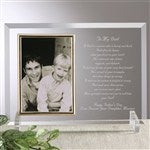 Dad Loved It!!!
By
Shopper

(Youngtown, AZ) - May 28, 2011
What a great gift with a touch from the heart! It meant more than I could have even imagined. Thank you PersonaizationMall.com!!!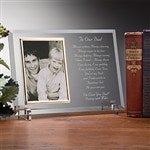 Disappointed
By
Shopper

(Clinton, MA) - February 8, 2013
It's a nice idea... but the engraving is SO hard to see. There's no way my dad's going to be able to read this with his old man eyes. An option to choose a color for the wording would have been nice. It's definitely not as easy to see as in the photograph, that's for sure!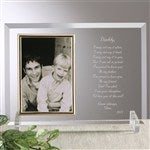 Father Wedding Gift
By
Shopper

(Columbia, MO) - January 3, 2013
Perfect personalized and special gift for my father on my wedding day! Loved the product, poem, and fast shipping! Great company!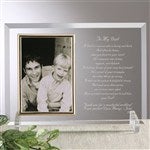 perfect
By
Shopper

(plant city, FL) - December 28, 2012
good quality
great price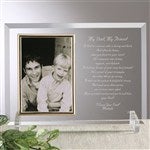 Excelllent quality
By
TONYA H.

(AIKEN, SC) - December 25, 2012 (
See all reviews by this customer
)
This picture frame turned out to be better than I had hoped for. The quality was excellent. I also received the frame quicker than I had anticiapted. I highly recommend this company.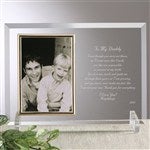 Beautiful, personal gift!
By
Jessica G.

(saint cloud, FL) - December 23, 2012 (
See all reviews by this customer
)
Great gift for under $50.00, something we will have around forever!