Nice job
By
Shopper

(Alabaster, AL) - December 21, 2012
This is to be a Christmas surprise for my husband, who appears to like personalized mugs the best. The only thing that I would change about it is to have the pictures on both sides of the mug instead of just one side.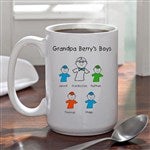 Great shirt
By
Shopper

(Matteson, IL) - December 16, 2012
Nothing says we love you like this personalized shirt. You can take all you favorite fans wherever you go. This is a perfect gift for someone who travels a lot and can't see the people they love all the time.

Excellent Customized Sweatshirt
By
Shopper

(Winter Park, FL) - July 10, 2012
Excellent item that was customized as a birthday gift with names of children & grandchildren. Sweatshirt is excellent quality, and production/shipping was handled quickly and superbly.
I rated this item 4 stars. If more colors were available (other than white or black), I would rate it higher.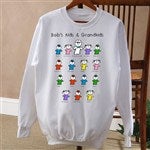 Coffee mug
By
Shopper

(Colorado Springs, CO) - June 28, 2012
I love the mug personalization. I just wish it was printed on both sides of mug. The way it is now either you can see it or someone facing you can.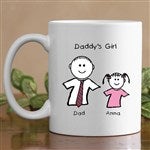 Alls well that ends well!
By
Jessica R.

(Spencerport, NY) - December 23, 2011 (
See all reviews by this customer
)
This was my first time shopping witht this website. Found this perfect sweatshirt for my 91 yr old grandfather. I received the item in no time, and all 11 names were spelled correctly. However, the W in Worlds best Grandpa was cut off. I took a picture and emailed it to customer service. They were so friendly and helpful. They sent a new one out right away and it looks great. Good quality, great service!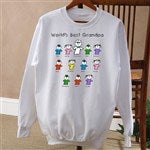 Father's Day present
By
Adena H.

(Staunton, VA) - June 21, 2011 (
See all reviews by this customer
)
This as a really cute present for my husband for his first father's day. He loves to fish and I know that he'll love taking her fishing with him. He loved this T-shirt.

Great product, great price.
By
April B.

(Byhalia, MS) - December 25, 2010 (
See all reviews by this customer
)
I created this for my grandfather for Christmas. He loved it (PawPaw Jack's Future Hunting Buddies)! It was such a great present. I also think it was a great price because I would have spent that much, or more, on a shirt anyway. This way it is way more personal and he will probably wear it more often and has a lot more of sentimental value for him. It is an iron on, but it seems like it will be able to hold up well and the shirt is a good quality shirt. The only reason why it is not 5 stars is because I could not choose the color of the kids in realtion to each child.

Excellent
By
Marcia D.

(Round Lake Beach, IL) - June 21, 2010 (
See all reviews by this customer
)
We had 15 names so this shirt was great. Its custom made so you pick the titles. Shirt sizes are great however wish they had larger then 2x. Otherwise this is a great product for grandpa shirt quality is good nice and thick not to thin.

Unique Gifts
By
Karen J.

(Springfield, OH) - June 3, 2010 (
See all reviews by this customer
)
I have ordered several times from Personalization Mall. I am quite satisfied with the product, customer service and timely manner in which I have received the items. Everything is perfect and everyone loves the personal gifts they are given. Thanks again.

Buy this shirt a couple sizes bigger
By
Jawnnette C.

(Pittsburgh, PA) - October 8, 2009 (
See all reviews by this customer
)
I loved what the shirt looked like. Unfortunately the sizes are very off. My dad is going to have to loose weight to fit in the size that I ordered him. He would love to be able to wear it but I couldn't return a personalized item. So I probably will think twice about ordering a personalized shirt again.

You & Me wont last
By
Michael Z.

(Shrewsbury, MA) - April 2, 2013 (
See all reviews by this customer
)
I have ordered a number of T shirts over the years; I can't remember the beginning but I have about 6 older ones still in use. I noticed the last few customized were a heavy cotton Haines quality T-shirt. The two shirts here are a much lighter weight cotton from Bangladesh. I am disappointed in the use of a less than quality T shirt when your reputation (I am sure) has been built on the use of a better quality base shirt. I would have paid more for a better shirt. I did not know that the quality changed so much. The price is reasonable but the price on a customized memento such as this is not as important; the quality of the product should come first. The older shirts from years past will last longer than these. The print quality was very good however.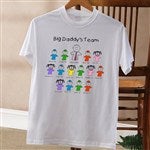 Cute but Shrinks in the Wash!
By
Stephanie C.

(Berrien Springs, MI) - October 8, 2009 (
See all reviews by this customer
)
The shirt was adorable, but it shrank when I washed it. Not only that, but it shrank the second and third times I washed it as well! After three wearings it no longer fits my husband!