Too cute!
By
Shopper

(Saukville, WI) - September 27, 2013
This was a really cute gift. Very easy to personalize and way too cute!

Personalized Adult Baseball cap
By
Shopper

(East Haven, CT) - September 23, 2013
My husband loved it!!!!

A Conversation Piece!
By
Nancy C.

(Waterford, NY) - August 5, 2013 (
See all reviews by this customer
)
This is the second hat made for my husband that includes figures and names for each of his 4 grandchildren. The hat is of great quality material and very durable. The lines for the figures and names are very clean & crisp and the colors are vibrant and sharp. My husband washed his first cap in the machine washer several times and the bill stayed intact... After several years (and many, many washes), the front of the bill began to fray (and, washing with clorox, the colors began to fade - but were still there!) He continues to wear his original hat, saving his new hat for "dress up."
And best of all - he gets complements everywhere he goes... it's a conversation starter, and he beams when people draw attention to his hat, his grandchildren.
This hat is a winner in all categories - looks, price, wear & tear, and fit. It just can't be beat!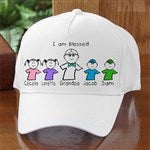 Father's Day Cap
By
Shopper

(MANAHAWKIN, NJ) - June 18, 2013
Bought 2 caps for my sons-in-law for father's day, it was a great hit....
both men were very touched by how personal and creative the gift was <3

GREAT!
By
Shopper

(Carolina, PR) - June 18, 2012
Was an excellent choice for a man that has everything and is 100 years old.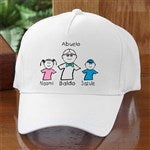 Wonderful
By
Shopper

(fayetteville, NC) - March 24, 2012
It arrived quickly! And my grandfather loved it. It was the perfect gift.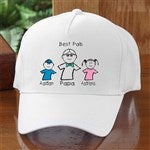 Great gift for grandpa
By
Theresa O.

(Port Matilda, PA) - December 30, 2011 (
See all reviews by this customer
)
Bought this for my son to give to his grandpa...nice because we could put whatever names on it we wanted (he calls him pappy). The characters are really cute. My only negative comment would be that the hat is white...not easy to keep clean for a keepsake. My father loved it!

Great gift for Papa
By
Shopper

(East Palatka, FL) - December 21, 2011
For the man who has everything (or woman)....this is a great gift to let them show everyone how proud they are to be a grandparent. It is very cute and a great quality hat!!!

Wonderful
By
Shopper

(Florahome, FL) - August 20, 2011
The hat was just what I ordered. The delivery was quick. I will order from this company again.

Perfect gift
By
Andrea R.

(Fenton, MO) - June 21, 2011 (
See all reviews by this customer
)
My Dad loves the hat and hasn't taken it off yet.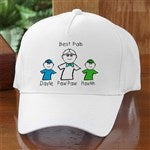 Perfect and useful
By
Shopper

(Queens Village, NY) - June 3, 2011
Excellent choice for Dad and Grandpa,sports guys and hat wearers who adore their little ones. Product arrived amazingly quickly and just as described. Lovely quality and personalization perfect. Good quality shipping packaging. My first order from PersonalizationMall.com and quickly led to a second.

Personalized Baseball Cap
By
Paula C.

(Pelham , NH) - December 31, 2010 (
See all reviews by this customer
)
The hat was perfect and a gift for my husband. He loved it!
It was ordered just before Christmas and it arrived in time.
I have had very good luck with ordering and receiving everything on time. The quality is excellent!

cute cap.
By
ruth F.

(san antonio, TX) - December 29, 2010 (
See all reviews by this customer
)
looks just like described . well made. Any dad will love this.

Perfect gift!
By
Jennifer V.

(Scottsdale, AZ) - December 9, 2010 (
See all reviews by this customer
)
This is a perfect gift for any proud Papa to wear. In the past, we have had all the grandkids sign a hat. This took it to the next level. Although we couldn't fit a picture of each and every grandchild on the hat (there are just too many), it made a special and unique gift for our family. Our girls loved seeing their name and had fun figuring out who was who. What a perfect gift!

Perfect gift
By
Manda G.

(Dubuque, IA) - December 3, 2010 (
See all reviews by this customer
)
We ordered this hat for my son to give to his grandpa! It is very nice hat, we know he will love it! And very timely shipping!

Wonderful gift
By
Brandi L.

(Idaho Falls, ID) - September 14, 2010 (
See all reviews by this customer
)
I got this for my father with all the grandkids names. It was wonderful and came looking exactly like the preview. I am very happy with my purchase.

Great Fathers' Day Idea
By
Judith W.

(Linesville, PA) - June 21, 2010 (
See all reviews by this customer
)
I purchased this item as a Fathers Day gift for a friend and put his 2 grandchildren's names on it. Since he always wears a baseball cap, he was very pleased. It arrived very quickly!

Father's Day Gift
By
Mary L.

(Cibolo, TX) - June 18, 2010 (
See all reviews by this customer
)
Got this hat for my father-in-law as a father's day gift. He loved it as well as well as the kids did.

Grandpa's Hat
By
Abby H.

(Carpenter, IA) - April 6, 2010 (
See all reviews by this customer
)
My dad loved this hat! He got it from his grandson's for his birthday. The only thing that could be different is a choice in hat color. White is so hard to keep clean. Very cute though!

Cute! Cute! Cute!
By
Jill L.

(Moreland, ID) - October 7, 2009 (
See all reviews by this customer
)
Really fun little hat. Ours said "Daddy Graduated!" & it turned out great!

Really Nice
By
Shopper

(Oshkosh, WI) - December 13, 2011
I wanted this for a friend who is a first time grandpa (with twins no less). Didn't know what to get him for Christmas and this is just perfect. Nice quality & good price. I think he'll love it!

Great company to deal with and unique gifts for special occasions
By
Indira A.

(Jacksonville, FL) - June 13, 2011 (
See all reviews by this customer
)
This is my first purchase done with Personalization Mall and it has been a good one. For starters, the prices were much cheaper that other companies and Personalization Mall have some keepsakes that other don't. I like the fact that you can personalize this hat with names, even though it only offers three figurines. The items arrived way before I expected. I only wished they offered more colors besides white. The only thing is that I did not like very much the quality of the hat, it seems a little fragile.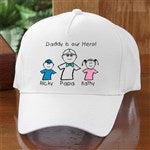 You & Me Cap
By
Shopper

(Porter, IN) - June 5, 2011
Bought cap for father's day gift. The character's are cute and a good size. Personalization makes it extra special! Am very happy with quality and product.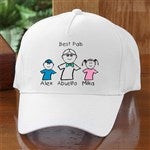 fathers day hat
By
megan O.

(Pompton Plains, NJ) - June 19, 2010 (
See all reviews by this customer
)
I think the hats are great, the only thing I thought was that the people were a bit small, also I wish that you could put more than 4 characters on the hat. thanks

Cute Father's Day gift!
By
Ann B.

(Rome, GA) - June 15, 2010 (
See all reviews by this customer
)
I wanted something unique to give my father-in-law this year and since he's recently taken up golf again, this was the perfect thing. He is going to love his hat that says, "Papa's golf team" & includes my two kids on it! The hat turned out really cute with the cartoon-like people & wording. I would definitely recommend this site to others looking for personalized gifts because men are usually hard to buy for & this place has great stuff at low prices!

Adorable
By
Maritza R.

(Newington, CT) - December 16, 2009 (
See all reviews by this customer
)
Very cute item. As others described, the figures are a bit small, so its better when you will have more figures rather than less. I had 1 adult, 3 children - works for me. I cant say about how it fits, but great-grandpa will wear it proudly no matter what im sure!!

cute but not as pictured
By
Shopper

(carmel, NY) - June 24, 2011
loved this hat purchased two one for my husband and one for my dad for fathers day............. was very disappointed when i received it as the pictures were so small they hardly can be seen................. there is plenty of room on the front of the hat and they should make the pictures appear as big as they do on the website. Both my dad and husband loved the hat, but i was upset that it was not as pictured.

Misleading
By
Shopper

(Germantown, MD) - June 21, 2011
Great hat, but the picture of the design that I specially ordered is no where near the size of the advertised picture on the hat. I thought the design would be a bit bigger, but it was rather small and slight off centered to the left. Screening process was too rushed and size of the images was very disappointing.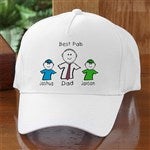 Cute Idea
By
Sherry R.

(Seabrook, TX) - June 23, 2010 (
See all reviews by this customer
)
I purchased this hat as a Father's Day gift for my Dad from his grandsons (age 3 and 11). It was a cute idea but I was very dissapointed. The names and pictures are too small and the hat is too big. It looks like something is missing on it and generic. I would not recommend this gift unless you only want it to be used for display and not worn.

A little disappointed
By
Jennifer O.

(Stafford Springs, CT) - October 12, 2009 (
See all reviews by this customer
)
I ordered this hat with two individuals on it - one of "Pop Pop" and one "Ella". I thought that the individuals were printed MUCH too small. The print and the characters really should have been larger for the amount of white that is showing. This is the first item that I have purchased from Personalization Mall that I didn't like, every other item has been fine.

I was so dissapointed with this head!
By
Alena M.

(Roswell, GA) - October 7, 2009 (
See all reviews by this customer
)
The pictures were so small and the hat has so bad shape. Plus only a choice of so white , instead a bit cream white color [or light blue] is not so good also. It was a gift for the Father's day. I almost sent it back to you, when Boyd told me we have not time deal with things like that. Nobody will never use that hat, it will be in the closet and after in trash shortly.

Sincerely
Alena McAllister
PS: I am still waiting for the box with a pumkin for Ashley and the correct sentence on the top!