Looks good
By
Kathryn X.

(Springboro, OH) - December 16, 2009 (
See all reviews by this customer
)
Haven't taken it out of the packaging yet, but the name on it looks adorable. I bought this for my two year old daughter as a stocking stuffer.

Adorable Pillowcases
By
Donna B.

(Shrewsbury, PA) - December 8, 2009 (
See all reviews by this customer
)
I was very pleased upon receiving my order of 4 different styles of your Sleepy Time Personalized Pillowcases. All were adorable, colors were very clear, and names were spelled correctly (although several were unique). I couldn't offer the rating of 5 stars since they haven't been washed yet, but the fabric appears to be of good qualify and I know our little ones will love them!

Personalization too rough for little faces
By
Jill G.

(Cortland, OH) - August 13, 2013 (
See all reviews by this customer
)
Item was as depicted in the photo; however, the decal/personalization area is too rough. I've washed the pillowcase multiple times...on the upside, the colors do not fade but, on the downside, the area is still too stiff.

Not the same as picture
By
Shopper

(Manteca, CA) - March 18, 2012

I ordered 1 girl & 1 boy pillowcase, for my ring-bearer & flower-girl. The colors & designs were the same, & they spelled the names right... but the actual images on the pillowcases I received were much smaller. They only took up the very middle of the cases. So to me I didn't get what I payed for. Also they are very stiff. I would suggest washing them maybe, before you give them as a gift.

Ok pillow case
By
Shopper

(ISLAND PARK, NY) - October 25, 2011
I rated the item just ok because the quality doesnt seem that great. the pillow case personalization is also quite rough to the touch...which isnt very comfortable to sleep on. if i paid less for it, it would make more sense to me, but it just seems kind of cheapo :) sorry.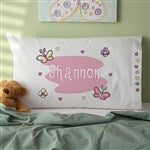 Cute but Stiff
By
Shopper

(Monterey, CA) - July 26, 2011
It looks really cute but the fabric is not as soft as I was hoping for on a child pillowcase. The graphic makes it really stiff. My daughter is 2 years old and I decided to put it away for when she get a bit older. I'm worried she may sweat on the design and get rash on her face. But other than that I think it is really cute and would make a special gift for any child.

Personalized pillowcases
By
Shopper

(Nutley, NJ) - July 22, 2011
The pillow cases a very quit and I'm sure my grandaughters will love them. The thing I wasn't please about are all the special care instruction to wash. Inside out low temp water & drying or hang to dry. I want care free care.

It's ok!
By
Joann G.

(Chicago, IL) - December 26, 2010 (
See all reviews by this customer
)
The print isn't as big as the picture looks. But the quality of the pillow case it's self is good.

Cute but too much $
By
Samantha C.

(Canada) - March 3, 2010 (
See all reviews by this customer
)
I really liked it but for one single pillow case with the small print on it, it was far too mush $. Print on case is smaller then it looks in the picture.

Not like the picture
By
Rhonda B.

(Morgan Hill, CA) - December 27, 2009 (
See all reviews by this customer
)
Actually, the drawing does like the picture. However, the size of the drawing is only half the size of the pillow. It does not fully cover the entire pillow sheet as shown. Very small graphics. Would have been much better and nicer if the picture covered the entire pillow case as shown in the example picture!! It really does look funny =(

NOT WORTH IT
By
Shopper

(Highlands, NJ) - April 19, 2011
Looks nice online. When I received it I was very dissapointed. It is a VERY rough fabric which I think is absurd considering it is for a child. Not worth the money at all!!!!

A Word of Warning
By
Shopper

(Cartwright, OK) - January 15, 2011
If you are ordering this item for a person whose name begins with a 'J', be sure you understand that in this font, only a lowercase 'j' is available. I was embarrased to give this pillowcase to my granddaughter, especially since I am a teacher and disapprove of beginning a name with a lowercase letter !
A waste of money !

Very cute, but.......
By
Diana A.

(Glendale, CA) - February 4, 2010 (
See all reviews by this customer
)
I purchased thus pillowcase for my daughter and I love the way it looks but the graphic is so rough that I washed it three times hoping it would get softer so she can sleep on it, but no it stayed rough. I with I had known because it was a waste of money. So think twice before buying it