Valentine Gift
By
Shopper

(Philadelphia, PA) - February 11, 2013
Fun gift for attention in the bedroom.

Cute, not practical
By
Shopper

(Bronx, NY) - October 23, 2012
I love the shorts! They look just like the photo and fit great. Unfortunately they are not function. My honey had a rough night with these ones because the fly is for decoration only.

good idea, fair quality
By
Shopper

(The Villages, FL) - February 17, 2012
Boxers are only of fair quality...thin cotton, size is just a bit tight...will shrink in wash. Not suitable for everyday wear, but it's the thought that counts!

Comfy boxers
By
Shopper

(Johnston, RI) - December 17, 2011
I bought these for my boyfriend for our 6 month anniversary this month. He says they are comfortable & cute; he likes them. However, he says that you CAN tell the words are just an iron on. I'm not sure if they are as nice as the price would seem to say, but they work as a sentimental guy gift. He says he'll be wearing them to our wedding. :p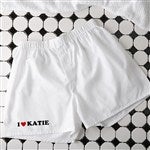 looks alright to me
By
Shopper

(Clovis, NM) - February 20, 2011
well, when i looked at from the picture here, it was really cool, but when i received it, the quality is just alright.

softer cotton would be nicer
By
Amy N.

(New Castle, PA) - February 2, 2010 (
See all reviews by this customer
)
As always, this order was easy and delivery was prompt. I would buy more from this website if the shipping prices were more reasonable. I paid over $5 to ship a pair of underwear. It's a little silly. But the product was cute and unique. The softer cotton boxers are nicer, though.

I like these
I wish these came in another color.

Embroidered vs. Printed
By
Shopper

(West Bend, WI) - February 20, 2013
I had ordered these boxers as a gift for a friend of mine last year, and the writing was embroidered, which looked GREAT! I now ordered one for my boyfriend for Valentine's Day and was quite disappointed that the writing is now printed on the boxers. Doesn't look near as nice as the embroidered!


A little disappointed
By
Shopper

(Alsip, IL) - September 24, 2012
I bought these for my boyfriend, and I really like how the design came out, but I am disappointed that the front flap doesn't open. That is the reason I bought these particular shorts because a competing online personalization store had basically the same product (cheaper price) but no front flap, and so since I saw the flap in the picture of this product, I decided to pay more for these because I thought that it opened (and that is what my boyfriend prefers). But it does not. And I had no way of knowing that. So safe to say I wasn't very happy to find this out. They also don't feel very comfy. They are very stiff, but maybe that will change after I wash them. It just wasn't what I was expecting

Nice idea, but fabric quality not so good!
By
Shopper

(Baton Rouge, LA) - June 24, 2011
While I liked the design, the quality of the boxer shorts should have been better for the price. The fabric is not soft. Also, you should offer extra-small sizes.

two stars
By
Shopper

(waltham, MA) - May 21, 2011
very thin material. a bit disappointing for the price.

Bummer!
By
Shopper

(Plainfield, NJ) - February 14, 2011
The waist band is itchy and very uncomfortable! MY husband wears a large and they were kind of snug after the first wash without over drying them. To bad
because they are really cute and silly! Maybe they can improve on them.

Men's boxer shorts for the groom
By
Shopper

(Lowell, OH) - August 12, 2011
I have order gifts from you for years.The orders were rec'vd within 1 week & I've loved all of my purchases.... until now. The boxers looked cheap & of low quality, and the I Love (heart) Jenny was an iron on that I could've done myself. I would never recommend them. Hate to give them as a gift, but at this price I will. Sad thing, another person is going in with me in buying the gifts. I told them I loved everything I'v recv'd from Personalization Mall....now I have to show them these ! Buyers should go to a store, buy a pr of cheap boxers & do the ironon themselves. Dissapointed:(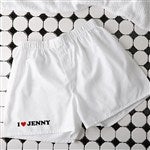 Just an Iron-on
By
Shopper

(Ardmore, PA) - February 17, 2011
I was VERY dissatisfied with this product. It was just an iron-on decal on cheap boxer shorts. I could've made this better myself. This purchase makes me question the quality of their products now.

Poor Quality
By
stacie A.

(cincinnati, OH) - February 9, 2011 (
See all reviews by this customer
)
Very disappointed with this item. Boxer material is very thin. They are completely see through. The personalization is a computer printed iron-on, you can see the square shape of the iron-on cut out behind the writing. Definatly would not purchase these again. I would return if it were possible.

VERY DISAPPOINTING!
By
Zakieh O.

(SUNRISE, FL) - February 2, 2010 (
See all reviews by this customer
)
Very bad quality and the material of the item are poorly made. I am always happy with everything I order from this company, but these boxer shorts were very disappointing!! I don't recommend it to anyone, especially if you are getting it as a gift; it looks like you bought the shorts from a dollar store and decided to personalize it!
And remember no matter how unhappy you are with the product; they are not returnable so basically you are stuck with it and in my case I order two because I listened to the previous reviews!
Find another gift!