Very pleased
By
Shopper

(chesterfield, TX) - May 10, 2013
I ordered this mug as a Birthday present for my father, from my daughters. I had "#1 PAPA" engraved and "We Love You!" with their names underneath. He LOVES it! It came super fast, with standard shipping too. Very pleased with the service and product.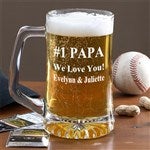 ring dunk mug
By
Shopper

(Keller, TX) - April 21, 2013
Great mug.. Arrived exactly as described. Solid look and feel. Engraving well done.

Great product & Gift
By
Michael M.

(Jackson Heights, NY) - April 15, 2013 (
See all reviews by this customer
)
Product was shipped and received very quickly. The mugs were very good quality, and engraving was very nicely done. Exactly as described and shown on website. All my groomsmen loved them.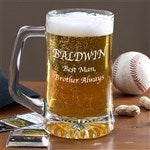 Beer mugs
By
Shopper

(Orlando, FL) - April 13, 2013
I love the mugs. Great gift for our groomsmen to our upcoming wedding in August. Thank you for not charging a fee to get them personalized. All the other so-call places, wanted to charge to have them personalized.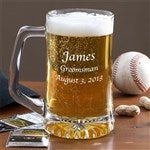 Priceless gift...
By
Deborah S.

(Greenville, NC) - April 4, 2013 (
See all reviews by this customer
)
We just received the oversized beer mugs for our groomsmen and we are so pleased. The quality is more than we expected for the price we paid. The etching was AWESOME. We have seen etchings on other mugs and they were of poor quality but not these. The delivery was fast and we are super excited to share these with our wedding guests! :)

Great Beer Mug for Groomsmen
By
Shopper

(HUMBLE, TX) - March 25, 2013
Bought this mugs for our wedding party and had to order more because the groom loved them. They are big heavy mugs, much better than what we were expecting.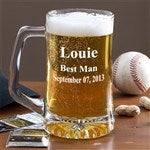 great groomsmen gifts
By
Shopper

(Granger, IN) - March 25, 2013
Mugs are going to be great gifts for my groomsmen. They look good. If anything was to be changed I wish the font was a little bit more bold but they still look great.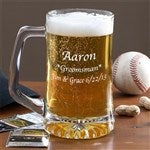 Better then thought
By
Gina K.

(Mount Prospect, IL) - March 9, 2013 (
See all reviews by this customer
)
I was just amazed at how quickly this item was received. It arrived just as the description and engraving was perfect.I would buy again without question.

Awesome Mug and great price
By
Shopper

(Seymour, WI) - March 8, 2013
I purchased these mugs for the wedding party and they are very sturdy, heavy mugs. Awesome design. The white writing was a little hard to read at first but they do look very nice.

Happy Customer
By
Shopper

(Potosi, MO) - February 6, 2013
LOVE these mugs...they look great and the got delivered really quick...my fiance and his groomsmen are gonna love them...would recommended these mugs and this company to anyone...very happy!!!

Best man
By
Pearl Y.

(Clifton Park, NY) - January 2, 2013 (
See all reviews by this customer
)
heavy and sturdy! Great gift for a guy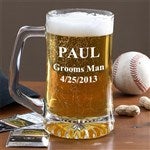 Great Gift
By
Laura A.

(Anchorage, AK) - December 10, 2012 (
See all reviews by this customer
)
My Son-in law is a beer drinker and this mug is perfect.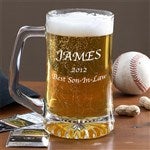 Cool beer mug.
By
Katarzyna J.

(Schaumburg, IL) - December 9, 2012 (
See all reviews by this customer
)
I made this mug for a real beer lover. Turn out pretty cool. Look great and it's really large.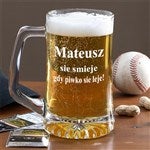 Nice mug and nice service.
By
Shopper

(Raleigh, NC) - November 6, 2012
I ordered it as a graduation gift for my friend and it's a really nice bear mug.
It first came to our house broken... So I called Personalization mall and they sent us a new one within two days! I'm impressed by their good service.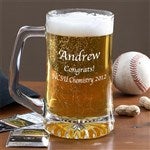 GREAT 21st B-day GIFT!!!
By
April G.

(Chesapeake, VA) - October 2, 2012 (
See all reviews by this customer
)
I bought this for my cousin's 21st b-day and he absolutely LOVED it!!!! He used it all night long! it's made very nicely and the personalization looks GREAT!!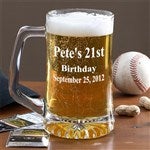 Groomsman and Best Man Gift
By
Shopper

(harlem, GA) - September 17, 2012
Loved, loved, loved them. The quality was outstanding. Would definitely recommend.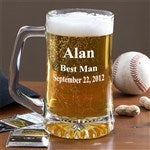 GREAT Present!
By
Shopper

(Creedmoor, NC) - September 11, 2012
Because my brother is walking me down the aisle next month I wanted to make sure I got him something to thank him. This was PERFECT!!! You can customize it any way you want to!

Groomsmen Mug
By
Shopper

(Alsip, IL) - September 7, 2012
The Groomsmen Mug was a big hit with my friend...the personalization was perfect and delivery was quick.

This was my second purchase from Personalization Mall, both experiences were exceptional.

Beer mugs
By
Kelly L.

(Mokena, IL) - August 31, 2012 (
See all reviews by this customer
)
Great product! They look awesome, can't wait to give them as gifts!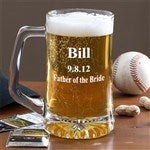 We purchased for my two brothers...
By
Shopper

(West Keansburg, NJ) - August 28, 2012
As a small thank you for walking me down the aisle and being a part of our special day. This mug is beautiful; from the quality of the craftsmanship to the
engraving, absolutely flawless.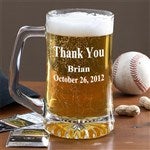 Great Gift Idea!!
By
Amanda M.

(Cheektowaga, NY) - August 15, 2012 (
See all reviews by this customer
)
We ordered two of these beer mugs for our fathers for our wedding. When they came in they looked great. They were a little bigger then I thought they would be but they are perfect. The shipping was fast, the etching looked great and I can't wait to give them to our dads.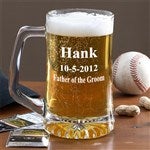 heck, the ladies will love this too!
By
Haig K.

(Fort Lee, NJ) - August 1, 2012 (
See all reviews by this customer
)
my nieces loved this as an anniversary and a "teacher of the year" award!
Mine took a fall from the freezer and I immediately reordered...kh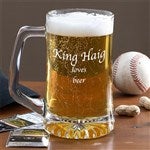 Solid Mugs for my Groomsmen
By
Boyd Y.

(San Diego, CA) - July 26, 2012 (
See all reviews by this customer
)
These mugs were tough, thick, and made to last. It's cool and the engraving is perfect. The mugs came in about a week. Awesome Gift. Thank you for making this mug so cool. I also bought a 6-pack of beer to go with each mug as a pair. I got the personalized opener and received both orders together at the same time.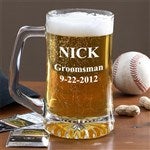 Great Groomsmen gifts!
I couldn't believe how durable these glasses were! great quality for price!

Best Service Ever!
By
Peggy M.

(Freeport, IL) - July 1, 2012 (
See all reviews by this customer
)
The mugs were exactly as described. Very good workmanship on lettering. The fast delivery service was beyond belief.

Great gift for dad on fathers day
By
Katherine T.

(Keller, TX) - June 22, 2012 (
See all reviews by this customer
)
My kids & I picked this out for my husband. He loves it! I looked at other companies and reviews complained that the personalization did not hold up. Not a concern for this product. Glass is very thick and sturdy. Great quality & sentimental value.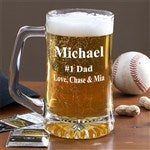 Pleased
By
Shopper

(Topeka, KS) - May 8, 2012
The mugs are made of heavy glass. The personalization looks very professional. I would purchase this item again.

Perfect!
By
Joan Z.

(Johnsonburg, PA) - May 8, 2012 (
See all reviews by this customer
)
I got 10 of these for my wedding for my bridal party. They were so nice and durable the names were clear an the wording was the perfect size. I couldn't believe how big the mug was when i got it out of the box. We also received them in less then 2weeks which was great considering i waited til last minute to order them! I could not be happier an my bridal party is going to love them!

EXACTLY what we wanted!!
By
Ann L.

(Houston, TX) - April 28, 2012 (
See all reviews by this customer
)
These glass mugs are very substantial and weighty. This is not a flimsy, light- weight glass mug. These will last!
The engraving looks great! It looks exactly like the photo...thick and bold.
The wedding party will love these.
I was not familiar with this website. I went by the reviews, pricing, and photos.
I am very pleased, and I am VERY picky. Ask my son. ;)

Very happy!
By
Shopper

(Louisville, KY) - April 20, 2012
Great purchase for our groomsmen. We just used their last name on the mugs and it looks very slick. Great quality glass and engraving. Big mug but not too big. Great gift! Great price! Was delivered within 3 days even with regular shipping!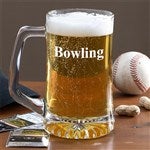 Great Gift
By
Jennifer J.

(Warren, MI) - April 16, 2012 (
See all reviews by this customer
)
I bought 2 of these for my brother and brother-n-law and they were a big hit! They looked GREAT!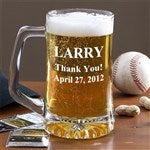 Great Gift!
By
Stephanie C.

(Van Nuys, CA) - April 2, 2012 (
See all reviews by this customer
)
I purchased 3 of these mugs for our groomsman and bestman and theya re just graet gifts! the mus are definatley sturdy and not cheap, its glass, looks very elegant and I know they will love them! I was very pleased with how fast I recieved them and would definatley reccomned!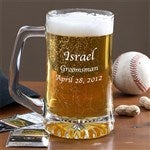 We love them!
By
Shopper

(fort Walton Beach, FL) - March 26, 2012
We ordered these for our Groomsmen and our fathers, and we love them!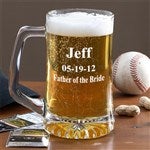 Awesome
By
Shopper

(Rutherford, NJ) - March 13, 2012
This Mug was extrememly Nice! I loved It & I am sure My fiance Best Man is gonna love it!! It really is a great Mug & the printing is perfect!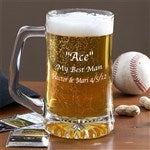 Groomsmen gifts
By
Sharon F.

(Seguin, TX) - March 5, 2012 (
See all reviews by this customer
)
These mugs were exactly as advertised. . .. They were large, the personalization was done perfectly and they were shipped quickly and packaged very carefully so there was breakage! We had gone to a store in the mall to order some mugs and their charge for personalization was outrageous. This is the fourth time I've ordered from P.M. And each time the orders were perfect. Thanks!!!

Personalized Beer Mug
By
Emily G.

(Australia) - February 21, 2012 (
See all reviews by this customer
)
The beer mug was a lot better than I expected. It was heavy and good quality, didn't look cheap and the personalized text on it made it a perfect present. I also purchased the gift box with it and was very happy with the quality of that also. Was very easy to order and was delivered very quickly considering it came from America. Will definitely recommend to friends and family.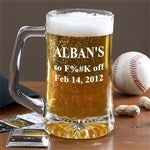 PERSONALIZED BEER MUG
By
Shopper

(Maumee, OH) - January 21, 2012
THE BEER MUG LOOKS GREAT AND WAS DELIVERED QUICK. THANK YOU!

Highly Recommend
By
Ryan P.

(Monterey Park, CA) - January 11, 2012 (
See all reviews by this customer
)
My fiance and I are getting married on May 19, 2012, and we were looking around for gifts to give to our groomsman.
I found this and I had to order it, it was exactly what I was looking and the quality is amazing. I highly recommend this item, you will be pleased.

Also the Price was just right .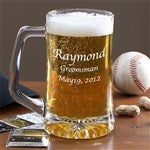 Awesome
By
Shopper

(hoboken, NJ) - December 19, 2011
I got the mug as a secret Santa present for a group of friends and Everybody loved it!!...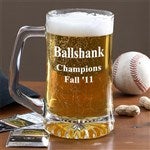 good quality
By
sarah W.

(lancaster, OH) - December 18, 2011 (
See all reviews by this customer
)
My little brother got this for his 21st birthday and was very pleased with the quality and weight of the mug. He also said the engraving was good as well. Ive ordered from other websites where you can almost rub off the "engraving" but this is very sturdy.