Great gift!
By
KIMBERLY S.

(summerville, SC) - May 24, 2011 (
See all reviews by this customer
)
Great gift for everyone! Just wished it was a little bigger!!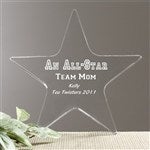 great gift
By
KIMBERLY S.

(SUMMERVILLE, SC) - May 11, 2011 (
See all reviews by this customer
)
great gift for everyone, just wish it was a lot bigger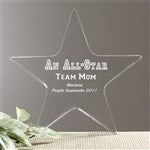 allstar coach award
By
Shopper

(Syracuse, IN) - March 3, 2012
I was impressed with the quality of this star also i ordered it and received it very quickly. It is really nice and I will not hesitate to order from you again.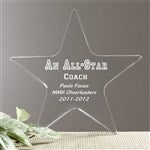 Great product
By
Shopper

(Benson, NC) - April 20, 2014
Purchased this product to give to school coaches at the spring athletic banquet. I ordered 2 for the basketball coaches. They turned out great. I am always pleased with products and service.

Very nice
By
Kathy K.

(Monee, IL) - December 6, 2009 (
See all reviews by this customer
)
Looks great, nice size, very fast shipping. Will definitely use again.

Neat
By
Shopper

(Wells, ME) - March 31, 2013
bought for jr. groomsman, Not what I anticipated thought it was going to be a bit bigger and thought it was glass. What everything else about it is nice.

pay attention to the size
By
FRANK H.

(WEST BLOOMFIELD, MI) - November 26, 2012 (
See all reviews by this customer
)
Was a bit disappointed to receive the item and notice how small it was.
Pictures appeared larger and did not notice any measurements any where.
Personally I think for the listed price this is a poor value.

It was picture pefect!
By
Dawn F.

(Fitchburg, WI) - December 28, 2010 (
See all reviews by this customer
)
The item was just like the website pictured. It was in perfect condition, no nicks or scratches. The etching was perfect, clear, and precise! The boys ordered it for their father and they were proud of the gift they chose!

sjstafford, tx
By
Sherrie J.

(Stafford, TX) - August 26, 2012 (
See all reviews by this customer
)
Purchased as a thank you for a coworker. The ideal gift for the occassion. The shape, the size, the amount of space for the message, totally satisfied a demanding shopper. Would highly recommend.

Perfect Coach Gift
By
Shopper

(Norwood Young America, MN) - November 15, 2013
I was very happy with this product. It turned out really nice and I highly recommend this for a gift. The best thing is that it is not glass so it won't break but yet looks just as beautiful as glass. The engraving shows up very well too.

Perfect Teacher Appreciation Gift!!!
By
AJ Y.

(Chula Vista, CA) - May 16, 2010 (
See all reviews by this customer
)
I was looking for something unique and different to show our appreciation for a SUPER TEACHER. This was more than what I had expected to receive. It's absolutely beautiful and a true eye catcher. The personalization and being able to have it engraved topped it all. The teacher was thrilled and you could see in her eyes that it was a gift that would keep on giving. So if your looking for a stunning and charming gift this is it. The warmth in the smile of those that receive it will stay with you forever.

Truly an All-Star
By
suzanne H.

(san rafael, CA) - May 24, 2010 (
See all reviews by this customer
)
Over the past couple of years I have purchased several of these stars to give as awards, thank yous, and acknowledgments from my school. Everyone from students to parent volunteers to Board Chairpersons are thrilled to receive them. They look much more expensive than they are.
Never discontinue them!

personalized award
By
sheron G.

(Brooklyn, NY) - July 2, 2010 (
See all reviews by this customer
)
my 6 year old loves her teacher who was leaving her school to start a new life in another state and she just wanted to let the teacher know how much she cared and she chose this one for her special teacher and the teacher loved it. the package came on time and all went well.