Simple but Perfect
By
LaDarci S.

(Amite, LA) - April 14, 2014 (
See all reviews by this customer
)
My dsughter lives with her father upstate, I purchased the shirt for her, when she got it it she was so ecstatic, best thirty bucks I ever spent!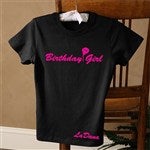 Very Happy
By
Laura L.

(Plant City, FL) - March 18, 2013 (
See all reviews by this customer
)
what a great birthday present

Classy "40th" Birthday Shirt
By
Shopper

(Chicago, IL) - September 22, 2012
Well made. Quality material. Fun birthday gift.

It was a HIT !
By
Shopper

(Hinsdale, IL) - October 29, 2011
I sent this to my daughter who was turning 21 while away at college - she wore it to her sorority party on her birthday and had so much fun; the pictures were so cute and the pink color I was able to choose is also her sorority color - even better! Always great ideas from PMall!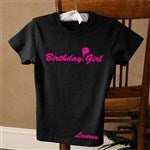 Looooved it!
By
Naomi B.

(Stafford, TX) - September 23, 2011 (
See all reviews by this customer
)
I bought this for my sister's 24th bday, and she just looooved it! The green colored that was offered just happens to be her favorite color. Now it does run small BUT streches, so the next size up would be the best. Great shirt for any teen girl or ladie!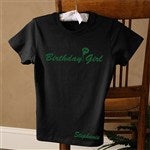 Birthday Girl loved this
By
Shopper

(North Arlington, NJ) - June 22, 2011
The T is great ! My daughter wore this T on her birthday out to dinner - she thought it was so cute - so did I :)

Perfect for teens!
By
Lisa M.

(Channelview, TX) - November 24, 2010 (
See all reviews by this customer
)
I purchased this in black with hot pink lettering for my 14 year old to wear on her birthday. She loved it! FYI, the sizes run small. My daughter wears a small but I purchased a medium. It fit her perfect!

Best Birthday Gift
By
Dorothy W.

(New York, NY) - October 8, 2009 (
See all reviews by this customer
)
The quality of this shirt cannot be beat, I loved it the moment I felt it. My daughter did not want to take it off though her birthday passed. Will get another next year.

Bday t-shirt
By
Michelle R.

(Cairo, GA) - October 8, 2009 (
See all reviews by this customer
)
Love the shirt! I got black shirt with hot pink writing, the pink was the color I had wanted. Love it!

Nice arrived after her birthday
By
Jocelyn R.

(Santa Monica, CA) - May 16, 2014 (
See all reviews by this customer
)
I Ordered it for a friend on her birthday. But arrived late so I had to give it after her birthday, kind of dissapointed.

sweet 16 surprise
By
Shopper

(floral park, NY) - September 18, 2012
My daughter absolutely loved the t-shirt. I had gotten it for her for her 16th birthday, she is planning on wearing it the day of her birthday. I would highly recommend it!

Sizes run small
By
Shopper

(Garner, NC) - July 24, 2012
My daughter is petite & wears a size 7 & 8 in tops. So I bought the size 6-8 t-shirt. I figured the next size up (10-12) would be way too big. The 6-8 was so small. She couldn't wear it. The material was soft to touch. But, be sure to buy larger.

Runs small
By
Shopper

(Jefferson City, MO) - October 4, 2011
Like others have said, this runs very small. I ordered an XL for someone who would probably wear a medium or large and I'm HOPING it will fit her. It looks pretty small but it is very cute and seems well made.

shirt size
By
Shopper

(Philadelphia, PA) - April 15, 2011
the tee shirt was adorable however the size was misleading. the adult medium is more like an adult small. regardless of it being a fitted tee, this item clearly runs smaller than size stated.

good
By
Natashia H.

(Landover, MD) - November 13, 2009 (
See all reviews by this customer
)
good material

Size
By
Shopper

(West Barnstable, MA) - May 16, 2012
The thirst I bought my daughter for her birthday came promptly in the mail. She did not wear it and it remains in the bag because it was too small. My advice is to order up.

Cute but small...
By
March B.

(Washington, DC) - February 4, 2011 (
See all reviews by this customer
)
I ordered this tee expecting to wear it for my birthday party but couldn't because it was too small. It fits more like a junior than an adult in size. I used the tee however, by letting my guest sign the back with fabric markers I purchased from the craft store :-) It's a cute shirt...just remember, it runs very small. I ordered a XL but it fits like a M-L so order a size up!!

Nice Shirt - Very Small
By
Brenda Z.

(Ravenna, OH) - January 6, 2010 (
See all reviews by this customer
)
I ordered an adult small and it appears to be about a child's size 8. It would have been perfect if it would have been a little larger.

Chel T
By
SANDRA B.

(ROSEBURG, OR) - January 4, 2010 (
See all reviews by this customer
)
quality is good and gift bag is great BUT the size is too small -- should be labelled extra small. my neice is a small person, but even this shirt is too small for her. wish I could return to get bigger size.

ok
By
Jenny J.

(Marshalltown, IA) - September 21, 2010 (
See all reviews by this customer
)
I wish I would have been able to see a picture of my order before I purchased as the purple was too dark in color for the black shirt & it makes it hard to read.

Wrong indication of size
By
Shopper

(New Canaan, CT) - January 30, 2013
This t-shirt is pretty but the writing on it is small and the t-shirt is small. I ordered an adult medium that looks like a child small. Did not fit my 60 year old sister whose 130 pds. And the name was way at the bottom and barely shows.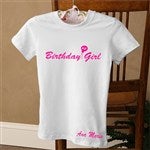 Way small
By Shopper (AIKEN , SC) - February 14, 2011
Order this item as a surprise for my mother-in-law to wear at her 50th birthday celebration and had the item mailed to her. Based on the prior reviews I ordered the largest size I could which was the XL- This could have fit my 7 year old daughters- AWFUL-- The shirt looked great but now I was out the $ of the shirt and the express shipment to have the item arrive in time and STILL UNABLE TO USE IT--What a waste of good money - had the sising been more truw to a real XL then this would not have been a problem.

Please read the reviews - the company needs to adjust this item.

run real small
By
christelene M.

(houston, TX) - August 9, 2010 (
See all reviews by this customer
)
I was very disapointed in this item. I read some of the reviews and saw some say it ran small but I did not think this small. My daughter wears a med so I got an extra large and it was still to small. I got it so my daughter could wear it for her 31st birthbay party. I will be returning it. We were very disapointed

Way too small, thin, and overpriced
By
Arthur S.

(Mesa, AZ) - June 18, 2010 (
See all reviews by this customer
)
I ordered my daughter three different shirts for her birthday. Two of her shirts I ordered with personalized messages and photos which looked great. This shirt is very disappointing. It is very thin and is much too small. Unless you want your innocent daughter to walk around in a skin tight, thin blouse, you might want to order another item. All of the other items I bought on this site are generously sized. This is way too small and thin.