Top Quality
By
Shopper

(Jackson, MO) - September 24, 2011
I was worried about the quality for no reason. This looks great and like it cost a lot more than I paid.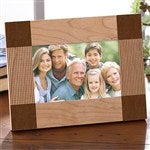 Personalized frame item #1342
By
Tricia R.

(Louisville, KY) - September 13, 2011 (
See all reviews by this customer
)
I ordered this frame for my neighbors 25th wedding anniversary. Our neighbor turns wood, and the frame was a big hit with them. I ordered it and received it within 7 buisness days. it was great! You can bet I will order from Personalization Mall again! Thank you for doing a great job!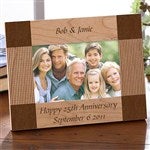 Great product and sweet personalization
By
Shopper

(Hickory Creek, TX) - July 8, 2011
This was a sweet going away present for my son for his first best friend and was delivered expediently. The customization of 'My First Best Friend; My Forever Friend' with the boys names was so well done and sweet that it brought tears to both mommies' eyes. Love getting such a personalized high quality gift so quickly.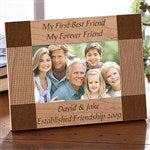 Very Satisfied with Product!
By
Margaret W.

(Murrieta, CA) - June 21, 2011 (
See all reviews by this customer
)
The workmanship on this personalized frame was perfect. I would
recommend this company to anyone who is looking for this type of
product.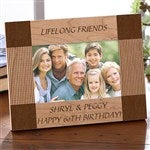 Perfect gift for dad...
By
Lynn S.

(Elgin, IL) - June 13, 2011 (
See all reviews by this customer
)
I am planning to present this frame to my Dad when he comes in to visit from Florida next month. I am planning a family party and should have adequate pictures for the frame. I thought the personalized frame was a nice touch. When he returns to Florida, I hope Dad will have nice memories when he looks at the picture frame. The quality is always very good. I intend to buy more frames in the future because everyone just seems to love them.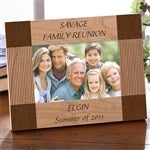 It's a great frame for a gift.
By
Shopper

(Roselle, IL) - April 11, 2011
I loved the frame that I got for my friend that I got one for myself as well.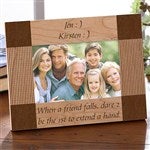 personalized frame
By
Johnnie Faye M.

(Ocilla, GA) - March 23, 2011 (
See all reviews by this customer
)
I am so happy with the purchase of my frame! My father recently passed away. I had a picture of him and I together at his last birthday. I had this frame made and put our picture in it. I have it on my kitchen counter and look at it every day! It is very special! I have ordered other products from you also. I love everything I have ordered! Thanks so much!!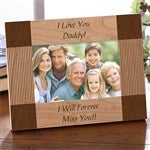 Beautiful Quality!
By
Meighan E.

(Moody, AL) - March 22, 2011 (
See all reviews by this customer
)
This item turned out to be a beautiful gift for my best friends birthday. Its made of quality, real wood and the carvings are perfect! the wood isnt split at all and the words are so clean cut! Im very impressed with the quality of the entire product. I would recommend it to anyone!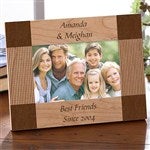 Personalized Frame
By
Shopper

(allegan, MI) - March 14, 2011
Incredible. I can not wait to give it to my sister after our spring break trip next month! Quality is great... fantastic product at a great price!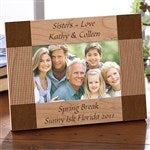 Fast shipping, great frame
By
Shopper

(Midlothian, VA) - March 11, 2011
I looked all over the internet for a frame for South Africa...and they apparently don't exist. So I ordered this frame with South Africa on it...it came super-fast, and the quality is excellent.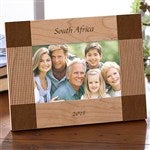 Print was too large...
By
Shopper

(Ipswich, MA) - December 7, 2013
The quality of the frame was good. I thought the engraving was too large for size of the frame.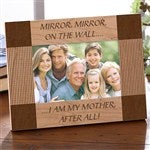 Love them!
By
Tanya B.

(Great Falls, MT) - October 11, 2013 (
See all reviews by this customer
)
I purchased 4 of these frames as Christmas gifts for a group of friends, and I just love them. They are of excellent quality and perfect gifts. Just add the picture.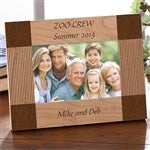 Disappointed
By
Danette G.

(Utica, MI) - September 9, 2013 (
See all reviews by this customer
)
I was disappointed with the staining of the wood. The machine that did the carving left marks in the dark areas of the frame. Didn't have time to get another gift, so had to go with this. I love the idea, but the mechanics was poor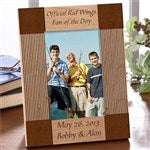 Absolutely beautiful!!
By
Laura H.

(Poultney, VT) - September 7, 2013 (
See all reviews by this customer
)
I purchased this frame for friends who had recently lost their dog, who was definitely a member of the family after 17 years. I loved the fact I could write my own message and actually SEE what it looked like before I placed my order! I am giving it to them as a Christmas gift, and I'm sure they will be very pleased, as I am. It is really a beautiful and high quality frame.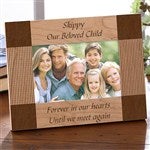 Personalized wood frame
By
Laura A.

(RESCUE, CA) - July 21, 2013 (
See all reviews by this customer
)
I was very pleased at the quality and presentation. It was pleased to give it as a gift.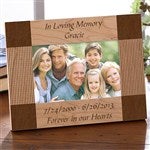 Great Quality
By
Shopper

(Potterville, MI) - June 10, 2013
The frame is beautiful and looks even better in person. I got this frame engraved for my dad for father's day and put a picture of him and I at my beach wedding in it. The wood works well with probably any picture, but I think it coordinates especially well with outdoor pictures. I am never displeased with personalization mall.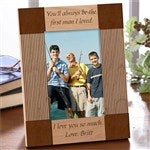 beautiful frame!
By
Karen M.

(Deville, LA) - May 31, 2013 (
See all reviews by this customer
)
This turned out better than expected. Very nice!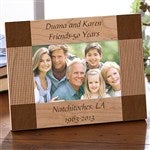 Personalized frame
By
Michele F.

(Philadelphia, PA) - April 4, 2013 (
See all reviews by this customer
)
I am thrilled with the service and quality that Personalization Mall offers . I was able to customize this frame for a gift that is unique . Also, it was delivered in just a matter of days . Thanks for the great service !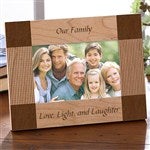 Different & Nice
By
Joan M.

(Gloucester, VA) - March 1, 2013 (
See all reviews by this customer
)
I love the various colors & textures in this frame, and the personalzation is good, too. Delivery prompt and it arrived in fine condition. Recommend this
frame.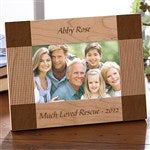 FRAME
By
Shopper

(CYPRESS, CA) - January 22, 2013
Love making these frames for special events...they came out great and were delivered quickly.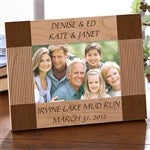 Great gift for grandparents/great grandparents
By
Shopper

(Mokena, IL) - December 30, 2012
I like that you can personalize this frame. I just wish there were more frame options & sizes in terms of material. This wood is basic but it's still a great gift. Shipping was fast too!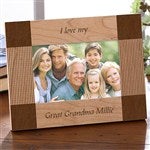 Ordered 5 Picture frames and they were sooo amazing!!!
By
Shopper

(Loda, IL) - December 28, 2012
I ordered 5 picture frames as christmas gifts, and was so amazed at how great they looked!! Everyone loved them!!! i will be ordering more from this site again. I cant beleive how beautiful they looked, and they also had fast shipping! Thank you so much!! Strongly recommended!!!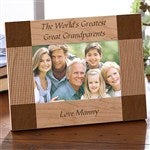 Personalized Birthday Frame
By
Shopper

(Elkton, MD) - November 10, 2012
This makes a great gift for a very special birthday! It is good quality and workmanship and a nice personal touch.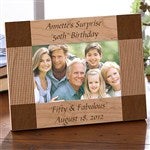 Great picture frame!
By
Mandie S.

(Clifton, VA) - October 23, 2012 (
See all reviews by this customer
)
We love this picture frame. We needed a frame for an 8x10 family photo taken on the beach. This frame is perfect - certainly not cheap wood and we could smell the work to carve the wood. Love it!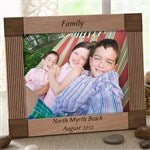 Couldn't Ask for Better!
By
Shopper

(Erie, PA) - September 18, 2012
As always the product I ordered came in a timely manner and was perfect. Everything about the frame and my personal message were beyond what I had expected.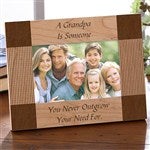 Beautiful!
By
Natalie M.

(Elgin, IL) - August 20, 2012 (
See all reviews by this customer
)
This frame is beautiful! Excellent quality! I have ordered several times from Personalization Mall and have always been so happy with what I have received! They ship right away too! Thank you Personalization Mall! I am a forever customer!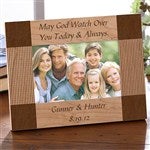 awesome picture frames
By
Cynthia L.

(Dubuque, IA) - July 16, 2012 (
See all reviews by this customer
)
We have purchased 4 of these now in the past month, love them all. Very fast service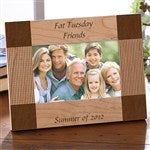 great grand kids gift
By
Shopper

(Redwood City, CA) - May 1, 2012
I ordered this for my great grand children to celebrate the day they were being dedicated at church. We took a picture and developed it on the spot to put into the frame. We put it on the food table. It was a wonderful accent and most appreciated by everyone.
Love these products. We have ordered frequently and never been disappointed.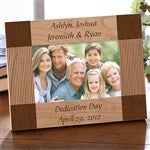 Personalized Picture Frame
By
Karen S.

(Huntingburg, IN) - April 27, 2012 (
See all reviews by this customer
)
I just received my picture frame and it is awesome. Got it really quick and it looks expensive for the price I had to pay for it. Thanks for getting it here quickly and for the great quality. I love it!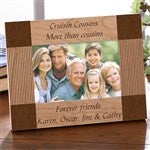 Unique and Memorable
By
Shopper

(Manteno, IL) - March 16, 2012
Beautiful, unique, personalized frame to help remember a special trip.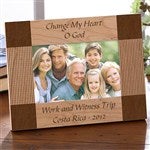 Perfect!!!
By
Melissa K.

(Crofton, MD) - March 5, 2012 (
See all reviews by this customer
)
Quality is superb, exactly as ordered, arrived quickly. I'm very happy with my purchase.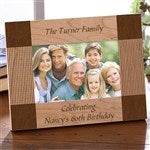 Pleased again
By
REBA H.

(TULSA, OK) - January 16, 2012 (
See all reviews by this customer
)
I have ordered this frame before, and will continue. The quality is good, and it looks very nice. The printing/lettering looks great and professional. Makes a great gift. I needed to participate in a gift exchange aboard our next cruise...this was the perfect unique gift to take. I added the gift box with this one, and am pleased with it also.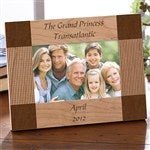 Picture Frame Wood
By
Shopper

(Bellmore, NY) - January 16, 2012
I order this frame every year to see how my grandboys grow and every year I am so satisfied with the product and delivery. Thanks!!!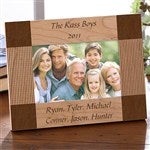 AWESOME
By
Charlotte L.

(Sunnyvale, CA) - January 10, 2012 (
See all reviews by this customer
)
These were even better than I expected. I'm always so delighted with the quality and professionalism, not to mention how quickly they always arrived. I will continue to order again and again and again.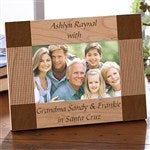 Love this personalized frame
By
Caroline H.

(San Diego, CA) - April 16, 2010 (
See all reviews by this customer
)
I love the tasteful personalization on this wooden frame. It is a wonderful way to display such a precious moment in time. I have ordered a few of these personalized frames and given them as graduation gifts and also bought a frame or two for myself. Great quality.

My order
By
Joshua T.

(Kingston, OH) - February 26, 2010 (
See all reviews by this customer
)
I am very thrilled with my order. My order was quick and easy and delivered very quickly. The frame is of high quality and detail. I would recommend this to anyone! Worth every dollar.

Perfect Godfather Gift
By
shannon S.

(Macomb Township, MI) - September 7, 2010 (
See all reviews by this customer
)
This made a great gift for my son's Godfather. I can't believe how fast the shipping was too.

Strongly recommend to anyone!
By
Larissa N.

(Hicksville, NY) - February 23, 2010 (
See all reviews by this customer
)
Love it and so did the recipient!

Great
By
Jason F.

(Laramie, WY) - April 20, 2010 (
See all reviews by this customer
)
The frame shipped immediately and came exactly how I wanted it. This is a great idea for any occasion and the prices are very reasonable.

CREATE PERSONALIZED FRAME TO PERSONAL PREFERENCE!
By
Patricia J.

(Hopewell Junction, NY) - April 7, 2010 (
See all reviews by this customer
)
This picture frame is BEAUTIFUL! I personalized it for a
"circa 1920" picture; it was so nice to have the option to have it engraved for my personal preference! If your picture doesn't fit the frame size, you can either enlarge/decrease the picture size OR purchase a matt to frame the picture under the glass.

Hope this item is "a keeper" for Personalizationmall.com!