Great
By
Elizabeth F.

(Rockledge, FL) - August 23, 2011 (
See all reviews by this customer
)
Well made, nice fluffy fabric! Big hit at my daughters bridal shower. Thank you!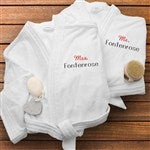 Plush Robes...
By
Joleen K.

(Elkhart, IN) - August 1, 2011 (
See all reviews by this customer
)
Perfect for a couple. This is the second time I have ordered these for wedding presents and am proud to give them. It's hard to believe you can get such great personalized gifts with such quick delivery.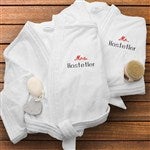 Very pleased with my order
By
Valencia S.

(Baton Rouge, LA) - August 26, 2013 (
See all reviews by this customer
)
I order this set on a wed for my sister n law bridal shower that was on the following Sunday, I chose one day shipment so that the package will arrive that friday, the delivery was very accurate and the quality of the product was awesome. I will recommend this gift to anyone for any occasion, the monogram was perfect and brought life to my sister face.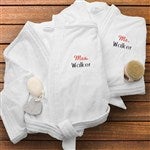 Awesome Gifts!!
By
Annette T.

(Huntington, NY) - June 20, 2013 (
See all reviews by this customer
)
I purchased these as a bridal gift and they were a hit! Beautiful plush robes. Everyone was asking me where I got them so I told them!!

OMGeeee!!!! Absolute PERFECTION!!!!
By
Helena B.

(Wailuku, HI) - December 4, 2012 (
See all reviews by this customer
)
These robes are BETTER than I could EVER have hoped for!!!! I don't know how Personalization Mall can offer such HIGH QUALITY robes with impeccable embroidery at a price that you couldn't even get one robe like this for. I surprised my GROOM with this gift by getting it to the resort prior to our wedding with instructions for them to place them on the bed of our Honeymoon Suite with names displayed. My brand new husband was BLOWN AWAY...and actually thought the resort had created them for us as wedding gifts. We use them frequently. They are always hanging in the master bathroom as a fond reminder of our special day -and after over 3 years, they are still PLUSH, SOFT & PERFECT! -- The only thing I would do differently is that I would have put MY first name on my robe. I was so excited to be the "Mrs." that I used his first name on both robes. ** BONUS -- the resort saw us in our robes and was so impressed they were thinking of offering these robes to their guests!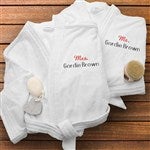 Worth every Penny
By
Shopper

(dallas, TX) - August 2, 2012
Received the bathrobe sets earlier than expected. Love the stitching work on the robes and they are indeed of high quality. My fiance and I had ordered a set from amazon and we weren't too thrilled with the quality, so we sent it back. This personalized set we love and look forward to taking them along with us on our honeymoon.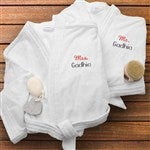 Monogramed Robes
By
Gaylene S.

(Rockford, IL) - June 15, 2012 (
See all reviews by this customer
)
Very happy with the robes. Only thing I wished was that the fonts for Mr/Mrs and the last name were the same. The robes, monogramming and delivery were top notch! A great wedding gift which went on the Hawaii Honeymoon:)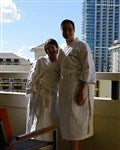 Our Anniversary...all comfy and cozy!
By
Shopper

(McKinney, TX) - June 13, 2012
Purchased these robes for our Wedding Anniversary...When I received them I was very impressed with the quality. They are spa quality and so comfortable. Took them with me on our little getaway..It was a surprise gift for my husband. He really liked it...the Mr & Mrs..made it more personal....can't get him out of his :). Really happy with this purchase ,l highly recommend to others. I will be purchasing more items @ Personilaization mall in the near future.

Happy Customer :)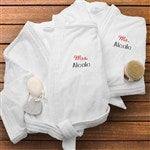 Mr & Mrs Embroidered Robe Set
By
Kathleen W.

(Pawtuicket, RI) - June 12, 2012 (
See all reviews by this customer
)
Don't hesitate to make this purchase! The quality of these robes is outstanding!
I am a first time buyer from this site and was so very pleased with the service I received from beginning to end. I'm sure the bride & groom receiving this gift will be wearing them for a very long time!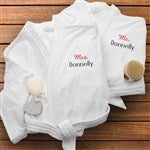 Very Happy
By
Patricia L.

(Tacoma, WA) - June 11, 2012 (
See all reviews by this customer
)
I was plesantly surprised with the quality. Very happy with both the thickness of the fabric and the length of the robes.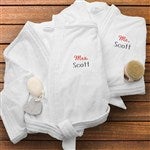 Robes
By
Richard T.

(Fairfield, CT) - July 2, 2010 (
See all reviews by this customer
)
My wife ordered these robes for an anniversary gift, and she just loved the way they turned out. Quality and speed of delivery were tremendous. We have ordered many items from your company and were never disappointed.

Really Nice Robes
By
Doug V.

(Canada) - October 12, 2010 (
See all reviews by this customer
)
Bought these for my 2nd anniversary and my wife loved them. Great gift for any one.

Wedding Gift
By
Joleen K.

(Elkhart, IN) - April 20, 2010 (
See all reviews by this customer
)
As usual for this website, quality is excellent. The robes are very plush, just like the ones at spas...the label inside says they were designed by a spa especially for Personalization Mall. Pleased by the longer length of the robes. I also ordered special mugs for the new bride and groom from this website. They are red, black and white to match the robes. What a special way to relax in comfort and drink their coffee. I always check this website when shopping for gifts and have referred may people to it.

Excellent quality!
By
Beth M.

(Alpharetta, GA) - June 1, 2010 (
See all reviews by this customer
)
I am so excited about giving these robes as a shower gift to my daughter & her fiance. The quality is superb, with the weight feeling very substantial. The terry is cuddly & soft. They arrived within only a few days. Well worth the money! I would definitely recommend these!

Great Anniversary Gift!
By
Wren S.

(Williamsburg, VA) - September 22, 2010 (
See all reviews by this customer
)
Bought these robes for my parent's 60th Anniversary. They are living in an assisted living facility and even though the personalizations are cute - they also ensure that their robes come back to them from the laundry! My mother was happy to have such a thick robe to wear when they get caught off guard with unannounced fire drills and she has to slip on something quick and warm to go outside. These robes are a great gift for those who don't live at home but you still want to get them something personal that they can use. Thanks for saving the day Personalization Mall.com!

Super fast shipping and great soft item!
By
Beatrice L.

(Hartford , CT) - October 8, 2010 (
See all reviews by this customer
)
I am very impressed at how quickly the order was finished and shipped! The cotton very soft. I have not worn it yet, as I'm saving it for my honeymoon.

I am very please at the turnover time and quality!

Perfect Honeymoon Gift
By
Jean D.

(Kennewick , WA) - August 5, 2010 (
See all reviews by this customer
)
I just received the robes for my grandson and his wife-to-be and could not be happier. They are very thick and luxurious...perfect for their upcoming honeymoon. And how cute...Mr. and Mrs. for the first time. They should wear these for a long time and always remember their "favorite" grandparents gave them to them!!

Great gift and great quality
By
Nicole M C.

(New York, NY) - July 15, 2010 (
See all reviews by this customer
)
I purchased these robes as a shower gift and the bride-to- be LOVED them. They came so quickly--customer service was fantastic. The customer service agent told me that she and her husband owned these robes and that they love them! I was very pleased with the quality. The robes were like spa robes--soft and luxurious and the bride-to-be was so happy that she put it on immediatlely at the shower! I highly recommend these as a gift or for yourself. You will not be disappointed.

Beautful Robes
By
Jessica F.

(Bethel, CT) - July 22, 2010 (
See all reviews by this customer
)
I was not expecting the robes to be of such high quality. What a great deal for such beautiful robes. The bride and groom are going to love these! A++++++

Fantastic gifts
By
Hope S.

(Fairfield, CA) - April 1, 2010 (
See all reviews by this customer
)
The robes are plush, and soft, and exactly what I wanted. I gave them as gifts to our very valued military retired veterans...and they were well received! Easy ordering, fast shipping, and great communication from the folks at Personalization mall.com

So soft!
By
Alicia G.

(Gardena, CA) - December 27, 2010 (
See all reviews by this customer
)
Very soft and well made. Just wished they came in specific sizes.

Mixed review
By
Deborah G H.

(Carlsbad, CA) - May 23, 2011 (
See all reviews by this customer
)
The quality of the robes is great. Very soft and thick. My only concern was with the embroidery. The "r" in Mr.. And Mrs. does not look like an "r". Maybe an "h" or a "k", but it's definitely not the same font as the one in the pic on the website and really looks a little odd. Also, when the robe is on, the writing slants seriously downward. On the plus side, they are good quality and they arrived very quickly. Once you get past the odd letter, they are very nice.

Not one size fits all
By
Brittany W.

(Sherman Oaks, CA) - October 4, 2010 (
See all reviews by this customer
)
I think this is a cute idea and the bride and groom i purchased these for love them but personally I wish you could pick a size for each robe. The womens robe is HUGE! I'm small so I knew it was going to be big on me, but this robe was large no matter who was around me and put it on.... Everything else about these is great! Great quality and fast service!

Nice Robes but not what I ordered
By
Bill D.

(San Ramon, CA) - April 13, 2010 (
See all reviews by this customer
)
We received the robes in just 3 business days (which was great) but one of the robes was from someone elses order. I have to have the correct order in the next 3 days. I'll come back and let you know if they come through or not.

Great Gift
By
Jacqueline C.

(Litchfield Park, AZ) - April 26, 2010 (
See all reviews by this customer
)
I didn't get to feel the robes because I gave them as a gift. The recipient stated the robes were great and of good quality. She loved them! I loved the quickness of the service and the price!

You get your money's worth
By
Shopper

(Los Angeles, CA) - December 30, 2011
The robe is heavy duty, good quality. My major issue with it is that it only comes in one size: huge. I'm a 5'10" woman and I swim in it; my husband is 6'1", 200 lbs and he still has room. They really should offer a woman's version of it. Also, I'm not crazy about the font and color -- would be nice if there were more options to choose from. But all in all, it was an affordable and fun gift, and you get your money's worth.

Very nice.
By
Shopper

(New Castle, DE) - May 4, 2014
Very nice.

Plush
By
Andrea R.

(Lawrenceville, GA) - January 7, 2010 (
See all reviews by this customer
)
Totally Awsome!!! These robes were exactly what my husband and I were looking for and having the monogram on each one of them really set it off. They are really nice and the cotton is very PLUSH. They would make wonderful gifts for any couple.

Quality Plush Robes
By
Melissa D.

(New York, NY) - February 24, 2013 (
See all reviews by this customer
)
One size fits all is quite large however the robes are great quality and the personalization is a very nice touch.

spa robes
By
Lawrence and Suzanne N.

(FAIRLESS HILLS, PA) - April 30, 2012 (
See all reviews by this customer
)
This product was purchased as part of a wedding gift for my nephew. The quality of the robes are decent but it couldve been better if the "Spa" description meant more of a luxury fabric-perhaps a microfiber instead of terry cloth. The embroidery however, could be a little more special if you could choose the font and the colors. Its a little funky to have them printed in mismatched styles. A true personalization wouldve allowed for some changes for a personal touch. Overall, I think they will like this but I wouldnt order it again....glad it was on sale. Quickly sent, correctly spelled, good idea for a unique gift.

Quality and design
By
Patricia D.

(Marlton, NJ) - September 25, 2012 (
See all reviews by this customer
)
I ordered the robes as a wedding shower gift for my future daughter in law. She loved them. Everyone at the shower thought it was a great gift for both the bride and groom to share for years to come. The quality was very nice, thick, soft and the robes were a good size. The embroidered names were done very tastfully and I'm sure they will enjoy the robes for years to come.

Fabulous gift, even for YOURSELF !!
By
Sherian M.

(Bettendorf, Iowa, IA) - November 15, 2010 (
See all reviews by this customer
)
Got these as a wedding gift for our kids, and liked them so much that I ordered a set for my Husband and Myself.....love them!!! Great quality!! Worth every penny!!

So Comfy and Perfect
By
Shopper

(white plains , NY) - April 17, 2012
My fiancee has been wanting a personalized robe for a while now and all the ones I had seen were ridiculously priced and of really cheap material. He is hard to please too so I was worried but he absolutley LOVED these robes. They are great quality and adorable. We can't wait to order more as gifts for people.

Mr. & Mrs. Robe Set
By
Trish P.

(Loyal, WI) - September 16, 2012 (
See all reviews by this customer
)
I am a skeptic on quality when buying items online. But, I am completely satisfied with the Mr. & Mrs. Robe set. Great quality, the embroidery looks nice and they arrived quickly. I can not wait to give these as a gift! Please do not hestiate when considering this product for purchase!

Perfect Gift For The Couple That Has Everything..
By
Carrie P.

(Glendale, AZ) - November 26, 2011 (
See all reviews by this customer
)
I purchased this robe set as a wedding gift. My friend and her husband are hard to shop for as they already have everything! I am putting together a basket and the robes will be a great touch to the gift, along with wine and chocolates! I received the robes yesterday and they are of high quality. I highly recommend this as a gift or to treat yourself!

great robes!!
By
Patrick S.

(Greendale, WI) - October 24, 2011 (
See all reviews by this customer
)
These robes are fantastic! The embroidery is well done, no loose threads at all. The robes are so soft and comfortable. I purchased these for my wife for our wedding night/honeymoon and she loved them!!

Majestic
By
Shopper

(Coatesville, PA) - November 23, 2011
The robes are wonderful. A majestic way to feel casual. My wife and I would remember this anniversary for long ! Thanks very much.

Great Robes
By
Brenda H.

(Sulphur Springs, TX) - October 7, 2012 (
See all reviews by this customer
)
I got my order much earlier then expected, the robes were very plush and the embroidery was great - I plan to order many items frome this site in the future - they stand behind their products which are very good quality!

Great gift!
By
Shopper

(Greenwich, CT) - December 16, 2013
The robes are good quality, the personalization clean looking and the turnaround time to get the robes was quick. When we gave them to our nephew and his wife, they were thrilled and immediately put them on. The robes are roomy but the one-size for a man and a woman worked well. My nephew is 6'3" and his wife 5'2" - good fit. Not just for newlyweds but for anyone who is happy to be married!

Spa quality!
By
Michelle H.

(Zephyrhills, FL) - August 18, 2014 (
See all reviews by this customer
)
I bought two robes, one for my son and one for my now daughter in-law. It was a wedding gift. They had these picked out and registered for at a local store. I went to look at them and the quality was very poor. I browsed the internet and found this site. Very pleased with the quality and the embroidery was done very well. They loved them!!!! I would definitely recommend this product. That being said, I would have to say very disappointed in gift wrapping. Expected a beautifully wrapped wedding gift for $7.95 each, however, all I got was folded rope wrapped in tissue paper inside a plain white box with COMPANY name on top of box and a black strap on corners to keep closed. I had to go buy wrapping paper to make it look like a presentable gift (and to cover COMPANY name) and ribbon, this is after already paying out $7.95!!! Disappointed in that!