Great product
By
Shopper

(Thorndale, PA) - February 23, 2012
Gave this to my girlfriend for Valentine's Day and put 4 pictures in/around the cube. She loved it. It came exactly the way it looked in the picture with no problems. I'll probably shop with Personalization Mall again.

Very Beautiful
By
Shopper

(Washignton,DC, DC) - February 20, 2012
This is a very beautiful box. The hand carved names were a perfect touch. The 3x3 space for the photo is not bad once you've found a way to work around it and find a way to shrink a picture to that size. I have no complaints, I think it was the perfect valentines day gift. The box was smaller and lighter than I thought it would be, which is not at all a problem

Excellent Product!
By
Alyssa F.

(Queensbury, NY) - January 20, 2012 (
See all reviews by this customer
)
Best gift to give someone! So cute and thoughtful. Really fast shipping on this product also!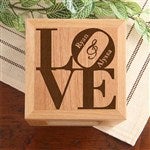 Great Results
By
Shopper

(Memphis, TN) - January 1, 2012
I will most defintifly be ordering something else from you're website.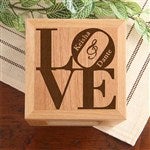 Awesome quality!
By
Shopper

(panama city, FL) - January 1, 2012
Got this for my fiancé, she loved it! Great job on this!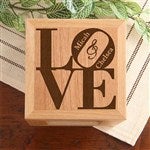 Happy wife
By
Shopper

(St George, UT) - December 31, 2011
my wife absolutely loved it.

Cube
By
Emmanuel O.

(Lexington, KY) - November 3, 2011 (
See all reviews by this customer
)
Great product. Excellent delivery.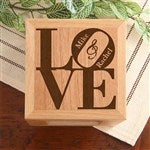 Unique wedding gift!
By
Shopper

(Slidell, LA) - September 24, 2011
I purchased the cube and picture frame as a wedding gift for my co worker. It was beautiful and I was impressed how neatly the engraving was done. The bride loved it, and she could not wait to display cherished photos of her and her new husband!

Unique gift
By
Janet G.

(Canby, OR) - February 18, 2011 (
See all reviews by this customer
)
A special gift for a couple to remember a special occasion. It can be displayed
to share special times. Very nice.

She loved it
By
Shopper

(Casper, WY) - February 14, 2011
This picture cube is amazing. My girlfriend loves pictures and she fell in love with this cube the moment she laid eyes on it. The laser cut Love and personalized names looks amazing. The picture is slightly decieving. When i first looked at the picture it made me think the cube was bigger than it actually is, but that is my only complaint. If your loved one loves picture frames and just pictures in general, she will love this gift.

Personalized Photo Cube
By
Shopper

(Canada) - February 13, 2011
This is a really nice quality photo cube! I gave it to my boyfriend and he really liked it :)
I would highly recommend this as a gift!

Great Buy!
By
Courtney G.

(Honolulu, HI) - January 31, 2011 (
See all reviews by this customer
)
The Item looks amazing and it came really fast!

beautiful!
I bought this as a gift for a couple. It is great quality, sturdy. The finished product is really nice.

Great gift idea
By
David S.

(Bangor, PA) - August 18, 2010 (
See all reviews by this customer
)
The gift was well received.

Great Gift!!!
By
madhuri T.

(bartlett, IL) - June 2, 2010 (
See all reviews by this customer
)
Love it.

Love Cube
By
Amy V.

(Bellflower, CA) - May 18, 2010 (
See all reviews by this customer
)
Received exactly as pictured.I gave this to my boyfriend as a anniversary present and he loved it. It is a very unique photo frame and well made. The engraving came out really nice.

Great Product!
By
Joan K.

(Desloge, MO) - March 3, 2010 (
See all reviews by this customer
)
This arrived looking just like the picture...it is a nice looking quality product. I am so pleased! And it arrived within days of ordering it. This was an easy website to navigate. I've purchased before and will again!

Awesome!
By
Brittany H.

(Fairfield, CA) - December 12, 2009 (
See all reviews by this customer
)
It came out awesome. My boyfriend is going to love this! My only complaint about it is the picture size - it's kind of awkward! Wallets are too small and 4x6 are too big? But I'll find a way too make it work, still really cute
Brittany from CA

Great gift
By
Shopper

(Des Peres, MO) - October 27, 2012
This was a 5th anniversary (wood) gift for my son and his wife. It's well-made and the personalization made it a perfect gift. The only drawback is that the picture openings are quite small, so it was somewhat difficult to find photos where the subjects could be seen completely.

Centering
By
Heather E.

(Blaine, MN) - December 29, 2011 (
See all reviews by this customer
)
I liked the gift except that the lettering was not centered on top of the box, it was shifted up and looks off. Cute idea though

great little gift
By
Shopper

(monticello, IN) - February 18, 2011
The LOVE sculpture has been a favorite of ours for a long time. This gift to my
wife was pretty special. Even after 15 years this simple gift really brought a smile to her face. We can't wait to fill up the frames with new photos of US! Great quality. The cube even has space inside to store extra photos to be swapped out from time to time. We love it.

LOVE it!!!
By
Monica G.

(College Park, GA) - October 12, 2010 (
See all reviews by this customer
)
I am soo pleased with my purchase. It was delivered faster than I expected. My boyfriend actually was pleased with it. I will be using this site again!

Beautiful picture frame.
By
nicole S.

(Staten Island, NY) - September 29, 2010 (
See all reviews by this customer
)
I purchased this as a wedding present for a good friend of mine. it was shipped promptly. faster then expected actually. It looks great. the only reason i gave it 4 stars instead of 5 is that i'm not sure where to get pictures in this size.

I like it.
By
Annette D.

(Florence, OR) - October 2, 2009 (
See all reviews by this customer
)
It looks just like the preview of it did. Its different and thats what I like about it. I hope the couple I bought it for enjoys.