Gorgeous as suncatcher or Xmas ornament
By
Sheila C.

(South Riding, VA) - February 26, 2010 (
See all reviews by this customer
)
Gorgeous as suncatcher or Xmas ornament

Sparkle
By
Misty K.

(Riverside, CA) - February 19, 2010 (
See all reviews by this customer
)
I lived this item infact I hang it from my rearview mirrior in the car. It doesent blind me either.

So Pretty!
By
Casey E.

(Ellijay, GA) - January 28, 2010 (
See all reviews by this customer
)
This suncatcher really is beautiful. I love it! The reason I bought it was because my husband wanted an ornament for us... so I didn't actually buy it because it was a suncatcher. However, I believe it will look so wonderful with the Christmas lights in the tree! The only thing I'm changing on it is the ribbon. The ribbon is gold and our tree has silver/ blue ornaments. We did not end up getting an ornament for this past Christmas, but I knew he mentioned it a couple of times. So I'm giving it to him V-Day weekend, because that is also our anniversary weekend!

love exraordinary
By
Charlotte P.

(Lees Summit, MO) - February 2, 2014 (
See all reviews by this customer
)
When a loved one is far from home, sometimes, you want to purchase sentimental gifts. This one was perfect. Again, as I have previously stated PERSONALIZED, came to my aid. Very tasteful products at exciting prices. Quality vs. Quantity.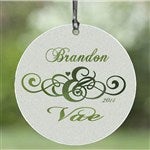 Nice looking but hard to read suncatcher
By
Shopper

(STONY BROOK, NY) - December 13, 2013
I really love the way the suncatcher looks, the font they used and the package it came in. It looks very elegant. The only problem is that unless it is in front of a dark background, it is hard to see the lettering.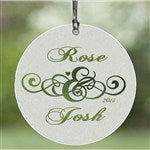 Nice Idea
By
Thomas M.

(Novato, CA) - October 11, 2013 (
See all reviews by this customer
)
Good quality. Really a can't miss present.

Satisfied
By
Shopper

(Tonawanda, NY) - March 9, 2013
Smaller than i expected, but good quality. (The size of a spaghetti jar lid)

Beautiful ornament
By
Shopper

(greenville, SC) - December 10, 2012
I love our special ornament. It's very well made and very pretty! My only complaint is that because of the frosted glass -it makes it a little difficult to read unless you hold it just right. Don't let that worry you ~ or stop you from purchasing - it really is a nice ornament - no regrets!

She loved it!!
By
Shery B.

(Cape Coral, FL) - September 24, 2012 (
See all reviews by this customer
)
I sent this to my girlfriend in PA. and she absolutely loved it..
Said it was a great, thoughtful gift.

Nice
By
Shopper

(Phoenix, AZ) - February 15, 2012
It meet Expectations. Was Perfect as a Valentine's Present!

Very nice
By
Tim W.

(Coupeville, WA) - November 5, 2011 (
See all reviews by this customer
)
This is a beautiful item, and my wife absolutely adored. I thought it was a little bigger, so in that, I am slightly disappointed. However, as I said above, my wife is satisfied, and loves it. That is all that truly matters.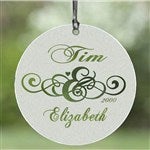 Wow
By
Vonda J.

(Overland Park, KS) - October 16, 2011 (
See all reviews by this customer
)
I purchased this for my husbands anniversary. When I recieved it you know you just have to look at it first. I thought this was one of the nicest gifts that i could give him. Not to big, I wish is could of been bigger. Very pretty print. I recommend this to any holiday or I love you so much day!!!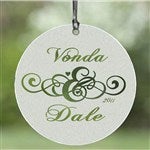 Christmastime Wedding
By
Shopper

(Upper Darby, PA) - January 9, 2011
I wanted a simple, personalized gift for a couple who had their whirlwind wedding during the holiday season. I thought they could use it as a Christmas ornament to always remember their beautiful winter wedding.

The packaging?
By
Jana M.

(Longmont, CO) - December 9, 2010 (
See all reviews by this customer
)
I was very happy with the outcome of this ornament, the ribbon tie was very nice and the inclusion of a little suction cup hook for the window was a nice touch. What I didn't like is the black velveteen bag it came in. I loved the bag -- hated the advertising printed on the front of it. I don't want my giftees to be able to look up the website and find out how much their gift costs. I think it's tacky. Would have much preferred a plain black bag, or no bag at all.

Wind/light catcher
By
Walter S.

(East Northport, NY) - October 18, 2010 (
See all reviews by this customer
)
Item is very nice but hard to read.

ok suncather
By
Sapna I.

(Southport, CT) - March 30, 2013 (
See all reviews by this customer
)
the suncatcher is ok. not what I expected. the letters blend in with the background so unless it's against a dark background you can barely see the lettering. this is pointless since it is a "sun catcher" and I would like to put it in the window.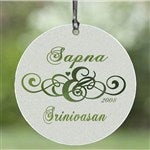 not what I expected
By
eleanor P.

(buford, GA) - February 12, 2010 (
See all reviews by this customer
)
photo on web and paper receipt show strong green color in scroll work in center of circle not so very misleading
it is not what I expected at all