CUTE GIFT
By
Donna M.

(Crossett, AR) - February 14, 2012 (
See all reviews by this customer
)
I Ordered this for a Valentine's Day gift for my 4yr old granddaughter from her Daddy. He gives her a KISS (Hersey) everyday in her school lunch. This is the perfect jar to keep the KISS in. I had it etched with her name and the personalization of "I love you with all my heart, Daddy" which is what she tells all of us when she tells us she loves us. I only gave it 4 stars because the etching is hard to read because it is so light. I wish there was some way to darken it. Other than that it is a great gift.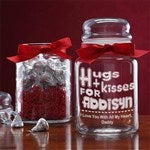 Candy Jar
By
Chelsea C.

(oxford, MA) - November 27, 2011 (
See all reviews by this customer
)
I made this candy jar for my daughters grandmother on her fathers side..I thought it was great. Not only was it so nice but it also came with the candy included!! I thought that was just wonderful. I would defiantly order another one!

Heartful Gift
By
Shopper

(Oak Lawn , IL) - June 20, 2011
This product is a great gift from the grandchildren to their grandparents or grandparent.
Only thing I do I agree with is the written on the jar can be alittle hard to read. If the written could come darker this product would rate five starts. Shipping was perfect it was wrapped great!!


Very nice & inexpensive gift!
By
Shopper

(Douglasville, GA) - February 15, 2011
I sent this to my best friend for Valentine's Day. HE LOVED IT!!! He said it came with 2 bags of Hershey's Kisses and was a very nice gift. He loved that it was personalized with his name on it & the personalization makes the gift because it shows that you as the sender put care into the gift. I would recommend it for all occasions. I gave it only 4 stars because I didn't actually get to look at the item in person, but feel he would have let me know if he wasn't pleased.

Great gift to Grandma from Grandson
By
Stephanie J.

(Folsom, CA) - February 8, 2011 (
See all reviews by this customer
)
I bought this as a Valentine's Day gift from my son for my mom. It's a great gift that she can leave out and share treats with him.

Very nice
By
Shopper

(Herndon, VA) - January 31, 2011
Very nice item, just like the way it looks on the picture.

Great Gfit!
By
Sandra W.

(Canada) - December 10, 2010 (
See all reviews by this customer
)
Such a great idea for Grandparents! I bought 3 of them and love them, but I do agree with some others in that I wish the text showed up better. I removed the silver kisses and replaced with red and green kisses (as they will be gifts for Christmas) so it does show up a little better. Still a great gift and would recommend to anyone not knowing what to get grandparents. This is something special that they can reuse to put anything in, and a bonus if they like chocolate!
Another idea is to put something around the inside of the jar to allow the text to show up better, it would just cover what is in the jar.

Super Cute
By
Holly W.

(Houston, TX) - May 10, 2010 (
See all reviews by this customer
)
I bought this for my mom for mother's day as a present from the grandkids. They call her granny, so I loved how I could put whatever name I wanted on there. So I put granny. She loved it.

The only this is when it arrived the chocolate was melting and got on the inside of the jar a little bite. So watch out if you buy this in the summer.

Kisses for Nana
By
Jessica C.

(Elk Grove, CA) - April 30, 2010 (
See all reviews by this customer
)
The quality of the product was great. The only thing is that the print on the jar I thought would be a brighter white and more easily read. With things in the jar it's hard to read the wording.

Great Gift
By
Susan G.

(Acton, MA) - April 15, 2010 (
See all reviews by this customer
)
This is a great gift for any "treat" lover! It is great quality, definitely would order again!

sweet treats
By
KarenLee B.

(Milton, FL) - February 12, 2010 (
See all reviews by this customer
)
The Sweet Treat jar makes a nice gift; however, the etching is very light and hard to read. I almost wish that it was painted on instead of being etched.

Super Fast Shipping..
By
Tuscarora S.

(Mentone, CA) - November 12, 2009 (
See all reviews by this customer
)
Cute gift idea for the hard to shop for granny. Etching on glass was not as bright as shown in picture so a little hard to see once filled with Kisses. But arrived within 3 days of ordering with standard shipping. Personalization mall is great for last minute gifts..I am sure I will be back soon to start my holiday shopping.