Super Fast Shipping..
By
Tuscarora S.

(Mentone, CA) - November 12, 2009 (
See all reviews by this customer
)
Cute gift idea for the hard to shop for granny. Etching on glass was not as bright as shown in picture so a little hard to see once filled with Kisses. But arrived within 3 days of ordering with standard shipping. Personalization mall is great for last minute gifts..I am sure I will be back soon to start my holiday shopping.

1/2 empty
By
Lauren C.

(Albuquerque, NM) - December 10, 2013 (
See all reviews by this customer
)
I bought several of these.

The ones that were delivered to me, I had to go buy more kisses and fill them up (I understand settling, but these were literally 1/2 empty, so it looked a little cheap. Maybe it's because the paper at the bottom of the jar also flattened out, but, nonetheless, just know they're 1/2 empty when they arrive.)

The ones that got delivered elsewhere, I'm a little embarrassed about them getting 1/2 empty jars, but I'll just explain after the fact!

The other things I've ordered from this company have been much better.

The letters look like shadows
By
Shopper

(miami, FL) - January 22, 2013
The pot super cute but we have to put a dark blue paper inside to see the letters...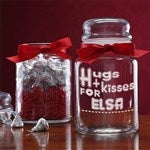 The writing isn't as bright as I'd hoped.
By
Stephenie J.

(Moorhead, IA) - December 11, 2012 (
See all reviews by this customer
)
Great concept but its hard to read the scripture with candy inside.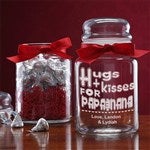 Requires More Packing Material!
By
Shopper

(Salina, KS) - May 17, 2012
I ordered this for Mother's Day from my kids to their grandma and it arrived shattered. I called the company and they were very nice about it and quickly shipped another one which arrived fine. I don't know if the company looks at their reviews but my mom said both arrived with no packing materials whatsoever, just in a flimsy cardboard box similar to a giftbox. No wonder it was broken. On a positive note, though, the new one arrived just a day after Mother's Day and it was fine. It isn't the product I am rating 3 stars, just the shipping situation.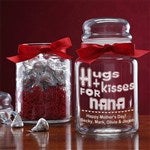 Not as nice as the picture!
By
Lindsay P.

(Feeding Hills, MA) - December 12, 2011 (
See all reviews by this customer
)
The jar comes with the red ribbon, but there's nowhere near as much red paper inside as pictured. It just doesn't look as nice with only a few strands of paper inside! Also, the words on the jar itself aren't very bold. They easily blend in with the jar. Since this is pictured as "Hugs & Kisses for Nana" I'm not so sure my Nana is going to be able to see the wording on it. It's a Christmas gift, so I'll find out, but I can't imagine she's going to be able to read it on her own. Overall, a nice jar and the Hershey's kisses are nice, but it's hard to read what you personalize on it and there's not much red paper.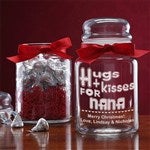 Candy Jar
By
Shopper

(La Porte, TX) - November 9, 2011
Being able to create your own personalized message is awesome!
This would be a wonderful gift for anyone you know.

Ok product
By
alicia K.

(seattle, WA) - January 1, 2011 (
See all reviews by this customer
)
I bought this jar for my grandma for Christmas, It was cute, but the only problem was that the lettering was very light and hard to read unless you hold it up to the light, She liked it but I was a little disappointed.

Ok.
By
Susan B.

(Canfield, OH) - May 8, 2010 (
See all reviews by this customer
)
The personalization is cool, but the lid of the jar is really hard to open, especially for an older person. And the personalization is in white, which is hard to see, especially when the silver kisses are in it.

The gift idea is nice, but the etching is very very light
By
Rujuta S.

(Boston, MA) - February 18, 2010 (
See all reviews by this customer
)
it was a good gift idea but the etching on it was very light, nothing like how it is shown in the picture. If i had read the previous reviews for this item, i would have not purchased it, as all of them have to say the same thing about the print on the jar. Also i did not like the hershey's sweets in the jar,because they had melted and tasted bad

Nice but......
By
Vicky G.

(Lagrangeville, NY) - January 22, 2010 (
See all reviews by this customer
)
Very nice idea with the personalized writing but it doesn't come out as nice as in the picture. It is too light and you can barely read it. I put a colored piece of red paper infront of the writing so the person could read it when I gave it to them as a gift. Other than that it is a very nice gift idea. I would have given it a 5 star if it was readable.

Cute, but writing too light!
By
Ashlee G.

(Florence, MS) - December 28, 2009 (
See all reviews by this customer
)
I ordered this for my grandmother. It is a cute jar and a nice gift, but the print is to light. The writing on the jar is not nearly as dark as shown on this picture. It is especially hard to see in front of the kisses.

Little Disappointed.
By
Patsy R.

(New Bremen, OH) - December 30, 2010 (
See all reviews by this customer
)
The etching is very faint. Grandma did not even notice it until I mentioned it.

happy Valentines day
By
stephen D.

(cranston, RI) - February 22, 2012 (
See all reviews by this customer
)
I did not see the product because I had it shipped directly to my grandaughter in Georgia. She was however very excited to get it, it was a terrific surprise and she said when the candy was all gone she was going to use the Jar to keep some of her favorite little keepsakes.
So, because she was so excited and happy, I am 100% satisfied with my purchase!
I am sure I will use your products for other events in the future.