Super Cute Present
By
Johanna M.

(Houston, TX) - June 19, 2011 (
See all reviews by this customer
)
I think this is a really cute present and the couple I gave it to loved it :)

Great Recipe
By
Shopper

(College Park, MD) - June 11, 2011
Wonderful message. Most couples spend a great majority of their time in the kitchen (when not in the bedroom); the potholder serves as a reminder of the couples union and vows in a sweet, lighthearted way. Couple will cherish for years to come. I was pleased with my purchase and recommend to others.

happy marriage apron
By
Shopper

(skokie, IL) - May 23, 2011
I was shopping for a cute shower gift and found this on line and thought it was unique. Wasn't sure what I would get because of the price and was SO surtipse!!It was high quality and the personalization came out ADORABLE!!! If you really want a unique, affordable, clever gift I would difinitely recommend this. The apron is high quality and the best was I receivedi it in just 3 days!!! Highly recommend!!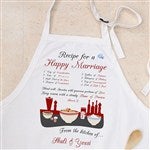 Personalized Apron
By
Dennis W.

(Richardson, TX) - April 23, 2011 (
See all reviews by this customer
)
Great product. Fast delivery. Thank you.

Really Happy with my Happy Marriage Apron
By
Shopper

(Cliffside Park, NJ) - February 19, 2011
Bought the Happy Marriage Apron for my husband for Valentine's day! It was exactly as displayed and I am very happy with the purchase. He loves it too! It was the perfect, inexpensive gift with a personal feel that will be remembered for a long long time.. I will definitely use the site again to get personal gifts and also recommend to friends!!!

Excellent Apron
By
Shopper

(Downey, CA) - January 26, 2011
Love the material and the idea behind the apron. After multiple washes, the letters and image still remains intact. Good quality apron, highly recommend.

Gifts fofr granddaughters
By
Marilyn P.

(Cleveland, TX) - January 16, 2011 (
See all reviews by this customer
)
I am very thankful my sister gave me your website as I am very pleased and hope to be orderin g more in the near fvuture.

Great!
By
Annie R. W.

(Chicago, IL) - November 19, 2010 (
See all reviews by this customer
)
Same as for the apron...I have not spoken with them yet, but I'm sure they will love both items.

Wonderful
By
Annie R. W.

(Chicago, IL) - November 19, 2010 (
See all reviews by this customer
)
I have not spoken with this couple either, but I love the item and just many order one for myself.

HAPPILY SATISFIED
By
cassaundra R.

(winston-salem, NC) - October 19, 2010 (
See all reviews by this customer
)
MY SON AND DAUGHTER IN-LAW WAS VERY HAPPY WITH THIS GIFT; THEY HAVEN'T DECIDED IF THEY WANT TO USE IT OR HAVE IT ON DISPLAY(TOO PRETTY TO BE MESSED UP)

Great present
By
Toshie F.

(Houston, TX) - October 7, 2010 (
See all reviews by this customer
)
It is great. I am sure my friends will love it.

really happy with it
By
Donna D.

(Jefferson, WI) - September 22, 2010 (
See all reviews by this customer
)
This was a hit at the party

How cute!
By
Mary Jane M.

(Sterling, VA) - September 17, 2010 (
See all reviews by this customer
)
What a perfect gift for newlyweds! I am so excited about all of the items that I ordered for my cousin and his bride to be! Everything arrived quickly and looks professional!

Perfect Bridal Shower Gift!
By
sue S.

(Oak Park, CA) - September 16, 2010 (
See all reviews by this customer
)
My daughter LOVED LOVED LOVED this gift! They both love to cook but I'm sure she will be the one wearing it. The quality and design of this apron was excellent.

From the kitchen of Danielle & Charlie
By
Virginia S.

(Wesley Chapel, FL) - September 7, 2010 (
See all reviews by this customer
)
I purchased apron for my daughter, Danielle, getting married 10/16/10. She called me & said she loved it, very cute. Also said it was very well made & the detail was really good. It was delivered only a few days after ordering. Thank-you very much...Ginny

cute apron, good quality
By
Regina Y.

(Irvine, CA) - August 30, 2010 (
See all reviews by this customer
)
Bride to be loves it, guests thought it was a great gift. Shipped out next day. Excellent service.

So Cute!
By
Marsha F.

(Baltimore, MD) - August 20, 2010 (
See all reviews by this customer
)
So pleased with this product. It is just adorable! I ordered it 8/17 & received it 8/20. Doesn't get much better than that. The quality is great & can't wait to give it at the engagement party.

better than expected
By
patricia P.

(campbellsport, WI) - August 17, 2010 (
See all reviews by this customer
)
The apron is great, good quality, a unique gift especially with aprons making a come-back. As nice as the apron is the shipping was awesome-it was at my front door in TWO days from when I placed the order.....what more could you want.

Great gift for second marriage
By
Patricia T.

(North Bergen, NJ) - June 23, 2010 (
See all reviews by this customer
)
My boyfriends mother is getting married and her fiance loves to cook. They are older and I thought there is something a bit wrong with a son handing his mother cash in a card. They have everything so I bought them 2 aprons with the potholder and bamboo utensil set. Excellent quality apron and graphics look like they'll fade gracefully when washed. :) Can't wait to give it to them.

What a wonderful gift.
By
Barbara D.

(Chicago, IL) - May 10, 2010 (
See all reviews by this customer
)
I gave my aunt and uncle the recipe for a Happy Marriage apron and pot holder. She called me and was thrilled with it. She said it was so unique and she has it on display in her kitchen. This is the first time I have shopped on your website and for sure will order again. The quality of the gift was beautiful.
Barbara

happy marriage pot holder
By
Lora R.

(Williamstown, NJ) - April 26, 2010 (
See all reviews by this customer
)
the item was as I expected, top quality as always from Personalization Mall! It arrived in record time!

Potholder
By
Loretta F.

(Staten Island, NY) - March 8, 2010 (
See all reviews by this customer
)
I ordered the potholder for a shower basket that I am putting together. I think it will add a special touch. I decided to put the couple's married name instead of first names. It looks great.

Excellent Quality
By
Catherine B.

(Bloomington, IN) - December 11, 2009 (
See all reviews by this customer
)
I was hesitant to order this apron because I was concerned that the fabric would be a thin, lightweight material, making the apron more of a novelty than something the recipient could actually wear. I was pleasantly surprised when I took it out of the package and found that the fabric is a very good quality -- thick enough that it will actually protect the clothing underneath the apron (the whole purpose of an apron anyway) but not so thick that it would be stiff and uncomfortable. The quality of the graphics and the printing on the apron is also very good.

I also like that the apron has a slide-type clasp for fastening around the neck instead of tying it the usual way. Personally, I don't like the way a bulky tie at the back of my neck feels -- kind of bugs me. I think this slide clasp would be much more comfortable, and you would never have to worry about it becoming untied at the most inconvenient time while cooking.

I am extremely particular (o.k., "picky" is more accurate), and I can honestly say that I can't find one fault with this apron.

In addition, the turn-around time for the delivery of this item was remarkable. It has always been my experience in the past that any kind of "personalized" order always adds time on to the normal delivery date. But I ordered this on a Friday (very early morning) and received it the following Monday! Outstanding!

A big hit at our Kitchen Shower!
By
Denise R.

(Norwalk, CA) - November 10, 2009 (
See all reviews by this customer
)
This apron was a big hit at the Kitchen Shower we held for my son and his fiancee. We had all of the guests write something to them around the apron with a permanent marker. A wonderful keepsake for them. The quality of the apron is excellent, and the shipping was quick (although I paid for faster shipping because I decided to order it with only a few days before the shower).

Wonderful gift
By
Gayle N.

(Wauconda, IL) - November 9, 2009 (
See all reviews by this customer
)
Great quality. Wonderful companion to the cookbook I created for my son and his new bride.

Recipe for love
I think this apron is the greatest gift a coupe which is celebrating their 30th anniversary can receive.

APRON
By
Shopper

(Lafayette, LA) - April 21, 2014
this was a nice item, however, a little better fabric would have been better. otherwise, ok and nice enough for shower gift.

DID It Again!
I originally order these as a gift for a few friends getting married but again returned and ordered for myself another great gift-A winner! Print is clear and bright i havent washed yet but so far so good.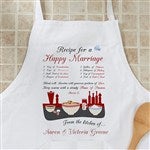 great product - wedding shower gift
By
Emilia M.

(OraNGE, CA) - January 24, 2014 (
See all reviews by this customer
)
The reason for the 4 stars is due to the material, it's a bit rough for me but appropriate for an apron - it's good for it's purpose. I gave it as a gift to someone that uses aprons and she was thrilled. A real special gift - got a few laughs at the wedding shower :)too

Cute, but a little old fashioned
By
Julia G.

(Woodbridge, NJ) - June 21, 2013 (
See all reviews by this customer
)
This potholder is really cute. The ppersonalization is great! And I love the saying/recipe, but the design is a little old fashioned for my taste.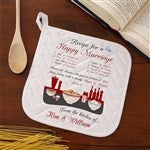 Shower hit!
By
Shopper

(West Falls, NY) - October 8, 2012
Everyone thought the apron was a great idea. The only recommendation we have is that the recipe's font is a little hard to read.

Love it!
By
Shopper

(Flemington, NJ) - August 24, 2012
Bought this apron to gift at an engagement party this coming weekend. Absolutely love it, super cute! I think the bride & groom to be will love it too. Only complaint, athough white which is ok, I think the fabric could be a little heavier.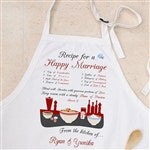 Great Bridal Shower Gift, but...
By
Shopper

(Spring Valley, CA) - June 14, 2012
This was a great gift for the bride and groom, and the guests also liked it especially when the bride read what was printed on the apron. The only option I would have appreciated was if you could choose sizes and colors for this wonderful item. Otherwise, it is an overall good purchase.

personalized apron
By
Shopper

(San Jose, CA) - June 4, 2012
The apron I ordered met my expectations. I know that the couple receiving the Happy Marriage apron will enjoy their gift.

Nice
By
Shopper

(Frankfort, IL) - March 21, 2012
I wasn't that impressed with the thickness of the material, a little skimpy but the overall premise is cute. I guess who wants to be hot in the kitchen-lol!

Bridal shower gift
By
Shopper

(Massapequa Park, NY) - March 4, 2012
The material was different than I expected. I expected cloth and it was more of a canvas type material, but other than that it was very nice. It looks just like the picture, and the lettering looks very nice. I'm giving this as a bridal shower gift.

My go to gift for the bride
By
sandra W.

(Cupertino, CA) - March 2, 2012 (
See all reviews by this customer
)
As a Pastor's wife I go to LOTS of bridal showers. Since I've found this I buy it for everyone. It may end up being my signature gift. It's so different yet personal and I can get it In a few days so it's always here on time. No more struggling to find yet another clever thing for the bride to be. Thanks.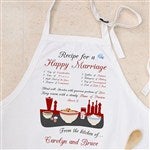 potholder
By
Shopper

(Oglesby, TX) - January 3, 2012
I liked the potholder except I thought the writing and the trim around the outside should have been a bit darker...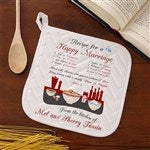 Apron.
By
Shopper

(Monument, CO) - August 26, 2011
The quality of the apron is great for the price. The color appears to be red on the website, yet the actual apron is more of a rust color. Also, I ordered 2 aprons and had both of them shortened. I'm only 5 ft 2 inches and the aprons came below my knees. The message on the apron is awesome and even with the mentioned items----the aprons are still worth it to me. The aprons (and matching pot holders) will make a nice addition to my bride/groom shower!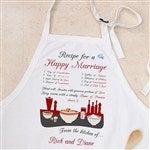 The apron I was looking for and the one we can share
By
Teena N.

(Salt Lake City, UT) - August 8, 2011 (
See all reviews by this customer
)
I was on my after wedding shopping spree when the 'Recipe for a Happy Marriage' Apron caught my eye. All I had to do was send the order and wait for it to arrive. Must say it's Terrific !!!!!

The image may not be very clear but it's good when you see the finished product. The pockets are great for keeping ladles and spoons within reach.

Happy & Satisfied. My husband appreciated it