Beautiful Workmanship!!!
By
Shopper

(New York City, NY) - May 3, 2013
I ordered this piece from Personalization Mall for my mom (of course, for Mothers Day). I do not like mushy cards, and thanks to this great website, I was able to give love to my mom without being glossy! The workmanship on this sculpture was truly beautiful and looks as if it came from a store that would have cost me a great deal more. My mother will love it and thanks to Personalization Mall, it will be a memorable day!!!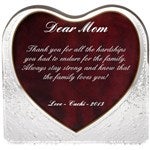 love it
By
cristal P.

(allentown, PA) - March 29, 2013 (
See all reviews by this customer
)
My mom loved her gift. Its was very beautiful and personal. Thank you for your great products.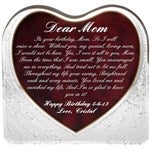 Loveit!
By
Katheryn W.

(Waldorf, MD) - December 12, 2012 (
See all reviews by this customer
)
I was looking for a personalized gift for my step mother when i came across this. When it arrived i was pleasantly surprised to find how beautiful it was. Although it is made from acrylic, it looks like glass. Im sure she will love this!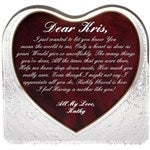 So Special
By
Janice N.

(Ellenton, FL) - September 10, 2012 (
See all reviews by this customer
)
This is the most wonderful keepsake I could wish for.
The quality is great and it just looks amazing.

A gift for Mom
By
Shopper

(Forsyth, GA) - August 27, 2012
She loved it.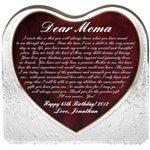 Perfectly Personalized
By
Asia L.

(Chicago, IL) - June 27, 2012 (
See all reviews by this customer
)
I purchased this item for my grandmother's birthday and she loved it! This is a great gift for any occasion.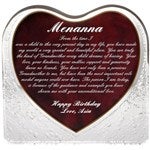 Great Gift for Mom
By
James O.

(Longwood, FL) - June 18, 2012 (
See all reviews by this customer
)
I Ordered this for My Mothers Birthday , As soon as it arived ( I Live in another state ) She called me and was almost in tears , It looks beautiful and the craftsmanship is perfect. I will order another item from here aain for sure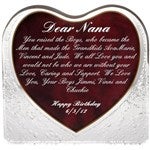 great present for moms!
By
Shopper

(Brentwood, NY) - May 21, 2012
my mom loved this beautful heart and the fact that we wrote a personal letter to her. our special words will be engraved in that heart forever so my mami can always cherish it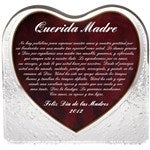 Mothers day gift
By
Shopper

(Willard, OH) - May 20, 2012
I got this for my mom on mothers day and she loved it. I was excited i came upon this site. I got my order fast and it was very beautiful.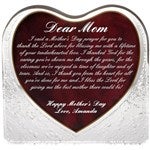 Tear inducing!
By
Shante E.

(Cincinnati, OH) - May 19, 2012 (
See all reviews by this customer
)
I decided to purchase this gift for my mother to give on Mother's Day. I wrote my own letter so she could read it anytime, because I'm going to college in the fall. My goal was to get some tears from her (because I cried while I wrote the letter), and I definitely reached my goal.
All in all, this gift is durable, beautiful, and tear shedding potential.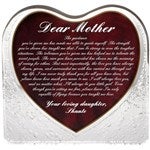 From the heart..
By
Kristine H.

(Newport, KY) - May 18, 2012 (
See all reviews by this customer
)
I wrote this lovely personalized letter from the heart to my mom and when it arrived I was shocked to see it wasn't the one I personalized. Thank God I opened it before Mother's Day. On the outside of the box it indicated it was mine, but inside the box was another customer's mother's day gift. I immediately called customer service and they required me to send a photo as proof they sent the wrong one. I did and they got the correct heart sculpture two days later and right before Mother's Day. As a first time customer I was disappointed this happened.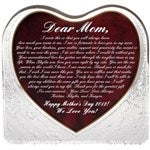 Great gift for all occasions
By
Shopper

(longview, TX) - May 17, 2012
I purchased this for mothers day for my wife and she absolutely loved it it was personalized and sent fast just how I imagined it to be.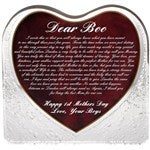 Happy Mom!!!
By
Michelle S.

(Stafford, VA) - May 16, 2012 (
See all reviews by this customer
)
I bought this as a Mother's Day gift and it was a great decision!!! My mom loved it!!! She cried as she read it over and over. :) I am always pleased with my purchases from Personalization Mall. Thank you for everything.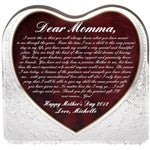 Mothers Day
By
Kenneth W.

(Bloomfield, MO) - May 15, 2012 (
See all reviews by this customer
)
Mom loves it, perfect Mothers Day gift.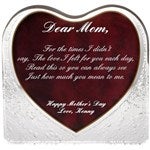 awesome!
By
Justin K.

(houston, TX) - May 13, 2012 (
See all reviews by this customer
)
I'm so happy that I found this website! Ordering was easy and my mom loved her gift! I was so pleased that I let my son pick out something for his mom from here! Thank you for the prompt and courteous service! I will definitely recommend this to family and friends!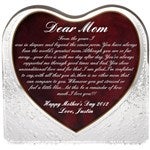 my mom says words are way to small to read
By
Melissa S.

(Jersey city, NJ) - March 17, 2012 (
See all reviews by this customer
)
When I gave my mom this gift just to show how much I appreciate her she complained about how small the writing was. She thinks the heart sculpture is nice but she says she needs a magnify glass to read the poem. Other than that I like this item.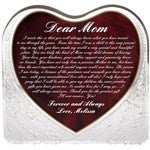 Mother in Law heart
By
Shopper

(Fremont, CA) - March 17, 2012
My mother in law loved this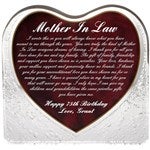 Perfect!
By
Timothy W.

(Star lake, NY) - December 16, 2009 (
See all reviews by this customer
)
I purchased this for my mother for her birthday, and modified the sample saying a little bit, to say exactly what I wanted to say. It brought tears to my mothers eyes and she is not the emotional type what so ever. This couldn't have been the more perfect gift. I would reccomend this to anyone as a gift for mom.

Powerful
By
Todd S.

(saint johnsbury center, VT) - December 17, 2009 (
See all reviews by this customer
)
A simple way to show how you feel

Loved it!
By
Norma F.

(Norcross, GA) - May 9, 2010 (
See all reviews by this customer
)
I loved it, my mother loved it. It's a great gift to give mom. Liked it even more that i could write the message in spanish so she could understand the message better.

Perfect
By
Martin J.

(Upper Darby, PA) - May 9, 2010 (
See all reviews by this customer
)
I gave this Heart Sculpture to my Mother today for Mothers Day and it brought tears to her eyes. It was simply beautiful and you could never go wrong with giving a gift like this one.

She will love it!
By
Elizabeth G.

(Newburgh, IN) - December 12, 2009 (
See all reviews by this customer
)
I recieved my purchase within 3 days and was surprised just how beautiful my gift to "Mom" came in. I did personalize my own letter, writing of the Cancer I had battled. It was a tough time for all of us...this could not have been a more precious purchase.

Couldn't have been more perfect!
By
Huda K.

(Toledo, OH) - May 5, 2010 (
See all reviews by this customer
)
I ordered this for my mom on mother's day. Here's the thing, if you are hesitant or skeptical about buying this item, DON'T BE! I was just as skeptical and worrisome, and even started to regret my decision right after I had purchased it. I just worried that it wouldn't be exactly what I hoped it would. I really wish there was a 360 degree view of this item. What you don't see is the thickness of it, which is about an inch thick. It's absolutely beautiful in person, and couldn't have been more perfect. The shipping is AMAZING! I was probably worried about that the most. I wanted to receive this item just in time for mother's day. After I ordered it, an email told me I'd have to wait 4-5 days BEFORE they even SHIP it out! HOWEVER, here's the thing: I literally ordered this item at 11:30pm on Monday May 3rd. The customer service rep told me to expect it to be shipped to my house on Saturday May 8th. Within minutes of ordering, I was sent a tracking number. Saturday? Forget about it! It was shipped on May 4th and I received it on Wednesday May 5th!! Just two day shipping. I was really impressed, especially after being told that I had to wait a few days before they even ship it out. Very quick service. Now granted, I live in Ohio and it shipped from Illinois, so maybe it was because I was closer, but either way, this was the best gift choice I made. Very satisfied with it, and I know my mom will love it! Beautiful quality, elegant letters, priceless memories. You won't regret getting it for your special someone, especially with having your own personal words etched into this HEART forever :)

very happy
By
Jaime W.

(Reading, PA) - May 6, 2010 (
See all reviews by this customer
)
My mom was extremly happy with the gift, she cried. I gave it to her early cause of her being sick i wanted to make sure she knew how much I love and care about her, and that I would miss her extremely much when she leaves us for good. she is so loved and I couldnt have been happier with the gift



Awesome!!
By
Kelly R.

(Columbus Grove, OH) - May 6, 2010 (
See all reviews by this customer
)
This product was amazing. Not only can you write your own message, you can also choose from pre-written messages. It arrived at my house within 3 days of ordering. I am so impressed.

Smaller than I envisioned - but the quality far surpassed my expectations!!!
By
Deon F.

(Florissant, CO) - April 27, 2010 (
See all reviews by this customer
)
I didn't look at the dimensions of this item so I was surprised at the size of it (maybe 6" x 6") and couldn't imagine how so many words were going to fit on here and be able to be read without a magnifying glass! But once I opened the box - it was WONDERFUL!!! It was completely legible and absolutely beautiful! Thank you, once again, Personalization Mall for a truly unique and one-of-a-kind gift! You guys are the best!

Great gift
By
Michelle F.

(Atoka, TN) - March 12, 2010 (
See all reviews by this customer
)
I purchased two of these as gifts for friends and personalized them with my own poems, they turned out great and my friends loved them. Good quality, plenty of room to write what you want, very pleased with my purchase.

Awesome
By
Celeste K.

(Livonia, MI) - May 7, 2010 (
See all reviews by this customer
)
I am very impressed with the quality, promptness and anticipated delight on my Mom's face when she opens this personal gift. Thank you so much for providing this perfect gift. She is 90 years old and nothing was appropriate, until I found your website. Perfect, just perfect.

Very Impressed!
By
Keith P.

(Bloomingdale , IL) - March 26, 2010 (
See all reviews by this customer
)
My wife ordered this for her Mother for her birthday and since my wife is a little leary abt ordering items online from business other than the big box stores, she was afraid that this wouldn't be a quality product... Man, was she surprised and extremely impressed! This product was truly beautiful with no flaws! The items was shipped and received within 2 days of ordering it! Wonderful service and quality products! We will certainly entertain the notion of ordering from here again.

Its very nice
By
Shopper

(Lancaster, PA) - May 19, 2013
This website is great! I like the original ideas for gifts. My mother-in-law love it! Im getting the same item for my mother, too. I just only wish it'll be bigger!

Beautiful and thoughtful gift for anyone!
By
Theresa H.

(Merrimack, NH) - April 28, 2010 (
See all reviews by this customer
)
I wrote a poem to my mother and had it engraved on this. While it is beautiful, I did find the font a bit small so might be difficult to read if you don't know what it says. Also, I went through alot of editing to make it fit a certain way on the heart, and it did not come out the way I had hoped it would. It is still beautiful though.

Nice quality, but too small.
By
Michele M.

(Export, PA) - August 11, 2010 (
See all reviews by this customer
)
I honestly was a little disappointed in this piece. I thought it would be bigger than it appears in this picture, however it is pretty much the same size (not the enlarged one either, which I guess I was expecting). The quality is very nice, no issues there, but for the price I just thought it would be larger and easier to see the wording. I personalized one for my mother to give as a gift for my wedding next month, and I'm just not sure she's going to be able to read what I wrote without putting reading glasses on.

Loving Heart
By
Sherrie S.

(Melville, NY) - May 5, 2010 (
See all reviews by this customer
)
I loved the fact that I could personalize with my own words. It is beautiful but the letters are to small. I think next time I order it I would limit the amount of words to less then they allow.

Words for thoughts
By
LISA S.

(Philadelphia, PA) - May 15, 2013 (
See all reviews by this customer
)
The plaque itself is a beautiful beautiful piece,my only issue was the writing..The script was very very small so my mother couldn even read it..Its not a good gift for someon9e that have A problem reading small Print..Words for thought would be to change font size or cut verses down shorter...




Just Because Love Heart
By
Jocelyn H.

(Tacoma, WA) - October 7, 2009 (
See all reviews by this customer
)
I purchased this gift for my mother as a random "just because" surprise. My mom absolutely loved it. Ijust felt the need to send something special to my mother to let her know that I don't need a special occasion to show her I think of her and love her always. She has it sitting on her display mantle and is always telling everyone about it. I gave it 4 stars because what I actually wanted to say was about 5 letters too many. Overall, it's a wonderful gift idea and personalization mall is perfect for that random act of kindness for that special someone in my life - in this case "MY MOTHER"!

Turned out great
By
Paul C.

(Canonsburg, PA) - November 18, 2009 (
See all reviews by this customer
)
Very nice work! The spacing of the phrasing was great.

Great Gifts for All
By
Christine R.

(Schaumburg, IL) - May 13, 2010 (
See all reviews by this customer
)
This was my first order with Personalizationmall.com. Extremely happy. Product shipped as shown. Packaging was sufficient so as not to break a fragile item. Item shipped QUICK. Received in time for Mother's Day when ordered only a few days before. Would definitely order from this company again!!!!

Beautiful
By
Shopper

(New Salem, PA) - May 16, 2012
This was a gift to my mom for Mother's Day. She LOVED it!! It looked beautiful and the engraving was perfect! The only complaint that I have is that it is smaller than I expected. Still, it was a perfect gift and she loved it more than any other gift I've given her.

Good product, but small type
By
Shopper

(Oak Lawn, IL) - October 19, 2012
This product looked really nice!! The only thing that I had a problem with is that the type is very small and hard to read. My mom has to use a magnifying glass. Also, the type is see through, so depending on what you have as the background where you will display the heart may make it un-readable all togehter.

Beautiful
By
Kristie M.

(Waco, KY) - November 25, 2012 (
See all reviews by this customer
)
I ordered this product as a Christmas gift and am very happy with it. It looked just like the preview picture and is nice quality, definitely worth the price. Thank You.