my mom says words are way to small to read
By
Melissa S.

(Jersey city, NJ) - March 17, 2012 (
See all reviews by this customer
)
When I gave my mom this gift just to show how much I appreciate her she complained about how small the writing was. She thinks the heart sculpture is nice but she says she needs a magnify glass to read the poem. Other than that I like this item.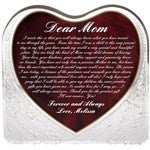 It truly is beautiful..............
By
Shopper

(Atlanta , GA) - January 3, 2012
The only real problem I had with this, is the fact that the prints are real small and I had to bring it up so close to read....I blamed it on bad eyes until the recipient did the same.
Luckily, I knew what I had written, so it was easy to read it to her...........the beauty of it all was seeing her appreciate the gift so much, and hug it real tight. great quality, but make sure u don't write much

A Letter to Mom Heart Sculpture
By
carl G.

(houston, TX) - July 29, 2011 (
See all reviews by this customer
)
The heart design and the abilty to have a personalized message engraved was impressive. The dark purple color of the heart made the engraving standout. A very reasonable price and fast shipping made for a positive experience. I presented it to Mom at her 90th birthday party, and she was so appreciative of the personal message it contained. My only wish was that a little larger sculpture was available so the engraving would be larger, and therefore easier to read.

Heart Keepsake
By
Siobahn Y.

(Mullica Hill, NJ) - May 14, 2011 (
See all reviews by this customer
)
I was satisfied with the product, but the writing was very small. It was also hard to understand the cursive writing on the glass, since the writing was too small. I would have also liked it much better if we were able to write in "poem" form. In other words, I wrote a poem on this item, but it did not put the lines the way I wanted it. It just automatically moves to the next line when it reaches a certain number of characters in the previous line. I wanted the first line to only contain one short sentence, and instead, it contains 1 and a half sentences. So, it does not read like a normal poem, it reads like a paragraph that rhymes. All in all, the product was a good gift. If you are looking to write a letter to someone, I would recommend this product. However, if you are looking to write a poem, I would not recommend this product.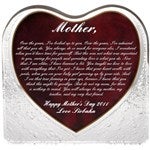 Gift for Mom
By
Raul Z.

(APO, AE) - February 16, 2011 (
See all reviews by this customer
)
My mother loved it, you gotta write the right thing to make it more special

Great Gifts for All
By
Christine R.

(Schaumburg, IL) - May 13, 2010 (
See all reviews by this customer
)
This was my first order with Personalizationmall.com. Extremely happy. Product shipped as shown. Packaging was sufficient so as not to break a fragile item. Item shipped QUICK. Received in time for Mother's Day when ordered only a few days before. Would definitely order from this company again!!!!

Loving Heart
By
Sherrie S.

(Melville, NY) - May 5, 2010 (
See all reviews by this customer
)
I loved the fact that I could personalize with my own words. It is beautiful but the letters are to small. I think next time I order it I would limit the amount of words to less then they allow.

Beautiful and thoughtful gift for anyone!
By
Theresa H.

(Merrimack, NH) - April 28, 2010 (
See all reviews by this customer
)
I wrote a poem to my mother and had it engraved on this. While it is beautiful, I did find the font a bit small so might be difficult to read if you don't know what it says. Also, I went through alot of editing to make it fit a certain way on the heart, and it did not come out the way I had hoped it would. It is still beautiful though.

Turned out great
By
Paul C.

(Canonsburg, PA) - November 18, 2009 (
See all reviews by this customer
)
Very nice work! The spacing of the phrasing was great.

Just Because Love Heart
By
Jocelyn H.

(Tacoma, WA) - October 7, 2009 (
See all reviews by this customer
)
I purchased this gift for my mother as a random "just because" surprise. My mom absolutely loved it. Ijust felt the need to send something special to my mother to let her know that I don't need a special occasion to show her I think of her and love her always. She has it sitting on her display mantle and is always telling everyone about it. I gave it 4 stars because what I actually wanted to say was about 5 letters too many. Overall, it's a wonderful gift idea and personalization mall is perfect for that random act of kindness for that special someone in my life - in this case "MY MOTHER"!

Words for thoughts
By
LISA S.

(Philadelphia, PA) - May 15, 2013 (
See all reviews by this customer
)
The plaque itself is a beautiful beautiful piece,my only issue was the writing..The script was very very small so my mother couldn even read it..Its not a good gift for someon9e that have A problem reading small Print..Words for thought would be to change font size or cut verses down shorter...




From the heart..
By
Kristine H.

(Newport, KY) - May 18, 2012 (
See all reviews by this customer
)
I wrote this lovely personalized letter from the heart to my mom and when it arrived I was shocked to see it wasn't the one I personalized. Thank God I opened it before Mother's Day. On the outside of the box it indicated it was mine, but inside the box was another customer's mother's day gift. I immediately called customer service and they required me to send a photo as proof they sent the wrong one. I did and they got the correct heart sculpture two days later and right before Mother's Day. As a first time customer I was disappointed this happened.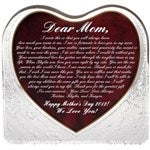 Nice quality, but too small.
By
Michele M.

(Export, PA) - August 11, 2010 (
See all reviews by this customer
)
I honestly was a little disappointed in this piece. I thought it would be bigger than it appears in this picture, however it is pretty much the same size (not the enlarged one either, which I guess I was expecting). The quality is very nice, no issues there, but for the price I just thought it would be larger and easier to see the wording. I personalized one for my mother to give as a gift for my wedding next month, and I'm just not sure she's going to be able to read what I wrote without putting reading glasses on.