The perfect gift for the new doctor in your family
By
Ralph G.

(Kennesaw, GA) - May 9, 2014 (
See all reviews by this customer
)
This is a beautiful plaque that any doctor would be proud to display. I presented it to my son at his graduation from Mercer University School of Medicine. Everyone who saw it was very impressed. It is a classy plaque and tastefully engraved. My son was so proud of it, he showed it to every classmate and all his professors. I have no doubt it will be displayed in his office for a very long time.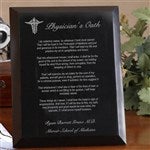 Just beautiful....
By
Mary B.

(Orlando, FL) - December 29, 2013 (
See all reviews by this customer
)
This Physician's Oath Plaque is just beautiful! It is often difficult to find something that truly is appreciated; but, this plaque was.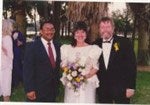 First Class
By
Valerie P.

(Saint John, IN) - June 4, 2013 (
See all reviews by this customer
)
Nice quality marble plaque. Can be hung or use the attached metal stand.
Done very well. Makes a great gift.

Just what the Dr. Ordered!
By
felicia W.

(fort atkinson, WI) - June 10, 2012 (
See all reviews by this customer
)
I boght this plaque for my niece who just graduated. I searched alot of sites and this one had just what i was looking for so I'm am pleased.


For every doctor's office
By
Shopper

(Delano, CA) - January 29, 2012
The plaque is well-made and the quality of it is excellent.

Love it
By
Wafaa H.

(Waltham, MA) - December 9, 2009 (
See all reviews by this customer
)
This was just as nice as the photo on line. . Engraving was well done. The marble was nicely polished, very good value for the money.

It takes two!
By
Shopper

(Senatobia, MS) - June 6, 2013
I ordered this item for my daughter who was graduating from medical school. When I received it there was a very obvious light white flaw diagonally from top corner to bottom corner. I was very disappointed even though I had read other reviews that had received the same item with a flaw in the marble. I had hoped I would be lucky enough to get one without an obvious flaw. But I was not. I had to give it to her anyway because there was not time to order another one before graduation. I ordered a second one because 4 years of medical school deserves a marble plaque without a large flaw in it. I received the second one a few days later and it was perfect! Unfortunately it cost me twice the amount. I have not asked this company to refund me for the first one because I imagine it was a chance I had to take. At least the second one was great.


plaque
By
Shopper

(Tarrs, PA) - April 27, 2012
It is very nice. heavier than I thought it would be. Only bad thing is not enough space to list name of school (was more than 30 spaces)

Review
By
Shopper

(Owensboro, KY) - May 16, 2011
I was disappointed with the scratches on the marble that the plaque was made of and inscribed. Other than that, the plaque and stand were a perfect pick for the gift I needed.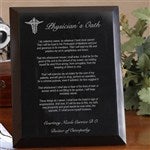 marble plaque
By
Patricia C.

(Las Vegas, NV) - December 13, 2009 (
See all reviews by this customer
)
Loved it except it had a mark on the marble

oath plaque
By
jo ann L.

(kahului, HI) - October 20, 2009 (
See all reviews by this customer
)
engracing was well done. would have preferred to have the marble more polished with less perfections in the stone (there were small scratches and smudges). except for that it was a good value for the money.

Had Potential
By
Shopper

(Colchester, CT) - April 1, 2013
This product has the potential to be nice. However, it arrived with multiple scratches, and a white blemish, which is very apparent against the black background. It was well wrapped when it arrived, so the damage must have occurred at the facility. Such a shame.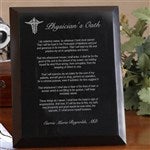 Not quite what I expected
By
Shopper

(Twin Lake, MI) - May 22, 2012
The plaque I received had what looked to be flaws. A line going right down the middle of the plaque, grey spots, and what looked to be a scuff on the bottom. I do realize that marble will have some things going through it but I was not happy with the quality of my product. Was given $10.00 off but I would like to have returned it. My Son only graduates from Med school once and I really wanted to give him something nice, not second hand quality.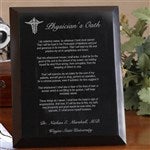 garbage
By
donald G.

(indialantic, FL) - April 3, 2011 (
See all reviews by this customer
)
GARBAGE