Great gift!
By
Shopper

(Houston, TX) - June 20, 2013
I was very happy with the quality of the towel wrap! With a monogram it makes a wonderful gift.

Embroidered spa wrap
By
Shopper

(kingwood, TX) - January 2, 2013
I purchased several as Christmas gifts this past Christmas, including one for myself. The embroidery is well done. The quality of the towel I would say is above average but not as plush as I hoped for the money I paid. The description given on the website was vague so I wasn't sure what to expect. The velcro has worked well so far although I haven't washed it yet so I can't comment on how well it washes.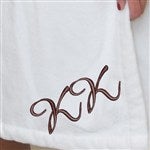 Great robe
By
Shopper

(potomac, MD) - December 28, 2011
I have purchased this robe for 2 people, both who absolutely loved the personalization on it! I wish that the towel came in more than just white, but at least there are lots of choices for the personalization.

Love it!
By Shopper (RIVERSIDE, CA) - October 8, 2011
Can't Wait to use it for my honeymoon!

Great product
By
Shopper

(Saudi Arabia, Dhahran, FL) - January 18, 2011
A high quality product,soft,and embroidery well done. Thank You =)



Great Gift
By
Sara H.

(Waynesboro, VA) - December 22, 2010 (
See all reviews by this customer
)
Was pleased to find this as a gift option for my best friend...did think the price was a bit steep for what it was but overall was pleased.

lovely
By
colleen S.

(fresno, CA) - August 10, 2010 (
See all reviews by this customer
)
This is a lovely wrap. It is a high quality cotton. For me, it seems a bit heavy but I am use to a lower quality wrap that I purchased at beauty supply store. I'm sure I will get use to it. I do love the length - i have ugly legs and knees so the longer the better. I will be ordering another for my girfriends 55 birthday. I love not having to re-wrap a regular bath towel as i dry me hair.

renee
By
Renee R.

(Blue Springs, MO) - June 8, 2010 (
See all reviews by this customer
)
kind of thin....would like more plushness...otherwise nice

Excellent Quality
By
Janet C.

(Staten Island, NY) - November 11, 2009 (
See all reviews by this customer
)
The towel wrap was a nice, thick, soft fabric of decent quality for the price and my only reason for not giving it 5 stars was that I was not happy with the personalizaton font. I am giving it as a gift at at bridal shower and purchased the navy blue man's towel wrap (which was also excellent quality) but I was not allowed to choose the font for the personalization and they were different - I know it's not a real big deal but I really wanted it to me for a Mr. and Mrs. and therefore have the font/font color match.

Towel Wrap
By
Brenda C.

(Tampa, FL) - August 18, 2013 (
See all reviews by this customer
)
This was a gift for my granddaughter who was going away to college. She likes it but wishes it was a little thicker material. She is rather hard to please so I'm sure I will buy another for my other granddaughter when she leaves for college.

Wrap too small
By
Linda R.

(Clarksville, TN) - November 4, 2011 (
See all reviews by this customer
)
I am a 1x size and this wrap is too small. I can use it but it looks skimpy. Wish I had some measurements and I would not have ordered. But it monogramed so nothing I can do about it. Material is top quality, would have given a 5 had it been large enough.

Will not fit "most"
By
Shirley B.

(Bridgeton, MO) - November 9, 2010 (
See all reviews by this customer
)
The quality of the fabric was good and the embroidery was beautiful. However, the slender cut means that it is unlikely to fit over the hips of most. I wish I had not ordered them.

How can I review if I still haven't received it?
By
Siobhan L.

(Kansas City , MO) - December 22, 2009 (
See all reviews by this customer
)
You should really check out the shipping/receiving schedule of items before you ask folks to review. How can I do that if I haven't received the item yet? Neiman Marcus get embroidered items to me faster. Yes, I pay more, but they don't insult me like this!