easy gift giving
By
Judith F.

(Whiting, IN) - January 19, 2010 (
See all reviews by this customer
)
I had 2 nieces who just had their babies and I was able to shop and send each of them these personal blankets..one in pink and one in blue. It was so easy and they both were thrilled to have these blankets for many years to come...and it made me feel so happy to be able to purchase a beautiful memory for them.

SWEET DREAMS BABY BLANKET - SNOWY WHITE
By
deborah B.

(lexington, SC) - November 24, 2009 (
See all reviews by this customer
)
JUST PERFECT! IT IS FOR MY GRANDSON AND I COULD NOT BE HAPPIER! WITH THE BLANKET AND EMBROIDERY.

SO Happy
By
Emma M.

(Astoria, NY) - November 10, 2009 (
See all reviews by this customer
)
This is a gift for my niece and we couldn't be happier. Thank you so much!!!

A treasured and lasting baby gift.
By
Linda M.

(Lakeland, FL) - October 8, 2009 (
See all reviews by this customer
)
I was personally impressed with the baby blanket I purchased for a shower gift. The blanket itself was extremely soft and the Sky Blue color was a beautiful hue. I chose the ivory cream thread in Script font. Not only was I able to personalize it with the baby's entire name, but also could include a sentiment that had meaning for me. This not only was a huge hit with others at the shower, it will forever remain a keepsake for the child once he has grown.

Baby Blanket
By
Nancy S.

(Glendora, CA) - October 8, 2009 (
See all reviews by this customer
)
I love it. It is just so soft and really pretty.

baby blanket
By
Ken S.

(Woodbridge, VA) - May 20, 2014 (
See all reviews by this customer
)
We bought this blanket for our granddaughter, we are very happy with the product. The embroidery was much nicer in person then online.

Light Weight Baby Blanket
By
Ellen M.

(Harrison, NJ) - March 10, 2014 (
See all reviews by this customer
)
The blanket is pretty, didn't care for the "K" though. Hard to tell it's a "K". Looked alot like an "H". For a winter carriage blanket, I think it should be thicker and would have liked the option to put Shamrocks around the name, but it was not offered. Graphics should be an option.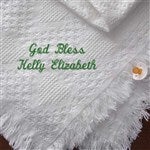 Would buy again
By
Shopper

(Hayward, CA) - February 1, 2014
Beautifully embroidered, fast delivery, nice quality

A Sweet Gift for a Baby
By
Shopper

(Pittsburgh, PA) - August 7, 2012
I loved the blanket! Although, one of the numbers for the date seemed too close to another number, it was still a very nice gift. I got this blanket for my boyfriend's nephew and I'm sure that the parents of the child will love it! It's such a sentimental piece that it will be around for a long time!

Fast Service, Good Quality - Would tell a Friend!
By
Shopper

(Brea, CA) - June 25, 2012
Overall very happy - would have been 5 stars however, the blanket was a much lighter weight than I had hoped. Great service, great light-weight blanket and the embroidery looked top-notch! Great receiving blanket and I would buy it again.

Adorable blanket!
By
Shopper

(Jacksonville, AR) - July 2, 2011
I got this as a gift for my first child, and loved it. I ended up buying one for my other two children when they were born. We now have one in each color. The material is great quality and holds up really well in the wash. The only reason I gave this a 4 star instead of 5 is because I really wish they offered it in green as well. But it is a great blanket : )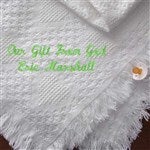 Happy with results
By
Helen S.

(Grafton, MA) - May 13, 2011 (
See all reviews by this customer
)
I was very happy with the personalization results (white on pink blanket with block letters). I hope the blanket is soft enough to become my niece's favorite blankie.
I was hoping to find a very, thin, lightweight fleece blanket, as the baby lives in Texas and it stays relatively warm there year-round. I settled for the cotton blanket. It looks nice and of decent quality, but like I mentioned, I have doubts about it being soft enough.

Great size and color
By
Sarah J.

(Towson, MD) - September 29, 2010 (
See all reviews by this customer
)
I really liked how the pink is not abrasive. My sister had a baby girl, but she doesn't want to shower her in pink. This was the right shade and the stitching (personalization) was done VERY well. She and her husband love the gift for their baby girl.
I have used this site in the past and will continue to use them for my personalization needs.

A little short on quality
By
Rhonda B.

(Sachse, TX) - April 2, 2010 (
See all reviews by this customer
)
I am rating this product with 4 stars only because the price, especially with the personalization, can't be beat. The shipping was also extremely fast. I was a little disappointed with the quality of the blanket as it was stiff and not as well made as it looks in the picture. I washed it on gentle cycle and it did improve.

Not bad
By
Shopper

(COMMERCE, TX) - June 21, 2012
I think if I chose a different color for the font, it would be more beautiful.
It looks in the pic more beautiful.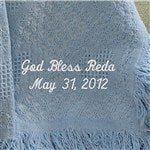 Pretty... but not soft
By
Vivian N.

(Jersey City, NJ) - October 10, 2009 (
See all reviews by this customer
)
In the picture this blanket looks fit for a baby to snuggle... however it is a bit rough and not as feminine as one would think.

Color of blanket is not as Pictured
By
Aida B.

(Plantation, FL) - September 10, 2012 (
See all reviews by this customer
)
I loved the look of this blanket when I first saw it online. The cost was reasonable & the shipping was VERY quick. However the blue colored blanked looks much darker online, and I chose white font because it looked nice together and we plan on using it in my sons pictures. I must say I was very very disappointed when I received it. The font is nice, but barely visible due to the blanket color being so far off from what it showed online. Not sure that I will be buying anything from here again.

Pretty but disappointed with quality
By
Shopper

(Hixson, TN) - July 24, 2012
Blanket was not the quality that I thought from viewing the photo

Baby blanket
By
Sue M.

(Leland, NC) - August 9, 2010 (
See all reviews by this customer
)
I was disappointed in the quality of the blanket. I expected it to be a little heavier weight cotton.

Sweet Dreams Baby Blanket
By
annette F.

(Oakland, CA) - November 12, 2009 (
See all reviews by this customer
)
Was very rough and stiff. Not the soft quality one would expect from a baby blanket. Had to wash twice in woolite and fabric softner before it was soft enough to use. I was very disapointed.

Poor blanket quality
By
Marcia Z.

(Kensington, MD) - October 20, 2009 (
See all reviews by this customer
)
Imagine my disappointment when I see the blanket I bought for my niece coming untangled! The threading was unraveling all around the edge and the blanket felt cheaply made. It was poor quality and not how the picture on the internet portrays it to be: thick, soft, well made. The only thing I liked was the monogramming. Next time I will buy my own blanket and have it monogrammed myself. So disappointing and embrassing because it was a gift and was falling apart before she even used it!

Poor Blanket Quality
By
Shopper

(Edmond, OK) - September 25, 2011
The monogramming was beautiful, but the quality of the blanket was not.