memories signature mat
By
Shopper

(Ridgeway, VA) - November 13, 2011
I bought this item for my mother and father in law's 50th anniversary party.
It was a wonderful gift for them. Everyone that attended the party wrote a wonderful thought about the day and it is something that my in law's will always have to cherish. I would recommend this item for any occasion.


Wedding Memories
By
Ana T.

(New York , NY) - October 24, 2011 (
See all reviews by this customer
)
Love this item. My Wedding is this weekend and I look forward to using it. Loved the secure way it was shipped to me. Lots of bubble wrap.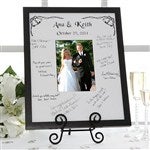 great product
By
Shopper

(Austin, TX) - September 29, 2011
this product is awesome. Arrived quickly and wonderfully packed. I love how it can be personalized.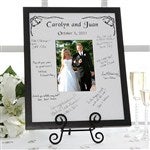 Even better than I thought it would be
By
Shopper

(Fort Mc Coy, FL) - August 7, 2011
I wanted a frame as an alternative for a guest book for my wedding. Other stores charge a unresonable price for there frames. This one is affordable and very nice. It is well made an doesn't have a "cheap" look to it. I can't wait for my guests is sign it!!!

Presentation quality !!
By
Shopper

(Rancho Palos Verdes, CA) - August 5, 2011
I was looking for something unique for a 60th wedding anniversary party when I found this personalized frame. I know it will be the hit of the party and can't wait to share it with others! The quality of the frame, personalized mat and stand is excellent.
In addition, it was shipped very quickly.
Thank you!!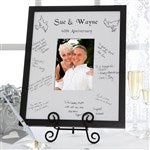 Wedding Memories
By
Frances T.

(Birmingham, AL) - March 20, 2011 (
See all reviews by this customer
)
Very nice. Quick service, good quality.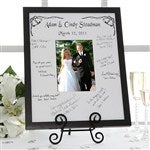 Very pleased
By
Debra T.

(Pawtucket, RI) - March 8, 2011 (
See all reviews by this customer
)
Very pleased with my purchase for my daughter's upcoming wedding. She was happy to be having something other than the traditional signature book. My daughter's reception will be relatively small, so this will be perfect. As has been previously suggested, keep in mind the dimensions of the frame when ordering. As with all my purchases, this was received extremely quickly and I am very satisfied once again.

PERFECT
By
Tracy G.

(San Diego, CA) - January 31, 2011 (
See all reviews by this customer
)
I was REALLY happy with this item as well as it was a PERRFECT addition to my Wedding instead of the book. I plan to mount it on the wall right between our 2 Wedding Wall photos. I give this item 20 stars.

signature frame
By
Shopper

(St Petersburg, FL) - January 31, 2011
I bought this for my son's wedding. It came out beautiful. You won't be disappointed in buying this.

Personalized Mat Frame
By
Mary P.

(La Canada, CA) - January 24, 2011 (
See all reviews by this customer
)
EVERY Wedding or Anniversary party should have one of these! Provide a fine-tip marker for guests' signatures, and buy the stand as well. 'Way better than a guest book, it's a very thoughtful gift. Personalized ink is a first-class well done embellishment to the mat. This site is the place to go for great prices on personalized gifts, and I am a repeat customer, for quite a while.

Classy memory holder
By
Norma N.

(Flushing, NY) - September 27, 2010 (
See all reviews by this customer
)
There are other sites that offer the same frame. But for two or three times the amount. The frame is a good size. Nicely display. The size of the picture still allows room for guest to write their wedding wishes.
Package was in good condition and on time.

CAN'T WAIT TO USE THIS!!!
By
Sheryl F.

(Laconia, NH) - September 8, 2010 (
See all reviews by this customer
)
I found this site a the very last minute and was very leary about ordering...well let this reivew ease your mind... Got this yesterday and can't wait to use this for my wedding in 10 days..so impressed with quality and prompt shipping. thank you so much, will certainly buy again for all occassions.

50th Anniversary Signature Mat Fram
By
Larry D.

(Sisters, OR) - August 4, 2010 (
See all reviews by this customer
)
My husband and I sent this to my Uncle and Aunt for their 50th. Anniversary. My Aunt called and said they loved the frame and mat. It is very pretty, and they are excited to take it to their Anniversary party.
So, this means we are happy too. The service was great! Fast delivery...Great doing business with your company. I will buy again from you.

wedding signature frame
By
rhonda C.

(norwood, NY) - July 5, 2010 (
See all reviews by this customer
)
i ordered this for my daughters upcoming outdoor wedding reception. it is beautiful & she just loves it. arrived very quickly & is of better quality then expected. very satisfied!

Perfect for weddings!
By
Marla B.

(Froid, MT) - May 9, 2010 (
See all reviews by this customer
)
We're going to use it along with a traditional guest book. Great product. It'll look so great hanging up on our wall after everyone signs it! It's a perfect addition to any wedding. I'll definitely come back for more products!

Wedding Mat Signature Frame
By
Marti A.

(Fairacres, NM) - February 27, 2010 (
See all reviews by this customer
)
This was exactly what I wanted for a gift for the bride & groom. I was very pleased with it & the delivery time!

Beautiful
By
Tera M.

(Winston, GA) - November 24, 2009 (
See all reviews by this customer
)
This is exactly what was described and will make a very special addition to our wedding. We will have our engagement photo in it till we are married and then will put in our wedding picture after everyone has signed it.

Very happy with it!
By
Danielle K.

(Fresno, CA) - October 20, 2009 (
See all reviews by this customer
)
The frame was much bigger than i expected it to be and it was shipped very fast! Thank you!

Good Quality
By
Shopper

(Enterprise, AL) - January 24, 2013
Purchased this for my In-Law's 5oth Wedding Anniversary. We used it as the guest's registery. The frame and personalization were quality workmanship. I had ordered a few personalized items for their party from another site. Those items looked of poor quality, the personalization was cheap looking and they even misspelled my Father-in-law's name on one item.I have used Personalization Mall several times and have always been pleased with my purchases! The orders also arrive quickly without having to pay for extra shipping! Only suggestion for this item is make it available in colors. Would have loved a gold option! Keep up the good work PMall!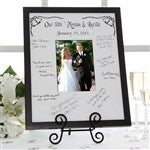 Picture Perfect
By
Shopper

(Castle Hayne, NC) - February 15, 2012
I got my frame in the mail last week and it looks great. i cant wait to see all of the signatures on it.

Nice
By
Shopper

(Hallandale, FL) - August 21, 2011
Good product, exactly as described. Excellent customer service and fast shipment.

Wedding Memories Signature Mat Frame
By
Shopper

(Lake Oswego, OR) - August 12, 2011
It is a very attractive piece, however, I would have liked it to be larger and willing to pay for larger because I believe it is too small for the wedding so I'm going to use it at the rehearsal dinner.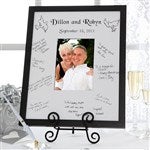 cute.. but smaller than looks
By
Linda N.

(Avon, MA) - June 9, 2013 (
See all reviews by this customer
)
its way too small for wedding guests to sign.. don't waste your money

Lettering looks rather plain
By
Shopper

(tacoma, WA) - January 7, 2013
I think the lettering could look more elegant or perhaps even a punched out version would give some deminsions. Frame is plain .The stand holder is not stable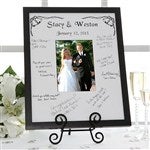 cheap
By
Shopper

(Glendale, AZ) - June 11, 2011
I found the frame to be cheap, poorly made. I had to go out & buy a different frame to put the matte in!

Photo Frame
By
Martina W.

(Jeffersonville, IN) - September 27, 2010 (
See all reviews by this customer
)
For the first time - disappointed !!! Frame TOO SMALL.. I should have read size closer!!!! Could not sign.. too small space. Everyone always read size on all of the products...

Received the wrong item!
By
mary M.

(ware, MA) - September 15, 2010 (
See all reviews by this customer
)
I do not yet have the correct item!

Poor Quality
By
Joanna F.

(Georgetown, MA) - August 12, 2010 (
See all reviews by this customer
)
Extremely poor quality product. I have ordered other items from this company and have been satisfied, but strongly discourage this item.