Beautiful
By
Shopper

(Fayetteville, GA) - February 16, 2013
This is way nicer than the picture looks. The quality is excellent. I was very pleased and the person that I bought it for absolutely LOVED it.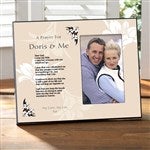 Love it
By
Karrie Ann T.

(yonkers, NY) - March 22, 2010 (
See all reviews by this customer
)
I love it

Very Happy
By
Lisa A.

(De Queen, AR) - March 18, 2010 (
See all reviews by this customer
)
This turned out to be such a beautiful frame. It is of good quality and very sentimental. Do not capitalize the My in My Daddy or My Mom or etc.... the example text when you order asks you to specify My .... at the last minute I changed mine to lower case for my and upper case for Daddy, and when I received it in, I was glad that I did. It would have looked odd with the capital there. I love love love it.

Memorial
By
Lucille H.

(Avenel, NJ) - February 3, 2010 (
See all reviews by this customer
)
Although this was purchased on-line and mailed directly to the recipient and not seen by me personally, it was received with the utmost appreciation. I was told that this was beautiful and it meant more than all the mass cards received which of course are always appreciated.

This Memorial Photo Frame personalized with a prayer touched the heart of my friend. For this, I thank Personalizationmall for the quality of this item.

Perfect gift for my Grandma...
By
Jhenai V.

(Sacramento , CA) - April 28, 2010 (
See all reviews by this customer
)
I gave her this frame for Christmas in remembrance of my late Great-Grandmother. It brought tears to my Granny's eyes! She loved it!! I'm more happy with PersonalizationMall.com rather than Things Remembered ;)

Prayer fro you and Me Frame
By
Evelyn H.

(Canada) - July 31, 2010 (
See all reviews by this customer
)
I am very happy with the the gift I received. I received it promptyly and the frame looked very professional and was just what I expected. The poem will help us heal. I love it. Thank you.

Very nice!!!
By
katina A.

(chesterton, IN) - June 4, 2010 (
See all reviews by this customer
)
I have ordered three of these total and everyone loved them. They are made really well . I was surprised at how quickly they arrived.

Excellent
By
Jack R.

(Salisbury, NC) - September 6, 2010 (
See all reviews by this customer
)
Thank you for creating a touching and excellent memorial for our dear friends.

The photo frame and prayer are very touching.

Excellent job.

Memorisl Plaque
By
Angela B.

(Carol Stream, IL) - October 8, 2009 (
See all reviews by this customer
)
It is beautiful.

Beautiful sentiment
By
Christine K.

(Silver Lake, WI) - June 6, 2012 (
See all reviews by this customer
)
I lost my husband just over a year ago and when I saw this and read the prayer it brought me to tears. The frame and quality of the product are perfect. My only criticism of the product is the background color. I thought it was more of a silver-gray tone and it is a peachy color. For me, something more neutral would be more pleasing. With that being said I would absolutely recommend this for anyone who is in need of comfort.

Great gift for a loved one who is mourning
By
Shopper

(Tampa, FL) - December 17, 2011
Sent this to a dear friend as I could not be there for her physically when her Nan died and she called in tears telling me it was perfect!

Perfect Memorial
By
Angela W.

(Richmond, TX) - November 19, 2009 (
See all reviews by this customer
)
I love this frame and plague. It arrived just in time for the holidays in order to remind me that the memory of my husband was not lost during the holidays or at any time. It is the perfect keepsake memorial.

A Perfect Gift
By
Helen M.

(Cincinnati, OH) - January 30, 2010 (
See all reviews by this customer
)
This is a perfect gift for someone who has lost a spouse. It is a high quality, lasting tribute that perfectly conveys what is felt. Thank you.

Prayer Plaque
By
SALLY W.

(TAZEWELL, VA) - January 22, 2010 (
See all reviews by this customer
)
I am very pleased with my prayer plaque. It is very nice. I got one for myself and my girls.

Beautiful!!
By
Robin S.

(Columbus, GA) - December 28, 2009 (
See all reviews by this customer
)
I bought this for my Mom because my father passed away on December 3rd. As soon as she opened it and read it she wept but it was because it was so beautiful and said what she felt. My only suggestion would be to allow a horizontal photo option as well.

Thank you for the quick service and for the beautiful, quality item!

Great gift
By
Jennifer B.

(Sidney, MT) - January 17, 2012 (
See all reviews by this customer
)
This was a gift for a relative who lost her husband of 35 years. She cried when we gave it to her because she said it fit them perfectly & their faith in God

Beautiful remembrance frame.
By
Shopper

(New Hudson, MI) - January 16, 2012
Photo frame and poem, especially when personalized, is a wonderful remembrance for someone who has lost a loved one. Would highly recommend the frame if you are looking for a special gift.

real sentamental frame!!
By
Shopper

(woodridge, IL) - December 22, 2011
made great gift for my father in law who just lost his wife.

DRH
By
Shopper

(Colorado Springs, CO) - March 10, 2012
I love this, a perfect gift for my friend who lost her son.

The most thoughtful memorial gift ever!
By
Shopper

(Broadview Hts., OH) - December 11, 2013
Frame is gorgeous. I just love Personalization Mall. I never had to worry about quality with you guys. I just KNOW it will be a wonderful gift. Everytime! Thank you for this memorial frame. A+

LOVE IT!!
By
Shopper

(Mountain City, TN) - November 27, 2013
I must say I love this gift. It looks so much better in person. I bought this gift for my grandmother. We just lost my daddy (her son) in June and this will be our first Christmas without him here. I know that she is going to love this present just as much if not more than I do. Thanks personalizationmall for making this Christmas be one that we remember!

Going away gift
By
Olga G.

(Bethel, AK) - August 5, 2013 (
See all reviews by this customer
)
This was the best going away gift for my daughter who was going to school away from home. And everybody loved it!

Perfect poem!
By
Denise K.

(allentown, PA) - December 23, 2010 (
See all reviews by this customer
)
I recently lost my father & I got this as a gift for my Mother. She loves it so much. The poem on the frame is so meaningful and the quality of the frame is amazing.

Poem for Dad & Me
By
Dana C.

(Muskegon, MI) - November 15, 2010 (
See all reviews by this customer
)
What an absolutely gorgeous frame! Upon receiving this I immediately put the picture of my Dad in it and displayed it for all to see.... Although I must say I was very shocked to see it on my doorstep so soon. I ordered this on Friday & I had it on Monday (3 days) I will definitely recommend your company to others!

This is a very tough time of year for me as yesterday was the 1 year anniversary (Nov. 14) of me losing the one person I could always count on, if I needed someone to just listen to me, if I needed Dad for his advice he was there to give it! Thanks so very much......Dana

Just a beautiful frame
By
Maryann B.

(Beavercreek, OH) - September 27, 2010 (
See all reviews by this customer
)
I am very pleased with the fast service & high quality of this company.
I will definitely recommend them to others.

Thank you very much..

I will continue to order personalized items from them.























A Beautiful Item
By
Robin P.

(Golden Meadow, LA) - December 25, 2010 (
See all reviews by this customer
)
This item is truly beautiful. My son was killed 4 1/2 yrs. ago. I bought one for myself and I also bought one for my daughter in law. It's is the perfect item. I have order again from you and will continue to. Thank you.
Robin , LA.

Very Nice
By
Shopper

(Canton, MI) - December 15, 2011
My father-in law passed away this year. I was looking for something to get my husbands grandmother and this seemed like the perfect gift. Order came within 3 days and it looks really nice. I plan on giving this as a Christmas gift.

Perfect
By
Shopper

(Marion, MS) - December 12, 2011
I purchased this for a close friend of mine who lost her spouse. She absolutely LOVED it and so did I. Thanks Personalizationmall.com!

Memorial Frame For a Special Person's Loss
By
Shopper

(st louis, MO) - May 14, 2011
OMG,My ex-supervisor lost her husband in November 2008,If there was ever anybody who loved her man,this woman is it,Their bond and unique relationship is incomprehensible,so I try to uplift and encourage throughout the years,I sent this for her b-day and mothers day,I put it in her mailbox and text-ed her that she had something waiting for her,I received a phone call 50 minutes later,and I could hardly understand her words through all the tears,Thank you personalization mall for helping me give such a heartwarming and tender gift to someone special!!!!