Very happy customer!!
By
Shopper

(Auburn, MA) - August 24, 2013
I ordered this canvas for my husband for our 1st Anniversary, I received it within 4 days of ordering with regular shipping. The canvas came out beautiful! They did such an amazing job with it! I have ordered other things from this company before and I have all always been very pleased with everything!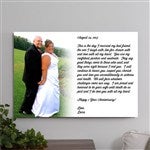 Picturesque!
By
Kimberly M.

(Schnecksville, PA) - August 19, 2013 (
See all reviews by this customer
)
I bought this as a gift to my parents and words can not describe how beautifully it came out. I have bought many things from this website and have loved them all. This beats them all hand down!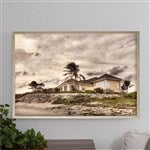 Beyond satisfied!
By
KERRI D.

(INDIANAPOLIS, IN) - August 16, 2013 (
See all reviews by this customer
)
I loved the photo canvas! I love everything you guys do! Everything is so beautiful and gets to me amazingly fast! I recommend your website to EVERYONE! Keep up the great work!!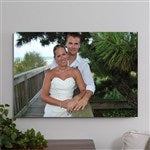 Almost as large as life
By
Linda N.

(voorhees, NJ) - August 5, 2013 (
See all reviews by this customer
)
We are thrilled with our canvas photo! Ordering was simple and when it arrived a few days later we were delighted opening the box! The color and quality was just as we had hoped it would be and for the price we feel it was a super value! We would recommend ordering this canvas to everyone and everyone who has seen it has asked where we got it!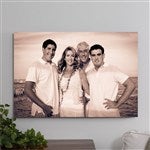 another amazing order
By
jennifer H.

(dale city, VA) - July 22, 2013 (
See all reviews by this customer
)
I've ordered many things from personalization mall over the last few years.. theyve all been perfect but this product, alone, is absolutely stunning. everyone who walk into my living room is captured by the size and quality. I am forever loyal to personalization mall.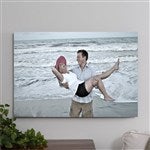 canvas collage
By
Grace A.

(Lubbock, TX) - July 3, 2013 (
See all reviews by this customer
)
My husband and I chose three IPHONE pictures to create a canvas collage
of photos for our living wall to tell the story of our trip to St. Andrews, The Home of Golf. We love the clarity and clean look.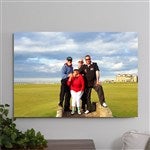 Great product!
By
Janet S.

(Hillsboro, OH) - July 1, 2013 (
See all reviews by this customer
)
Great quality canvas! Makes an awesome gift. My sister loved it.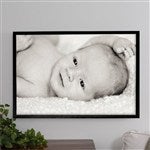 Good Quality
By
Lisa V.

(Gladstone, MI) - June 29, 2013 (
See all reviews by this customer
)
I really like this, because it is a great way to preserve a picture, and allows you to hang anywhere with a command strip because it is lightweight. I am considering getting a few more of my keepsake photos done in canvas, and I would definitely return to this company. They arrived very very fast and everything was accurate and good quality. I would highly recommend!!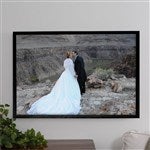 Awesome
By
Sarah H.

(Kansas City, MO) - June 29, 2013 (
See all reviews by this customer
)
I ordered this print from my wedding and it turned out amazing! Great quality! I was amazed at how quickly I recieved them..I ordered on Friday night and recieved them on Wednesday! Will definitely be telling other people about Personalization Mall.

Awesome wedding gift!
By
Cathy P.

(Hays, KS) - June 17, 2013 (
See all reviews by this customer
)
Took a jpg of my niece's engagement pictures and downloaded it to this 12 x 18 canvas. It turned out beautifully! She will be thrilled and they are planing on displaying it at the guestbook table!

Lovely
By
Shopper

(North Ridgeville, OH) - May 21, 2013
The picture was everything I expected. I just wish I could have made it on a bigger canvas but the website wouldn't allow it. I did 16x20 and wanted the 20x24. Quality was good. Very happy.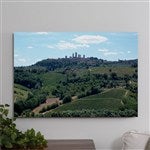 Wonderful gift
By
Beth B.

(Harriman, NY) - May 18, 2013 (
See all reviews by this customer
)
I bought one canvas for my mom and one for my mother-in-law for Mothers Day and they were both so thrilled with their gifts. They both went home and hung them right away. It was an awesome gift idea.

Awesome
By
TOMMY N.

(Syracuse, NY) - April 21, 2013 (
See all reviews by this customer
)
This is my first order from the site, and it is a great experience.
After reading a lot of feedbacks from other customers. I decided to place an order. I received it within several days which is surprised me how fast the service was. Then I opened the package and was amazed by the quality and pretty of the canvas came out.
Thank you for your great service and can't wait to order some more :)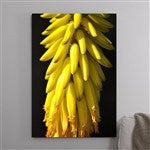 Awesome Quality!!
By
Shopper

(Palos Park, IL) - April 8, 2013
Absolutely love the quality of the this product. Especially love when they go on sale! The clarity is beautiful! Our guests always compliment the canvas photos we have purchased from P-Mall. We have 5 of them now.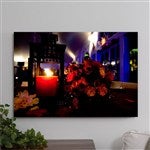 Excellent!
By
Maria J.

(Tarrytown, NY) - April 5, 2013 (
See all reviews by this customer
)
It came out beautiful! Very quick turnaround and packed well. Will be a return customer!

Love love love how this came out
By
Shopper

(Delmar, NY) - March 24, 2013
I got this as a gift for my best friend who loves bumblebee from transformers. I was really worried about how it would turn out, since it is mostly lines, i was afraid they would be blurry. Not the case, they were clean and crisp. Needless to say she loves it =) I will def order more personalized canvas pieces.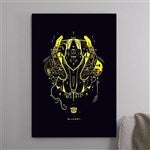 Love this item!
By
Dustie H.

(Jasper, AL) - March 19, 2013 (
See all reviews by this customer
)
We love the way this item turned out, it is proudly displayed on my wall!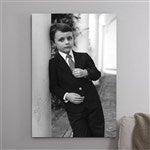 Canvas print
By
Shopper

(Fairhope, AL) - March 12, 2013
Canvas came out beautifully. I am very pleased with the quality of this canvas. I will be ordering again.

Very Quick
By
Cherie H.

(Evansville, IN) - March 4, 2013 (
See all reviews by this customer
)
I was very impressed with the final product and I received it so fast. Can't wait to order more.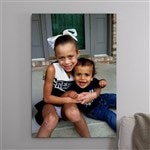 Great!
By
Shopper

(Rochester, MN) - March 3, 2013
Thank you! We love our new piece of art!!!

Awesome Gallery Wraps
By
Shopper

(Chicago, IL) - February 26, 2013
I am a repeat customer. So far, I've ordered three large gallery wraps from you and I'm about to order another. I keep coming back cause I absolutely love the quality of your products, especially for the price! You have the best deals available and I will continue to return and refer familr/friends. Thanks for the great products and service!

Great Quality, Great Price, Great Service
By
Tammy S.

(Lyndhurst, VA) - February 21, 2013 (
See all reviews by this customer
)
I ordered 2 prints this size for a Christmas present with family photos. I did not check the prints until late, and one print had a scratch, after a quick phone call, a replacement was sent by the end of the week. Also, the customer service helped adjust my pictures so the framed edge and canvas was shifted just like i wanted. This was very easy and I have had great experiences with the company. Over all, my family now has 6 of these framed canvas prints in various sizes.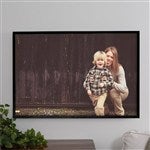 Photographs to Canvas
By
Beverlye E.

(Yorktown, VA) - February 16, 2013 (
See all reviews by this customer
)
I have had several photographs developed to large canvas wall art,at Christmas and one for a Valentines and I have been so pleased. One was my grandson playiing sports and his mother was brought to tears SO GOOD. Another was for my daughter-in-law and her brother and sister in a special engraved frame which was lovely. She also cried with joy! And the Personalization staff worked with me and were so helpful. I highly recommend the Company.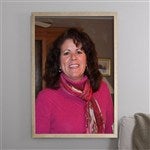 AWESOME gift!
By
Lesley D.

(Midlothian, VA) - February 8, 2013 (
See all reviews by this customer
)
I purchased this canvas as a Christmas gift for my sister. I was so happy with the quality of it! I was even more delighted because the price is SO GOOD! I added the frame, which really made the picture pop. Be sure to use a very large digital image in order to get the best result. I believe my digital picture size was approximately 2MB.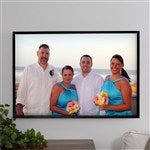 Another Home Run!
By
Darryl F.

(Riverside, RI) - February 6, 2013 (
See all reviews by this customer
)
This was another birthday gift for my mother's birthday. Again, she absolutely LOVED the canvas and cried when she opened it. I will continue to purchase these canvases as they are high quality and transform and room that they are hung in!!!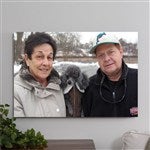 Fabulous
By
LaTanya E.

(Chicago, IL) - January 22, 2013 (
See all reviews by this customer
)
I received my 16x24 gallery wrap and it was breathing taking. I did an alto ego photo shoot for my bday and had it blow up.

UNBELIEVABLE RESULTS!
By
Charmaine G.

(Bloomingdale, GA) - January 16, 2013 (
See all reviews by this customer
)
This canvas print far exceeded my expectations, the quality, colors and craftmanship were unreal. I thought the pixels would be compromised because of the size and the price of the print but I took a chance anyway, and wow was I wrong! The clarity far exceeded that, the canvas looks like a professional custom made portrait. I will definitely order more canvas prints especially considering how fantastic they are priced! You get so much more than what you pay for! Just incredible! Thank you so much PERSONALIZATIONMALL.COM I LOVE IT!

large family photo
By
Shopper

(Pebble Beach, CA) - January 14, 2013
Loved how clear and vivid the quality and colors turned out, just like the professional original. Also liked the canvas wrap look. Very happy with the picture!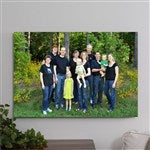 GREAT PURCHASE
By
Shopper

(Miami, FL) - January 14, 2013
Bought this for my boss as a gift. It was delivered earlier than expected and is beautiful. Color is exact...smooth...clean, etc. Thinking of having all of my favorite pictures placed on canvas like this one. VERY happy with this canvas print. I recommend this product to everyone!

Canvas Art is the best
By
Katherine L.

(Silver Point, TN) - January 11, 2013 (
See all reviews by this customer
)
The Candace art i get through personalizationmall is the best. High-quality at a very affordable price. I have bought over 12 prints in large sizes and have not been disappointed by any of them!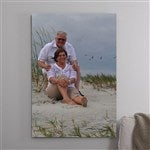 Great products, Great prices and FAST service
By
Mark H.

(Raleigh, NC) - January 2, 2013 (
See all reviews by this customer
)
Very clear print from a very old photograph. Ordered and received within 2 days *with standard shipping! Will definitely be a repeat customer.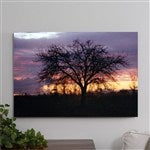 Love it!
By
Shopper

(Charlotte, NC) - January 1, 2013
Photo turned out great on canvas!
Very quick turn around from order time to deliverery! Less than a week!

Great quality
By
Shopper

(Ropesville , TX) - December 30, 2012
Was very pleased with this canvas print. Very well made and shipped great. If you have a quality photo you want to enlarge to a canvas, I recommend this one.

Excellent Canvas Prints
By
David S.

(Sandwich, IL) - December 29, 2012 (
See all reviews by this customer
)
Easy to order, great image previews, and extremely fast shipping, especially during Christmas time. Image previews are about at accurate as the real thing. Previews showed how images would be cropped and arrived as shown. For my first order with PersonalizationMall.com, I'm very impressed. Thank you!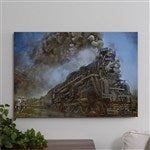 Awesome pic
By
Marielena R.

(GRAPEVINE , TX) - December 29, 2012 (
See all reviews by this customer
)
Came out really well

Gifted this item and mom loved it
Gave this item to my mom for a family portrait to put in her home. She was amazed and loved it and it was shipped super fast.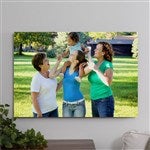 Awesome for a gift
My sister needed wall art and thought this would be a great item for her and she loved it! I would deff gift this again.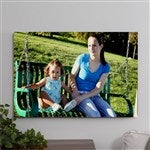 Wonderful gift
Gave this canvas as an xmas present and to see the look on my sisters face when I gave it to her was amazing! Great item!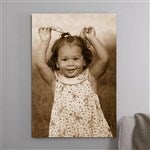 Great quality photo to canvas wrap
By
Shopper

(Taunton, MA) - December 28, 2012
This item was just as I expected it would be, based on a past purchase! Fabulous! It was a wonderful surprise gift and everyone loves it!!

beautiful.
By
Melissa V.

(Butte, MT) - December 27, 2012 (
See all reviews by this customer
)
We love the quality and the durability of it. It looks great on our wall. Very satisfied.