sharp image
By
Zuleika S.

(Springfield, MA) - August 25, 2012 (
See all reviews by this customer
)
Great prices great service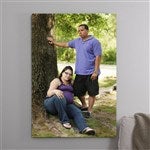 Spectacular
By
Patricia V.

(Mequon, WI) - July 27, 2012 (
See all reviews by this customer
)
The canvas print was great and it came extremely fast.

Excellent
By
Mark W.

(Perris, CA) - June 10, 2012 (
See all reviews by this customer
)
Great price, quality and it looks great!

Will be ordering more in the future.

canvas
By Shopper (waltham, MA) - May 16, 2012
verry good!

Great quality!
By
Shopper

(Washington, DC) - May 1, 2012
I surprised my gf with a canvass blow up of a photo she took. She loved the canvass photo and when I saw it I was very impressed with the quality! Definitely recommend this site.

Easy to order. There was even a tool to tell you the minimum size requirement for your image to blow it up on a canvass.

Fast shipping - came within a week.

The reason why I docked it one star (really would only be .5 if i could) was it did not come with instructions on how to mount it - only two little metal brackets but i wasn't sure how to put it up.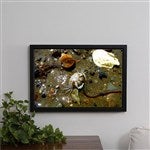 Execellent Quality
By
Shopper

(Royal Palm Beach, FL) - April 13, 2012
I love the texture , clarity, and color of the canvas. The only minor problem is that there were a few miniscule white blotches on the finish product. However, I am extremely happy with my purchase.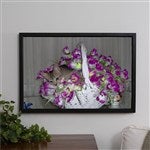 Great quality
By
Shopper

(Santaquin, UT) - April 7, 2012
Other establishments wouldn't let me do this large of a canvas because they said the photo quality would suffer. The image is crystal clear and wonderful. It is everything I could have hoped for. I do with the side edges were deeper.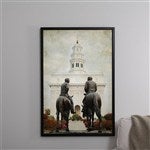 Canvas print 24x36
By
Shopper

(Jacksonville, FL) - March 16, 2012
I like it a lot! the picture looks beautiful. I would like it a little bit more if the underframing of the canvas were thicker. But the price is reasonable and sure I recommended.

Nice Addition
By
Anne K.

(Broomfield, CO) - February 15, 2012 (
See all reviews by this customer
)
Great addition and present for my family for Valentine's Day!

24 x 36 Canvas Print
By
Jayna B.

(Pine Grove Mills, PA) - November 7, 2011 (
See all reviews by this customer
)
The canvas print we ordered came in quick time and it is beautiful! We absolutely love it and it looks great in the living room! The colors look true to the original photo. The only thing that we had a problem with was installing the brackets that came with it. There were NO directions and this type of hardware was something we had not seen before. We had no clue how to install it so we just used our own picture hangers that we had. Overall, great product!

Toby
By
Shopper

(Brooklyn, NY) - October 25, 2011
I ordered a canvas from the picture I had. The order process was very easy, the finished product was very good and came to me fast. Overall I am very satisfied.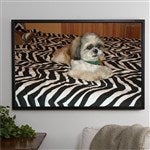 Pretty Nice
By
Crystal H.

(el paso, TX) - September 7, 2011 (
See all reviews by this customer
)
The gift was large and heavy, colors were great, another best seller :)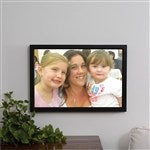 Quick turn around time
By
Shopper

(Old Orchard Beach, ME) - August 12, 2011
Loved the quality of our 16"x24" canvas. I was very pleased with the quick turn around time - from the time I sent in my order to the day it arrived on my door step. I will definitely be ordering more prints in the future!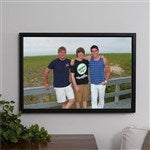 Photo Canvas
By
JoAnn A.

(Kent, WA) - June 3, 2011 (
See all reviews by this customer
)
I was very pleased with the results of this canvas! This was my first time ordering a canvas (let alone from this website)but the ordering process was very easy. I thought, however, it would come a little sooner than it did, but it was still very quick nonetheless!

Looks great!
By
Shopper

(Redwood City, CA) - May 13, 2011
This was my first time ordering a canvas print, so wasn't sure what to expect in terms of quality of the picture, etc. I couldn't have been more pleased when it arrived - excellent picture quality, almost as good as the original standard print. The construction of the canvas frame is strong and well built. Includes the mounting hardware as well. If you pass on the frame option, there will be around 1" or so of the pic that is wrapped around the canvas frame (which looks excellent and really finishes the frame nicely), but just keep that in mind when choosing/cropping your pic.

Overall, was very pleased with the customer service. I received several email updates on the status of my order and an additional email as soon as it shipped - very please and would highly recommend this product to anyone!!

Canvas print review
By
Jacqui R.

(Troy, OH) - April 8, 2011 (
See all reviews by this customer
)
I received the print very timely and it was high quality.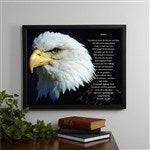 Amazing!
By
Scott S.

(New Bern, NC) - February 18, 2011 (
See all reviews by this customer
)
PersonalizationMall.com did an outstanding job! Super fast turnaround and safe quality packaging. My canvas came back in less than a week with no problems. I will used them again.

24"x36" photo canvas print- unframed
By
Shopper

(Waverly, TN) - January 23, 2011
I thought the quality of the print was great. I did not order a frame, as I like the unframed canvas look, and the sides of the photo wrapped around the outside of the frame- and was done well. I received the photo in only 3 business days once I ordered it-very fast. The only option I would have liked to be different is the width of the frame. The canvas frame is only about a 1 inch frame, and I think this photo would be even more substantial on my wall if there had been an option for a wider frame setting. All in all, I am very pleased with my purchase and will order from personalizationmall.com again in the future. :)

My picture
By
Douglas M.

(Lincoln, NE) - December 27, 2010 (
See all reviews by this customer
)
Amazing reproduction, the only thing that keeps me from rating five stars is the smell. I think it must be a sealant, but it is very strong. Hopefully it will fade with time.

AMAZING!!
By
lisa H.

(chapin, SC) - September 6, 2010 (
See all reviews by this customer
)
I was really very happy with with how it turned out!

Canvas Great - FRAME not so
By
Lynn-Ann C.

(Pelham, NH) - June 23, 2010 (
See all reviews by this customer
)
I actually made a collage picture that I uploaded and the pictures looked great on canvas, the color was great, the clarity was great! Made a perfect bday gift for my sister. We chose to frame it for the added touch and that is my one regret. The frame had multiple scuff and nix's in it. I would've returned it but I was tight on time. We colored some of them in with a sharpie marker :( So go for the product just skip the frame!!! Enjoy!

Cute but not the best quality. Great for the price though
By
Sara C.

(Greenville , NC) - June 19, 2010 (
See all reviews by this customer
)
I made the mistake of picking a picture that was not perfect for canvas and my baby's face got cut off....oh well. I would do unframed and make sure your picture has enough space on both sides because it wraps around.

good item
By
Adam A.

(Freehold, NJ) - June 18, 2010 (
See all reviews by this customer
)
The picture printed very nice and the quality is great.... my only complaint is that the picture wraps around a wood frame and when it did it cut off about an inch of my picture on all four sides... Instead of reprinting it I unwrapped it and restretched it over a frame that I built myself... Other than that great item.

canvas
By
Linda W.

(Naples, FL) - May 18, 2010 (
See all reviews by this customer
)
I liked the canvas. I have ordered 3 now and I am using oil paint over the photograph on the canvas. Wish you had other frames.

Great print for really great price
By
Cindie B.

(Lemay, MO) - December 16, 2009 (
See all reviews by this customer
)
I ordered the 12 X 18 canvas print and am very pleased. Actually this is the second print in this size I've ordered. Both my step-daughters were married this year. From pictures taken by their uncle, I put them on a plain background with Photoshop Elements and ran them through Corel Painter to give some brush stroke effects. The only thing I will watch closer is the centering. You need to take into consideration that 1" will be taken off all sides for the canvas wrap. One suggestion would be for the preview to represent this.

Nicely done
By
John B.

(Montoursville, PA) - December 13, 2009 (
See all reviews by this customer
)
I picked a "not so good" quality photo from my wedding, from 24 years ago (i.e. long before the digital camera), and scanned the photo - on my Dell printer (I have no idea where the negative is to the original photo). And despite all that, the canvas print looks very nice. I suspect if I had a nice digital photo, it would be awesome. I will use this product again - for that really memorable photo.

Very nice!
By
Tiffany B.

(Mount Orab, OH) - November 2, 2009 (
See all reviews by this customer
)
I ordered this as a 10 year anniversary gift. I had to crop the photo and since the canvas is folded over the frame it took off part of my husband's head. Wish I had that tip before.
Great item! Great price. Love it!

nice quality for the $
By
Erika R.

(Neenah, WI) - October 20, 2009 (
See all reviews by this customer
)
I was happy with the quality of this canvas for the price. It would have been nice to have the hanging hardware attached to the back so I didn't have to put it on myself though.

Great Deal for a Good Canvas
By
Miriam M.

(Doraville, GA) - October 16, 2009 (
See all reviews by this customer
)
Pros: The cavas picture is great. Good quality. Very fast shipping.

cons: The canvas is very thin, maybe less than an inch, I was expecting it to be thicker. however it still looks good.

Canvas Print
By
Joni C.

(Prairieville, LA) - October 15, 2009 (
See all reviews by this customer
)
I am extremely pleased with the canvas print I ordered. I'm an amateur photographer, and normally order my canvases from a professinal photo print lab at double the cost. A friend of mine ordered a canvas from Personalization Mall and I thought it looked nice. I tried it and am happy I did. Excellent job. I will order many more from you guys. Thanks!

Good Choice
By
Sarah L.

(North Port, FL) - October 12, 2009 (
See all reviews by this customer
)
Decent quality, fast shipping, reasonably priced. Wish I went bigger though.

Quality
By
Rhonda S.

(Grand Forks, ND) - September 14, 2013 (
See all reviews by this customer
)
Received my canvas picture and the coloring in it looks greenish/grey. Not really what I was hoping for. So be careful when submitting aa photo or if you edit the pic in anyway. It looked okay in the review.

not a perfect 5 stars
By
Shopper

(New Castle, IN) - December 28, 2011
I ordered a canvas picture without a frame but the only preview I could see before I placed my order was with a frame so when I actually received my order my picture wasn't exactly how I wanted it to look. If someone is placing an order WITHOUT a frame don't show them a preview of their order WITH a frame. Show their order exactly how they want it!

Its ok
By
Cherie R.

(Lakehills, TX) - December 24, 2010 (
See all reviews by this customer
)
I got this for my boyfriend for Christmas. We had professional pics taken and he loved one where I was laying my head on his chest so I blew it up for the bedroom. He looks perfect on the canvas and almost every detail can be seen. I, on the other hand look fuzzy and overly bright. The light on my face looks kind of distorted and my hand on his shoulder looks fuzzy as well. Overall I like it from a distance and it is ok for our bedroom but would not put this over my fireplace.

wrap around
By
Brenda L.

(Reno, NV) - December 14, 2009 (
See all reviews by this customer
)
I wasn't expecting the picture to wrap around the corner of the canvas. If I would have known this I would not have cropped the picture so much.

Happy I suppose
By
James M.

(Utica, NY) - December 11, 2009 (
See all reviews by this customer
)
I received my picture and was happy that the quality was very nice, however was dissapointed that the picture itself was darker than how it appeared on the computer while i was making it. Being a picture of a sunset, you really lose alot of the beauty with the picture being dark.

Expected a bit bigger
By
Shopper

(Alpharetta, GA) - April 15, 2014
I thought this will be a bit bigger in size when i saw the image preview before i order but expected to be very small in size.

Nice Picture..but very cheap looking
By
Lisa M.

(Oxnard, CA) - November 11, 2012 (
See all reviews by this customer
)
The picture came out good, but the canvas was very cheaply put together...I had to take it to a framing store and have it framed....which was more then the canvas itself...also it was much smaller then I expected..and according to the framing store the size is not a normal size, so the frame had to be custom made.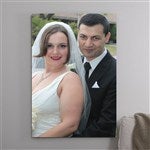 Grainy
By
Shopper

(Newtown, CT) - December 14, 2011
It works, but it's very grainy and not of any great quality. I wouldn't buy this again.

canvas stretching
By
RUTH C.

(ANN ARBOR, MI) - February 11, 2010 (
See all reviews by this customer
)
CANVAS products needs to be stretched tighter - canvases are not meant to sag but instead they must be stretched tightly. But the printing clarity was very good!