Exceeded My Expectations
By
Shopper

(LaBelle, FL) - December 31, 2011
I ordered this print of an oak tree to go in the living room of my new house. I was a little nervous that the picture may look blury since I ordered such a large size. It looks great! Also, I received it earlier than what was estimated (I selected the cheaper option to have it not shipped until after Christmas, but it came before Christmas anyhow). The packaging was secure and it looks better than I thought it would. Also, I was able to google for a coupon code and saved 15%. Personalization Mall was also the least expensive option I could find online.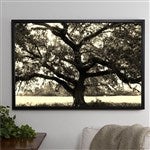 Wow!
By
joanna M.

(maspeth, NY) - December 31, 2011 (
See all reviews by this customer
)
I needed an inexpensive print blown up for a Christmas present to my friend. I searched the internet and almost all of the ones I came across were very expensive. Then I came across personalization mall. I was very skeptical because the prices were sooo cheap, I didn't really believe it could be good quality. I read the reviews and was shocked at what people were saying. I have a nice camera and my photos are of good quality so I was upset not to have more money to get my photo enlarged at a nice place. I thought for sure, since the price was so cheap, quality would suffer. Well all I can say is Wow! Was I wrong! The enlargement arrived, I paid a few extra dollars and got the black wood frame and I was stunned! The quality was amazing!!! It didn't suffer at all. And for the price I paid, it was a real steal!! They even had free shipping, and it arrived well before Christmas! I will not hesitate to order again from Personalization mall. If you are a skeptic reading this, as I was, don't worry, the quality will be superb!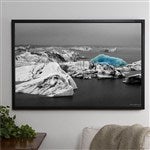 Very Pleased
By
Shopper

(nixa, MO) - December 30, 2011
I am a professional photographer. I had three different images put on canvas. All three turned out beautifully and arrived on on time. I am totally pleased and will use PersonalizationMall.com again!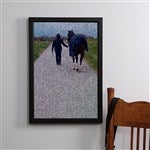 Gorgeous Quality Print
By
Catherine K.

(BALDWIN, WI) - December 26, 2011 (
See all reviews by this customer
)
This turned out beautifully. We gave this canvas to my husband's mother with a black and white photo of our two children. The quality was impeccable and my mother in law was absolutely thrilled with it. We didn't get the frame and I am pleased because the wrapped effect was great. Thank you for making our Christmas this year!

Beautiful!
By
Sylvia P.

(Indian Trail, NC) - December 24, 2011 (
See all reviews by this customer
)
This framed canvas print of myself with my 4 siblings was a gift for my parents who are almost impossible to shop for. They absolutely loved it! We all live in different states so it was a very rare and special thing to have a picture all together as adults. Thank you!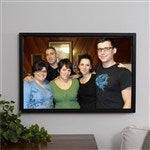 Just as expected!
By
Angela G.

(Shelby, IA) - December 23, 2011 (
See all reviews by this customer
)
After seeing all of the awesome reviews, I didn't hesitate for a second to order this! I used a picture that I found on the internet and the quality was still amazing. I love how you can preview your item before you finalize your order. I will be shopping at personalizationmall.com a lot more often!

childrens picture
By
Allyson T.

(Hazleton, PA) - December 22, 2011 (
See all reviews by this customer
)
My husband is going to love this for his wall in his office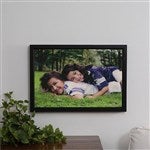 More than expected!
By
Katie J.

(Logan, IA) - December 21, 2011 (
See all reviews by this customer
)
I was very surprised and pleased when my canvas arrived. There was a quick turn around time from the date that I purchased it until the date that it arrived on my doorstep. I am still amazed by the great quality that I got even though this was the cheapest place that I could find them online. Now the only problem is that I am tempted to order tons more!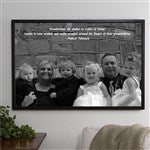 Excellent
By
Claudette R.

(STOCKBRIDGE, GA) - December 21, 2011 (
See all reviews by this customer
)
I must say I am so happy with the quality and quick delivery of my family print. It has exceeded my expectations. I ordered it framed as I wanted to hang it right away. I took it home to Jamaica and all my friends and family are so impressed. I would highly recommend that your memorable moments be captured on canvas.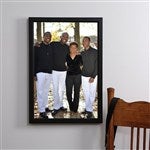 DON'T HESITATE TO GET YOURS!!!
By
Leah M.

(Buford, GA) - December 18, 2011 (
See all reviews by this customer
)
I ordered this for my cousin who has one-and-a-half year old to put in their new house. The hardest part was picking which picture to use! Once I submitted my order the canvas arrived in 3 business days (and this was during the holidays)! The quality is GREAT, the picture came out perfectly! I was weary of purchasing this product and actually went though and read the TONS of reviews already on Personlization Mall and decided to take a chance. I am SO SO SO glad I did! I haven't given the canvas to my cousin yet because it is a Christmas gift, but everyone that saw it before I wrapped it is now ordering their own for other people and themselves! I will be buying more in the future as gifts and for myself!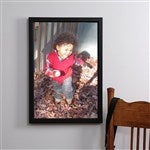 Amazing!
By
Shopper

(Palmdale, CA) - December 17, 2011
Quality was amazing! Definitely worth purchasing!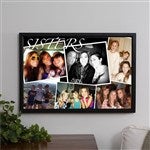 Canvas Print
By
Brad C.

(Downers Grove, IL) - December 13, 2011 (
See all reviews by this customer
)
Overall I am very satisfied with my purchase. The item looks great, the shipping was fast, and ordering was very simple. I have bought several items from this site over the course of 5 years and have always been satisfied.

The one complaint I have is with this sites pricing for this item. Before this item went on sale, the cost of a framing the item was $15. Once the item was on sale, the cost of the frame was raised to $25. So while you may think you are getting an amazing sale price on the canvas, the cost of the frame has actually increased, so you are not saving as much as you think.

love it!
By
odona W.

(Land O lakes, FL) - December 8, 2011 (
See all reviews by this customer
)
I love the canvas, did not expect to be that big.. i can't wait to give to my sister for x-mas. I know she will love it too.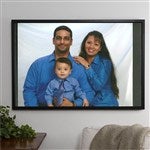 Amazing
By
Leetta B.

(Charleston, WV) - December 4, 2011 (
See all reviews by this customer
)
Looks better than original! Want to do all of my favorites this way. Price is very reasonable too. Love, love, love it!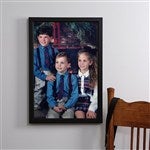 SO EXCITED!
By
Monique L.

(Hampton, VA) - December 3, 2011 (
See all reviews by this customer
)
I have been so nervous about ordering this canvas because I wasn't sure what to expect. It is for my best friend and I am no photographer so I was afraid the picture wasn't good enough quality, what if the lighting makes it look funny etc etc. This canvas turned out PERFECT! There is not a single thing wrong with it. Even my husband asked if I was opposed to having such a large picture of our best friends in the house because it came out so well haha! I love it so much I can't wait to order more.. pictures of us this time... for our house. :)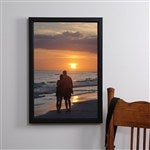 Awesome Quality
By
Shopper

(Evansville, IN) - November 28, 2011
I got my canvas photo so quick and the quality of the canvas is amazing! Going to order more for sure!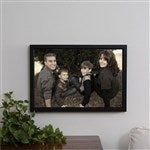 vacation keepsake
By
Shopper

(Linton, IN) - November 15, 2011
WOW! I had taken a picture of the Bellagio fountains from our room on vacation. The canvas turned out unbelievably fantastic. I was so impressed and thrilled when i saw it. I would recommend this item 100%.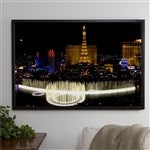 Better Than I Thought
By
John M.

(Arvada, CO) - November 15, 2011 (
See all reviews by this customer
)
Print arrived 3 days earlier than I expected. Packaged very well. Colors and clarity were extremely accurate. I am very pleased with the print and the service.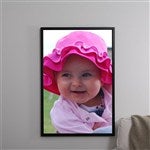 EXCELLENT!!
By
Michael A.

(east meadow, NY) - November 14, 2011 (
See all reviews by this customer
)
I've been ordering theses canvas prints for years now form personalization mall and I finally decided to put my first review in. These prints are absolutly amazing. YOU WILL NOT BE DISAPPOINTED !!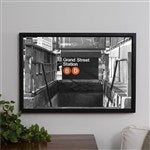 You'll love it!
By
Shopper

(Sterling, MA) - November 13, 2011
This is so worth it. I had one of my landscape photographs put on a canvas because I couldn't find any artwork to go with the decor of our guest room and thought this photo I took would look great It's perfect. The quality is fantastic. It was delivered in a timely manner. I definitely plan to buy more with the kids photos.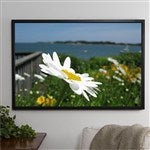 Amazing
By
Aimee T.

(Lincoln, CA) - November 9, 2011 (
See all reviews by this customer
)
Just got out picture today and I absolutely love it! You guys did it again. I can't wait to show it off to my family when they come for Christmas!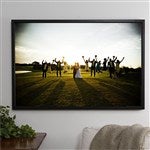 Photo memories canvas print 24" x 36"
By
Susan R.

(Dimondale, MI) - October 29, 2011 (
See all reviews by this customer
)
This is a canvas picture of the view from our living room picture window. It is such an amazing view that we wanted it for all seasons. This is our third 24 x 36 canvas print from PersonalizationMall. We just love the merchandise and quality of the products.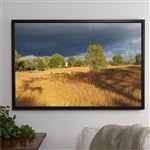 Toby
By
Shopper

(Brooklyn, NY) - October 25, 2011
I ordered a canvas from the picture I had. The order process was very easy, the finished product was very good and came to me fast. Overall I am very satisfied.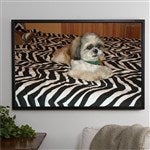 Beautiful Canvas Print!
By
Julie E.

(Wamego, KS) - October 19, 2011 (
See all reviews by this customer
)
I printed 2 pictures on canvas & they are gorgeous! You wont' be disappointed! Love them!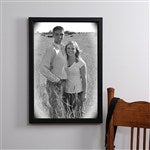 Great Product
By
Gary B.

(Martinsville, VA) - October 9, 2011 (
See all reviews by this customer
)
Very Professional Product. Print is crystal clear and canvas is stretched on frame ready to hang. Very fast shipping and excellent packaging. Very reasonable pricing for such a superior prodct.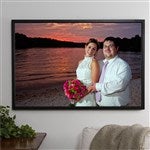 Excellent!
By
Donald H.

(Colorado Springs, CO) - September 24, 2011 (
See all reviews by this customer
)
Purchased 3 of the 24 X 36's unframed on a Sunday & had them by Friday with standard shipping. Received so many compliments I ordered 4 more! Most think they are paintings, & when I tell them they are my photos they are even more impressed! Wish I had more walls! Just one down point : really difficult to get out of the well wrapped package they come in!!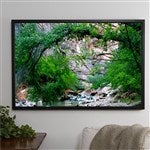 AWESOME
By
Shopper

(Mountain Home, ID) - September 18, 2011
Fantastic 16x24 canvas photo print. Outstanding product and shipped expeditiously!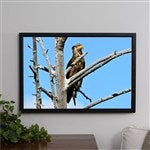 Awesome
By
Amanda W.

(Chula Vista, CA) - September 13, 2011 (
See all reviews by this customer
)
The picture came out beautifully! I couldn't believe how fast we got it! Can't wait to order more decorations.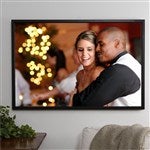 Fantastic!
By
Bethany B.

(Pittsburgh, PA) - September 13, 2011 (
See all reviews by this customer
)
In Photoshop I created a frame to look like an open window for a photograph of a lighthouse that I took in Florida to give to my mom for her birthday. The finished product had to be on canvas to not interfere with the frame I created. (I wish the sample picture didn't show a frame.) After searching the Internet, I settled on PersonalizationMall mostly for the price. I was figuring I'd get what I paid for, but man was I surprised at how nice it turned out! I got what I paid for and then some! The colors were rich and the turn around time was FAST! Gonna start working on Christmas presents now - with this company I can afford them!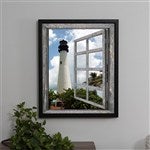 Fast and fabulous
By
Shopper

(Evergreen Park, IL) - September 12, 2011
I purchased this canvas print for my husband for his birthday. I was a little skeptical since this is the first purchase I've made with this store. I received my product FAST! It was exactly as I had hoped it would be and the sale price was the best price anywhere on line. I also had a difficult time ordering from competitive sites because they were unable to offer the wider landscape shot I needed....this was the only site I found to accommodate my needs.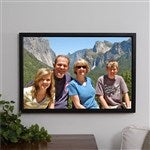 Pretty Nice
By
Crystal H.

(el paso, TX) - September 7, 2011 (
See all reviews by this customer
)
The gift was large and heavy, colors were great, another best seller :)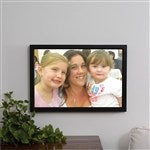 LOVE THIS!
By
Heather H.

(Lewisville, TX) - September 5, 2011 (
See all reviews by this customer
)
I love this item!!! I only buy the picture CD (picture rights) from the professional photographer and then order my canvas print here!!! I have saved hundreds of dollars!!!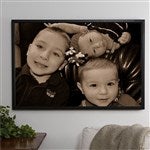 family of seventeen
By
Deborah J.

(Salem, OR) - August 24, 2011 (
See all reviews by this customer
)
I had a photo of all 17 members of my family in a line at the beach. It was cute, but you couldn't see much detail in a regular print. I got the 24X36 canvas print of it and I'm delighted! Details I couldn't see before are so clear and lovely...even our footsteps in the sand. I'm completely delighted with my canvas print and my kids are already fighting over who will get it someday. Thank you SO much!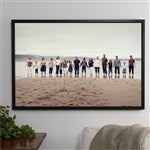 Quick turn around time
By
Shopper

(Old Orchard Beach, ME) - August 12, 2011
Loved the quality of our 16"x24" canvas. I was very pleased with the quick turn around time - from the time I sent in my order to the day it arrived on my door step. I will definitely be ordering more prints in the future!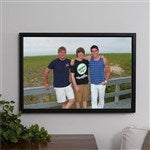 Great quality
By
Shopper

(Loxley, AL) - August 5, 2011
I was pleasantly surprised when my canvas arrived. It was exactly what I had envisioned it to be. The service and delivery was quick. I have no complaints and will be shopping here again in the future. My canvas is now proudly displayed above my mantle. GREAT QUALITY!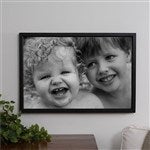 Amazing Quality
By
MaryKate D.

(LaGrange Park, IL) - July 25, 2011 (
See all reviews by this customer
)
I have ordered many canvas pictures from here and each one of them impresses me! I love the quality and how the edges are wrapped. I am sure I will be ordering more!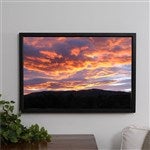 Absolutely beautiful!!!
By
Shopper

(PLANTATION, FL) - July 25, 2011
I ordered this not knowing what to expect since the price was so low. WOW!!!! I'm so happy I got it. Everyone who sees it thinks it is "absolutely beautiful"! Such fantastic quality at such an unbeatable price! You simply can not go wrong ordering a canvas from here! Crystal clear!! I just love the picture!! It shipped so fast! Four days after I ordered it I had it hanging on my wall!!! I am ordering as gifts for other people now! Order from here! You will not be disappointed!!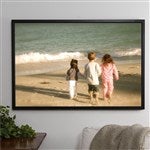 Canvas Print
By
Julie S.

(Clarksville, TN) - July 16, 2011 (
See all reviews by this customer
)
Love it! Exactly what I was expecting and more!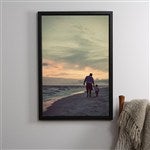 Wonderful Conversation Piece
By
Marletta T.

(Lufkin, TX) - July 9, 2011 (
See all reviews by this customer
)
I've ordered several of this particular product. It comes just as advertised and is always a great conversation piece. Love, Love, love it!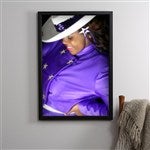 Photo memories canvas print 24" x 36"
By
Susan R.

(Dimondale, MI) - July 4, 2011 (
See all reviews by this customer
)
This canvas was awesome! We had downloaded a picture of a sunflower from our garden. We were a little afraid that it was not the best resolution. It was rated Good, but not Perfect. We were so pleased with the outcome. It looks as if someone painted the flower with an oil paint onto the canvas. We could not have asked for anything more. I would definitely recommend to others and will use again. This is our second canvas - one was of our family Christmas and we are so pleased.