Jewelry Box
By
Janet D.

(Forest Lake , MN) - April 21, 2010 (
See all reviews by this customer
)
I was surprised at how small it was- It looks a little cheap for the price I paid

broken
By
Clare M.

(Hampstead, MD) - April 19, 2010 (
See all reviews by this customer
)
Very pretty box. Ordered it on a Sunday,received it two days later.

The packaging for shipping could be better. The screw from one of the hinges was rolling around in the box when I recieved it. I do not have time to send it back and get a new one. I will try to fix it on my own.


A bit expensive
By
Laurie M.

(Aurora, CO) - November 22, 2009 (
See all reviews by this customer
)
Nice but very small. Too expensive for what you get

Disappointed...
By
Shopper

(Bethlehem, PA) - February 11, 2012
I ordered this item for expedited delivery, and I may have sacrificed quality in doing so. The item arrived with sub-par etching. The first letter looked like the etching was coming off the glass, almost as if it was sprayed on instead of etched into the glass. Thinking it was some sort of residue, I scratched at it with my fingernail, taking even more of the etching off. But because I was in a rush, I gave it to the recipient anyway although I was very tempted to return it...

Disappointed
By
Shopper

(Adelphi, MD) - December 25, 2011
I ordered this product for a friend's B'DAY, it arrived damaged, so I e-mailed about PM website's return policy, I was sent out a replacement right away & didn't have to send the first one back, but the 2nd one too had some flaws. The service from PM was fine but I would not order this product again. Everything else in my first order was great but this jewelry box was a bit disappointing.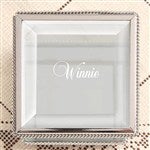 It is just ok
By
Shopper

(mineola, TX) - November 11, 2011
The jewelry box is pretty but alot smaller than I thought ( alot smaller) ..I guess I should have paid more attention to the size... I wouldn't recommend it for the price ...

Disappointed
By
Shopper

(Brasher Falls, NY) - March 4, 2011
I purchased this for a girl's 18th birthday. For the price I felt the glass was thin. I don't think it will take much for it to break. A part of the design beading was slightly bent, and being metal the area was rough. The name looked pretty. Overall I think it looked cheap.

Not worth the money
By
Jennifer C.

(eugene, OR) - December 16, 2010 (
See all reviews by this customer
)
The item looks like something I could get from the dollar store. It is definitely over-priced. The engraving is very faint and hard to see unless you get it in the right lighting. I will think twice before ordering from here again.

little disappointing....
By
Loretta S.

(Simpsonville, SC) - December 13, 2010 (
See all reviews by this customer
)
This is the FIRST time I've ever been truly disappointed with anything I've ordered from Personalization! I got this for my 6 yr old granddaughter. My ONLY complaint is that you can't see the personalization of her name...it's too faint! White personalization was the only option & it just doesn't work on this jewelry box...sorry!! Loved the box, but was really disappointed with the white name....PLEASE give us more color options!!!! Thanks!

LOVELY
By
Rosemarie B.

(Pacifica, CA) - July 27, 2010 (
See all reviews by this customer
)
I WAS A LITTLE HESITANT ABOUT ORDERING THIS
JEWELRY BOX BUT THEIR DESCRIPTION SAYS IT ALL.
IT IS VERY LOVELY AND I FEEL VERY GOOD ABOUT
THE GIFT PRESENTATION. I WILL DEFINITELY ORDER
AGAIN.

Size matters
By
Nicole S.

(Rosedale, NY) - May 17, 2010 (
See all reviews by this customer
)
I was disappointed with the size of jewelery box. It is way too small and looks much bigger on the site. It can fit in the palm of my hand! For a jewelery box, that just doesn't make sense to me.

Cheap looking
By
Marlundra H.

(Little Rock, AR) - April 27, 2010 (
See all reviews by this customer
)
I purchased this jewelry box for a mother's day present and upon receiving and inspecting it, one of the screws that attaches the lid to the box was missing so the lid dangled and the decorative lining of the lid was crocked and look quite cheap.

disapointed
By
Denise L.

(Rancho Cucamonga, CA) - December 22, 2009 (
See all reviews by this customer
)
Looked better in the picture, looks cheap in person and the lid is not closed evenly. The monogram is nice but too much money for the cheap quality.

not what it looks like
By
Geet B.

(san jose, CA) - March 19, 2013 (
See all reviews by this customer
)
The jewelry box is very small. It looks quite big in the pictures but it is actually very small. Also, the box does not have the latch shown in the picture. All in the all I am not happy with this purchase, specially when it was supposed to be a gift for someone.

Small/For a child/Not well put together
By
Ateya R.

(Beaumont, TX) - October 29, 2012 (
See all reviews by this customer
)
First I would like to say that they ask me to send it back but I didnt. Took lots of picture showing the problem and just was like too much hassle so Im giving it to my niece she has the same name as me so I will just give it to her for Christmas gift. The box was poorly put together. Look like it was from a dollar store. Very light. More for a baby or kid. Not a grown up at all.I would not order this again. But I love my vanity tray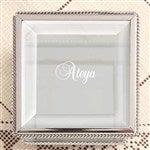 Not worth the money spent
By
Kaylan H.

(Richton Park, IL) - January 15, 2010 (
See all reviews by this customer
)
When I got the box in the mail and read the label and saw Personalization Mall, I got excited because finally, the gift that I ordered for Christmas had arrived. Then as I held the box, I thought that a mistake had been made because the package that I was holding was way too small to be a jewelry box. Guess again. Was I in for a shock because this teeny tiny box was the gift I'd ordered. The representation on the website is grossly misleading. This is not a jewelry box, this is a trinket box at best. Sure it's cute, but not at all functional. At least not for an adult anyway.

not worth the money
By
Denise S.

(Tampa, FL) - December 23, 2009 (
See all reviews by this customer
)
this thing is so small and not worth the money. Should cost about five dollars. Small and flimsy, looks like something you could find at a yard sale for a dollar.

Too Small
By
Angela K.

(Memphis, TN) - December 10, 2009 (
See all reviews by this customer
)
I did not pay attention to the measurements when I ordered this box. It is soooo small. The monogram is really light too. You have to hold the box at an angle to read the name. Very disappointed with this item.