Memories Start Here
By
Shopper

(Stony Brook, NY) - September 29, 2014
Anyone can send a gift check for the birth of a new baby but a gift to be really cherished and last a lifetime, I recommend the "Baby Collage Engraved Photo Album". The album is of the highest quality and the personal engraving is done to perfection.
I have sent three albums in the past year and each and every one has been received with delight and much appreciation.

Terrific product & service
By
Shopper

(Brownsville, WI) - September 16, 2014
I am very happy with the quality of the album & engraving, it made a very nice baptism gift. Service is excellent! This engraved item came just a few days after I ordered it, with just normal (not expedited) shipping. I am always very satisfied with everything I have ordered from this company.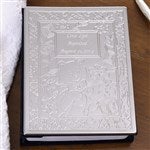 Cover is beautiful. Given as baby gift.
By
Elena D.

(Streamwood, IL) - September 15, 2014 (
See all reviews by this customer
)
Delivery was on time. Printing could have been a little larger but was fine. Loved the pictures on the cover. It was a gift I was proud to give and liked the wrapping too.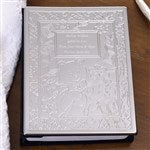 Excellent
By
Shopper

(miami, FL) - April 29, 2014
the photo book is very beautiful and very good quality. I loved it. Everything, I've done on this site, is wonderful.

Amazing
By
Shopper

(grandview, MO) - March 31, 2014
Engraving was beautifully done and the receiver absolutely loved it.. Thank you..

Baby engraved photo album
By
Linda L.

(Rochester, MN) - March 31, 2014 (
See all reviews by this customer
)
It came in very little time and in beautiful condition, it is so pretty. Engraving is very nice. Gift for grandson's baptism. Had given one to my granddaughter for her baptism. Nice product and very good service.

Abosolutely Georgous!
By
Laura O.

(Miller Place, NY) - February 5, 2014 (
See all reviews by this customer
)
This album is so nice and wonderfully made. From the beautiful front to the velvety inside and back....I love it and it will make a nice gift for my grandson. I got it for his christening, which is Feb 23rd, so I haven't given it to my daughter and son in law yet but I'm sure they will love. Highly recommend this album as it is a nice keepsake.

Precious
By
STEPHANIE R.

(CLIFTON, NJ) - January 21, 2014 (
See all reviews by this customer
)
I did not know that the cover is actually like a mirror...in the picture provided online it just looks silver. Much nicer in person! I love it...I will be filling it up with 100 pictures of my husbands godson during his first year and giving it as a gift. The velvet also adds such a nice touch! the best part of it all is that I used my rewards to get a huge discount and only paid $12 for the gift box and speedy shipping!

Perfect
By
Shopper

(Philadelphia, PA) - January 21, 2014
Everything I order from here is perfect! The album looks great and I cant wait to give this gift to my brother and his wife.

Cute
By
Leony L.

(New jersey, NJ) - December 29, 2013 (
See all reviews by this customer
)
Beautiful engraved they loved it.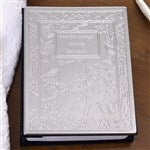 Wow!
By
Shopper

(Ooltewah, TN) - December 21, 2013
This album is beautiful. It was opened at a shower and everyone wanted to know where I got it. It looks like something I paid a hundred dollars for. I still cannot believe the price. I also ordered an engraved card to go with it and everyone could not believe what I paid for it. I will be back for more.


Beautiful Gift!
By
Ellen S.

(Poulsbo, WA) - November 16, 2013 (
See all reviews by this customer
)
Makes a great gift for new parents! Very good quality and prompt service! This is the 2nd time I've purchased one for my niece so her 2 little girls have matching albums and they all loved it. The engraving is very crisp and spaced well.

Great Gift
By
Shopper

(mannington, WV) - October 28, 2013
My niece loved this! Good quality ...I'm sure it will last for years !

Great Album
By
Shopper

(Shippenville, PA) - October 15, 2013
Originally I thought I'd purchase the same albums that I got for our granddaughter's big brother, but Personalization Mall no longer carries them. I'm so glad because these albums are beautiful! I perused all the albums before settling because I'm not really fond of teddy bears, blocks, rattles, etc. However, the engraving font is extremely pretty, making the album seem quite regal. Also, each album holds 100 photos, so you get "more bang for your buck". I am very pleased.

wonderful baby gift
By
Dorre H.

(Fortuna, CA) - September 15, 2013 (
See all reviews by this customer
)
The album was shipped directly to my friends for their new baby.
They say it is very beautiful.

I bought this for a dear friend
By
Sheryl C.

(Mc Minnville, TN) - August 12, 2013 (
See all reviews by this customer
)
I bought this for one of my best friends & she loved it so much. So I ordered another one for another friend of mine & she absolutely loved hers also!! Now I have a friend having twins & another having one in Dec. & as soon as they are born & I know their weight, length & DOB, I will be ordering 3 more!! They are beautiful & wonderfully made. I have been a client of Personalization Mall.com for about 10 to 12 years, at least, & I love everything I've ever ordered from them!! Thank you so much for being such a good company that I can depend on!!!

BABY SHOWER SUCCESS
By
Patricia M.

(Mount Ephraim, NJ) - August 5, 2013 (
See all reviews by this customer
)
Gave this to my niece for her baby shower, which she had the baby before the shower, and she loved it. It was the only personalized gift she got. That's why I shop at Personalization Mall all the time for gifts.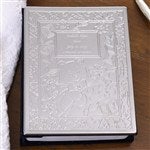 Beautiful Album!
By
Shopper

(Coral Springs, FL) - July 29, 2013
I bought this album as a gift for my niece and she loves it! It's well worth the money with the inscription and is a wonderful keepsake! I would definitely recommend this album.

Memento and Brag Book
By
Shopper

(WILTON, CT) - June 10, 2013
I purchased this for my son 3 years ago… and loved it so much I bought some for my friends with new babies, and now for my daughter. It is the perfect memento for the day they were born, and small enough to carry around with photos, as they get bigger to "brag" to all your friends/relatives.

Not cheap, but elegant
By
Shopper

(CLIFTON, VA) - June 10, 2013
It looks beatiful and elegant. The parents were impressed and so was I. It may be a little pricy for a small photo album, but if you don't buy one every day, it's worth the price.

Very Impressed!!!!
By
Shopper

(Helena, AL) - June 6, 2013
The Mother loved this personalized Baby Photo Album. Very High quality and a great gift.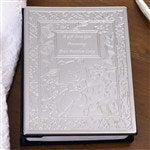 Good product
By
Shopper

(Pittsford, NY) - May 31, 2013
Recipient was very happy with album. Commented on how beautiful it was.

Silver baby album
By
Shopper

(Port Angeles, WA) - May 19, 2013
This was delivered on time and was packaged very well. The little album was beautiful and the engraving was done well. Looks just as expected and will make a lovely gift.

Product feature
By
Elizabeth N.

(Massapequa, NY) - May 14, 2013 (
See all reviews by this customer
)
It arrived on time, nicely wrappped - I was very pleased with the engraving and the book itself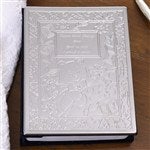 Lovely Gift
By
Sandra C.

(Bangor, PA) - April 15, 2013 (
See all reviews by this customer
)
Great Gift for a new baby! Recipient loved it& said they could sure use it!

Baby album!
By
Shopper

(dobbs ferry, NY) - April 6, 2013
Loved it! Fit all my son's picture perfectly!!

Extremely satisfied
By
Janeth W.

(Yazoo City, MS) - April 1, 2013 (
See all reviews by this customer
)
I've ordered from this site several times in the past and as usual, this gift did not disappoint. The engraving was done beautifully and the quality of the product met all expectations. The mother to be loved this album!

Great product
By
Shopper

(miami, FL) - March 23, 2013
Excellent new born baby gift. The new parents loved it. Had seen some concerns from prior buyers about engraving being too small. Ours was just fine- big bold and beautifully done- we had put the name and DOB only (not the birth weight).
The product was high quality and exceeded our expectations

Beautiful and always the "right" choice
By
Shopper

(Alpharetta, GA) - March 15, 2013
I love this album. I have given it many times to my nieces and nephews when they've had new babies. It is always well received. One of my nephews called it his "Holding Jean" album. Everyone who came to visit was photographed holding their baby Jean and then the picture was placed in the album. I first saw their daughter at about one year of age. The first thing that came out was the album where I got to see every relative and friend who had visited their daughter during the year. And, of course, my husband and I got our photos taken holding this beautiful child and we are now in the album. A different niece received three albums and when she was nearly ready to deliver her fourth child, I called to see if she wanted another album. Her reply was: "I was hoping you would ask."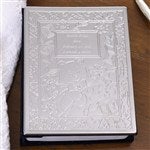 Good Baby Gift
By
Kim H.

(New York, NY) - February 11, 2013 (
See all reviews by this customer
)
I purchased this item for a friend of mine who recently had a baby. She and her husband loved it! The loved the personalization and the quality of the album. I am quite pleased with my purchase, and their joy of having a special item for keepsaking their son's pictures.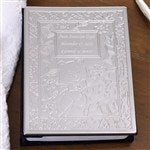 Beautiful!
By
Quiana M.

(Philadelphia, PA) - February 5, 2013 (
See all reviews by this customer
)
This is the second time that I have purchased one of these and it is just beautiful. I can't recommend this product enough if you would like a small personalized photo album.

Great Album
By
Shopper

(Brackney, PA) - January 21, 2013
This is the second album like this that I have ordered..The quality is wonderful..these are very well made..I have ordered quite a few items and never been unhappy...The engraving is great!!

gift for my niece
By
Shopper

(covington, LA) - January 12, 2013
very pleased with both items exactly as described.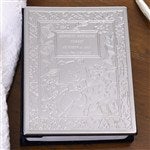 Beautiful album - Grandparents loved it
By
Elizabeth S.

(Palm Beach Gardens, FL) - January 5, 2013 (
See all reviews by this customer
)
We ordered 3 of these albums to present as gifts to our parents (grandparents) for the birth of our second child. The polished finish, baby collage, and personalization was stunning. Shipped timely.

New Baby Gift
By
Shopper

(High Point, NC) - January 2, 2013
I gave this gift to my friend for her first child. When she got it she thanked me and said it was beautiful!! I am very pleased with PersonalizationMall.com. This is the second time I have ordered something from them and I have been very pleased. I will continue using them. I love buying specialized gifts and rare things for people and myself.
They are excellent at keeping you updated with your purchase and send little gifts and discounts.

Unique & forever cherished.
By
Sonya L.

(Canada) - December 5, 2012 (
See all reviews by this customer
)
Great design, high quality finish & engraving, cherished by all.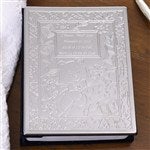 ABSOLUTELY PERFECT
By
Carol L O.

(PAHOA, HI) - November 23, 2012 (
See all reviews by this customer
)
WHILE I PONDERED BETWEEN THE TRADITIONAL CUP AND THIS ALBUM WHICH I JUST DISCOVERED I DECIDED THIS ALBUM WOULD BE USED SO MUCH MORE AND NOT JUST SET ON A SHELF. FILLED IT COULD BE SHOWN THROUGH THE YEARS AND THE AMOUNT OF PERSONAL DETAILS ALLOWED WAS SO MUCH MORE. FOR EXAMPLE AFTER WEIGHT I ADDED "OF LOVE". I AM SO HAPPY WITH MY CHOICE AND IT IS GORGEOUS. EVERYONE LOVES IT AND SO PREFERS IT TO THE CUP. I HAVE TWO MORE BIRTHS OF PRECIOUS LOVES ONES COMING UP AND BOTH WILL RECEIVE AN ALBUM. BUY WITH CONFIDENCE AND KNOW IT WILL BE CHERISHED AND WHAT IS BEST "TAKEN OUT AND LOOKED AT" FOREVER". GOD BLESS. QUALITY GREAT, FAST SHIPPING. GREAT ALL THE WAY AROUND.

Baby album
By
Shopper

(Mexico, MO) - November 13, 2012
Top quality item at a good price. Fast shipping. I have purchase 3 of the baby albums as gifts and everyone loved them!!!

Nice keepsake
By
Missy A.

(Willmar, MN) - October 16, 2012 (
See all reviews by this customer
)
I was pleased with the product. It will be a nice keepsake for my nephew's baptism.

Baby collage engraved photo album
By
wazeefa V.

(jamaica , NY) - August 5, 2012 (
See all reviews by this customer
)
This item was a great one.. It really exceeded my expections. It also arrived on time.