really nice album chrome finish on cover
By
Scott E.

(Oakdale, PA) - March 30, 2014 (
See all reviews by this customer
)
This is a really nice photo album and front comes in a very high polish finish. It is like chrome. The only downfall is the engraving is not as deep as I felt it should be. It is like a surface scratch not a full engrave deep into metal.

Nice
By
Racheal O.

(Staten Island , NY) - February 9, 2014 (
See all reviews by this customer
)
Nice item. Delivered on time. Sentimental, the script is a little light; nonetheless, still a beautiful item.
Shipping was quick.

Beautiful Album! Very pleased!
By
Shopper

(Taylor, MI) - October 7, 2013
Such an awesome gift purchase this was. The cover arrived so nice and shiny and the engraving was done beautifully. I would have preferred the font a tad larger. My best friend loved her gift! So thank you for providing such a great item!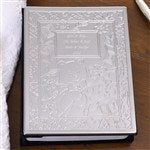 Loved It But...
By
Cathy C.

(Miami, FL) - May 21, 2013 (
See all reviews by this customer
)
Love book - print on cover too small is my only complaint. The font looks to be and 8 or 9. Would prefer larger font even if I needed to edit. Maybe choice of larger font and less wording could be given.

Photo album
By
Nicole L.

(Moses Lake, WA) - April 10, 2013 (
See all reviews by this customer
)
I loved the album. I just didn't pay attention to the size very well. So i thought i was getting a large album. I am satisfied with it tho.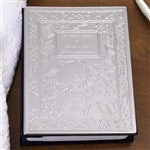 Great Product; Skip The Gift Box
By
Shopper

(Chicago, IL) - February 7, 2013
The item itself is nice enough, I definitely would recommend. Skip the gift box, though, unless you're looking to pay to advertise this website. You can't really see it in the picture too well, but the boxes have a huge logo for this place. That should make them free as far as I'm concerned. I'm not too keen on spending between $3 and $5 to let the gift receiver know exactly where I got their gift and exactly what I paid for it.


Beautiful
By
Lynnette V.

(Brooklyn, NY) - February 2, 2013 (
See all reviews by this customer
)
this photo album is absolutely beautiful. the front is mirror like and shiny ....the side panel and inside are velvet....i would recommend to anyone ....i bought it as a gift for my son for his 1st birthday and my husband and i couldn't be more satisfied. just wish it was bit bigger but that's not so important. this really is a wonderful gift....hands down !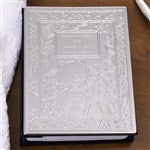 VERY CUTE
By
Shopper

(ELIZABETH, NJ) - December 13, 2012
LOVE IT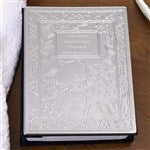 Good Quality
By
Christina F.

(Flanders, NJ) - October 15, 2012 (
See all reviews by this customer
)
I am a repeat user of your products. The quality is good and like the varity although I wish there was more. On my last order, I wish there had been more spaces for the name. I had to use the middle initial for compleating the name because there were not enough spaces to spell out the whole name.

Beautiful but a little small
By
Denise T. W.

(Bethlehem, PA) - September 25, 2012 (
See all reviews by this customer
)
Very Nice but alot smaller than I thought. It's a 4x6. The engraving is very nice and shipped quickly.

Baby Shower Gift
By
Shopper

(North Syracuse, NY) - May 4, 2012
The quality seems to be really good, the picture on the front is beautiful and very cute. Also, the inscription turned out nice.

My only negative issue was that I ONLY wanted to put the first name. The website forced me to type something for the 1st and 3rd lines also. I didn't want to. To get around this I typed astericks - above and below the name.

Very quick service.

engraving!!
By
Shirley O.

(Duluth, MN) - April 30, 2012 (
See all reviews by this customer
)
The engraving is very nice but does not stand out against the silver album! too hard to read, because of the glare! I love the quality of it, I just wish it would give you an option to choose a better font against this particular album, otherwise I love it.

Beautiful Keepsake
By
Latoya M.

(Newark, NJ) - January 20, 2012 (
See all reviews by this customer
)
This album is made of wonderland material. Although it was not as big as I thought (since I didn't check the measurements) it is still a good size. It' s about the size of a 5 x 7 frame. The person I gave it to loved it very much.

Very nice
By
Linda K.

(Canada) - October 18, 2011 (
See all reviews by this customer
)
Smaller than I anticipated however the way it looks overrides that. Just wish the gift boxes would not be branded with the website name - I do not want people knowing where I got their gifts as I intend to keep getting gifts from here.

Engraved Photo Album
By
Kimberly S.

(Brooklyn, NY) - September 26, 2011 (
See all reviews by this customer
)
I was pleased with the gift as was the receiver. The only issue I have is that the letters should be engraved in Black rather than in the silver because it blends in with the album. Becuase of the glare of the silver, you have to hold the album at a certain angle to read the inscription. Other than that, the gift is great.

Pretty Nice!!
By
Shopper

(windsor, CA) - March 28, 2011
I got my photo album delivered very quick and is a good quality for the price I paid, the engraved paragraph was kind of hard to read,it should be a little deeper engraved but I'm very happy with it..I will get one more.!

It was nice
By
MONA R.

(BEVERLY HILLS, CA) - July 28, 2010 (
See all reviews by this customer
)
i thought this album was absolutely beautiful, i just wish the engraving looked nicer and the album was bigger.

Good quality
By
popal R.

(Alexandria, VA) - June 8, 2010 (
See all reviews by this customer
)
Good quality. The engraving is very tastefully done. Makes a great baby shower gift and one that will be very useful as well as thoughtful for the mother- to- be.I think this will be my new favorite gift for all my lovely mother-to-be friends and family.

Great
By
Tasha R.

(Middletown, CT) - March 16, 2010 (
See all reviews by this customer
)
I was very please with this purchase. I wish the engraving was a bit larger. But,overall, it's a great item.

Perfect gift
By
Stephanie M.

(Woodland Hills, CA) - February 26, 2010 (
See all reviews by this customer
)
It's absolutely adorable and a great way to keep all those memories together! The only reason I gave it four stars is because the engraving was just a little harder to see than I would've liked. But over all great price and product!

Happy with my purchase
By
Lea F.

(Los Angeles, CA) - February 18, 2010 (
See all reviews by this customer
)
I ordered two of these albums, one for my daughter and one for a friend's baby. I gave it 4 stars because the engraving on one seems to be just a tad bit better than on the other album. I also would have preferred that the box didn't have the stickers with the order info stuck on them. When I tried to peel off the stickers on both boxes, it ruined the box. The turn around was fairly quick and packaged nicely. The shipping charge was fair. I will definitely shop more if they offer free shipping, but after taxes and shipping, it adds up.

This is not really Engraved!
By
Shopper

(Blue Bell, PA) - March 8, 2014
This is a nice gift for the cost, but they describe it as an engraved photo album which it is not. It looks like they used a laser printer. My husband was very disappointed that it was not engraved, it had very small printing, and it was hard to read!

rather small
By
Shopper

(Chicago, IL) - September 24, 2013
I thought that I found a wonderful product as a gift for a baby.

But when it arrived, I was little disappointing because of size.

Otherwise it was OK.

Engraving
By
Ginger H.

(Ballwin , MO) - January 25, 2011 (
See all reviews by this customer
)
I really like the photo album. It is very nice. I like that you can put whatever information on it that you want to. The only thing I do not like is the engraving. It was very elegant but very hard to read. In the picture it kind of looks like it has a light tinting so that you can read it.But when I received it you have to have the right light and angle to be able to read the engraving.Takes away from the album.If it wasn't for that I would have scored it higher.

To Small
By
Catherine R.

(Conover, NC) - July 5, 2010 (
See all reviews by this customer
)
The album was cute on the front but in the picture, it looks a lot bigger than it actually turned out to be. It would be better if it were bigger and could hold more pictures.

Photo Book
By
vicky E.

(Pensacola, FL) - March 15, 2014 (
See all reviews by this customer
)
It is very pretty but I wish the engraving could have been deeper so it would show up more.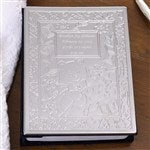 Baby album
By
Shopper

(Philadelphia, PA) - December 31, 2013
Too tiny too shiney

Engraving Off Centered
By
Angela P.

(Austin, TX) - January 2, 2013 (
See all reviews by this customer
)
I ordered this as a Christmas gift. While the album itself is cute and of a nice quality, the engraving job was poor. There's a bordered rectangle for the engraved message. On the first album I received, the engraving was over to the right so far that it was touching the edge of the border, with a large gap on the left. They replaced it for free, but it arrived several days after Christmas, and the engraving was still off-center, although not as severely as the first version. I was very disappointed, as I've ordered from Personalization Mall before and always been pleased with the end product.

ANOTHER SCRATCHED ALBUM
By
Susan M.

(Jacksonville, FL) - October 15, 2009 (
See all reviews by this customer
)
This will be the 3rd album I received and the last one was scratched too when received. This one WAS a baby shower gift and the recipient said it arrived scratched on the front of album. How embarrassing...........

I do not want another one to replace it since it seems that most of these types of albums are arriving scratched on the front of them.