Anniversary Poto Album
By
Rosalie R.

(Waterloo, IL) - September 20, 2014 (
See all reviews by this customer
)
I was very pleased with the album. The items that I have purchased from you have always been great. Thanks for the special gifts that your company offer.

great impressive gift
By
Fran P.

(Plano, TX) - December 31, 2013 (
See all reviews by this customer
)
I have ordered this gift at least $ times for friends of mine who just got engaged. It is so impressive when they open the gift - the engraving is so beautiful. the shipping is very quick. i really recommend this gift.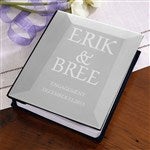 Beautiful Album
By
Shopper

(University Park, IL) - June 1, 2013
This was well worth the price and super fast shipping! Totally satisfied :)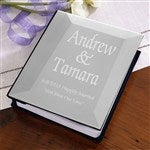 Anniversary album
By
Andrea W.

(Bowling Green , KY) - March 9, 2013 (
See all reviews by this customer
)
I got one of these made after I got married in 2008. I thought it would be neat to take a photo of my husband and I each year on our anniversary to see how much we change over the years. My best friend is getting married next month and she will love this!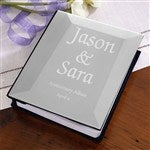 Beautiful! Love the Album!
By
Shopper

(Ogden, UT) - January 19, 2013
Great fast service! Beautiful album! Thank you!

JIT delivery for an anniversary
By
Shopper

(Oreland, PA) - January 18, 2013
I was at sixes and sevens as to what to give my husband for our silver anniversary: he doesn't like men's jewelry, doesn't use silver anythings, already has a business card container. Then I saw this item. Perfect! He has been reorganizing his parents' slides and photos this past year, so he is in a mood to fill a good album. Be aware: this is an album for 4X6 pictures, one to a page, so it is not tall. But it really was a hit. I ordered it four days before our anniversary and it came the day before, just in time!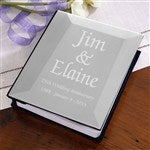 25th anniversary photo album
By
Shopper

(State College, PA) - November 16, 2012
The album was shipped to another address but they assured me the quality was excellent. However, I at my end was very impressed with how quickly the item shipped.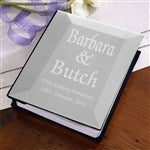 memories album
By
Fran P.

(Plano, TX) - October 11, 2012 (
See all reviews by this customer
)
i bought this album for an engagement gift i love how the names show on the album cover it is very special - looks outstanding - i love this site the quality of the items i have purchased so far have exceeded my expectations. i have ordered 3 different items and love them all. when you need that special gift this is the place to come.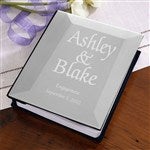 Very nice album
By
Mary G.

(Rogue River, OR) - August 8, 2012 (
See all reviews by this customer
)
I was very impressed with the album quality... I do not recommend the gift box option, the company has their logo on the lid, I felt that was very cheezy..I had to spend more money on wrapping items...Over all the item is a thumbs up and will do business again, minus gift box.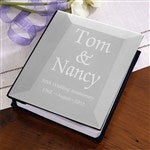 Great gift!
By
Linda D.

(Morgan City, LA) - February 8, 2012 (
See all reviews by this customer
)
I ordered this album for my niece and her husband for their first anniversay. It is very attractive, and just what I expected. It is also very resonably priced, and I received it in 2 day! I especially loke the way that I could preview exactly what the cover would lokk like before I ordered. I hope that they will include a picture of themsleves (and their future children on each of their anniversaries. I know that they will love it!

Beautiful album & quick delivery
By
Shopper

(Athens, TN) - June 14, 2011
I purchased this for my sister's 25th anniversary. it turned out beautiful. cant' wait to give it to them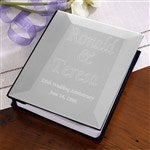 I COULDN'T BE SATISFIED MORE WITH THE OUTCOME OF THIS ALBUM
By
Shopper

(Port Hueneme , CA) - May 30, 2011
I was so very pleased with this photo album. It was my son's engagement party and wanted to get them something personal. Just by luck, the velvet back was navy blue which was the color of their wedding. The quality and workmanship was absolutely beautiful. I also ordered the personalized photo frame which turned out even better than I had imagined. Thank you Personalization Mall. I have already recommended you to others.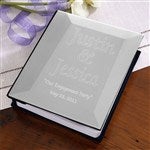 Awesome product!!!
By
LaDonna H.

(Paoli, IN) - May 1, 2011 (
See all reviews by this customer
)
I purchased this photo album for my cousin. It looks amazing & I'm sure she is going to love it.
I look forward to purchasing more items from personalizationmall.com.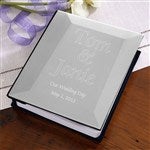 Absolutely Beautiful
By
Shopper

(CHARLOTTE, NC) - March 8, 2011
This book is exactly the quality I was looking for. I have never ordered anything from PM.com and not like it. I will be more than happy to show my photos from my 25th wedding anniversary in this book.

pretty and prompt
By
Shopper

(Lake Bluff, IL) - January 10, 2011
I was impressed with the quality for the price. The engraving was elegant--if a little light. The order arrived quickly even in the busy Christmas season. A perfect size for your 4X6 photos

Great value for great product
By
Jason D.

(Richmond, VA) - September 24, 2010 (
See all reviews by this customer
)
The engraving looks great. Not too light in my opinion. Sturdy, good quality album. Item shipped within 24 hours and arrived quickly.

anniversary memories album
By
Michael B.

(Blue Springs, MO) - August 19, 2010 (
See all reviews by this customer
)
I was both happy and impressed by the quality of this album. It definitely exceeded my expectations as well. It was a very special gift that we got from my parents and we are glad that we decided to use your company.The script was just beautiful. I don't agree at all with the reviews that said the script was to light. That is the way this script was supposed to look. It is not supposed to be darker.I think it enhances the beauty of it even more. Thank you for making our special 35th anniversary even more memorable.We would not hesitate to order from you the next time a special occasion arrives.

order
By
timothy M.

(stow, OH) - December 24, 2009 (
See all reviews by this customer
)
the item was great. the only complant i have that it took almost a week for the item to get here. it came from illinois on thursday and it took till monday for it to get here by ups. that is the longest i'v ever seen something to move 2 states in my life.

EXCELENT GIFT AND SERVICE!!!
By
Cindy K.

(WESTMINSTER, SC) - October 1, 2009 (
See all reviews by this customer
)
THE ALBUM WAS A BIG HIT. GREAT QUALITY AND STYLE. THE SERVICE WAS OUTSTANDING. I CAN'T FIGURE OUT HOW YOU PROCESS THE ORDERS SO FAST.I RECEIVED MY ORDER THREE DAYS AFTER PLACING THE ORDER ONLINE. YOU ARE HIGHLY RECOMMENDED BY ME FOR QUALITY AND FAST SERVICE.

CINDY K.--SC

Very Nice Work
By
Teresa V.

(Palo Alto, CA) - May 26, 2014 (
See all reviews by this customer
)
I have been extremely satisfied on every order placed with Personalization.com
Nice work, quality merchandise. This was for my Aunt and Uncle's 50th Anniversary. And I just ordered more items for my SIL and best friend's 60th Birthday. Love, love, love this website.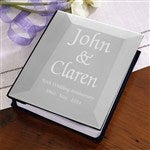 picture album
By
Shopper

(Brooklyn, NY) - July 13, 2013
My personalized album was exactly as illustrated and described. I didn't give it 5 stars only because I thought the price was a little expensive.

However, I would order from them again and delivery was prompt.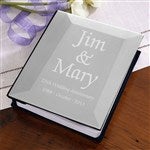 Pretty good
By
Elizabeth M.

(Manteca, CA) - November 26, 2012 (
See all reviews by this customer
)
It was beautiful. The only thing I wish was different was I wish the names and lettering were more centered on the front. It looks like it was beveled but when I received it, it didn't seem beveled. Other than that - beautiful....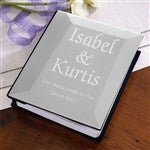 Wonderful gift
By
Kim S.

(Kokomo, IN) - May 31, 2011 (
See all reviews by this customer
)
I purchased this for my in-laws' 5oth anniversary and they loved it! We went on a family vacation to celebrate and they filled their book with memories. If could suggest one thing, it would be to have it offered with a gold cover, since it was for their 50th (Golden) anniversary. Otherwise, this was a great gift and I thank you for making it available!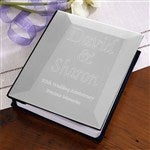 Great Anniversary Gift
By
Carolyn B.

(Hyattsville, MD) - March 8, 2010 (
See all reviews by this customer
)
I was very pleased with the engraved photo album. I only wish space existed for the last name to be engraved also.

Nice cover but not on the inside
By
Shopper

(PLAIN CITY, OH) - October 7, 2011
The cover is nice but I was not impressed with the plastic sleeves. They were of lightweight plastic and has wrinkles :(
very quick delivery

OK but could be better
By
Alan W.

(Bloomington, MN) - September 21, 2011 (
See all reviews by this customer
)
The album was, more or less, as advertised but the engraving was disappointing - very light, almost an etching instead of an "engraving". Still, it made a great anniversary present for Mom.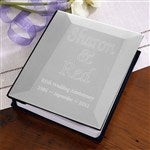 Album was ok
By
Shopper

(Grayslake, IL) - September 24, 2012
For the price, I wasn't impressed with the quality of this item.

Etching Almost Invisible
By
Shopper

(Brookline, MA) - August 2, 2012
It was very hard to read the names and titling on the cover of this Photo Album and that was disappointing. The photos on the website make it look like they would stand out much more. Better contrast could improve the problem.

DISAPPOINTED IN PERSONALIZATION
By
JANET P.

(HOLLY, MI) - July 27, 2010 (
See all reviews by this customer
)
I WAS HAPPY WITH THE ALBUM ITSELF, BUT THE PERSONALIZATION WAS VERY HARD TO READ. YOU HAD TO KEEP MOVING IT BACK AND FORTH TO READ IT. I GUESS IT NEEDED DEEPER ETCHING OR SOMETHING.

cheap garbage
By
james P.

(douglaston, NY) - December 30, 2011 (
See all reviews by this customer
)
I purchased the optional gift box and it is pathetic. It has the name of the website on it and is very cheap looking. I am humiliated to give this to my friend and his wife. Album is very cheap looking. I will never purchase anything from this website again and i recommend anyone else do the same.

photo album
By
Signa S.

(Atascadero, CA) - June 21, 2010 (
See all reviews by this customer
)
The picture looked like the front was gold and it looked twice as large. I believe I need to look better next time. The ingraving on the front is very light as well. No I would not buy this item again and I probably will not use it as my gift to them. signa schmidt