Great gift for dad!
By
Shopper

(Pendleton, IN) - June 21, 2012
My brother and I purchased this for our dad for Father's Day. It was great being able to have his initials and the message inside engraved for no extra charge. It came packaged nicely and our dad loved it. The only thing I disliked was the chain, but that can be removed. It's not a strong chain, very light and hate to say it but first impression was "cheap". You could always get a different chain since it can be removed so overall, great gift!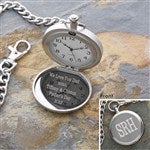 A nice gift
By
Shopper

(Boone, IA) - June 21, 2012
I purchased this for my father with a nice inscription in it. He treasures it. The font was quite large and easy for him to read.

Great Gift!
By
Shopper

(Elkins Park, PA) - May 22, 2012
When I received it in the mail, I was so happy the way it turned out. I know other reviews said that sometimes the words or initials on the watch are not centered, but mine was perfect! The only thing I don't like about the gift is that it came with a velvet pouch with the "Personalization Mall" logo on it. I would suggest the company take that logo off, because I don't want to give it to my boyfriend and have him see where I got it, how much it was, etc. I just ended up buying a new pouch and a new box. Otherwise, the watch works great and looks great!

Engraved pocket watch.
By
Shopper

(Minot, ND) - March 23, 2012
I thought the watch was very nice and the engraving is well done. It does come in a nice cloth pouch, however, the pouch has your company's advertising on it. I think that's pretty cheesy. I don't care to advertise where it was purchased to the recipient. I went out and purchased my own cloth gift bag and it is much classier now.

13th Birthday Keepsake for Step Son
By
Charlene Q.

(Antioch, TN) - March 12, 2012 (
See all reviews by this customer
)
My stepson wanted a pocket watch and this watch is not only trendy looking but more expensive looking than it was! He was turning 13, an official teenager and I wanted to get him something to commemorate this big Birthday! Hopefully he will have this as he grows up as a keepsake. The only drawback is the front which gets scratched easily but otherwise my stepson loves it. Order was personalized and shipped very quickly.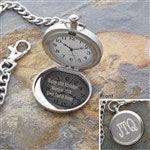 A Watch He Isn't Hesitant to Wear
By
Shopper

(Huntersville, NC) - February 20, 2012
Gave this for Valentine's Day and my husband likes it a lot. This is a basic so-so quality watch but the engraving was very nicely done. And because it is not a fancy high priced watch, he is wearing it everyday. It makes me happy that he likes it so much and that he wears it every day. Practical is good. And how wonderful that this watch offers personal engraving along with practical. Well done Personalization Mall!!!

nice,But not strong
By
Shopper

(old town, FL) - February 9, 2012
Nice looking watch but the cover is very thin. I'm thinking it won't last long if it's carried in your pocket every day. It would probably be good if only carried around for special times. This is only a guess,and my opinion.

Pretty Good
By
Erin W.

(Lebanon, NH) - January 24, 2012 (
See all reviews by this customer
)
Everything was pretty good, the description was not centered. But besides that everything was good.

the best
By Shopper (champaign, IL) - January 17, 2012
itz the best i got my dad this he loves it wit all his heart

Just what we were looking for!
By
Cheryl K.

(Cumming, GA) - January 16, 2012 (
See all reviews by this customer
)
Our best man is my fiance's son. He's 13yrs old and this watch is extremely age-appropriate for him. The quality is good, engraving looks great - overall we are very happy with this purchase. I'm confident he will love it too.

Hard to close/ discolored chain
By
RACHEL A.

(GULFPORT, MS) - December 26, 2011 (
See all reviews by this customer
)
First of all I would like to say that this is overall a great gift for the price. It was delivered very quickly. However I was disappointed to realize the chain first of all- it had something green on the part that connects to the watch. I tried to get it off, to no avail. Secondly I was impressed with how beautiful the message turned out, however when trying to close it- it almost took an act of congress!
My fiancé works on the river and I would hope this holds up for him. I know he will love it and I can't wait to see his face when he opens it tomorrow!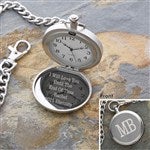 Pocket Watch
By
Kellie D.

(Canada) - December 22, 2011 (
See all reviews by this customer
)
Beautiful watch. Was a tad disappointed when I had to order a second one because the engraving was not straight or centered on the first watch. Good thing I ordered the first watch early! When I called the operator on the other end of the line was excellent and I had my new pocket watch in time for Christmas! My hubby is going to love it!!!

Pocket watch was nice
By
Nicole D.

(Plano, TX) - December 21, 2011 (
See all reviews by this customer
)
I loved the pocket watch. The engraving came out really nice, although I think the inside was a little off center. It shipped quickly and the recipient loved it.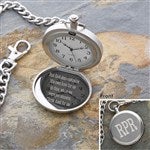 My boyfriend liked it!
By
Shopper

(Pacific Palisades, CA) - December 20, 2011
It's a pretty watch that works well. The only issue I find with it is that the font is really rather ugly.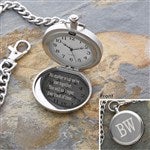 Great Personal Gift
By
Shopper

(Wayland, MI) - December 18, 2011
Giving a gift that is personal adds a sense of 'well thought out' to the recipient. This is a great watch that makes it their own.
The engraving is perfect.....not garbled or off center or with scratches.
I love the weight and the size - simple yet elegant......for years!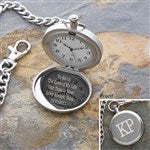 Well worth it.
By
Peggy M.

(Canada) - December 9, 2011 (
See all reviews by this customer
)
I was very impressed with the watches and know my sons will love them. The engraving was a little off center but still they were well worth it.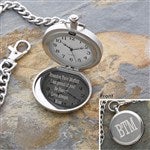 Very Handsome
By
Shopper

(Gilbertsville, PA) - October 31, 2011
I think that this watch is a very handsome piece considering the very affordable price. The engraving is beautiful and well worth it!
I'd definitely purchase again.

Very Satisfied
By
Taylor M.

(Baton Rouge, LA) - October 23, 2011 (
See all reviews by this customer
)
This is a lovely pocketwatch, it's a good size and the writing wasn't too small. My boyfriend loves it, he carries it everywhere. The only issue is that it scratches a bit too easily, even in a pocket by itself. Otherwise, I'm very pleased with it.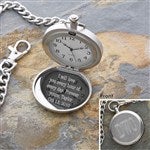 pocket watch
By
Shopper

(Sardinia, OH) - August 9, 2011
exactly like the picture, wondering if it will tarnish. Overall very nice and a very thoughtful gift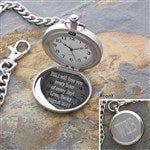 Good, But Delicate
By
Shopper

(Edgefield, SC) - June 25, 2011
I'm very happy with my order, the watch is very good quality. The chain is strong enough to withstand some good tugging, and it keeps the time well. The only thing against it is that the mirrored inside and outside of the cover are very sensitive, and scratch easily. If you plan on keeping it in a pocket with other items, this is a problem. This is, however understandable, because it would have to be that way to have it personalized. I would definitely suggest this to someone else, as long as they had no objection to the occasional scratch here and there.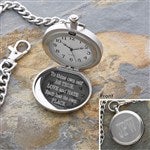 Beautiful Personalized Gift
By
Shopper

(Spencer, MA) - June 25, 2011
I am so pleased with this beautiful gift for my husband.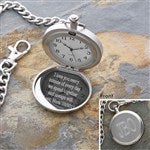 Pocket Watch
By
Shopper

(Detroit, MI) - June 24, 2011
I purchased this watch for my fiance for father's day. He was elated with watch, the numbers on the face were large enough for him to see, He has
a slight vision problem. I was impressed with the quality of the material,
it is very sturdy, with a nice heavy change. We are both very pleased.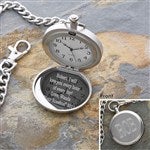 AWATCH
By
Shopper

(baltimore, MD) - June 21, 2011
I LOVE THE POCKET WATCH. MY HUSBAND HAS ALWAY WANTED ONE. THE PERSONALIZE TOUCH MADE HIS FATHER'S DAY PERFECT!

great service
By
John F.

(North Richland Hills, TX) - June 5, 2011 (
See all reviews by this customer
)
Prompt service, delivered in just a few days, exactly as ordered, looked great!

Perfect
By
Cynthia T.

(Bennington, VT) - March 13, 2011 (
See all reviews by this customer
)
I ordered this for an anniversary present. My wonderful man works for the rail road and needs a watch, so I figured a pocket watch would be perfect. The engraving was beautiful and the watch seems sturdy enough for everyday use. I am sure its something he will treasure always.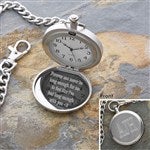 Nice
By
Tiffany G.

(Woodbine, GA) - March 7, 2011 (
See all reviews by this customer
)
I read comments and was worried about buying this because some said it was cheap looking. Well, I have to disagree with them. First of all the weight of the watch is nice and heavy. Then the outside looks great. Do wish they did show a picture of the backside, but since that was one thing people made comments about I added a picture of it. The only thing I will agree with was the inside engraving. They do the engraving on a mirror then place it in. It looks like some of the glue they used got on the mirror and you can't wipe it off. But overall I am satisfied and think the recipient will love it.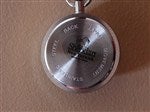 Great quality for the price.
By
Shopper

(Gillette, WY) - February 20, 2011
I went back and forth on whether to buy this watch based on the varying reviews. I wanted something sturdy and modern, but didn't have a lot to spend. I was impressed upon opening it. The watch is sturdy, the latch is a bit sensitive, I also question the duration of the chain, and the engraving is a little hard to read because of the font. However, he loves it and has worn it every day since he got it. Overall, I would say its of great quality for the price.

Valentine's Day Gift
By
Lindsey M.

(Louisville, KY) - February 16, 2011 (
See all reviews by this customer
)
This was a wonderful gift for my husband. The clasp comes open and shuts with ease and the time was easy to set. The engraving is a little difficult to read, but overall my husband and I were very pleased with the gift.

Very Very Happy
By
Rachelle A.

(Garland, TX) - November 3, 2010 (
See all reviews by this customer
)
I was very pleased. The engraving was perfect and the watch is perfect. It has a little spot on the watchs face but cant complain it was shipped. I am very happy and I hope he likes it!!!

Nice, but not great
By
Jeffrey B.

(Knoxville, TN) - October 19, 2010 (
See all reviews by this customer
)
After reading all the great reviews, I ordered this watch for my Dad's 80th BDay. The outside engraving looks great, but the inside engraving is done on a type of mirror that is glued in after engraving. It is a little small and difficult to read. The face of the watch seems a little cheap looking. It's made in China, and it somewhat shows. I don't know what he will do with the watch, as I doubt he will carry it, maybe he will put it by the bed or on the desk.

Nice gift for anyone!
By
Jeannine P.

(Vallejo, CA) - September 9, 2010 (
See all reviews by this customer
)
Over the years I have bought many many gifts from this website for Xmas, Birthdays, and Graduation, and been happy with my purchases 99% of the time (a cup I ordered arrived broken, but other than that everything has been perfect).

My daughter wanted a pocket watch necklace for her birthday and I thought this would be a cool idea. Unfortunately it's a bit bulkier than I realized from the pictures. She still thinks it is neat and decided to use it as a true pocket watch. There was plenty of room to engrave a nice message inside it, but it was a tough font to read. Overall, I got a nice solid watch for a very good price, and I'd recommend this gift for anyone, not just a Dad!

Jeannine

quite nice for the price
By
martha hope C.

(washington, DC) - July 13, 2010 (
See all reviews by this customer
)
i'm on a budget, but wanted to get an especially meaningful birthday present for a friend. this watch was perfect! he loved the inscription (i think he got a little teary eyed), and pocket watches are a particular favorite.

i don't have any major quibbles but it seemed to me that the watch face would be upside down when looked at by the wearer. that's what kept it from getting 5 stars.

as always, quick shipping and excellent customer service.

Nice for the Price
By
Lori S.

(Albuquerque, NM) - July 9, 2010 (
See all reviews by this customer
)
Nice quality for the price. If you are looking for a keepsake and not an heirloom type timepiece, this is a very nice gift.

silver pocket watch
By
Louann G.

(Pleasant Garden, NC) - July 2, 2010 (
See all reviews by this customer
)
I ORDERED ONE OF THE WATCHES LAST YEAR. I ORDERED THIS ONE AND THE ENGRAVING TO ME WAS NOT CLEAR ENOUGH TO READ WITHOUT HAVING TO HOLD IT REALLY CLOSE TO YOU. I REALIZE THAT YOU HAVE SO MANY WORDS PER LINE BUT HAD I KNOWN THAT IT WOULD CRUNCH THE LETTERS UP SO I WOULD HAVE NOT PUT AS MUCH ON IT. I GUESS I SHOULD HAVE CAUGHT THAT MYSELF BUT I FEEL THAT I SHOULD HAVE BEEN WARNED. THE ONE I BOUGHT FIRST WAS NOT LIKE THAT BECAUSE OF LESS WORDING. SOMEWHAT DISAPPOINTED BUT I WOULD PURCHASE ANOTHER ONE.THEY ARE BEAUTIFUL IN DESIGN AND WORKMANSHIP.

it;s lovely
By
Panoma T.

(east hartford, CT) - June 25, 2010 (
See all reviews by this customer
)
i bought it for my father and he loooooves it
i recommend it to everyone

Pocket watch for my husband
By
Danielle V.

(Guttenberg, NJ) - June 24, 2010 (
See all reviews by this customer
)
The watch is nice enough - if it were amazing quality, it would have been way more expensive. It's a heavy watch - it doesn't look cheap. The engraving is perfect.

Fathers Day Gift
By
Norman S.

(Euharlee, GA) - June 22, 2010 (
See all reviews by this customer
)
This product has operated exactly as advertised. It is a great watch for the price. The only reason that it doesn't get 5 stars is because it tends to pop open in my pocket. The latch works well but the release may be a little to sensitive. Other than that it's a great watch.

the time piece
By
nikita L.

(long beach, CA) - June 21, 2010 (
See all reviews by this customer
)
just opened & gave the time piece to my husband yest for Father's Day. in looks-it's beautiful. i LOVE it. my spouse also like how it looks but is kinda 'light-weight', not as sturdy looking, feeling and sounding as he'd like it (when placed down on a table or counter top.) i love it. for the price and great engraving, 'I' will buy another. BUT, is yet to be seen how long it lasts and keeps time. will keep you informed.

Nice Father's Day Gift
By
Diana S.

(Houston, TX) - June 17, 2010 (
See all reviews by this customer
)
I purchased this watch for my father as a gift from his granddaughters. The engraving is beautiful and clear. I know he will love his gift.

Customer Service
By
Melissa C.

(Floral Park, NC) - June 11, 2010 (
See all reviews by this customer
)
The customer service for this purchase was great.