Perfect for a new baby boy
By
Shopper

(pittsburgh, PA) - August 5, 2012
We had this item shipped to our grand daughter in FLA from PA. We sent it wrapped and engraved. She received it in FLA in a timely manner. She got it and FLA and loved it. She said it is so cute and she just loves it. I thought it was really cute when I ordered it and it is. They even gift wrapped it really nice and thats how she received it. This is a really nice gift. I would recomend it. The only reason I rated it 4 stars is because I personally did not get to see it myself I am going on what my step grand daughter told me when she received it.

Gift for great grandson
By
Shopper

(Bomoseen, VT) - August 1, 2012
This is the cutest train, I like that it has his personal name on it. It was a little smaller than anticipated but still found it to be of very good quality.

Wonderful detail
By
Shopper

(Georgetown, CT) - May 23, 2012
I was very pleased with the attention to details of this train.

You can fit a 50 cent coin inside.

I would have given 5 star's except that the piece was cast metal & made in China.

I prefer made in America!!


Cute train
By
Shopper

(Taunton, MA) - May 17, 2012
Adorable bank- just wish it was a little bigger

Cute little keepsake
By
Shopper

(Nashua, NH) - December 29, 2011
This train bank is a very cute keepsake, but it's very small. The personalization is very clear - I just wish there was more space to write. Overall a very nice keepsake.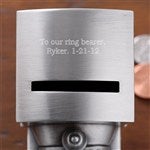 cute
By
Shopper

(Winston Salem, NC) - March 12, 2011
very cute little train. some scratches around the name etching, but overall i'm very pleased to give this to my nephew. make sure you look at the size before you order-- i was excited for the smaller size, but make sure that's what you want.

Ring Bearer Gift
By
Ricki C.

(Ford Cliff, PA) - March 1, 2011 (
See all reviews by this customer
)
Our Ring Bearer is in love with trains! We saw this and knew it was exactly what we were looking for. We shopped around but this one was the best looking with the shadows and not with the shiny finish all others had!

Pewter Choo-Choo Bank
By
Raymond W.

(Topsham, ME) - February 25, 2011 (
See all reviews by this customer
)
I think that this will be a very nice baptism gift for my Grandson. I hope that when he gets older he is just as interested in trains as I am. A very good job was done on the engraving.

Pewter Bank
By
Lee Ann B.

(Madison, AL) - December 31, 2010 (
See all reviews by this customer
)
The bank was really nice, as was the engraving. Was heavier than I thought it would be, which was a plus.
The only negative thing I could say, is that it was smaller than I thought it would be.
Overall I was satisfied & the recipient was very pleased!!!

Small, however, very nice
By
Tracy D.

(Lafayette, LA) - October 18, 2010 (
See all reviews by this customer
)
The train is sturdy and will make a nice gift. Although, it is a bit small for the price.

Nice but small
By
Jennifer L.

(Maspeth, NY) - August 2, 2010 (
See all reviews by this customer
)
The train is nicely made and the engraving looks good, but I was disappointed in the size of the train as I thought it would be a little bigger. Overall it is a nice keepsake.

Great quality
By
Linda C.

(Harrah, OK) - April 19, 2010 (
See all reviews by this customer
)
I bought this bank for my grandson who is due in July. I searched & searched online to find something that would last but wasn't overly expensive. I was 99% pleased with my purchase & the engraving was a nice touch. The 1% is due to the size of the bank. My new grandson will never get rich with the savings you can put into this bank - it is very small - but the description didn't lead me to believe it was large. So all in all, I am pleased.

Well Done
By
Daniel W.

(Louisville, KY) - April 6, 2010 (
See all reviews by this customer
)
This item came exactly as described and what processed and shipped very quickly. It is sturdy and will make a great gift for my ringbearer. My one and only complaint is that the engraving job was a little rough on one or two letters (not very deep or defined). It isn't very noticeable though, and I doubt my ringbearer will care. Overall I'm very pleased!

Cute but small
By
Amy E. G.

(Monee, IL) - January 12, 2010 (
See all reviews by this customer
)
This is a really cute detailed bank that functions well as a decorative object. It also makes a great bookend on a shelf too. Even though it looks really cute it is quite small. So, if you are looking for a bank that will have ample space for money over the years this is not that kind of bank. It's about 1/3 the size of an average bank.

Adorable!
By
Ashley L.

(Holyoke, MA) - December 23, 2009 (
See all reviews by this customer
)
This is a wonderful gift. The train itself it beautiful and nice and heavy considering the pewter 'finish.' The engraving is nice and clear on the top of it. I only wish the coin opening on the bottom was a little larger (the top has a nice wide slot that will even fit half dollars).

Cute but small
By
Andrea S.

(Beachwood, NJ) - November 23, 2009 (
See all reviews by this customer
)
It looks nice and the engraving is great but seems a little smaller than I imagined.

Very nice
By
Erin R.

(Waltham, MA) - November 17, 2009 (
See all reviews by this customer
)
This is a nice gift for a new baby. We received one as a gift and I thought it was very nice. I now order them for Christening gifts or as a new baby gift. For the price, it's a cute gift.

Not completely happy
By
Katherine Z.

(Casa Grande, AZ) - July 14, 2013 (
See all reviews by this customer
)
I ordered this cute little pewter train for my grandson's christening. The train itself met my expectations. However, the engraving left something to be desired. It was not centered evenly.

In spite of the fact that the picture shows the name not properly centered, I had certainly expected the delivered item WOULD be correctly centered.

Not happy ...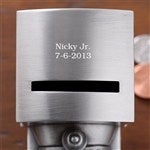 nice item, slow shipping
By
Shopper

(South Wilmington, IL) - November 19, 2011
the item itself is cute, but do not believe the 3-5 day shipping. i received mine after 7 business days which was after the day that i needed it by.

Beware of Size
By
Shopper

(New Martinsville, WV) - October 28, 2011
This bank is very high quality and looks wonderful. The detail is great and it's very heavy duty. However, it fits in the palm of my hand. I was very disappointed in the size.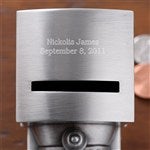 Small
By
Shopper

(Henderson, NV) - July 5, 2011
Really Small

cute but small
By
Nadine C.

(Uxbridge, MA) - December 13, 2010 (
See all reviews by this customer
)
I like the choo-choo, but it's small, real small. The engraving came out great.

Too small
By
Angie L.

(Kewaskum, WI) - November 24, 2009 (
See all reviews by this customer
)
The train bank is very cute BUT the picture is deceiving when it comes to the size!! I should have looked at the dimensions closer before ordering. I was very dissapointed when I received it. It is VERY small!!!

Cute, but small...
By
Julie M.

(Sterrett, AL) - March 25, 2012 (
See all reviews by this customer
)
This is really a cute choo choo bank, but a lot smaller than I expected. Price is a little high for the size of this. My soon to be 3 year old will love it anyway for his birthday because he loves "choo choos".

Very small, barely fits any dollars bills
By
Ema Q.

(Merrick, NY) - October 15, 2010 (
See all reviews by this customer
)
I was so dissapointed in this item. While the quality and the look are great, it is so small that you can barely fit any dollar bill. You can use this as a display, but certainly not as a bank. Use your $30 elsewhere!