love it
By
marilyn L.

(richmond, VA) - February 19, 2010 (
See all reviews by this customer
)
i ordered this a little late for valentines day (2 days before) and this got here on the estimated date (which i wasnt expecting)so my bf found it and opened it before i could give it to him. but he loved it, thought it was a real take out. the only thing is it was quite a bit bigger than i imagined. but in a good way. i love it. he dose too. definately a good buy. :)

Very IMPRESSED!!
By
Sheryl H.

(Burlington, NJ) - February 14, 2010 (
See all reviews by this customer
)
My fiance proposed to me by using a REAL fortune cookie!! And this Feb. 15th is our 7th anniversary. When I saw the "Fortunate Love Personalized Fortune" I just knew I had to get it for him!! It is BEAUTIFUL!! It came perfectly packaged in the chinese food container and is soooo heavy and shiny and it opens! I missed that detail when purchasing it. It's Really a good Quality item and I was PROUD to give him this gift and he LOVED IT, TOO!! It's nice being surprised in a GOOD way, for a change... Thanks Personalization Mall ;-)


Great gift for that special someone
By
Holly M.

(Tucson, AZ) - February 11, 2010 (
See all reviews by this customer
)
Love ,love, love this item! So beautiful in person and a great value for the money. My sweetheart will love this special valentine gift. The personalized fortune inside is the icing on the cake.

Fortune Cookie
By
Alice P.

(Oak Ridge, NJ) - February 11, 2010 (
See all reviews by this customer
)
The item was lovely and just right. However, I thought a gift card was included which I did not receive.

fantastic gift!!
By
Megan S.

(Selitrennikoff, WA) - February 1, 2010 (
See all reviews by this customer
)
I just love this fortune cookie! I gave it to my husband for our anniversary and he just loves it!
Perfect.

Blissful
By
TARA M.

(ELMENDORF AFB, AK) - January 19, 2010 (
See all reviews by this customer
)
Everything was great, my husband will love it.

Surprise Dessert
By
Michelle T.

(Woonsocket, RI) - December 27, 2009 (
See all reviews by this customer
)
The way I gave this to my boyfriend wasn't planned, but worked out perfectly!!! He was stuck working on Christmas Day, so I offered to bring him my leftover Chinese for lunch before the big dinner that night. I didn't realize this comes in a cute little takeout container. I ended up putting it in the bag with the actual food and takeout containers so it looked like it was just more food. He def wasn't expecting this for his "dessert" and loved it!!!

very cool gift!
By
Alexis C.

(Hurricane, WV) - December 21, 2009 (
See all reviews by this customer
)
i got this for my boyfriend for christmas and i'm super excited for him to open it. it looks amazing and the shipping was really fast. i can't wait to see the look on his face. :-)

great gift
By
Ashley E.

(Clermont, GA) - November 11, 2009 (
See all reviews by this customer
)
I got this for my boyfriend and it is great. As always with things I have ordered from this site it is what I expected and got here quick. Great gift idea!

Fortunate Love Personalized Fortune
By
Mary F.

(San Diego, CA) - October 21, 2009 (
See all reviews by this customer
)
It was wonderful. An adorable little keepsake. I am glad I got it. Of course it is not a "need-to-have" item, but it made a sweet gesture.

Excellent!
By
Sandra B.

(Easton, PA) - October 16, 2009 (
See all reviews by this customer
)
I was very satisfied with the product. Loved it. Shipping to expensive.

So Cute!
By
Ariela R.

(Bronx, NY) - October 13, 2009 (
See all reviews by this customer
)
It's very nicely made, and it was such a cute birthday gift. I wish the message could be longer, but I mean how many words should you be able to fit in a fortune cookie? Overall, very happy with my purchase!

LOVED IT!!!
By
Amanda F.

(Romoland, CA) - October 3, 2009 (
See all reviews by this customer
)
I did not expect the quality to be as good as it was. It was for my boyfriend for valentine's day and he absolutely loved it. I was happy with the weight of the fortune cookie, and the clasp and hinge are of good quality too, not cheesy.

Something for the woman who has everything
By
Jim B.

(Virginia Beach, VA) - October 1, 2009 (
See all reviews by this customer
)
Its always a joke to us when I get a fortune cookie after a meal to open and read something that I made up before she sees it, so this was the perfect little keepsake, with my own, personalized in writing, fortune to her. She loved it. She's using it on her dresser to keep favorite fortunes from restaurants in also. Thanks!

Loved the gifts upset with customer service.
By
June R.

(Smyrna, GA) - February 18, 2014 (
See all reviews by this customer
)
Easy to navigate the website, easy to order and shipping was free and quick. The product was beautiful. I was very pleased except that when they arrived the box they were shipped in was damaged so that damaged the boxes the items were to be given in. I called customer service on Feb. 5th and asked for them to send 2 new boxes and they said they would. They were Valentine gifts for my 2 granddaughters. Today is the 18th and I still have not received them. That is why I gave them a 4 instead of a 5.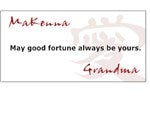 Fun!
By
JoAnn T.

(turnersville, NJ) - February 9, 2014 (
See all reviews by this customer
)
This is a very cute gift, something very fun to give. The only thing it's very hard to open. I had to look for something to open it as not to scratch it, trust me the design and inquires far makes up for that! A really fun gift to give. Picture doesn't do it justice.

Nice Romantic Gift
By
Diane F.

(Silver Spring, MD) - January 14, 2014 (
See all reviews by this customer
)
The fortune cookie is great quality, but I wish the fortune inside wasn't folded in half. The Chinese food caselooked pretty good, even though the love symbol on the outside was a sticker and not actually painted on. All in all and nice gift to tell someone you love them.

It's quite nice
By
Shopper

(Collegeville, PA) - February 14, 2012
I thought this was perfect since my Boyfriend loves chinese food. I'm a creative person, but I was on a time limit, so I bought this instead. It was only like 20 dollars with shipping, so I'm not complaining at all, just I feel like it could have been made by myself. If I made it by myself, it would have taken so much time though, because this product came in so quick. So I take that back, this was an amazing silver fortune cookie, I just think the paper inside seemed slightly not the greatest presentable way but whatever. I haven't given it to my boyfriend yet but I think he'll love it, and be able to read my personalized fortune to him whenever we're apart, since I live in Pittsburgh and he lives in Philly.

Beautiful !
By
Shopper

(Canada) - November 15, 2011
I got this is as a gift for my boyfriend (we both adore sushi, chinese food and most of all fortune cookies!). I love how unique it is! He absolutely adored it and cherishes it greatly.
The packaging is great and the box was in perfect shape. The silver cookie seems somewhat small bu it is quite large and also heavy, it's made of great quality! All in all, a wonderful, unique, beautiful gift!

Cute fortune cookie
By
Shopper

(San Francisco, CA) - September 9, 2011
Fast shipping. It would be great if personalized message can be engraved on the surface of the cookie. But in general the product is nice

cool!
By
Shopper

(Boston, MA) - September 6, 2011
It is very cute and nice but could be smaller.

Great love note
By
Shopper

(Pace, FL) - February 22, 2011
My wife loves her fortune cookies, so I knew this would be perfect for a Valentine's Day love note. High quality silver cookie encasing a durable and long lasting note that says just enough. Great deal!

Vey Pleased
By
Melocka M.

(Mount Wolf, PA) - February 14, 2011 (
See all reviews by this customer
)
This was a perfect gift for my husband on Valentines day! he loved it....Simple but very meaningful. Thank you

Great cookie- Bad Fortune
By
tyler S.

(Rindge, NH) - February 7, 2011 (
See all reviews by this customer
)
I love this item and hopefully the person receiving it will too. My only qualm is with the fortune inside. It is advertised as being printed upon fortune paper when actually its printed on a small piece of card stock. Other than the poor quality of the fortune this item is great!

Loved it. :)
By
Ma. Angelina B.

(Escondido, CA) - May 4, 2010 (
See all reviews by this customer
)
I loved the whole package. :) It came out great. Thanks. :)

Great Gift!
By
Nickole T.

(Quakertown, PA) - March 24, 2010 (
See all reviews by this customer
)
I got this for my husband for our anniversary and he loved it! This wass something that is an inside joke between us that now can sit on the bookcase. It came in a chinese take out container with the fortune inside...my only compalint is that the fortune was actually folded not smooth like a real fortune cookie or the picture. Other than that it was perfect!

Not exactly what expected.
By
Shopper

(New York, NY) - February 28, 2014
The fortune cookie looks great but the actual fortune does not. It is folded and a line is going through it and it ruins the actual fortune. It just doesn't look as good as the picture. I wish I knew that beforehand!

Cheesy
By
Shopper

(Holmdel, NJ) - November 29, 2013
This came out to be a bit too cheesy for me. I don't know how to surprise my BF because I am a bit embarrassed myself. The "fortune" came on a piece of cardstock folded up, so it does not actually like a fortune. The "ai" (love) in chinese is stuck onto the box as a circular sticker. I'm debating whether to gift this or not..but the silver fortune cookie came out nice. Just the overall presentation...is a meh.

Not as good as I thought it was
By
Teresa H.

(Riverside, CA) - February 12, 2013 (
See all reviews by this customer
)
I have bought other stuff from this website, & the products haven't disappoint me, but this one is just not what I expected, the box look really cheap, the Chinese character in the box is a Stamp! A round stamp! It's really obvious!!! I thought it was painted on the box like the picture in here suggests, but no, other thing the little paper that comes inside it's Too Big for the cookie, so when I got it, & opened the cookie the paper was all folded, when I unfolded it some of the words had been sorta like erased... It was still readable though, and other thing the paper won't stick out of the cookie unless its folded... The silver cookie though its gorgeous itself, & it comes with a little nice pouch if you take all the red stuff that comes with it. I'm just hoping my boyfriend will like it since its his valentines gift.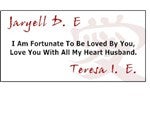 Fortune Cookie
By
Shopper

(brooklyn, NY) - February 15, 2012
I thought it was going to be a real cookie and thats what i wanted but it was medal. still cute but not what i expected.

Fortune is a piece of paper twice the size of a "fortune"
By
Shopper

(Hutto, TX) - December 27, 2012
Not as described or what they show in thier picture. Fortune inside is poorly printed on a piece of paper folded in two. It does not resemble an authentic fortune if this is what you are looking for.

Poor quality
By
Shopper

(Aventura, FL) - December 5, 2013
This product was decent at best. They stuck a "made in china" sticker right on the silver cookie and it left sticker glue on the product. The fortune inside is just a regular strip of paper that was folded in half. I could have done that myself. I expected something higher quality. Not impressed. Go to Things Remembered and get their version, the fortune inside is engraved on the metal. I will be doing that myself and seeing about a refund.