Just Beautiful
By
Shopper

(Chandler, AZ) - June 24, 2013
I recently purchased this item for a friend who lost her little brother and wanted to send something a little more than just flowers. It came and it was just a beautiful way to remember his life. I originally purchased so that she could give it to her mother, but she loved it too much she kept it. The only but about the item is that the etching is hard to see with a white background, so if you are going to display make sure you have a dark wall behind. Or you could get cardstock to place behind the name plate. I would buy this item again.

Memorial frame
By
Crystal M.

(Toledo, OH) - March 29, 2013 (
See all reviews by this customer
)
I love the frame, but it looks like it's just clear glass. I will have to place something behind it in order to see the writing. It arrived super fast and in perfect condition.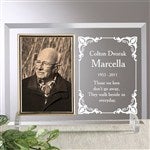 semi gold
By
Mary P.

(Irving, TX) - October 12, 2012 (
See all reviews by this customer
)
the gold around picture wasn't the best but over
all looked ok.

Honest Review
By
Shopper

(Pearland, TX) - October 4, 2012
It's a beautiful frame but it's hard to read unless you put it in front of a dark background.

Beautiful memory keepsake
By
Shopper

(Killen, AL) - July 21, 2012
My mother recently passed away. This hit my youngest sibling the hardest. To help console her, my father and I purchased this frame. She loves it. It sits on her desk with her favorite picture of our mother smiling. Thank you for offering such a lovely, simple and elegant frame.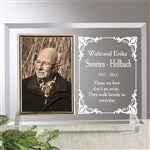 Lovely Memorial
By
Charon P.

(Australia) - January 22, 2012 (
See all reviews by this customer
)
I purchased 3 of these memorials for my children as a memory to our beautiful family dog who was laid to rest after 14 1/2 years.
Even though this memorial frame is obviously designed for a person, the wording was appropriate for our pet and we used just her name and dates.
It is of high quality and I could not find anything like this in Australia.
They arrived in Aus within 2 weeks of ordering and I was very impressed with not only the service provided but the high quality.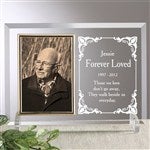 Nice frame
By
Kaitlyn K.

(Brooklyn, NY) - January 17, 2011 (
See all reviews by this customer
)
Nice keepsake frame

Great Gift
By
Linda T.

(Swanton, MD) - June 30, 2010 (
See all reviews by this customer
)
What a beautiful tribute/keepsake frame. I purchased this item for a friend whose mother recently passed from cancer.
My friend said this item meant more to her than any of the floral arrangements received.



loved it
By
Cristy H.

(McDonald, PA) - December 21, 2009 (
See all reviews by this customer
)
We really loved the frame it was beautiful! We had it engraved in loving memory of my father in law. I thought it was a great deal and worth the money.

Very Sentimental Memorabilia
By
Reshell L.

(Huntsville, TX) - October 9, 2009 (
See all reviews by this customer
)
I have ordered and shared this memorable frame with two love ones in their lost of someone who was very near and dear to them. They were overjoyed and touched to have received such a gift that will remind them of their lost forever.

Slightly disappointed
By
Shopper

(Clinton, UT) - October 30, 2011
I order so much stuff off of here & I thought this looked so cute but when I got it, I was slightly disappointed. I didn't know the trim around where the picture goes was gold. I don't like the gold & in the picture you can't tell it's gold. But I am sure I can paint it a different color.

Unsatified
By
Mary F.

(Black Mountain, NC) - May 12, 2010 (
See all reviews by this customer
)
The item itself was great but my only problem is that it is in white and you cannot read the information on it.I wish there was some way to solve this problem.