Easy to make & turns out great!
By
Shopper

(Travelers Rest, SC) - August 19, 2013
Made this for some friends with a picture of their dog on it and they LOVED it!! Great gift idea!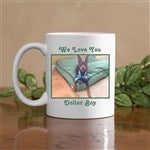 Mugs for family reunion
By
Shopper

(Burke, VA) - July 28, 2013
Turned out exactly like I wanted! Loved by all.

Great Mug
By
Shopper

(Frankfort, KY) - July 2, 2013
The personalized mug was delivered quickly looking exactly as it did on screen during the ordering process. This is the second time I've bought this product. Each with different photos. The finished mug is perfect. Thanks.

"milestone" mug
By
Nikki B.

(Frankfort, NY) - June 25, 2013 (
See all reviews by this customer
)
My Mom has ordered this mug for a few "milestone" birthdays for our family (Happy 40th, 50th, 60th, etc). She puts an old picture, showing the birthday recipient as a young child/baby, on the mug with a message. Everybody just loves it! Well, now that she is turning 60, I have ordered one for her, and, as always, the mug looks great! I love how I could write my own personal message, and it was very easy to make. The mug arrived five days after I ordered it!!!I would recommend this product to anyone who wishes to give a thoughtful gift!

The Grand's LOVED THEM!
By
Shopper

(Ludowici, GA) - June 18, 2013
"What a gift! Every time I reach for a mug, I see two people I love dearly and am reminded that someone loves me so deeply, that they were thoughtful enough to send me something so special." ~A Grand ;)

Father's Day Gift Mug
By
Shopper

(Oakdale, CT) - June 18, 2013
They came out great. My son n law's really like how nice the pictures came out. Would buy from here again. Was shipped very fast and I did not pay for faster shipping. Great place.

wonderful mug
By
janice S.

(winchester, TN) - June 17, 2013 (
See all reviews by this customer
)
we were so pleased when we opened this mug up. the picture i submitted and the saying was exactly like i wanted. Personalization mall will be getting more of my business in the future. extremely happy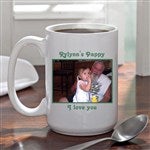 amazing
By
Shopper

(Herndon, VA) - April 19, 2013
my dad loved it!

Great Product
By
Shopper

(Suwanee, GA) - April 14, 2013
Love the mug! I would highly recommend this product.

Outstanding purchase!
By
Robin C.

(Virginia, MN) - April 5, 2013 (
See all reviews by this customer
)
I was a bit leary about ordering a personalized item online. However, I am extremely impressed at the quality of the coffee mugs I ordered. The personalization was perfect, the picture was clear and crisp, and the mug is very high quality. Ordering was simple,and secure. Shipping was amazingly quick, and I got my mugs much quicker than I had anticipated. I will be ordering again!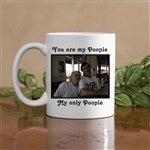 Love my mug
By
Bonnie P.

(Lakewood, CA) - March 29, 2013 (
See all reviews by this customer
)
I absolutely love this mug. I had a picture of my rescued furry best friend and myself put on it. It came out perfect and I am very happy with it. I have always been happy with Personalization mall and will continue to order from them. You won't be disappointed.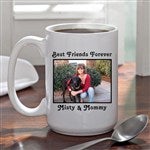 Papa Moses
By
Brenda W.

(North Charleston, SC) - March 29, 2013 (
See all reviews by this customer
)
Very nice. I love it.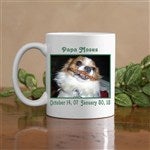 Papa Moses
By
Brenda W.

(North Charleston, SC) - March 27, 2013 (
See all reviews by this customer
)
Love this one too!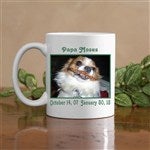 MOM
By
Faith C.

(Raymond, NH) - March 18, 2013 (
See all reviews by this customer
)
It was made exactly as I set it up and is a great reminder of beautiful people. I am making a collection of the people that touched my life so graciously. The work done and the packaging is far better than I imagined. Great work....


Uncles should also be remembered
By
Jo Ann A G.

(Sahaurita, AZ) - February 25, 2013 (
See all reviews by this customer
)
Affordable and perfect to send to new great uncle with picture of him and new great nephew.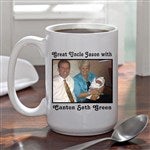 picture mug
By
Shopper

(Fort Lauderdale, FL) - February 15, 2013
Bought this for a coworker who just got married - they loved it. Also bought a matching card. It was a great gift.

nice
By
Florina S.

(Virginia Beach, VA) - February 10, 2013 (
See all reviews by this customer
)
Love it,fast shipping!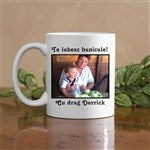 coffee mug
By
pete T.

(bartlett, TN) - February 9, 2013 (
See all reviews by this customer
)
I sent in a picture of my wife & I back in 1973 when we got married, and had you make up a coffee mug with that picture on it to give to her for our 40th Anniversary. Great job, just wish I had a better quality picture, but you know 40 yrs. ago technology wasn't that great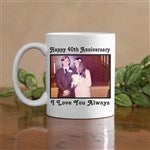 great experience
By
Shopper

(Baltimore, MD) - February 5, 2013
it was so easy to order these mug once I figured out which one I wanted for the large selection to choose from. The order came so fast and they look great and just the way I wanted them. Cant wait to order the next thing.


Great Mug
By
Shopper

(Nokesville, VA) - January 27, 2013
This mug is top quality and the image looks great on it as well! My only change would be if we could choose which side we wanted the picture on. I grab mugs with my right hand and would prefer if I had the option to look at the picture when drinking.

perfect
By
Shopper

(Canada) - January 25, 2013
ordered this for my friend's 50th birthday and it was perfect.the picture was clear.it was exactley how i ordered it.im in ontario canada-it took 5 business days.very good.i paid $15.00 with a gift box.(was on sale)plus shipping and handling .came to $40.95. a bit pricy on shipping.i order from the us alot and this was a bit pricy for a mug.so i will not be ordering alot.once in a while if i see something special for a special occasion.it would have to be very nice.i gave it 5 stars based on the product not shipping.

Great
By
Shopper

(Central Square, NY) - January 20, 2013
I ordered 2 cups and when they came they sounded broke so ups took them back and sure enough one was broke. But i will say it was a fast turn over and i got the unbroken ones and they were great.

great incentive
By
Susan B.

(Irvington, AL) - January 3, 2013 (
See all reviews by this customer
)
I ordered mugs for my employees ( we are a small business) they absolutely loved their coffee mug. I always serve them coffee in the afternoon along with a little "sweet morsel". when they saw their picture, on the mug. they were just thrilled. My husband says I need to order more, and just give them out to our customers. I ordered the mugs on the 22nd of Dec. and received them on the 24th Now that is GREAT SERVICE. I have never been disappointed with ANYTHING from Personalization Mall.. THANK YOU!!!!!!!!

Perfect for Odd Sized Pictures
By
Shopper

(Torrance, CA) - January 2, 2013
Ordered this mug as a last minute item. Faced with not only time issue but, the picture was taken so that it resulted in odd configuration. Tried many other personalization sites, the picture ONLY came out good from this vendor.

Photo Cup
By
Stephanie W.

(Bronx, NY) - January 1, 2013 (
See all reviews by this customer
)
I bought this for my sister. It was really special. I placed a picture of her with all her puppies from a litter her doggie had. She was very happy to be able t hold onto that picture each and every time she take a drink.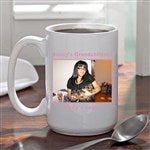 Great gift
By
Carol M.

(Coronado, CA) - December 31, 2012 (
See all reviews by this customer
)
We got this as a gift from the boys to their dad. It looks great and the mug is large and heavy. Perfect!

Great mug for home or office
By
Michael K.

(Mission Viejo, CA) - December 30, 2012 (
See all reviews by this customer
)
I got this with a picture of my son as a gift for my wife. She loves it. Great mug, great picture quality, easy maintenance (dishwasher and microwave-safe).

NICE
By
Shopper

(SELLERSVILLE, PA) - December 30, 2012
VERY NICE MUG;PICTURE JUST SEEMED A LITTLE DARK ON MUG BUT STILL CUTE

Great Quality
By
Shopper

(Sacramento, CA) - December 28, 2012
We ordered these mugs for grandparents in our family and everyone was raving about it. The quality is great and the pictures came out so clear. I loved the personalized words and it was a great deal! I am already planning Mother's Day and Father's Day gifts

Nice Product
By
Jerry A.

(Glenview, IL) - December 26, 2012 (
See all reviews by this customer
)
I've ordered a few of these cups in recent months because I was very pleased with the quality of the cup and the picture put on the cups.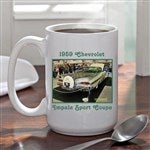 Perfect gift
By
Shopper

(Presque Isle, ME) - December 23, 2012
I purchased these mugs for my parents and aunt and uncle for christmas gifts. I have not yet given them but am sure they will love them. I know that they will use the mug for coffee and or tea and they will also have our family picture that I had put on in. They are elderly and have everything and have more pictures than they know what to do with, so this way they can display the picture while having a cup of coffee. I really hope they like them as much as I do. Will definetly order again

Just what I ordered
By
Vicki T.

(Mosinee, WI) - December 23, 2012 (
See all reviews by this customer
)
I had a hard time finding a personalized gift for a group photo, but this worked. Everything was on the cup as it looked while ordering, and the order came timely and in good shape.

Good product for the price.

These Are Great for Home or Office
By
Shopper

(Glenview, IL) - December 23, 2012
I've bought several of these and the 15 oz. version. They are good quality pieces and help you keep your memories 'front and center' all day.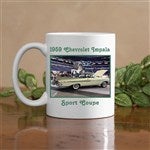 Great Item at Great Price
By
David B.

(Milan, TN) - December 20, 2012 (
See all reviews by this customer
)
These cups are wonderful. I ordered them for family members in rememberance of my wife and they were a hit. Great product with suoer fast shipping. Thanks So Much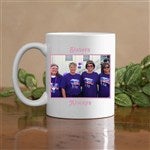 Super cute
By
Gloria W.

(Sacramento, CA) - December 17, 2012 (
See all reviews by this customer
)
This mug turned out so cute and will be a cherished gift for years to come, I'm sure!

great personalized gift and world class customer service
By
Juanita B.

(Lafayette, LA) - December 16, 2012 (
See all reviews by this customer
)
I was so excited to order a personalized mug for my friend for Christmas. You can imagine how heart-broken I was when I opened my package, days later, to find the handle had been broken off. No doubt, the fault of the shipper, because the box was on my cement stoop instead of on a table, shelf or chair, which were readily available. I called customer service and asked if there was anything that could be done. The friendly representative told me to email a picture of the broken cup and she'd have another one sent out!
I will certainly use this company again for anything I need like this!


EXCELLENT
By
Shopper

(Campbellsport, WI) - December 16, 2012
PRODUCT WAS RECEIVED IN LESS THAN A WEEK, LOOKS GREAT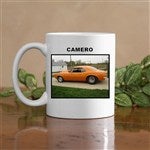 Returning Customer
By
Michael B.

(Florissant, MO) - December 15, 2012 (
See all reviews by this customer
)
Very happy customer, been buying from them for a few years now. All of my orders have been very accurate, and very fast delivery. Very, very happy.

Thank you.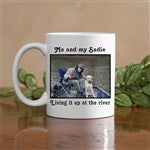 Coffee Mug with Great Photo!
By
Kathryn B.

(Alpharetta, GA) - December 12, 2012 (
See all reviews by this customer
)
As always, P. Mall does the BEST work. Ordered this for my mom to give one of her grandaughters and the photo is so clear. I just cannot say enough about the quality of everything I have ordered on this site!

Cute Cup
By
Shopper

(Atlanta, GA) - December 11, 2012
Exactly what I wanted. Quick shipping.