Cutest Valentine Ever
By
Angela S.

(Mossyrock, WA) - January 29, 2010 (
See all reviews by this customer
)
I bought this for my 16 year old son to give to his girlfriend for Valentines Day. She is going to love it. Thank you for your quality products.. I love buying from your site..

Will leave an everlasting impression & appreciation of creativity!
By
Andrew & Dee H.

(Canada) - December 3, 2009 (
See all reviews by this customer
)
This bear is far much cuter than I had ever imagined it would be. In person its even more of a delight. My spouse absolutely fell in love with this bear due to the personalized words that I had engraved on his t-shirt. This is a great value & the quality is wonderful. The only flaw is the color as it can get quite dirty rather fast (even for a collector who may be "older.") A great addition to this bear would be to have a choice of colors to choose from in the future if this concerns the buyer.
We would recommend this product to anyone who has a soft spot for teddies! Years later it will still be quite the "memorable gift" which will leave an everlasting impression anytime of year.

Too Small
By
Laura L.

(Plant City, FL) - March 2, 2013 (
See all reviews by this customer
)
wished it was bigger

Cute Concept
By
Shopper

(Denison, TX) - April 27, 2012
For $30 I would expect a higher quality product.
This bear is super cute, I love it.
I got it for my boy friend for valentines day.
He loved it.
The bear is really cute, however the bear's little shirt (in my opinion) is pretty cheap & thin. The personalization seems like it would rub off easy. I like it, but dang, $30 for this little guy is a bit steep. No regrets on this purchase.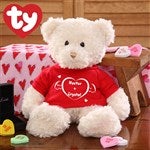 Smaller than it looks
By
Siew Pheng T.

(Rancho Cordova, CA) - February 18, 2010 (
See all reviews by this customer
)
The bear is lovely. Howver, 14" is really from head to toe, sitting down the bear is more like 8 to 10 inches. Pretty small. I would not have bought it if I had realized this.

Good Service but Bad way of advertisement.
By
Nguyen N.

(Oxford, OH) - February 11, 2010 (
See all reviews by this customer
)
My friend really like this bear and so do I. Its fur is really soft.
The only thing i really dont like about it is that there is a stamp inside it shirt and also below the bear. If personaizationmall can cut it out and just put their logo on the receipt, it should be better as the stamp distract us.

There is a logo of Personalizationmall behind the Card also and If personalization mention about it when I was ordering, I would not buy it.

not as described
By
RICK W.

(MCDONOUGH, GA) - January 21, 2010 (
See all reviews by this customer
)
bear has bow attached to its neck and doest show that in the pic takes away from the Personalized part of the shirt... and personalized is what this is suppose to be about

Not impressed
By
Mersades T.

(Cornelius, OR) - April 18, 2014 (
See all reviews by this customer
)
The bear is way too skinny, needs more fluff. The person I gave it to said "it looks anorexic" if I would have known it was going to look like this I wouldn't have ordered it, the best part was that the shirt is customized other than that the bear is low quality, the nose fibers are misplaced and you can't see the eyes. But it is a soft bear.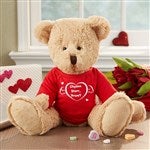 It's alright
By
Shopper

(Sterling Heights , MI) - December 6, 2012
I didn't really like it, it didn't come out how it looked. The shipping was fast though! When I got it o noticed the shirt and if was in great condition and quality . The thing the upset me the most was one ear was bigger then the other. Also the bears fur or whatever kept like falling off

Deceiving picture
By
Shopper

(Vincennes, IN) - March 1, 2011
The bear was much smaller than I thought it would be for the price. My daughter in law liked the personalization, but I was disappointed thinking the bear would be 14 inches seated.$28 is too much for this.

Disappointed with Product
By
Shopper

(Scottsdale, AZ) - February 17, 2011
Several years ago I purchased 2 bears from Personalization Mall and they were absolutely adorable, sturdy, could sit up on their own and were wearing sweaters with a personal message on them, not t-shirts. The bear I just received is pale tan in color which I thought would be white and is very flimsy. Also, the personalized t-shirt is poor quality and the white writing doesn't match the tan bear. I would not purchase this product again unless they went back to their old style.