Very pleased
By
April B.

(Swanton, VT) - October 28, 2012 (
See all reviews by this customer
)
I love the gift. I think he will love it too. I just wish the picture was a little bit bigger. like maybe the size of a nickle. i will need him to wear his glasses when he opens it, but i know he will love it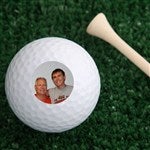 Small picture
By
Shopper

(Milwaukie, OR) - June 22, 2012
The picture on the ball is very small. I wish I could have submitted more than one picture for my one dozen balls. Otherwise the picture is very clear and looks really great.

Great Gifts
By Shopper (Hayward, CA) - May 24, 2012
This is a great gift for a father/grandfather who loves to show off their kids/grandkids!

nice
By
Shopper

(Hamlin, NY) - September 14, 2011
the picture i selected was of a deer and it came out clearly and my hubby loved them. some of the golf balls had a bit of missing paint but nothing too bad, the pictures were all still good.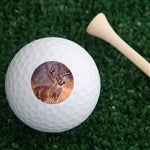 Fantastic!!!!
By
Melissa G.

(Shafter, CA) - June 27, 2011 (
See all reviews by this customer
)
My dad and father-in-law loved the golf balls!!! They look great and will make great momentos!!! What a perfect gift for a golfer!!! Thank you so much!!!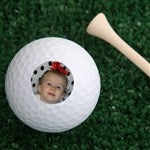 Unique & quirky
By
Jodi S.

(Sun Valley, ID) - December 18, 2010 (
See all reviews by this customer
)
I did this for my husband for Christmas. He'll probably think I'm crazy and he may not even use them given that it has a picture of our grandson on them, but I got them more for a laugh than anything else. Hope he gets the joke!

Father's Day Golf Balls
By
Genevieve M.

(Springfield, VA) - May 10, 2010 (
See all reviews by this customer
)
Perfect gift for the fathers and grand fathers in your life. Make sure to use a well defined face shot. The items are just darling, frankly, I don't know if they will want to use them but, they will -they're men! Great gift!

Personalized golf balls
By
Chad W.

(McLean, TX) - September 6, 2014 (
See all reviews by this customer
)
The golf balls shipped quick and the picture was very clear, but, the picture rubs off very easily and so some of the balls you could barely see the picture!

Photo golf balls
By
Elizabeth M.

(Yorktown heights, NY) - May 26, 2013 (
See all reviews by this customer
)
I agree with Kelly D. It's a great gift idea but the picture is very small. Its hard to see the face on the ball. I am going to use the balls on my husbands birthday cake. I just hope he will notice his picture on them!

Picture Golf Balls
By
Terry S.

(Ballwin, MO) - November 16, 2012 (
See all reviews by this customer
)
There was little time spent in uploading the picture and the delivery time was very good. The picture on the golf balls is OK but it is much smaller than I had anticipated or hoped for.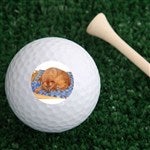 Retirement present
By
Elaine B.

(Orlando, FL) - October 20, 2009 (
See all reviews by this customer
)
The company was great in the ordering process as far as expediting- we were able to get the product in two days. One issue I have is that viewing the size of the photo on the golf ball it looked ok but when we got them they were so tiny you can't see the words in the picture. This may be more my fault but it would have been nice to have some interaction before I got the product.

Disappointed
By
Valerie J.

(Winder, GA) - September 10, 2014 (
See all reviews by this customer
)
I was so excited to receive this, as I was giving this as a gift. I was so dissapointed when I received, because you could hardly tell what the picture was on the golf balls that I almost didn't give the gift. It looked great on the website. I don't understand why they couldn't have made the picture bigger and taken up a little more of the blank canvas they had. I will not order these again. As you look at this picture show, it looks great, but what I received was blurry and so small.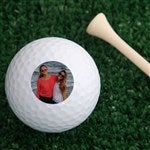 Dimple golfball pic
By
Shopper

(Petersburg, IL) - June 30, 2014
Was a great idea for son's first father's day ... as he is avid golfer .. with his new baby's picture on golf balls to hand out; but, picture didn't turn out as good as proof ... but should have expected the golf ball dimples to kind of interfere with print. Might have been better if picture would have been a little bigger too, because all the dimples wouldn't have made picture out to be little distorted. But he liked them anyway! Would have been nice to be in a box also.

Great idea but.....
By
Shopper

(Concord, NC) - June 16, 2014
It is a great idea for the golfer but it is terrible for the picture unless you have just the right picture and the picture is very light. NO matter what the photo looks like it comes out way darker. The picture preview looked great but when I got them in the mail.........you couldnt even see our dog just a black circle!!!!!!!!!! Not a great buy!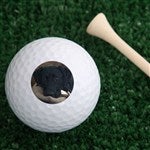 Picture too small
By
Shopper

(Mystic, CT) - June 14, 2014
The finished photo is too small, there is definitely room to make it bigger...not sure why they didn't.

Golf balls- personalized
By
Shopper

(Zachary, LA) - December 29, 2013
I felt like the picture on the golf balls was way too small. You could barely see my picture. I was not very pleased when they came in.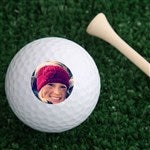 Personalized golf balls
By
Shopper

(Longs, SC) - November 27, 2012
I am very disapointed in the quality of the picture on the balls. It misses ink in many spots and is alot smaller than it appears on the ad. I would not recommend this product for anyone putting two faces on a ball. Maybe one would work out, but the one I chose did not. As you can see it cuts off to much of the photo.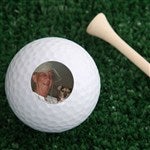 Poor quality & customer service
By
Shopper

(Fitchburg, MA) - September 16, 2014
Purchased the product for my mother on her 60th and the quality and picture were so horribly done that she didn't even know it was her!! Emailed the customer service and all they had to say was sorry but their quality department said it would come out the same...do basically come out not as previewed and they are okay with that!!?? Horrible service and DO NOT recommend you will be extremely disappointed...don't waste your money or time on a poor product.

Would give 0 if I could
By
Shopper

(Fitchburg, MA) - September 13, 2014
Extremely disappointed with the quality of the photograph. Not at all like it shows in the picture. My mothered opened it for her 60th birthday and couldn't even tell it was her. Do not be deceived not worth the money at all. Showed much clearer in the preview photo then the actual item received.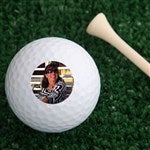 Poor Qualiy Photo Prints
By
Shopper

(Shelton, CT) - June 2, 2014
I was disappointed with the quality of the photo prints, and was actually embarrassed when my husband opened them up as our anniversary present. I don't think I'll be buying these again.

Personalizied golf balls
By
Shopper

(GREENVILLE, IN) - November 25, 2013
Photo MUCH too small and could have been larger as appears on advertisement. Funny idea, but would not order again due to size, price, and poorer quality than shown.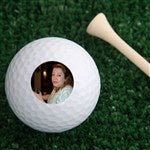 Disappointing
By
Kelly D.

(Houston, TX) - December 13, 2012 (
See all reviews by this customer
)
I ordered 2 sets of the golfballs as gifts for the grandfathers (one child's face on each set). The pictures were so small and so the quality wasn't very good. I think there is plenty of room on the golf ball to make the picture much bigger and then it would have been a 5 star. It's a great idea with poor execution. The pictures below DO NOT look like the actual product because (of course) the golf balls are dimpled so when the picture is that small it gets distorted too much by the dimples. Had the picture been bigger, I don't think the dimples would have mattered so much.