very pleased with this purchase!
By
Lori A.

(Kansas City, MO) - June 18, 2010 (
See all reviews by this customer
)
this is a fun, very nice product. it's going to be a fun gift! and the quick turn around and delivery was awesome! will definitely purchase from this company again!

A hit - for a 90 yr old!
By
Heather S.

(Wexford, PA) - June 15, 2010 (
See all reviews by this customer
)
Having not a clue as to what to get someone who's 90 (!) I turned to this website and searched and came upon this item.
I could fill in my own "fortune" and it was a hit!

It brought tears (of joy) to the 90 yr old man reading his "fortune" of having his great grandchildren to enjoy his life with.

The "cookie" is top quality and "authentically" stamped -made in china ;)



GIFT FOR A BEST FRIEND
By
Sheryl B.

(Yorktown Heights, NY) - April 12, 2010 (
See all reviews by this customer
)
MY BEST FRIEND HAS BEEN FIGHTING LEUKEMIA,AND EVERY SINCE I FOUND OUT,I HAVE BEEN CONSTANTLY BUYING HER SPECIAL GIFTS FROM THE PERSONALIZATION MALL. I SAW THIS FORTUNE COOKIE WHICH MEANT LONGEVITY AND I KNEW I HAD TO GET IT FOR HER WHICH ALSO INCLUDES A SPECIAL FORTUNE FROM ME. WHEN YOU WANT A SPECIAL GIFT THIS STORE IS THE ONLY PLACE TO GO.

Excellent Product
By
Stephanie D.

(Milwaukee, WI) - March 5, 2010 (
See all reviews by this customer
)
This product was perfect...it came packaged in a cute Chinese takeout container, and the personalized fortune was done VERY nicely. The only recommendation I would have is that the paper for the fortune could have been a little lighter. It was a heavy cardstock which made folding it to place it in the fortune cookie a little awkward. I would definitely recommend this product!

Rave reviews!
By
Corrine P.

(Tewksbury, MA) - March 2, 2010 (
See all reviews by this customer
)
This is a great gift with multiple uses. I gave it for a 70th birthday gift and everyone thought it was wonderful especially the recipient!

No surprises
By
Shopper

(Washington, DC) - June 16, 2012
The item arrived and it was good quality, thick paper. The fortune cookie is sturdy and worth the cost. I had a typo in the message that I didn't see until hours after ordering. I sent customers service an email and it was fixed quickly. I will definitely keep this company in mind when it comes to gifts in the future.

Great Gift idea
By
Melany J.

(Canada) - July 27, 2011 (
See all reviews by this customer
)
Love the silver fortune cookie with personalized message, its a gift from my son to my mother she is a first-time Grandma and her B-day is in a couple wks and i know she will just love it!!! Thanks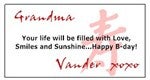 Very pretty.
By
Dafna N.

(Evanston, IL) - March 22, 2011 (
See all reviews by this customer
)
I bought this as a gift for my friend's birthday and she owns a Chinese restaurant, so I thought it was most appropriate! It was a bit expensive for how small and simple it is. As well, I wish that the note inside was laminated or taped in or something, because that is the personalized part, and it could get ruined or lost easily. It would be advantageous to be able to personalize the actual fortune cookie, rather than a personalized note inside.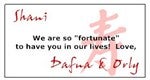 tough cookie
By
Sridevi D.

(Topeka, KS) - February 4, 2011 (
See all reviews by this customer
)
container maybe could've been nicer? i don't know, i suppose what i was expecting about the equivalent of a chinese take-out box. the cookie was nice and well-received by my father who is very difficult to buy for. good for the person for whom only a sentimental gift is worthwhile if you can think of something worthwhile to say.

Nice Gift!
By
Gary B.

(Seattle, WA) - November 23, 2010 (
See all reviews by this customer
)
I was happily surprised by the size of the fortune cookie. Unfortunately, the print quality on the enclosed paper was very poor.