50th birthday gifts for twins
By
Shopper

(Indio, CA) - April 3, 2014
The package was unique. The silver fortune cookie was substantial in weight and easy to open. The enclosed note was as pictured. I would like to see the note a little larger. Gifts were received with enthusiasm.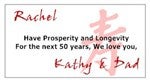 No surprises
By
Shopper

(Washington, DC) - June 16, 2012
The item arrived and it was good quality, thick paper. The fortune cookie is sturdy and worth the cost. I had a typo in the message that I didn't see until hours after ordering. I sent customers service an email and it was fixed quickly. I will definitely keep this company in mind when it comes to gifts in the future.

Great Gift idea
By
Melany J.

(Canada) - July 27, 2011 (
See all reviews by this customer
)
Love the silver fortune cookie with personalized message, its a gift from my son to my mother she is a first-time Grandma and her B-day is in a couple wks and i know she will just love it!!! Thanks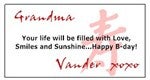 Very pretty.
By
Dafna N.

(Evanston, IL) - March 22, 2011 (
See all reviews by this customer
)
I bought this as a gift for my friend's birthday and she owns a Chinese restaurant, so I thought it was most appropriate! It was a bit expensive for how small and simple it is. As well, I wish that the note inside was laminated or taped in or something, because that is the personalized part, and it could get ruined or lost easily. It would be advantageous to be able to personalize the actual fortune cookie, rather than a personalized note inside.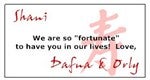 tough cookie
By
Sridevi D.

(Topeka, KS) - February 4, 2011 (
See all reviews by this customer
)
container maybe could've been nicer? i don't know, i suppose what i was expecting about the equivalent of a chinese take-out box. the cookie was nice and well-received by my father who is very difficult to buy for. good for the person for whom only a sentimental gift is worthwhile if you can think of something worthwhile to say.

Nice Gift!
By
Gary B.

(Seattle, WA) - November 23, 2010 (
See all reviews by this customer
)
I was happily surprised by the size of the fortune cookie. Unfortunately, the print quality on the enclosed paper was very poor.

Great Gift!
By
Joel W.

(Olathe, KS) - July 6, 2010 (
See all reviews by this customer
)
This is a great gift for someone who loves Chinese food or who takes those fortunes a little too seriously. I got this as a birthday gift and it was perfect. It's a really inventive and personal way to tell someone special that you see yourself in the other person's future. ;)

The fortune cookie is larger and heavier than I expected. I liked it better that way. It feels a little more well made that way.

The fortune inside is written on heavy weight paper. I liked that too as it would not get torn up as easily.

I chose this message:

"You will spend the rest of your"
"life with the man of your dreams..."

Good, but heavy
By
Sivasankari M.

(Blacklick, OH) - June 3, 2010 (
See all reviews by this customer
)
The cookie was awesomely made...there could have been some engraving on the cookie too for personalizing. It was a bit heavy. The size of the cookie could have been made similar to the usual fortune cookies...otherwise...i liked this gift..this was for my bro and I am sure he is gonna like it..Innovative

Unique gift
By
Sally W.

(Houston, TX) - November 13, 2010 (
See all reviews by this customer
)
I think the gift is very nice, and even comes with a bag to keep it in when not using. I was not pleased with the carton it came in though. Had to go out and purchase another container to make presentation.

Cute but not totally what I expected for the money
By
Tracia J.

(Houston, TX) - January 7, 2010 (
See all reviews by this customer
)
The actual fortune cookie was as expected, however the special packaging for the gift looked a bit cheap as did the personalized fortune in the silver cookie. The Chinese symbol on the takeout box was actually a sticker and not preprinted on the box and the stuffing inside the box was simply shredded pieces of (what appeared to be) recycled red paper. I would probably purchase this gift again because it's a really cute idea, but certainly not for the price it's listed at.

Cookie cute, fortune not so much
By
michelle B.

(vallejo, CA) - September 16, 2012 (
See all reviews by this customer
)
The cookie was exactly what I expected, but the fortune was folded 2x leaving folds horizontally and vertically on the fortune.. it looked cheap.