Bib for my grandaughter's christening.
By
Ellen S.

(LOUISVILLE, KY) - January 9, 2011 (
See all reviews by this customer
)
I purchased this bib for my grandaughter I was very pleased when I received it.
However when we tried it on her the neck opening was too small so she did not wear it to her christening. It would be helpful if they listed the measurements around the neck in the description.

Christening Bib
By
Mary F.

(Oakland, MS) - December 11, 2010 (
See all reviews by this customer
)
Loved this! Very cute and holds up well when washed.

Manufacturer should redesign ... too small for baby's neck ...
By
mary ann M.

(floral park, NY) - July 29, 2010 (
See all reviews by this customer
)
The bib itself is pretty but the neck opening will not fit an average size infant. Our baby is only 8.5 lbs. There is a snap opening with no adjustment. Very disappointing.

Neck too small
By
Kelley D.

(Pompano Beach, FL) - May 8, 2010 (
See all reviews by this customer
)
I felt the neck opening is too small for older babies. My daughter is 6 months and it barely fits her.

to small
By
mary M.

(chicago, IL) - March 16, 2010 (
See all reviews by this customer
)
very nice but the neck ws to small he did not wear it

bib too small
By
Anna P.

(Scarsdale, NY) - March 3, 2010 (
See all reviews by this customer
)
The bib is quite small and I don't think it will fit the baby's neck comfortably. I think the neck hole should be larger since some babies are larger and some are christened at 6 months.

Christening Bib
By
Debra E.

(Morton, IL) - November 17, 2009 (
See all reviews by this customer
)
The bib was very cute, but the lettering was crooked. The thing that upset me was the cost of the postage. It was sent in a white plastic envelope and did not weigh much at all. The total cost for the bib was almost $30. I could have bought the Christening dress itself for that price.

Bib opening too small
By
Shopper

(Westbury, NY) - January 20, 2013
I was very excited to receive the pretty lacy bib for our granddaughter's christening. However, on the big day when we tried to put it on her little neck the opening was too small and we could not snap it without practically choking her. So we ended up just placing it on top of the dress, and she promptly pulled it off. Oh well. At least it will end up in the memory drawer!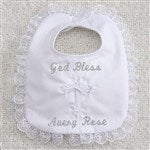 Too long to be delivered
By
zuleika M.

(deerfield beach, FL) - May 22, 2012 (
See all reviews by this customer
)
I ordered this for my godchild and it took so long to be delivered and arrived 2 days after the baptism, very upsetting.

Beware of neck size
By
Shopper

(philadelphia, PA) - May 8, 2012
The bib is pretty and the embroidering looked nice, but the neck opening is very small once snapped shut. When I contacted customer service about what appeared to be a product defect the rep first stated that she hadn't gotten any other complaints about the neck size (not so, according to many customer reviews) and I was asked if the baby was a newborn. Firstly, if this bib is meant for newborns it should state as much in the description, and secondly, I don't believe the majority of babies are newborns at their baptisms! The snaps are attached over the actual "ties" of the bib and use up about 2 inches of much needed space. Since they wouldn't issue a refund I'm keeping the bib but will use an alternative way to attach it.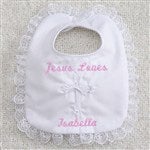 neck hole too small
By
Sandra S.

(Charleston, SC) - September 6, 2011 (
See all reviews by this customer
)
Beautiful bib, great fabric and stiching. HOWEVER, the neck hole is way to small...even for a premie. It is NOT as depicted because the neck hole in no way would fit a baby.

Neck too small
By
Shopper

(Bloomington, MN) - August 12, 2011
I've always been totally satisfied with everything I have ordered in the past and this bib is really nice but it's too small for my granddaugther. The neck opening is way too small, I don't think it would have fit her when she was born at 4lbs. 1oz. I hope you can change this on future orders because it is a nice quality product.

Good Enough
By
Shopper

(Flushing, NY) - March 28, 2011
I was very excited to purchase this for my goddaughter's christening. I received it quickly after ordering which was a plus. I have to admit I'm a little disappointed. It's clearly too small, and won't fit around her neck. I'll have to makeshift with string so it can fit. The threading (I got white, and it looks beautiful) came out nicely, though one of the letters seems a bit messed up, and the phrase itself is a tiny bit uncentered. The lace, however, is wonderful.

I wish they would have given us sizing options for this! As is, it's definitely perfect for a newborn.

Not great and perfect, but not not worth it, either.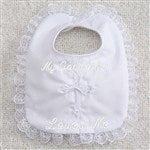 Poor quality
By
Richard L.

(Castro Valley, CA) - July 19, 2013 (
See all reviews by this customer
)
So disappointed with this!!! Too thin, too small----looks much better in the photo online.

Super small neck hole
By
Shopper

(Piscataway, NJ) - July 12, 2013
The area that snaps around the baby's neck is unbelievably small! Very disappointed with item. I won't even be able to use this!

TOO SMALL
By
Alicia B.

(Bensalem, PA) - January 20, 2013 (
See all reviews by this customer
)
Only buy if child is 6 weeks or less otherwise its TO SMALL! If its personalized you can not return the item . In my opinion personalizing makes it even smaller!

too small
By
Shopper

(Bayport, NY) - November 16, 2012
The bib was lovely, but we could not use it, because it was too small.
My granddaughter is not a large four month old, but the bib did not fit. This was very disappointing.

Not what I expected
By
Shopper

(White Plains, NY) - February 10, 2012
I was unhappy with the size of the actual bib. The neck is extremely small so if you are giving this to a baby that is more than 3 months its not a good fit.

Too small
By
Judith M.

(staten island, NY) - January 28, 2011 (
See all reviews by this customer
)
I would've loved to give this bib to my Godson to be but the size would barely fit around a can of soup. Unfortunatley it is of no use. Maybe if I could find an extention, I could still have him wear it.