very nice
By
Shopper

(mechanicsburg, OH) - December 27, 2011
looked great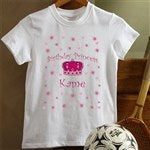 Waiting
By
Shopper

(Alabaster, AL) - November 20, 2011
STILL waiting to receive it....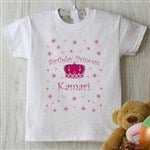 BEAUTIFUL
By
Shirley H.

(Lexington, SC) - October 21, 2011 (
See all reviews by this customer
)
ABSOLUTELY BEAUTIFUL. I CAN'T WAIT UNTIL MY GRANDDAUGHTER'S BIRTHDAY TO GIVE IT TO HER. SHE WILL BE SO EXCITED!! THANK YOU FOR OFFERING SUCH UNIQUE GIFTS.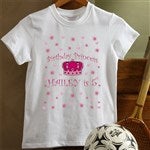 Birthday shirt
By
Shopper

(SAN JOSE, CA) - October 11, 2011
This shirt turned out great. It's of good quality and the printing was perfect. It arrived very quickly and overall, I am very satified with this purchase. Definitely would order from here again.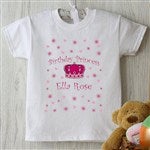 precious
By
patricia V.

(pittsburgh, PA) - October 7, 2011 (
See all reviews by this customer
)
this shirt is so cute. really great quality. I can't wait to give it to my grandaughter for her 1st birthday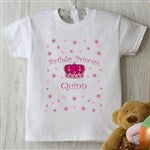 princess shirt
By
Tonya N.

(Mount Hope , WV) - July 12, 2011 (
See all reviews by this customer
)
Love the shirt but the sizing is off size states 2-4 which I was concerned about cause I needed for my lil one that is getn ready to be 3yrs old. So, I order the 2-4 but I should of order the 24months cause it way too big for her! :'( other than that its a really cute shirt!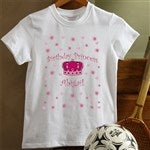 I Love this shirt!
By
Jill C.

(Gilroy, CA) - May 4, 2011 (
See all reviews by this customer
)
I wanted a special t-shirt for my daughter's birthday so I went online & found this website. I ordered this shirt & I LOVE it! It is high quality for a great price! I will definitely buy from this website again!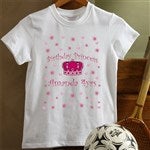 Birthday gift
By
eileen M.

(novi, MI) - November 14, 2012 (
See all reviews by this customer
)
My granddaughter loved the shirt because it had her name on it and said she was a princess for her birthday! fast shipping! excellant value and made her birthday very special!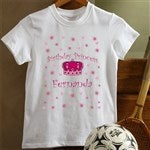 Adorable!!
By
Maryjo B.

(Windsor, CT) - October 30, 2012 (
See all reviews by this customer
)
I ordered 2 of these, one for my daughter turning 7 and one for my niece turning 3. They love to match and love princesses. They look great on both girls and they are so happy with them.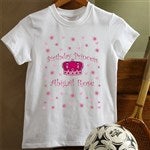 Maggie's Birthday Tee Shirt
By
Benetta K.

(Baltimore, MD) - September 15, 2012 (
See all reviews by this customer
)
This is such an adorable Birthday gift for any little girls special day.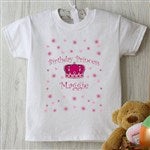 Great price, Great fit, Great quality!
By
Shopper

(Colbert, OK) - August 31, 2012
I purchased this T-shirt for my grand daughter to wear for her 7th Birthday Party we are having for her at a large family get-together over the Labor Day week-end.She loves it! It's adorable on and fits perfect! The size was 6-8 and I wasn't sure how it would fit. Her Birthday is the week following Labor Day and she is so excited about wearing it to school on her Birthday. Thanks Personalization Mall you've come through for me again!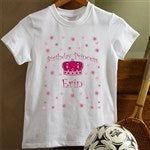 super cute
By
Shopper

(tacoma, WA) - April 17, 2012
I bought this for my daughters 7th birthday it was perfect and very affordable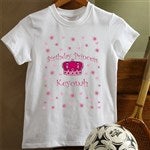 Great for HALF Birthday
By
Denise O.

(Winlock, WA) - February 10, 2012 (
See all reviews by this customer
)
Since you could personalize it, I was able to put my daughter's name then - 3 1/2. The shirt seems of good quality. Size runs a little large, so the personalization ends up tucked in the skirt, pants, or shorts. Might be a night shirt for a bit. It also came the afternoon of the day I needed it in the morning, so be sure to order more than a week before you need it.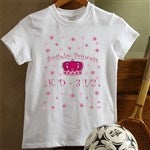 Cute and good quality
By
Shopper

(coldwater, OH) - February 13, 2012
I ordered this for my daughters 3rd birthday. Since it only comes in Youth sizes I got small of course so it might be a bit big but she'll be adorable in some leggings with it. I washed it and dried it for a little bit then hung it up to dry the rest of the way like I do most of our clothes. It seems pretty wrinkled and that is my only complaint b/c it says to not iron it. The shirt brand is Hanes so it is good quality. Over all I'd recommend this product.

Great birthdy tee!
By
Sharon T.

(Greensboro, NC) - September 15, 2012 (
See all reviews by this customer
)
I bought this tee for my daughter's 7th birthday party. I had been searching all over the web for a personalized tee. I am glad i found personalizedmall.com. The tee is thick and durable, the design is just as it is on the picture. I ordered a 6-8 and she will probably be able to wear it next year if she wants.It looks great! She won't wear it until next week but it's going to be a hit! I anticipate other moms wanting to know where I bought it. I only wish the site would have had something with a little more sparkle or more than one to choose from. However, I am very pleased with my purchase, it arrived quickly and was just what I expected. I will be coming back to the site for my future personalized needs.

T Shirt
By
brandi T.

(orlando, FL) - November 9, 2009 (
See all reviews by this customer
)
My daughter was the center of attention on her birthday with her personalized Tshirt, she just loved it!

it was wonderful
By
kimberly F.

(ferriday, LA) - October 27, 2009 (
See all reviews by this customer
)
I loved the shirt I just wish I would have had time to order invitation cards. thanks alot

super cute
By
Shopper

(Barrington, RI) - June 3, 2011
really cute and know my neice will love it but you can see where the item is iron on the shirt...she won't notice so it's huge negative

Great Buy
By
Milena W.

(East Providence, RI) - November 17, 2010 (
See all reviews by this customer
)
This little shirt is so adorable. Its perfect for my godchilds first birthday. Only thing I would be careful with is the size you pick. The shirt is tight and doesn't offer tons of stretching.

Just Ok
By
Shopper

(East Jordan, MI) - January 27, 2011
I was really dissapointed when I opened the package because I thought the design would be much bigger but its looks better once they are put on. They are just ok. Worth the price. U get what U pay for I guess.

Princess Birthday Shirt
By
Shopper

(Laurelville, OH) - January 24, 2011
Cute T-shirt! Ordered on Wednesday, had package by Friday! Wonderful packing as well. Well pleased with my purchases.

Great Idea!
By
Shopper

(Templeton, IN) - May 6, 2011
Cute little shirt, makes a great birthday present. The shirt is a little bigger than I thought it would be, but that's OK kids grow so fast and most like t-shirts a little big. I gave it 4 stars because it is a little stiff. That is most likely due to the printing process. Would buy it again and glad I found it!

too cute
By
Shopper

(EAST MEADOW, NY) - February 7, 2011
The sweatshirt is so very cute & very well made. It is what I have come to expect and always receive when I order from personalization mall.com

I really would like you to have more STUFFED ANIMALS for personalization
tk

Birthday Princess t- shirt
By
Reda B.

(Minden, NV) - October 15, 2010 (
See all reviews by this customer
)
This was a birthday gift for my friend's 3 year old granddaughter and it looks very nice. She'll love it since she is having a princess birthday party. The personalization was perfect with her name and "3" just as I had ordered it.
Thanks for another great job on my order!

Perfect Shirt for a Perfect princess
By
Delores C.

(Canada) - August 3, 2010 (
See all reviews by this customer
)
Very good quality and the perfect caption for my Princess (Granddaughter's) Birthday.

High Quality & Excellent Value
By
Shannon O.

(Pembroke Pines, FL) - July 1, 2010 (
See all reviews by this customer
)
Don't let the inexpensive price fool you. This shirt is high quality material. It is the thick t-shirt material, not the cheap almost see-through material. The colors are bold as pictured. The font style is very fitting for the design. I wanted my daughter's age on it also so I had them put "Hayli - 3" and it came out beautiful! I am very impressed with the shirt.

This is a great product and an excellent value. I received my order within days, which is always the case with Personalization Mall, and couldn't be happier with my purchase.

nice surprise
By
Shopper

(woodbridge, VA) - January 19, 2013
very nice t-shirt, Granddaughter will love it!

So cute!!
By Shopper (Huntsville , AL) - May 8, 2012
Just received my order for my girls first birthday and it's so cute. I am very pleased with it. I am glad I read all the reviews and I ordered 18 month I am so glad because it does run small. But overall I am very happy with my purchase.

Perfect
By
Shopper

(Stanwood, WA) - April 29, 2012
Ordered for our grandaughters first Birthday. Arrived EXTREMELY quick! It is absolutely adorable

ADORABLE!
By
Dorka B.

(Miami, FL) - May 7, 2010 (
See all reviews by this customer
)
I purchased this as a gift for a one year old and it was a HIT! The shirt is of great quality, even cuter than in the picture. I would definitely buy this again!

Love it!!
By
Geelapond P.

(Douglasville, GA) - March 11, 2010 (
See all reviews by this customer
)
My daughter loves this shirt...Just as described..very fast shipping.

Great Gift
By
Matthew P.

(Norman, OK) - March 4, 2010 (
See all reviews by this customer
)
This was bought for my daughter's 3rd birthday. The shirt fit perfectly, looked amazing, and arrived in days. Worth every penny! We will defiantly look to order more personalized shirts for future events.

My Princess Loves this Shirt!!!!!!!
By
Latrina R.

(Ellenwood, GA) - February 22, 2010 (
See all reviews by this customer
)
This Shirt Is The Cutest Ever!!!! My Soon to be 3 Year Old Is Very Excited to Wear Her "Princess" Shirt For Her Party!!!! Fast Shipping!!!!!

middleagemom
By
Christi M.

(Juliette, GA) - May 3, 2010 (
See all reviews by this customer
)
Very pleased w/ product. Shirt is thick & quality is solid. My little girl lit up when she saw it. Excellent price for a personalized tee!!

Birthday T
By
Marjorie P.

(Johnson City, NY) - March 22, 2010 (
See all reviews by this customer
)
Love it.

Birthday Hit
By
Lisa Y.

(Killeen, TX) - March 16, 2010 (
See all reviews by this customer
)
All the parents at my party loved this gift idea for the birthday girl who wore it all day. My daughter thought it was cool to see her name engraved on the T-Shirt and truly felt like a princess for a day. I was even more pleased that the package arrived ahead of schedule and right on time. Delivery was only 3 days from the purchase date. Thank you personalization for everything.