Love it!!
By
Shopper

(Elmora, PA) - September 28, 2014
I got it for my daughter's 4th birthday because she doesn't have anything with her name on it. It fits perfect and she has room to grow. She will be able to wear it now and for years to come!!! Beautiful!!!

Excellent gift!
By
BRENDA A.

(Gary, IN) - August 22, 2014 (
See all reviews by this customer
)
Gave this as a present to a young lady that I know. She just turned 13 and this is her first piece of jewelry. It is even more special to her because of the personalization.

darling bracelet
By
LAURIE G.

(LUFKIN, TX) - December 27, 2013 (
See all reviews by this customer
)
bought 2 of these as gifts. Both our granddaughters, 10 and 11, LOVED them! Very shiny and sparkly...what every little girls likes!

very nice
By
Shopper

(euless, TX) - September 15, 2013
I purchased these for my nieces and the all said they loved them and thought they are very nice.

A winner!
By
Shopper

(Brooklyn, NY) - July 1, 2013
Lovely gift for a young girl. Very pretty and unique. What's more, its a great price.

Much prettier than I thought
By
Shopper

(Diamond Bar, CA) - June 3, 2013
I wasn't sure what to expect and they turned out to be much prettier than I thought. I didn't want them to look like a dog collar and they certainly don't! They were a gift for my bff and her daughter who had a preemie who is in NICU. The baby is very sick and they are there hours/day. The perfect gift for them to be with her all the time even when they can't be. They even came in a pretty bag.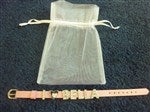 Awesome!!!!
By
Adina T.

(Allen, TX) - April 26, 2013 (
See all reviews by this customer
)
I ordered this bracelet for a 13th birthday gift and was a little nervous because previewing the end result for this item was not available and I sent it directly to "Grace" (a heart on each side of her name with the pink strap). Let me tell you, she absolutely LOVED it.. She immediately sent me a text ""Thanks for the Awesome Bracelet I Love it!!!!!!! Love Grace"". She wore it to a bridal shower the next day and everyone commented on how cute the bling was. So for not seeing it first hand I have to go with it's AWESOME!! Just another GREAT Personalization Mall item.

striking
By
Mary M.

(Laurel, MD) - March 19, 2013 (
See all reviews by this customer
)
i appreciate that once again PersonalizationMall.com delivered on my hope that a gift will be as nice as i envision. this will be a lovely birthday gift for my granddaughter. she's going to love it.

Beautiful!
By
Shopper

(Hinesville, GA) - March 8, 2013
I PURCHASED THIS BRACELET FOR MY NIECE'S BIRTHDAY, SHE LOVED IT AND I COULDNT BE MORE HAPPY! WHEN IT ARRIVED IT WAS ALREADY ASSEMBLED, WHICH IS GREAT BECAUSE WE LIVE IN DIFFRENT CITIES AND I WANTED IT TO BE SPECIAL FOR HER BIG DAY, IT WAS THAT AND MORE, THANK YOU!!!!!!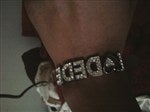 Glam!
By
Randi S.

(Yorkville, IL) - February 22, 2013 (
See all reviews by this customer
)
Bought the pink bracelet for my 8 year old niece's birthday with her name and the heart charm - she LOVED it! It is so bling and great quality. I would buy one for myself, but I have small wrists and the letters are just a tad big (not huge, but not dainty either) for my style.

Wonderful Gift
By
Shopper

(Lostant, IL) - February 14, 2013
This lovely bracelet was the perfect gift for Valentine's Day for a 9 year-old! She loved it, as did her Mom...who hinted she may like one. I was happy that it came assembled, as I have heard that some sites send them in pieces.

Delightful!
By
Diana C.

(Cannon Beach, OR) - December 9, 2012 (
See all reviews by this customer
)
This bracelet is so cute.AI great gift for a little girly girl.

Perfect gift for young girls!
By
Angela B.

(Breinigsville, PA) - December 2, 2012 (
See all reviews by this customer
)
I was really pleasantly surprised when I received these bracelets. I ordered 2 as gifts for the daughters of a friend and 1 for my own little girl as a stocking stuffer. I know I will always get great quality at Personalization Mall, but these bracelets exceeded my expectations. The picture doesn't do them justice. They are really stylish and very sturdy.

a true princess bracelet for my 7 yr old niece!
By
Shopper

(lakewood, NJ) - October 5, 2012
purchased this in pink for my niece's 7th birthday, it is simply beautiful and of high quality, wish it came in my size!!! for any girly girls this is a perfect gift...

Totally Satisfied!!!!
By
Leslie C.

(Atlanta, GA) - April 23, 2012 (
See all reviews by this customer
)
I searched all over for something that would allow #'s and this was perfect. The charms are of good quality. I wish they offered something like this a key chain. 100% satified

Beautiful
By
Shavonne A.

(Pataskala, OH) - April 9, 2012 (
See all reviews by this customer
)
This was just as described and it was sooo beautiful!!!! Bracelet was very durable and rhinestones looked like real diamonds :) Love it!!!!

Absolutely beautiful!!!!
By
Akita B.

(Monroe, NY) - March 30, 2012 (
See all reviews by this customer
)
I purchased this charm name bracelet for myself, which says my daughter's name and I love it so much I'm going to order another! It's blingy and stylish!

Blingtastic
By
Heather G.

(Port St Lucie, FL) - October 17, 2011 (
See all reviews by this customer
)
This is a great gift and is absolutely beautiful! :)

Love my bracelet!
By
Shopper

(Brandon, FL) - June 20, 2011
I bought the black band and 3 letters - my son's initials. I absolutely love this bracelet. I wear it every day! The bracelet has held up through my baby pulling on it, water submersion, you name it! The band and the letters still look brand new after 3 months of continuous wear. I constantly receive compliments on it, and people are always asking where I bought it!

So cute!
By
Amanda R.

(Benton, AR) - March 29, 2011 (
See all reviews by this customer
)
I bought this for myself with my daughter's initials and a friend as a baby shower gift. It shipped fast and is so cute on! I love it! I also bought 4 black beaded bracelets to go with it and that made it even cuter. I would definitely recommend this item!

My 15 yr. old granddaughter love it!
By
Shopper

(Panama City Beach, FL) - February 11, 2011
I purchased this this for my 15 year-old granddaughter, and it was the highlight of her birthday. Most of the time I give gift cards, as teens are so hard to buy for, but this item just caught my eye. She couldn't wait to put it on!She absolutely loved it.

My 8 year old niece loved it.
By
Susan B.

(New York, NY) - January 9, 2011 (
See all reviews by this customer
)
It took a long time to ship (too long?) but se loved it when it finally arrived.

very pleased
By
debbie F.

(Garland, TX) - December 26, 2010 (
See all reviews by this customer
)
Was not sure about the quality of the items odered online.

Received the items and was very pleased. I will surely order again.

LOVE IT!!!
By
Jason R.

(Stoneville, NC) - September 8, 2010 (
See all reviews by this customer
)
This bracelet is awesome! It's shiny, girlie, and just gorgeous! Super happy with this purchase! As always, I will continue to order from here.

Karen D
By
Karen D.

(Glendale Heights, IL) - March 26, 2010 (
See all reviews by this customer
)
I wasn't too sure about this item, but when I received it I knew my granddaughter would absolutely love it. It is an Easter gift and the blue color will be a bit hit.

I LOVE ITTT!
By
cynthia V.

(philadelphia, PA) - February 8, 2010 (
See all reviews by this customer
)
I just got my order today! It took them only 5 days to send it! love it. I will recommend this for any girl! I will definitely order another color soon.

Great!
By
Leah C.

(Grovetown, GA) - December 8, 2009 (
See all reviews by this customer
)
Very cute! Letters are nice and sparkly! I wish I would have ordered myself one too!
VERY fast shipping!

Slide bracelets
By
Tena B.

(Mineral Wells, TX) - November 16, 2009 (
See all reviews by this customer
)
My nieces are going to love their bracelets. They are even prettier than the photos in your on-line catalog. This is an excellent gift idea for teenage girls.


I'd LOVE to get this as a gift from someone!! It's so coooooool!!
By
Janis B.

(Ponsford, MN) - October 16, 2009 (
See all reviews by this customer
)
I got the idea for this style bracelet at a trendy little shop. I couldn't buy it because they didn't have all the letters I needed. I searched all over the net and LUCKILY found Personalization Mall!! This is the only bracelet I found that was real CZ's and not cheap rhinestones. Also, the only one claiming not to tarnish! A BIG DEAL when giving as a gift! The band is MUCH NICER than any I've found and the CZ stones are a perfectly, nice Big size. Not too big, not too small :) This was a gift I was proud to give and I know it'll last waaaaaay longer than any brand out there. This is a quality bracelet for a realistic price. Personalization Mall processed my order and it shipped super fast. I'm totally impressed from beginning to end with my purchase and anyone should have confidence ordering this adorable bracelet. I'm an 'arm chair shopper' and order a lot online and this should be rated 10 STARS!!!

Great quality but not dainty or sweet
By
Shopper

(alto, NM) - December 16, 2012
This bracelet is of awesome quality but I expected it to be more feminine - dainty, sweet, smaller. It is bigger than I expected, kind of clunky. It's very pretty but if I ha seen it first, I would not have bought it. It's just too big and cumbersome. I gave four stars for quality and my bad for not measuring before I ordered. But you would think that a females bracelet would be more feminine.

Better Than Expected
By
Leslie M.

(Boulder, CO) - December 10, 2012 (
See all reviews by this customer
)
When I received this item in the mail, the quality was a lot better than what I expected. I bought this gift for a 10 year old girl, with her name on it and a heart charm, and I think it's perfect!

Cute
By
Angilee L.

(Fairburn, GA) - December 10, 2011 (
See all reviews by this customer
)
Got it for my 5 year old. She will love the bling..I think the charms could be smaller..But it is still very cute

Shimmering bracelet
By
Cynthia C.

(Clewiston, FL) - August 24, 2010 (
See all reviews by this customer
)
The letters were larger than they appeared on your website and I was a little disappointed because I purchased the bracelets for two little girls, ages 2 and 4, who like "bling." Quality of the product is fine and I received them in 3 days.

Plenty of BLING!
By
Margaret H.

(Holmes Beach, FL) - April 27, 2010 (
See all reviews by this customer
)
Very sparkly & just what a young girl would love! Would have preferred the letters being more secure & not able to move around, but all in all it is a "fun" bracelet for a little girl to feel like a "big" girl!

nice job
By
Suann E.

(Stanhope, NJ) - December 8, 2009 (
See all reviews by this customer
)
Company shipped quickly and the bracelet is all I thought it would be. I think it will be a well loved Christmas gift for our neice.

Very cute for the price...
By
Shopper

(Charlotte, NC) - April 21, 2011
I actually bought this for myself, I am 30, and I love the concept but I did not realize it was not on a leather band. The overlay is sturdy but the plastic under is not. I have had this bracelet for 2 weeks and the plastic has broken. The overlay is the only thing holding it together. I would think if you got this for a younger person they might be even more rough on it, but for the price I can always go buy another band. Over all a cute product.

Pretty
By
Madison M.

(Deer Park, NY) - May 20, 2010 (
See all reviews by this customer
)
I loved my bracelet the only problem I had was with the quality of the band....it seems to be splitting...and coming apart..everything else was awesome

Very Disappointing
By
Shopper

(Edmonds, WA) - December 1, 2013
I was so excited when I found this, thinking it would be the ideal gift for my young niece. Customer service answered my questions and my order was received promptly. The bracelet itself is very disappointing. The problem is that the charms are not secured in any way to the leather band, allowing them to slip off easily when the bracelet is being taken on or off, and possibly get lost. Also, the charms slip around while on the wrist, creating odd-looking, uneven spacing. A big disappointment.