Honeymoon reminder
By
Jacqueline P.

(Ozark, AR) - December 20, 2011 (
See all reviews by this customer
)
This will help remind my son and his wife of their wonderful honeymoon in Hawaii. The picture quality was great.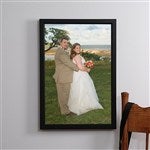 Beach Vacation
By
Paula H.

(Springboro, OH) - December 12, 2011 (
See all reviews by this customer
)
Canvas turned out beautiful. My two children (12 & 9) on the beach during vacation last summer. The colors of the dunes, sand, and sky are wonderful. I am so happy with it...a treasure for sure!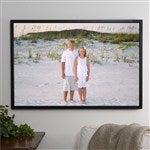 Beautiful canvas print
By
Shopper

(Stanford, CA) - December 4, 2011
I got a canvas print of a digital illustration that I had commissioned. I'll be giving this as my wedding gift to my fiancé. I looked at the prices at other stores as well before deciding on this one and this was about half the price of the cheapest one out there. The quality is excellent; befitting of a wedding gift. One thing I did was to have the artist who drew this for us add solid color borders to the picture so canvassing it wouldn't cut into the actual picture. Some people like it when the picture is wrapped around the corners but I preferred not to since I wanted it framed. I'd recommend it to a friend.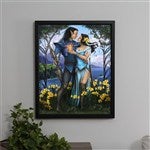 Wonderful!
By
Shopper

(Aliso Viejo, CA) - November 29, 2011
I bought this canvas of a cute picture of my fiance and I during our engagement photos to hang above our new fireplace, and it looks amazing! The quality is fabulous and I can't help but get a grin on my face every time I look at it. Plus, the price is unbeatable! We are definitely going to get more canvases made from vacations and our wedding too! Thanks PersonalizationMall, I still love you! :-D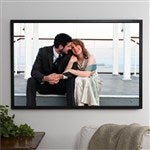 Timeless pictures to cherish
By
Shopper

(Excelsior Springs, MO) - October 15, 2011
My picture was the last photo I had with my Grandpa holding my son at Christmas time. The product was great, the picture was very clear and turned out awesome in black and white.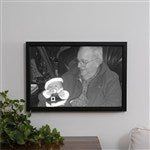 Twin Granddaughters
By
Shopper

(Carlinville, IL) - September 23, 2011
The 3 photos of our twin granddaughters having fun spraying each other with the garden hose are truly a joy to wake up to each morning. I will definately be ordering from your site again. The quality was exceptional and the delivery was quick. Thank you once again for preserving our memories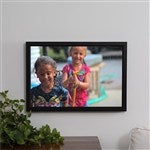 Wedding Photo Canvas - 12" X 18"
By
Regina W.

(Cloverdale, VA) - August 12, 2011 (
See all reviews by this customer
)
This is my first canvas photo I have ever ordered. So, I really don't have anything to compare it to. I have received compliments on it already. I do wish the color was a little more vibrant. It seems less colorful than regular pictures. I also noticed VERY slight crease marks in the canvas if looked at from the sides, in areas where the wood backing is located. Overall, I am pleased with my purchase and it was a good value. Thanks!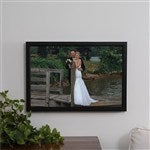 Meaningful art in your home
By
Shopper

(Littleton, CO) - August 12, 2011
We used a favorite photo we made to be printed on the canvas. It worked out great! Instead of just buying "art" from a store that looks like what eyeryone else buys and is popular for the time; we have something that is special to the entire family and creates our own decor!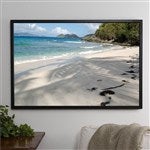 Hard to please bride
By
Julie H.

(Wichita, KS) - July 11, 2011 (
See all reviews by this customer
)
I was very impressed with the way my canvas from our wedding turned out. It arrived in a timely manor. The price was amazing and the quality was wonderful. I was very impressed!!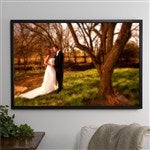 Perfect for Custom Artwork
By
Shopper

(San Gabriel, CA) - March 9, 2011
I uploaded some custom artwork (not a wedding photo) and the results were fantastic. Wasn't sure what to expect as PM's pricing was well below what I saw elsewhere, but the quality and finish was excellent. They simply do it as well as all the others, only less expensive. Once I figured out the dimensions, the rest of the process was easy. We had the canvas within a week.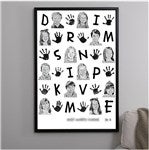 wedding photos
By
Deanna B.

(Woodbridge, VA) - September 5, 2014 (
See all reviews by this customer
)
the canvases are amazing!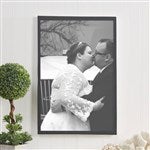 A Family Treasure
By
Shopper

(Pikeville, KY) - July 22, 2014
This product was exactly what I ordered. Another job well done from P.Mall. Thank You and I will be back soon to order more products.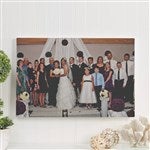 Wonderful!
By
Domenique S.

(Palm Coast, FL) - February 19, 2014 (
See all reviews by this customer
)
After losing my beloved Boxer puppy, Harley Duke, I decided to have a large canvas made of him. When I received it, tears came to my eyes. It was so life-like and detailed that at times we feel as if he is really looking at us. This gift is perfect to memorialize someone special to you or to remember a special moment. I've recommended this product to many of my friends and family.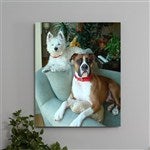 Very Cute
By
Shopper

(Dallas, TX) - January 4, 2014
We got this for our house. It's really pretty. It got shipped really fast. Great price. Would have liked if picture was a little more clear but I guess that's one of the disadvantages of canvas.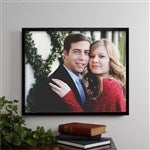 Amazing!!
By
Maryann C.

(Mastic Beach, NY) - October 18, 2013 (
See all reviews by this customer
)
I could not be happier with this purchase!! The canvas arrived so fast. Personalization Mall is my #1 go to place for all personalized gifts. After years and many orders Personalization Mall continues to impress me with every item :)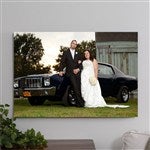 Beautiful Canvas Print
By
Nancy F.

(Wichita, KS) - August 18, 2013 (
See all reviews by this customer
)
I highly recommend this canvas print-expertly done and the colors are amazing!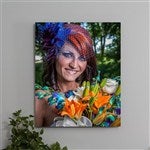 Quality product. Fast Service.
By
Scott S.

(Belpre, OH) - July 9, 2013 (
See all reviews by this customer
)
Product was as described. Received order within a few days.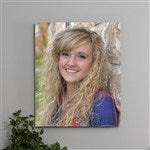 Love!
By
Acacia D.

(Schuylkill Haven, PA) - June 3, 2013 (
See all reviews by this customer
)
Fast shipping & exactly as described! The canvas prints were beautiful and great quality, will definitely be ordering again!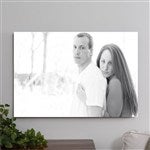 Wedding photo canvas picture
By
Anthony C.

(Milford, CT) - June 2, 2013 (
See all reviews by this customer
)
Great quality and amazing value!!! Totally recomend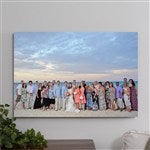 Used for our reception
By
Kelsey B.

(Bayard, IA) - May 6, 2013 (
See all reviews by this customer
)
We are going to use it as our guest book! It looks amazing!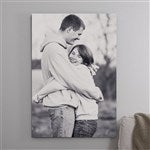 AMAZING
By
jennifer L.

(freeport, IL) - April 19, 2013 (
See all reviews by this customer
)
these canvases were awesome and i have every intention of making all of my favorite shots into gallery wrapped canvases. perfection!!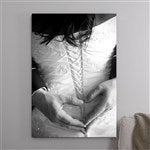 Wedding Guest Book
By
Shopper

(Oregon, WI) - March 12, 2013
We wanted to have guests sign a canvas of our engagement picture for our guest book at our wedding. After looking online at canvas on demand, etc, I read horror stories about quality and customer service and was nervous about getting a canvas. I found the wedding canvas on personalization mall while I was looking to use up my groupon (I am obsessed with them for this site) and I ordered it. I'm so happy with the quality and fast delivery! The canvas is HUGE and has lots of room to sign but it isn't heavy either. I can't wait to show it off at the wedding and use it in or future home.

I have loved everything I've ordered from this website. I honestly couldn't give a bad review for any product I've received. My advice is to get those groupons when they're available because you will always find something you like here!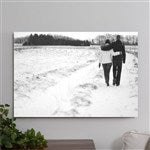 Photo Canvas
By
Brian B.

(New Britain, CT) - December 29, 2012 (
See all reviews by this customer
)
I will keep it short and simple.... This was the BEST GIFT I PURCHASED ALL CHRISTMAS! We are beyond extremely happy with how well the prints turned out and how well constructed they are! THANKS A MILLION!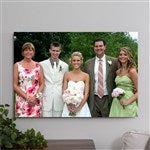 Wedding Memories
By
AIMEE C.

(SUNRISE, FL) - December 26, 2012 (
See all reviews by this customer
)
I cannot express how beautiful this canvas came out! I didn't purchase the option of the frame and it still looks like a million bucks! Another great quality product from personalizationmall.com. Everytime I look at this picture it takes me back to my wedding day 16 years ago. Thank you personalizationmall.com. I am a shopper for life!!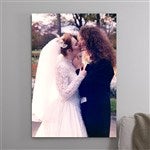 Wedding in Aruba
By
Rosalie G.

(Ipswich, MA) - December 21, 2012 (
See all reviews by this customer
)
This photo canvas of my daughter's wedding in Aruba exceeded my expectations. I'm giving it to her as a Christmas present. PersonalizationMall is at the top of my list when it comes to personalized gifts. Last year I had an afghan made with a picture of her beloved Golden Retriever. It is something she treasures. The reduced shipping rates and the swiftness of delivery make it well worth the money.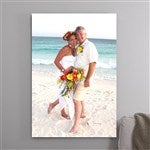 Beautiful
By
Shelly B.

(Gillette, WY) - December 5, 2012 (
See all reviews by this customer
)
Personalization Mall has never disappointed me! Again I am totally impressed with this item and the quick receipt after placing the order...even during this busy holiday shipping time!!! I am frequent shopper on this site and also recomend the site to all of my friends!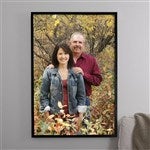 Love
By
Andrea J.

(Minot, ND) - November 30, 2012 (
See all reviews by this customer
)
I absolutely love this canvas. Turned out great!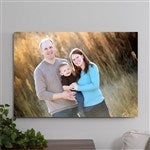 recommend
By
Shopper

(Pasadena, CA) - November 4, 2012
Nice product and very fast shipping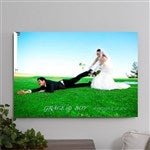 Weddding Memories Photo Canvas 16x24
By
Paula V.

(Olympia, WA) - September 10, 2012 (
See all reviews by this customer
)
Beautiful! Bought for my husband for our 20 year anniversary! I love it!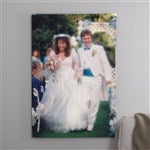 Our weddng picture...
By
Michelle S.

(Temperance, MI) - August 2, 2012 (
See all reviews by this customer
)
Our wedding piture turned out just beautiful on this canvas! Absolutely love these canvases! I did several searches for canvas pictures and could not find a better price for them than I did on PersonalizationMall.com. They quality is excellent!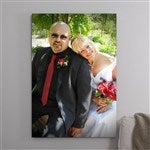 Beautiful!
By
Michelle S.

(Temperance, MI) - August 2, 2012 (
See all reviews by this customer
)
I had a few of our wedding pictures made into canvases and they turned out PERFECT! I absolutely love them!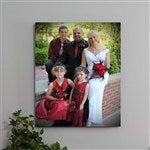 Great Canvas Print
By
Briana C.

(Killeen, TX) - July 3, 2012 (
See all reviews by this customer
)
I ordered the vertical version of this, and it is absolutely stunning. Put one of our wedding photos on it, and it now hangs in our front room. It's beautiful and the quality is fantastic. Could not be happier!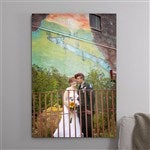 Photo Canvas
By
Shopper

(Louisville, KY) - February 15, 2012
Absolutely LOVED the canvas! It was here on time and was perfection. My fiance loved the picture, he thought it was hilarious. Great quality =]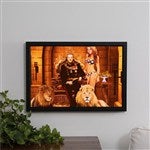 Amazing!!!
By
Rhonda G.

(Stedman, NC) - April 28, 2010 (
See all reviews by this customer
)
Absolutely amazing work! So lifelike and beautifully done. I ordered a 16 x 24 of one of my daughter's wedding portraits for her First Anniversary. It is just as good or perhaps even better than the portrait that I purchased from the photographer. I have been truly impressed and pleased with everything that I have ordered from Personalization Mall. We first found out about Personalization Mall from one of the wedding picture frames that my daughter received for a wedding gift. I have been completely hooked ever since. Everyone wants to know where I get such wonderful gifts. Keep up the great work and I will certainly keep ordering!!

Not as expected
By
Jamie L.

(Watertown, NY) - April 3, 2011 (
See all reviews by this customer
)
Picture was not nearly as clear as what was shown in the preview. My picture was not tagged as being unsuitable for this item, so I was a little disappointed. But I chose to keep the item as I have recently lost everything in a fire so I have little choice.

Exceeded my expectations!
By
Jimmy M.

(Hermitage, AR) - May 30, 2010 (
See all reviews by this customer
)
The quality was better than I had expected, considering the price.....the delivery was quicker than I could or would have expected. I have had many compliments on the canvas pictures and I have told everyone about Personalization Mall.com. The quality, price, and prompt delivery was more than I could have hoped for. I am very, very pleased.

Amazing!
By
Lani S.

(Oklahoma City, OK) - April 8, 2010 (
See all reviews by this customer
)
I ordered a 24x36 canvas of one of my wedding pictures and it turned out amazing! The detail in it is so distinct. My friends couldn't believe how cheap I had it made for. I can't wait to order more canvas' from PersonalizationMall.com

Very Please!
By
Nova Z.

(NORTH RICHLAND HILLS, TX) - February 26, 2010 (
See all reviews by this customer
)
I was so excited to get my artwork on canvas! It looks wonderful! It arrived quickly, and I get compliments on it all of the time. Thank you so much! It was worth every penny.