Photo Canvas
By
Shopper

(Louisville, KY) - February 15, 2012
Absolutely LOVED the canvas! It was here on time and was perfection. My fiance loved the picture, he thought it was hilarious. Great quality =]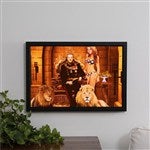 what i expected
By
Shopper

(henderson, NV) - February 14, 2012
this was cheapest online website i could find with ok reviews so i tried n made sure on details and i called they answered my questions i ordered and recieved before the fed ex date so thats cool and it was nice and what i ordered and expected i will order through them again

henderson nv

Honeymoon reminder
By
Jacqueline P.

(Ozark, AR) - December 20, 2011 (
See all reviews by this customer
)
This will help remind my son and his wife of their wonderful honeymoon in Hawaii. The picture quality was great.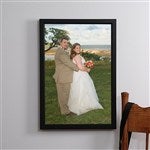 Beach Vacation
By
Paula H.

(Springboro, OH) - December 12, 2011 (
See all reviews by this customer
)
Canvas turned out beautiful. My two children (12 & 9) on the beach during vacation last summer. The colors of the dunes, sand, and sky are wonderful. I am so happy with it...a treasure for sure!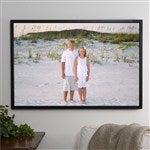 Beautiful canvas print
By
Shopper

(Stanford, CA) - December 4, 2011
I got a canvas print of a digital illustration that I had commissioned. I'll be giving this as my wedding gift to my fiancé. I looked at the prices at other stores as well before deciding on this one and this was about half the price of the cheapest one out there. The quality is excellent; befitting of a wedding gift. One thing I did was to have the artist who drew this for us add solid color borders to the picture so canvassing it wouldn't cut into the actual picture. Some people like it when the picture is wrapped around the corners but I preferred not to since I wanted it framed. I'd recommend it to a friend.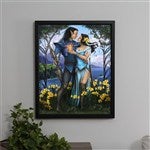 Wonderful!
By
Shopper

(Aliso Viejo, CA) - November 29, 2011
I bought this canvas of a cute picture of my fiance and I during our engagement photos to hang above our new fireplace, and it looks amazing! The quality is fabulous and I can't help but get a grin on my face every time I look at it. Plus, the price is unbeatable! We are definitely going to get more canvases made from vacations and our wedding too! Thanks PersonalizationMall, I still love you! :-D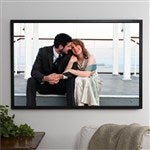 Perfect!
By
Shopper

(Lamar, CO) - November 15, 2011
Looked just the way I personalized it and very good price!

Timeless pictures to cherish
By
Shopper

(Excelsior Springs, MO) - October 15, 2011
My picture was the last photo I had with my Grandpa holding my son at Christmas time. The product was great, the picture was very clear and turned out awesome in black and white.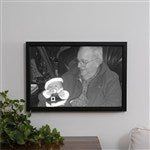 24x36 family portrait
By
Shopper

(New Castle, DE) - September 25, 2011
After searching other competitor sites, we decide on this for our canvas print. The quality is AMAZING and we couldnt be happier. The first canvas that came had a minor imperfection (small ripple down one side) and no questions asked customer service mailed a new one out the following day. Canvas is great, the quality looks better than the original print. I will be using pmall for all of our future canvas prints and gifts!

Twin Granddaughters
By
Shopper

(Carlinville, IL) - September 23, 2011
The 3 photos of our twin granddaughters having fun spraying each other with the garden hose are truly a joy to wake up to each morning. I will definately be ordering from your site again. The quality was exceptional and the delivery was quick. Thank you once again for preserving our memories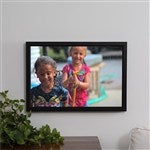 Fantastic product!
By
Samantha S.

(Henrico, VA) - September 19, 2011 (
See all reviews by this customer
)
I am 100% satisfied with the way this came out. It is absolutely beautiful and I could not be happier!!! As always, Personalization Mall was very prompt in producing and shipping and I will continue to shop with them. Thanks!

Meaningful art in your home
By
Shopper

(Littleton, CO) - August 12, 2011
We used a favorite photo we made to be printed on the canvas. It worked out great! Instead of just buying "art" from a store that looks like what eyeryone else buys and is popular for the time; we have something that is special to the entire family and creates our own decor!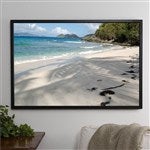 Wedding Pic
By
Stephanie P.

(Mount Juliet, TN) - August 1, 2011 (
See all reviews by this customer
)
I am truly impressed! I checked prices for a 24 x 30 canvas and they were hard to find. I found a 16 X 20 canvas for $90.00 then happened upon Personalization.com and found the 24 x 30 for half that price! On top of that, I ordered the canvas late on a weekday night, it shipped the next morning and I had it in two days! Amazing! I definitely recommend this site!

Fabulous!
By
Gina R.

(East Northport, NY) - July 19, 2011 (
See all reviews by this customer
)
I ordered this photo canvas with our wedding picture as an anniversary gift for my husband. It is gorgeous! I ordered the picture in black and white and it's just stunning. It was better than anything we got from our professional wedding photographers and a WHOLE lot cheaper too! I will order this item again in the future for myself and for gifts. Great product!

Just PERFECT
By
Dana P.

(Goose Creek, SC) - July 19, 2011 (
See all reviews by this customer
)
I just bought my third non-framed photo canvas from them this year. Each canvas is exactly what I ordered. The picture quality is the same as the original pictures just larger sized. I like the non-framed photo canvas' because the picture continues around the edges of the canvas and I love how that looks hanging on the wall. Great job Personalization Mall! I'll be back again for sure! Thanks!!!

Hard to please bride
By
Julie H.

(Wichita, KS) - July 11, 2011 (
See all reviews by this customer
)
I was very impressed with the way my canvas from our wedding turned out. It arrived in a timely manor. The price was amazing and the quality was wonderful. I was very impressed!!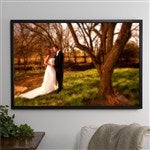 Beautiful
By
Vanessa A.

(Long Beach, CA) - June 6, 2011 (
See all reviews by this customer
)
I bought this for my Mother for Mother's Day. She absolutely loved it. I used a picture of all her grandchildren. I finally saw it and it was perfect

True Transfer
By
Shopper

(Gibbon, NE) - May 24, 2011
The color turned out just as vivid on the canvas as it was on the photo. It looks amazing and I can't wait to give it to our friends for their wedding gift. The only thing I wish was different is the canvas thickness. The canvas is a bit too thin for my comfort, if you hold it wrong you can leave a finger indentation.
Other than that this is a GREAT product for a GREAT price.
I will definitely use it again in the future for gifts as well as myself.

supper good quality
By
Shopper

(monroe, NY) - May 2, 2011
it whose almost as the origenal

Canvas prints look just like your photograph
By
CAROL B.

(TYLER, TX) - March 28, 2011 (
See all reviews by this customer
)
I ordered 5 12X18 all with different photos some with frames they are fantastic. They look just like the picture I sent. I spoke to customer service about the size warning I received and they assured me that it would work.

Perfect for Custom Artwork
By
Shopper

(San Gabriel, CA) - March 9, 2011
I uploaded some custom artwork (not a wedding photo) and the results were fantastic. Wasn't sure what to expect as PM's pricing was well below what I saw elsewhere, but the quality and finish was excellent. They simply do it as well as all the others, only less expensive. Once I figured out the dimensions, the rest of the process was easy. We had the canvas within a week.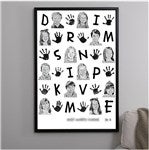 Wonderful product, terrific quality
By
Deb D.

(Orland Park, IL) - March 4, 2011 (
See all reviews by this customer
)
I had purchased one of these as a gift a couple of months ago. I was so pleased with how it turned out, I decided to splurge and create some for myself. I love the photo canvas collage I made! We get to enjoy our wonderful memories and it looks like professional artwork.

Recommend
By
Jennifer M.

(Saint Ignatius , MT) - February 27, 2011 (
See all reviews by this customer
)
I shopped around for the best price for my wedding photo to be put on canvas. Personalization Mall was fast, easy and I got my canvas within a week (just in time for Valentines Day)! Thanks Personalization Mall! I have ordered gifts in the past for other occasions and haven't been disappointed yet! Will definately continue to order from you in the future.

Awesome quality
By
Shopper

(Houston, TX) - February 20, 2011
Very user friendly website and friendly customer service .piece arrived on time and fantastic quality.

Best money ever spent!
By
Karen C.

(Salt Lake City, UT) - February 17, 2011 (
See all reviews by this customer
)
This was fantastic.. very cool and a great personal gift that was reasonably priced. It's the first on my list of things to buy people!

KC

Love it!! Will order again!
By
Shopper

(Columbus, GA) - February 14, 2011
This product is great quality and at a great price. I will be ordering more in the future to decorate the rest of my apartment!

Excellent Portrait Canvas
By
Sarah C.

(Trenton, OH) - February 7, 2011 (
See all reviews by this customer
)
We absolutely loved this canvas! It was clear and captured the brilliant colors of red that we had in our rose bouquet, tux and wedding dress bow. They did an excellent job in regards to this photo canvas...no complaints on this one!

My daughter in law loved it
By
Shopper

(THE COLONY, TX) - February 1, 2011
Had my sons family portrait placed on canvas and it looked just great. Good price and quick turn around

Beautiful
By
Andrea C.

(Waukegan, IL) - January 30, 2011 (
See all reviews by this customer
)
I ordered a picture of my husband and I. The picture was in a yellowish tint so they called and made sure that it was supposed to be this color before making the picture. It arrived very fast and I absolutely love it. I have ordered from this site many times and will continue to do so in the up coming years.

Amazing Family Portrait!
By
Colleen D.

(Rocky Point, NY) - December 29, 2010 (
See all reviews by this customer
)
Our wedding photo's came in just in time for Christmas, so we gave a 16x24 canvas print of the each side of the family to my parents and my husband's parents. They LOVED it!!! The quality for this price is great. I ordered them on Monday they were on my door step by Thursday! I am very pleased with this product so much that I plan on ordering one of the two of us for our living room. This is a great gift for any newlywed or family!

Photo Canvas Collage
By
Anne S.

(Neenah, WI) - December 23, 2010 (
See all reviews by this customer
)
Amazing quality and reproduction of color...delivered very quickly...best cost of any sites I visited...highly recommend

24 X 36 Photo Canvas
By
Tom L.

(Sumter, SC) - December 22, 2010 (
See all reviews by this customer
)
Excellent service - quick delivery. Product given as a gift and although I have not seen it the recipient is thrilled!

Wow!!
By
Julia G.

(Butner, NC) - December 21, 2010 (
See all reviews by this customer
)
You're going to LOVE these! I ordered three of these four days before my wedding and all three arrived within two!
For Christmas, I ordered one of these for my in-laws, and it was also here in two!

The quality and price can't be beat!!! Price shop around, but I promise you'll come back here! I couldn't be a happier customer!

Very Pleased!
We ordered a 16x20 canvas print of our daughter and son in law for their new home. The print is beautiful and the shipping time was fabulous (we ordered and received it in less than a week.) The customer service was excellent. Thanks!

Perfect!!
By
Cathy W.

(Holiday, FL) - November 23, 2010 (
See all reviews by this customer
)
I purchased this along with a couple of the 16X24 in. canvas's of my daughters wedding...they are gorgeous!!! They have high quality...& detail is right on...They are truly worth the price which I think is unbelievable if you have checked on canvas mats...You will not be sorry.

Amazingly Beautiful
By
Amanda M.

(Pennville, IN) - October 25, 2010 (
See all reviews by this customer
)
We ordered this to be placed as our main photo in our house. It cames so quickly and they even called to check on the order. This company, and this picture are awesome. If you're looking for something to put on your wall to grab attention, this is great.

Wonderful
By
Frances E.

(Milton, FL) - October 19, 2010 (
See all reviews by this customer
)
So pleased with the quick turnaround and quality. Wanted a show stopper for my daughters wedding reception, and that is exactly what we received. Thanks Personalization Mall.

Great Quality
By
Alexandra G.

(Miami, FL) - September 14, 2010 (
See all reviews by this customer
)
Very impressed with the prompt production and shipping. The quality is great! The photo canvas is as sharp as the original photo. Elated with my photo canvas!

Wedding Memories Photo Canvas - 16" x 20"
By
Susan R.

(Dimondale, MI) - August 23, 2010 (
See all reviews by this customer
)
We used this canvas for a Christmas family photo. It was just gorgeous, the quality is wonderful! As always, I come to Personalization Mall first and I usually find the perfect gift.

Very satisfied!
By
Alicia J.

(Ashburn, VA) - July 27, 2010 (
See all reviews by this customer
)
I am very impressed with the quality of the canvas and the speed of delivery. I would definitely recommend this to friends and family!