OUTSTANDING QUALITY!!!
By
Linda D.

(Tyler Hill, PA) - November 18, 2009 (
See all reviews by this customer
)
I am SOOOOO pleased with the workmanship of my wrapped canvas. I am not having it framed and it is perfect just as it is. I showed it to several friends when I received it and they were all awe struck. Thank you, also, for making this quality product so reasonable in price. I will definately be back for more!

Wedding Canvas
By
Sandie W.

(Fort George G Meade, MD) - October 19, 2009 (
See all reviews by this customer
)
I have been so impressed with the quality of work that I would totally recommend anyone to your company. Thank you for making my wedding photos look amazing. My clients have been so blessed.

Canvas Photo Artwork
By
Alina F.

(Ponderay, ID) - October 14, 2009 (
See all reviews by this customer
)
This is my second purchase of the canvas art. It truly is breathtaking, and the quality is some of the best I've seen. I have been passing the web address out for all my friends and relatives, so that they can have a little "personalization" in their homes.

Amazing Canvas Picture
By
Chrissy L.

(Boardman, OH) - October 8, 2009 (
See all reviews by this customer
)
I am so happy with how this canvas turned out. It's just what I wanted! We hung it over the fireplace in our living room and everyone who walks in our house compliments this canvas.

Great print at a great price
By
Jonelle H.

(Blackwood, NJ) - October 8, 2009 (
See all reviews by this customer
)
This is a high quality print on canvas that turned out exactly as expected. The frame is simple and completes the picture nicely. With a sale and coupon you can not beat the price!

A stunning display of your meaningful photograph
By
Theresa G.

(Centerville, OH) - October 2, 2009 (
See all reviews by this customer
)
I ordered this for my step-sister, my favorite photo from her outdoor wedding. I'm an amateur photographer and impressed with the quality of the printing and frame. It was packaged well and with free shipping it was a great deal. I can't wait to give it to the bride! Thank you - I will be ordering more in the future for myself.

Very Cute
By
Shopper

(Dallas, TX) - January 4, 2014
We got this for our house. It's really pretty. It got shipped really fast. Great price. Would have liked if picture was a little more clear but I guess that's one of the disadvantages of canvas.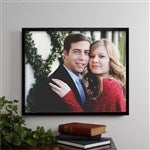 Very Pleased
By
Shopper

(Las Vegas, NV) - October 8, 2012
I was a little skeptical at first, but I am very pleased with this product!

Wedding Photo Canvas - 12" X 18"
By
Regina W.

(Cloverdale, VA) - August 12, 2011 (
See all reviews by this customer
)
This is my first canvas photo I have ever ordered. So, I really don't have anything to compare it to. I have received compliments on it already. I do wish the color was a little more vibrant. It seems less colorful than regular pictures. I also noticed VERY slight crease marks in the canvas if looked at from the sides, in areas where the wood backing is located. Overall, I am pleased with my purchase and it was a good value. Thanks!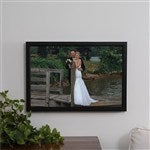 Excellent quality and value
By
Kim L.

(Warrensburg, NY) - September 8, 2010 (
See all reviews by this customer
)
I am extremely satisfied with the quality of the photo canvas. I'm a photographer and ordered for a customer, with some trepidation, as I had hesitated to offer canvas prints due to the high cost. With such a reasonable price for the quality, I can now offer these to my customers without "mark-up remorse". The only negative is that the image loses some of its richness, so I would recommend boosting up the color a bit in editing before uploading to the company.

Beautiful picture.
By
Jessica F.

(Bethel, CT) - August 16, 2010 (
See all reviews by this customer
)
The picture turned out great. The frame is nice but it did not come with a hanger attached. They were seperate and had to be attached with a hammer which was a bit unsettling. I was afraid I would split the frame. It all worked put in the end and the picture looks great.

Great Product
By
Virginia S.

(Orlando, FL) - August 1, 2010 (
See all reviews by this customer
)
Our wedding picture printed on canvas and framed looked beautiful. The only downfall, was due to how the picture arrived. The picture took on creases around the side of the photo about an inch into the picture from the wood frame behind it. Wish that a piece of card board could have been put behind it to prevent this during shipping. Overall, was very impressed with the look.

Great! Not Disappointed. Would do it again in a snap!
By
Nancy G.

(Mount Pleasant, SC) - May 7, 2010 (
See all reviews by this customer
)
Huge success as a mother's day gift for my daughter. She cried and could have not loved it more.

Enormous canvas but great quality
By
Shopper

(Baltimore, MD) - November 3, 2013
The 24x36 canvas is way too big and I wish I'd ordered it in a smaller size. It is great quality though.

Colors don't match uploaded photo & scratched.
By
Daniel M.

(McKinney, TX) - January 30, 2012 (
See all reviews by this customer
)
I was very disappointed in the yellow/green tone on this product that didn't show in the online preview. There were long white scratches on the picture canvas along the edges near the supporting frame. The online preview looks great, and I wish it could have been matched on the final product. I wish this site would allow me to include 2 photos to show the contrast. I've added an extra star simply because in the end, personalizationmall.com offered a fair resolution.

Not as expected
By
Jamie L.

(Watertown, NY) - April 3, 2011 (
See all reviews by this customer
)
Picture was not nearly as clear as what was shown in the preview. My picture was not tagged as being unsuitable for this item, so I was a little disappointed. But I chose to keep the item as I have recently lost everything in a fire so I have little choice.