Great, meaningful gift!
By
Sara E.

(Houston, TX) - August 30, 2014 (
See all reviews by this customer
)
I was looking for an inexpensive, personalized picture frame to give to my best friends when we all turned a milestone age. I loved them when I received them in the mail and I know my friends will love them!! I only wish the message in the bottom right corner could be a little longer and not such fancy script -- some messages I wanted to use didn't look good in the fancy font, but I liked how you could preview the personalization before ordering. Otherwise, I wouldn't have known that.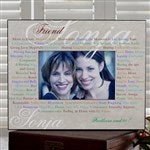 Beautiful phone frame
By
Mary W.

(Richmod, CA) - May 21, 2013 (
See all reviews by this customer
)
Really nice photo frame, it was exactly what I was looking for, the quality of the frame is good.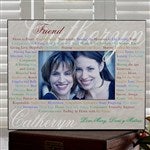 very pretty
By
Ashley L.

(Newnan, GA) - March 20, 2012 (
See all reviews by this customer
)
I bought this frame as a birthday gift. It was very pretty and the only reason I didn't give it 5 stars is the colors were not as bright as I thought they would be. I couldn't include an actual photo because I already gave it away.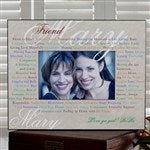 Absolutely Meaningful To Me
By
Shopper

(Trussville, AL) - February 23, 2012
The frame was really beautiful. My friend loved it and thought it was the most precious thing we shared besides our friendship.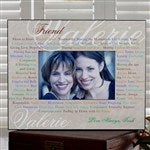 LOVE this frame!
By
Laura S.

(Centreville, MD) - November 10, 2009 (
See all reviews by this customer
)
I LOVE this frame! I've given it as a shower host gift mostly and am doing so again for one of my baby shower hosts. Love the quality, glossy finish, vibrant colors and shadowed name of your friend in the background. LOVE this one!!!

Great Product
By
Christine M.

(Chatham, VA) - July 29, 2010 (
See all reviews by this customer
)
Everything I've ever ordered from Personalization Mall has exceeded my expectations, and this frame was no exception. The frame has a great weight and sturdy design. The colors are beautiful, and the words are perfect for a best friend. I can't wait until my friend receives it for her birthday.

Perfect gift for a friend!
By
Melissa T.

(Longwood, FL) - December 29, 2009 (
See all reviews by this customer
)
This frame is beautiful; arrives as shown and is a fantastic gift.Truly captures the essence of a blessed friendship.

Silhouette
By
Angie V.

(PEORIA, AZ) - December 21, 2010 (
See all reviews by this customer
)
I loved the frame and I loved the service that was provided online. The only issue was the Silhouette background on the frame where I wanted to put my friends names didn't stand out as much as I like. You can't really see it. Other than that, everything else was fine.

Nice frame
By
Athena M.

(Plymouth, MA) - January 5, 2011 (
See all reviews by this customer
)
I like this frame, but it would have been nicer in a different color scheme.

A little disappointed
By
Shopper

(Canada) - December 16, 2012
The frame is lovely, however i was disappointed...it is difficult to see your friends name because the color they use to write it is near almost the same color as the frame...there should be an option to choose the color you want or they need to darken the name color...although it looks clear enough on the site, it is not when u recieve it in person.

Good quality
By
Shopper

(Birch Tree, MO) - December 25, 2012
This frame was beautiful and the personalization was flawless. I was pleased that it was a substantial piece. Good quality construction.

friends picture frame
By
Shopper

(Levittown, PA) - May 11, 2013
I bought this for my best friend it was the perfect gift she keeps it on her kitchen table to remind her of our great friendship.

Perfect Gift
By
Claudia G.

(Sparta, GA) - March 14, 2014 (
See all reviews by this customer
)
Love this frame it says everything I would love to say to my best friend! I have never been disappointed with any thing I have purchased from Personalizationmall.

Girlfriend's frame
By
Shopper

(Media, PA) - March 31, 2012
I was very pleased with the personalized Girlfriend's Picture frame. It was very reasonably priced and the quality was excellent. The service and shipping were both very reliable as well. I received both of my items within 3 days. I would definitely recommend this site to others, and I have already ordered other items for myself.

Birthday present
By
Shopper

(Shippenville, PA) - January 23, 2011
Bought this for a 40th birthday present and she absolutely loved it...it was a gift that she couldn't stop showing everyone!!

Fantastic Gift
By
Shopper

(Lima, OH) - February 19, 2011
I have been so many items from this site and every single recipient is always extremely happy and surprised with their one of a kind, personalized gift. Thank you for providing great products!

Nice Gift
By
Shopper

(Richmond Hill, GA) - February 3, 2012
Bought this product as a thank you gift! My friend loved it! Really nice frame!