exceeded all expectations!
By
Shauna S.

(Oliver Springs, TN) - May 4, 2013 (
See all reviews by this customer
)
Shipping was incredibly fast! My product was absolutely perfect. I love it and I thank you so much!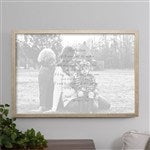 Photo sentiments canv as
By
Linda K.

(Upper Marlboro, MD) - May 3, 2013 (
See all reviews by this customer
)
I was extremely pleased with the canvas. It is for my daughter for Mother's Day and I know she is going to be thrilled. What a great idea for a gift for anyone.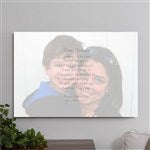 Moms Day
By
Shopper

(Lafayette, CO) - April 26, 2013
I Had no Idea how to get a picture on my computer. With much phoneline guidance, they also had a coupon that had already expired but they honored it. It took me 3 days many emails but I got it done, and the "Perfect" Mothers Day Gift was created. Thanks Personalizationmall.com

Nice Quality
By
Shopper

(Lake in the Hills, IL) - April 21, 2013
This was great!! Not only did it come out perfect. But it came really fast. The quality is very nice well worth the price. Ordering more for gifts

Such a touching beautiful gift
By
Karrol V.

(New Port Richey, FL) - December 29, 2012 (
See all reviews by this customer
)
My brother was killed in an accident three weeks before Christmas. I ordered this for my mother for Christmas. She loved it and said it was so perfect. So glad I found this and was able to give her something so meaningful. The quality was great.

Awesome
By
Shopper

(PITTSBURGH, PA) - December 27, 2012
Everything I have ordered from this site was processed in a professional fashion. I received all my merchandise in timely way and perfect condition. And everyone that received these gifts absolutely loved them.

Thank you

Far Beyond Expectations
By
Kevin S.

(Clayton, NC) - December 24, 2012 (
See all reviews by this customer
)
Purchased this as a gift for my wife from our 7 and 4 year olds. To be honest I wasn't expecting much considering the low price-point. When it arrived (2 days earlier than expected, by the way) I opened it and was amazed at how the finished product turned out. My wife will open it Christmas morning and I know she will absolutely love it. I would recommend these guys to anyone looking for a personalized gift. Top notch service and the easiest ordering process I have encountered in quite some time.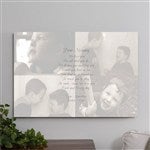 Amazing quality and fast delivery
By
breanna W.

(grand forks, ND) - December 18, 2012 (
See all reviews by this customer
)
This is very good quality and fast delivery

Great direction, excellent quality and very good service
By
Shopper

(Long Valley, NJ) - December 16, 2012
I usually don't write reviews but I wanted to on this one. I wanted a special Christmas gift and found this because I have worked with Personalization before. The direction was great. You were told whether the photo would work or not and whether you need to change the size. I had to go into paint and increase the size and pixels, but I got this direction from the get go. Then I found I had a typo after the order was placed and called. The rep handled it for me in one minute. And, when I received the photo on canvas, the quality was excellent. So yes, I would recommend this in a heartbeat.

very pleased
By Shopper (Laurel, MD) - December 11, 2012
This was my first time using this site, but it will not be the last. I was really impressed with my canvas photo, it turned out extremely well. I know this type of gift means so much more than a sweater or scarf. Looking forward to making purchases in the future.

LOVE IT!!
By
Faye M.

(Troup, TX) - November 27, 2012 (
See all reviews by this customer
)
I love my Photo Sentiments canvas of my grandsons. Took my ideal and made it so special.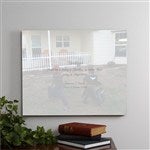 Phenomenal Product that exceeded expectations
By
Kelli D.

(Glenolden, PA) - November 20, 2012 (
See all reviews by this customer
)
After ordering this canvas print, I received the final product within just a few days and the finished product is absolutely stunning. I am giving it as a gift and I cannot wait to see the reaction of the recipient. I have never had a bad experience with this site and will continue to use it and refer others to use it as well.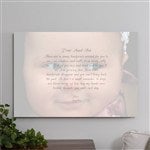 Very Satisfied
By
Juan G.

(Tallahassee, FL) - November 18, 2012 (
See all reviews by this customer
)
My wife absolutely loved the gift of one of our wedding pictures with our vows written over it. I had this created for her for our first wedding anniversary. It now hangs as a great and fitting addition to our bedroom. The fact that you can get this as either a vertical or horizontal frame is great. I preferred the wrapped look over framed as it looks more clean and blended with its surroundings. The picture came out so well, I've already began to think of other pictures that I can have printed for our home as well as those to be given as gifts to family. Great product, shipped fast, well packaged with no flaws and it included two mounts that were optional to used for hanging. Personally, the picture was so light that I was able to hang in centered on a single nail in drywall. Thanks for a great product!

Photo Sentiments Canvas
By
Shopper

(Orem, UT) - October 19, 2012
I had this canvas made for my husband for our 2nd yr anniversary and it turned out amazing. I love it as well as my husband. I would highly recommend doing this for not only a gift but for decorating your home.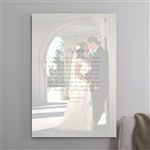 Personalization Mall comes through again.....
By
Lori F.

(Livonia, MI) - October 15, 2012 (
See all reviews by this customer
)
Needed something "special" when my friend's mother passed away-flowers or fruit basket just didn't seem to do the trick. Needless to say, the picture of her Mom and Dad and a beautiful verse on the canvas was just perfect. My friend was thrilled and said it meant SO much to her. Thanks again for coming through for me!

Lovely as a gift
By
raquel M.

(montgomery village, MD) - September 7, 2012 (
See all reviews by this customer
)
I'm just in love with this product the excellent quality
Is just beautiful !! This was the best gift for our first anniversary
Since we didnt have any large pic from our wedding this canvas portrait
Was the best choice I will make more purchase in a future thank you
For this quality product !!

Beautiful!!!
By
Shopper

(Elizabeth City, NC) - July 16, 2012
I bought this item for my mother for her birthday...I put a picture of my son with a poem about his "Gee", that's what he calls her. It turned out absolutely beautiful! She cried when she opened it...said it was the best gift she has EVER received! Was very pleased with this purchase...in fact I'm about to buy another one for my mother-in-law!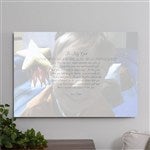 Best Gift Ever
It was wonderful for my daughter to see me graduate earning my masters degree. She presented this gift to me and I cried! When I share it with other people they too cry! The gift is nothing short of perfect. The quality is great, it arrived in time for my big day, and my sixteen year old is glad she chose this gift and this website. Thank you again for having the perfect gift!!!

lifetime memory
By
Rebecca G.

(henderson, NV) - July 1, 2012 (
See all reviews by this customer
)
They came out beautiful. We got two of them to hang next to each other. One of my husband and our daughter and one of me and her....they look amazing and one day she can hang them in her home.

Need to show Mom love too
By
Shopper

(Hesperia, CA) - June 12, 2012
I got one of these for my father on his birthday and just knew I had to get one for my mom. So I got her one for mother's day. She loved it and said I was hoping I was going to get one!

Absolutely beautiful!
By
Stacy R.

(Peoria, AZ) - June 6, 2012 (
See all reviews by this customer
)
I ordered this photo canvas for my mom with a picture of my children on it. It turned out absolutely beautiful! When I gave this gift to my mom she cried and in turn, so did I. It is such a special and personal gift. I love everything I have ever received from Personalization Mall. Their customer service is fantastic and the quality of their product is amazing. Love, love, love this site for special gifts!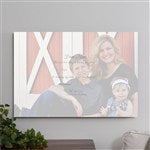 Picture on the wall amazing decoration!
By
Shopper

(Worcester, MA) - May 22, 2012
Although i did not receive this gift when i would have liked, everything was great. The quality of canvas was very good, and the picture came out amazing. Excellent gift, it had my girlfriend in tears of joy when she received it for mothers day. Thanks alot!!!!!

Loved it
By
Shopper

(San Diego, CA) - May 21, 2012
I bought this for my mom for mothers day and picked a poem from another website. My mom absolutly loved this, it is beautiful. I am so glad I got this for her, it really made her Mothers day. I have bought a few different things from Personalization Mall and every gift has made me 100% happy. They are great....

Mothers Day Gift
By
Jodi S.

(Green Bay, WI) - May 21, 2012 (
See all reviews by this customer
)
I ordered this for my mother for Mothers Day. It made her cry!! She said that it is the 2nd most precious thing she has besides me. I am so happy that I found that "PERFECT" gift that touched her heart!!! I was glad that I could find a special gift that could express my feelings for her and this was it!!! I highly recommend this to anyone who wants to make their mothers/grandmothers feel extra special!!!!

Great Gift!
By
Shopper

(Fairfax, VA) - May 20, 2012
Was very pleased with the photo canvas. The price was reasonable. The website was easy to navigate when placing the order.


Mother's Day gift
By
Jeff T.

(Glendale, AZ) - May 19, 2012 (
See all reviews by this customer
)
The gift was perfect and as my son read the inscription to his momma, it brought tears to her eyes. Thanks for the quick delivery and the outstanding workmanship. It was exactly what we (my son and I) ordered.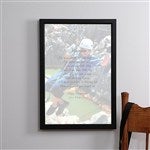 The Winner on Mother's Day
By
daniel M.

(charlotte, NC) - May 18, 2012 (
See all reviews by this customer
)
I sent a picture of my kids to my Mother on Mothers Day with a personalized message from them. It was a hit. Her and my Dad were crying. It was the perfect gift. I highly recommend.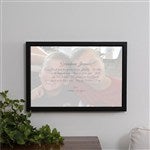 Awesome!
By
Michelle C.

(Harrisburg, PA) - May 17, 2012 (
See all reviews by this customer
)
I bought this as a Mothers' Day gift. It turned out better than the preview. It brought tears to my mother-in-law's eyes.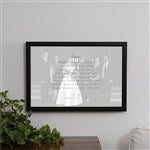 Wonderful
By
Shopper

(Georgetown, KY) - May 16, 2012
Got this for my wife for Mother's Day and see loved it. Picture and quality were great.

Perfect
By
Shopper

(Los Angeles, CA) - May 14, 2012
Purchased as a mothers day gift for my Grandma and it was PERFECT!. She loved it..Everyone loved it, I want one for my own house now..

Mother was very Happy!
By
Shopper

(Rex, GA) - May 14, 2012
This was the best gift I've every given my mom; she loved it and my siters were so jealous hehe! Everyone wanted to know how I did this and how talented I was but I told them the best website for personal gifts was
www.personalizationmall.com you want be disappointed. And I've already ordered Dad's for Father's Day!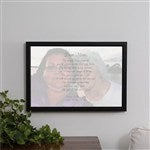 product
By
Shopper

(Oakville, CT) - May 11, 2012
I orderd a photo canvas for my mom for mothers day and it came out beautiful and it was delivered within 4 days. I am very happy with the fast service and how the product came out.

Mothers day
By Shopper (Bay Point, CA) - May 8, 2012
You have always been one of my biggest supporters and the wisdom you have given me over the years has helped shape the person I am today. I love that we have such an open relationship, and I wouldn't have it any other way. I am truely blessed and thankful for having such a wonderful mother in my life. Thank you for being you!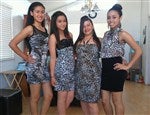 She was so happy she cried!
By
Stacy S.

(Mt Pleasant, SC) - April 4, 2012 (
See all reviews by this customer
)
I wanted a personal gift for the bride and groom (especially the bride, who is a friend) from a wedding I officiated recently. The bride really loved the benediction I had written, so I wanted to get that put on something. When I saw this had the option of using a picture of your choice, I thought that would be perfect! I used one of the pictures from the sunset wedding reception as the background, with the couple's names and the benedictions in the foreground. It came quickly, was absolutely gorgeous, and the bride got teary eyed when I gave it to her. She said it was her favorite gift. I couldn't have asked for better!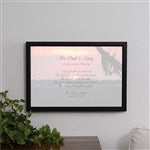 Awesome
By
Shopper

(Fryeburg, ME) - January 9, 2012
I ordered this for my mother for Christmas, a little leery at first as to whether or not the photo would transmit well onto the canvas, especially with writing on top of it. When I received it, I was thrilled!! The photo was perfect and the writing is wonderful - you can look at either the picture or the writing and not feel overwhelmed by the other. GREAT idea!!

Very happy!
By
Noemi I.

(Escondido, CA) - December 25, 2011 (
See all reviews by this customer
)
The quality of this canvas amazed me. The cost and speed of delivery made it a dream come true. Cannot put into words what it meant to the person the received it. Thank you so much!

Unbelievable Quality
By
Vincent R.

(staten island , NY) - December 16, 2011 (
See all reviews by this customer
)
This is one of the greatest sites for personalized gifts. The Quality, Price , And overall shipping is great

Canvas
By
Nicole C.

(Tampa, FL) - December 16, 2011 (
See all reviews by this customer
)
I absolutely love the canvas and could not be happier with it!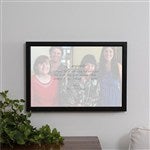 So beautiful!
By
andrea L.

(cedar hill, MO) - December 13, 2011 (
See all reviews by this customer
)
This turned out even better than I hoped! I used black & white photo that had some 'dead' space in the middle of it (holding hands). The script over this area is just perfect. The script font is beautiful, complimenting the sentiments of the words. The photo gets a bit faded so the script can be visible, and this creates a really nice effect.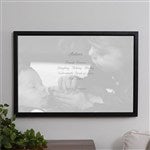 Excellent
By
Shopper

(Arvada, CO) - November 16, 2011
Great product! Exceeded my expectations!